NEW UPDATES!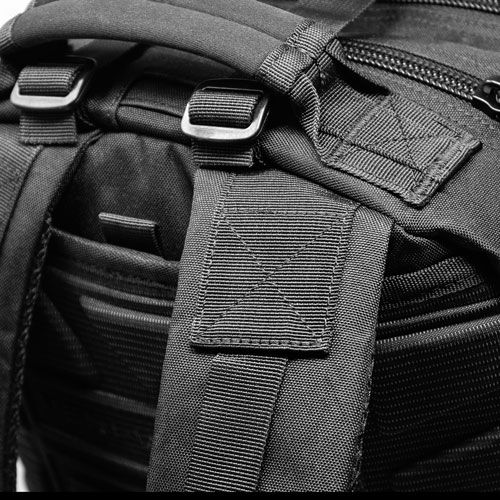 UPDATED Reinforced Shoulder Straps
We have added a lot more nylon webbing to reinforce the shoulder straps. This may be overkill but this pack is designed to take a beating. *Not available on the tan pack.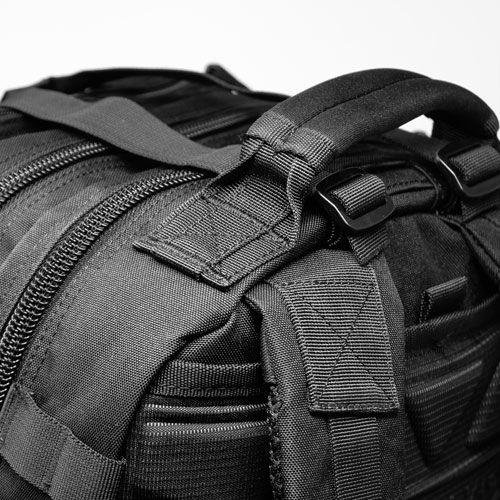 UPDATED Fortified Grab Handle
We more than doubled the amount of material that makes up the grab handle. It is even more rigid and secure than before. *Not available on the tan pack.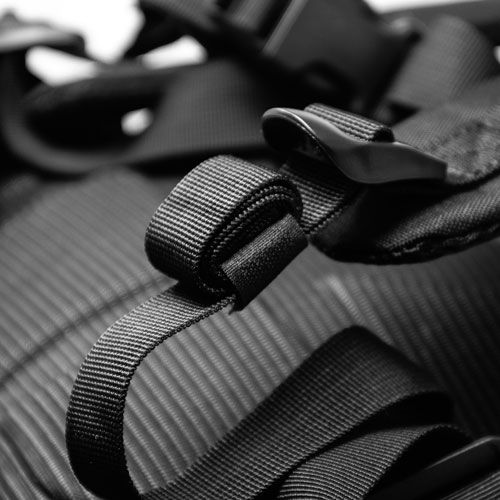 The shoulder straps got an updated hook and loop velcro system that allows you to roll the excess strap material up and secure it. No more loose straps dangling all over. *Not available on the tan pack.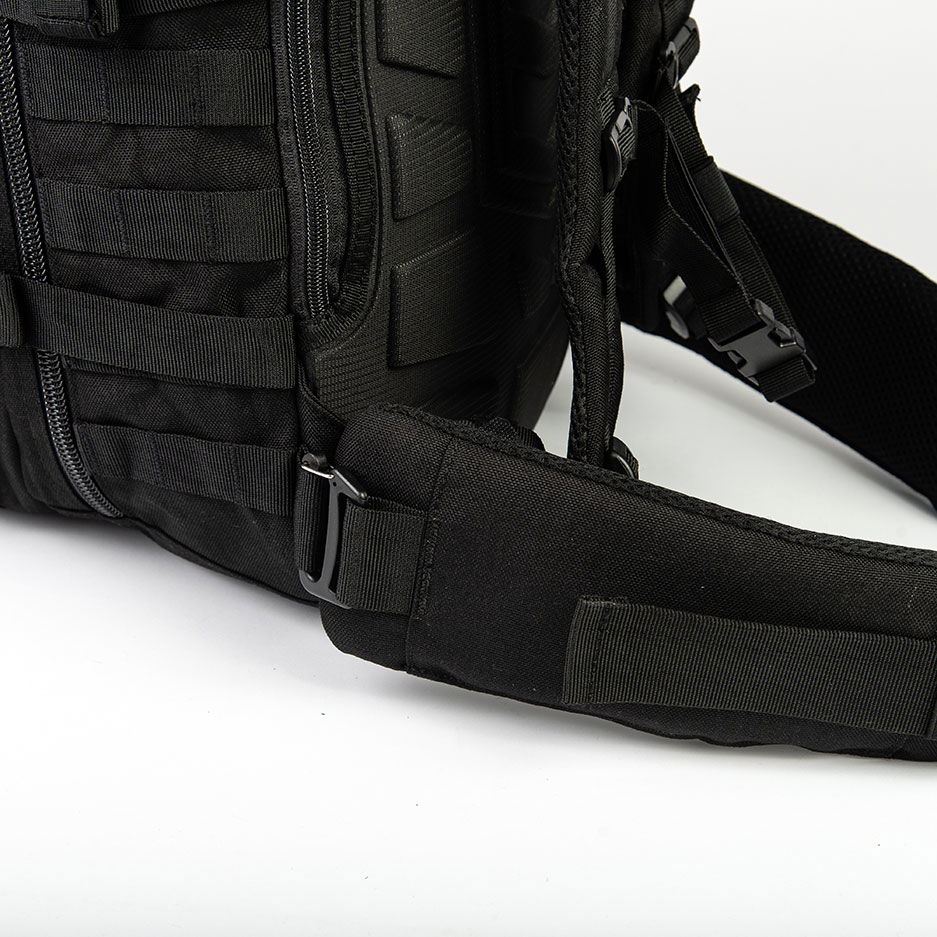 Padded Hip Belt
(Optional Accessory)
Padded Hip Belt is designed to comfortably help distribute the weight of a loaded backpack.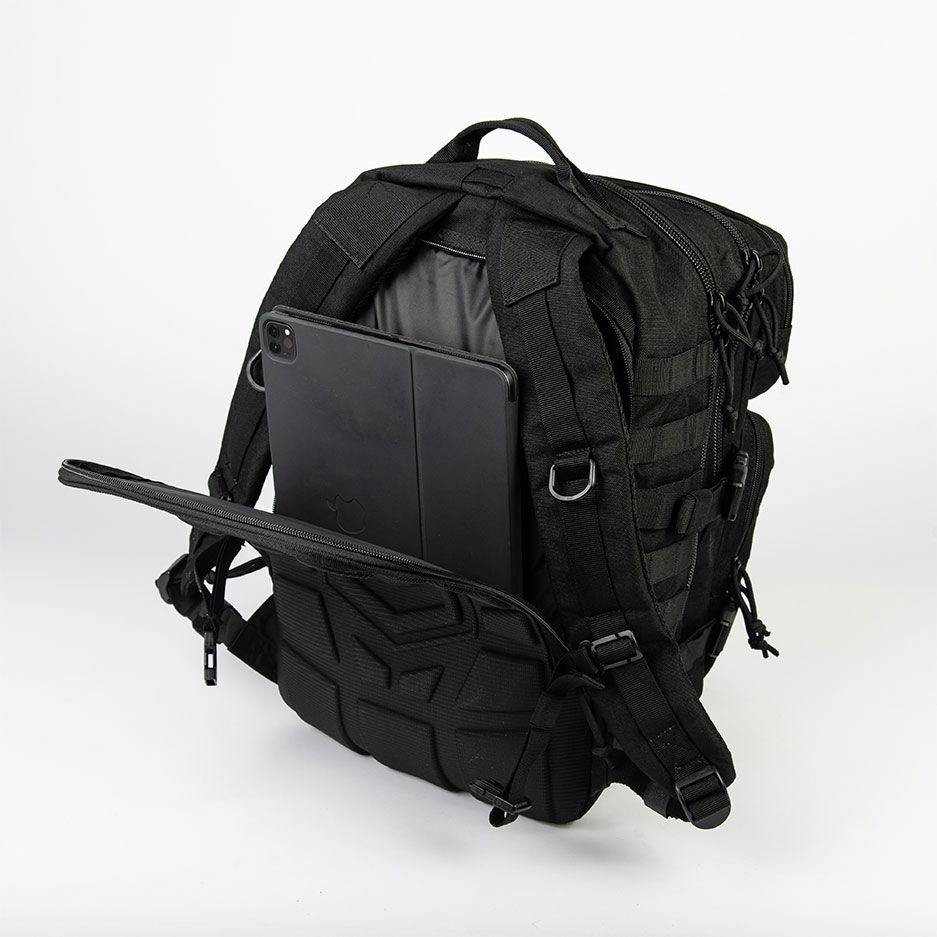 A padded laptop sleeve fits most 15" laptops and tablets. This sleeve can also be used to carry a 3 liter hydration reservoir.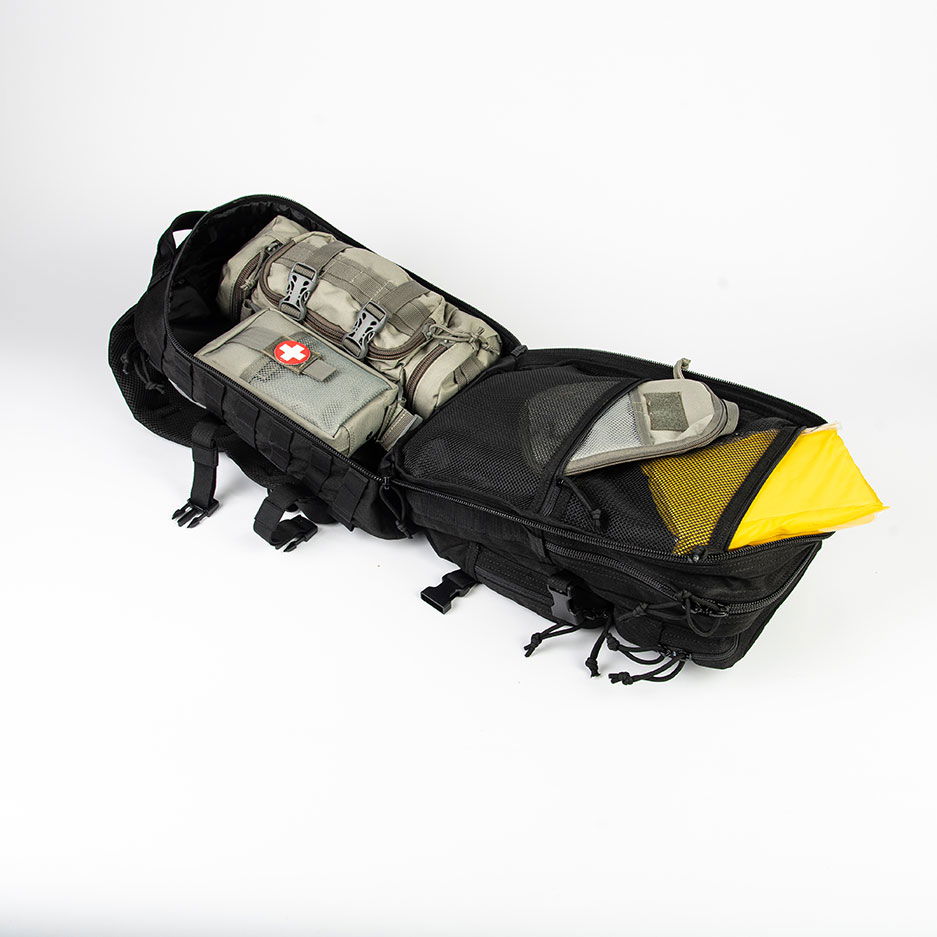 The main compartment on the Velox Tactical Backpack has a clam shell design which allows the bag to lay completely flat. This is ideal for loading the backpack.
GREAT DAY PACK
"If you are looking for a great day pack, look no further. These are high quality packs that are the real deal. I use this as my EDC bag and it can hold a good amount of gear. These will fit the bill for anything you can throw at it."
- Jerod McComas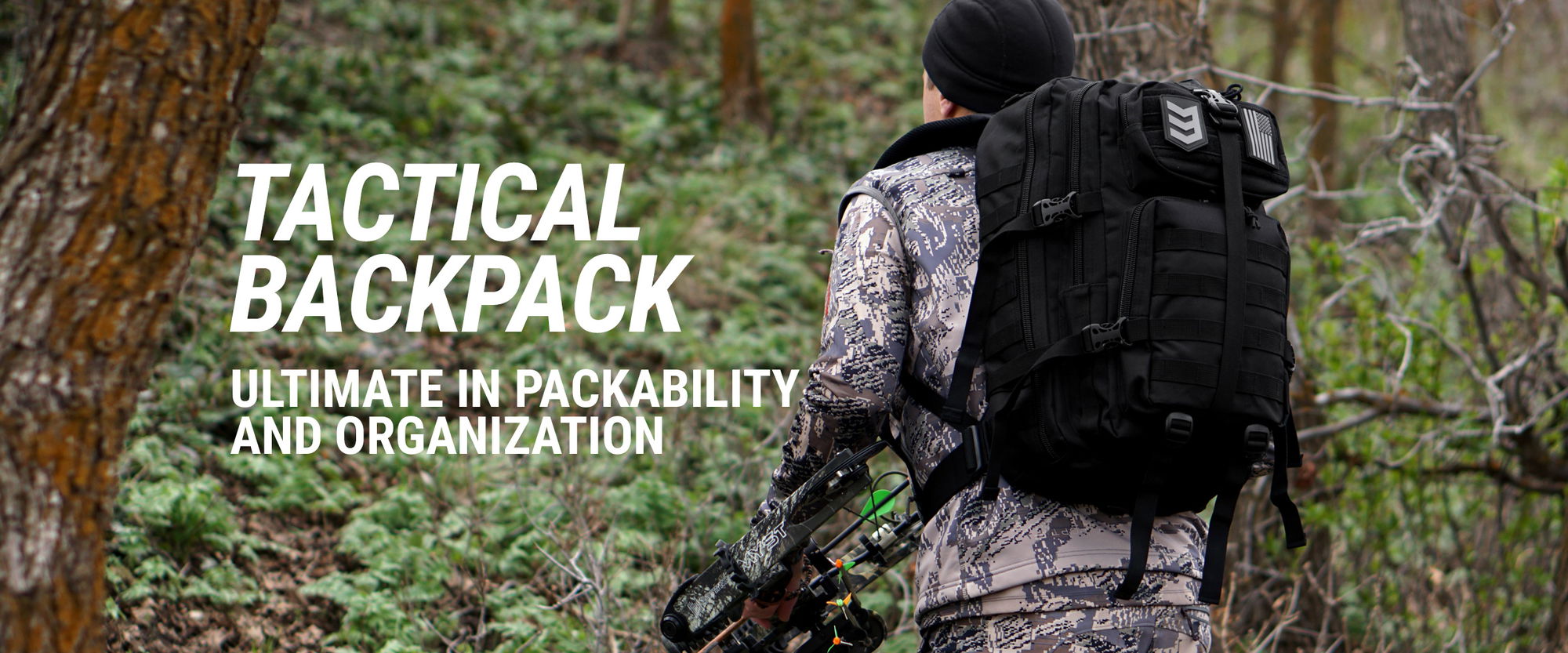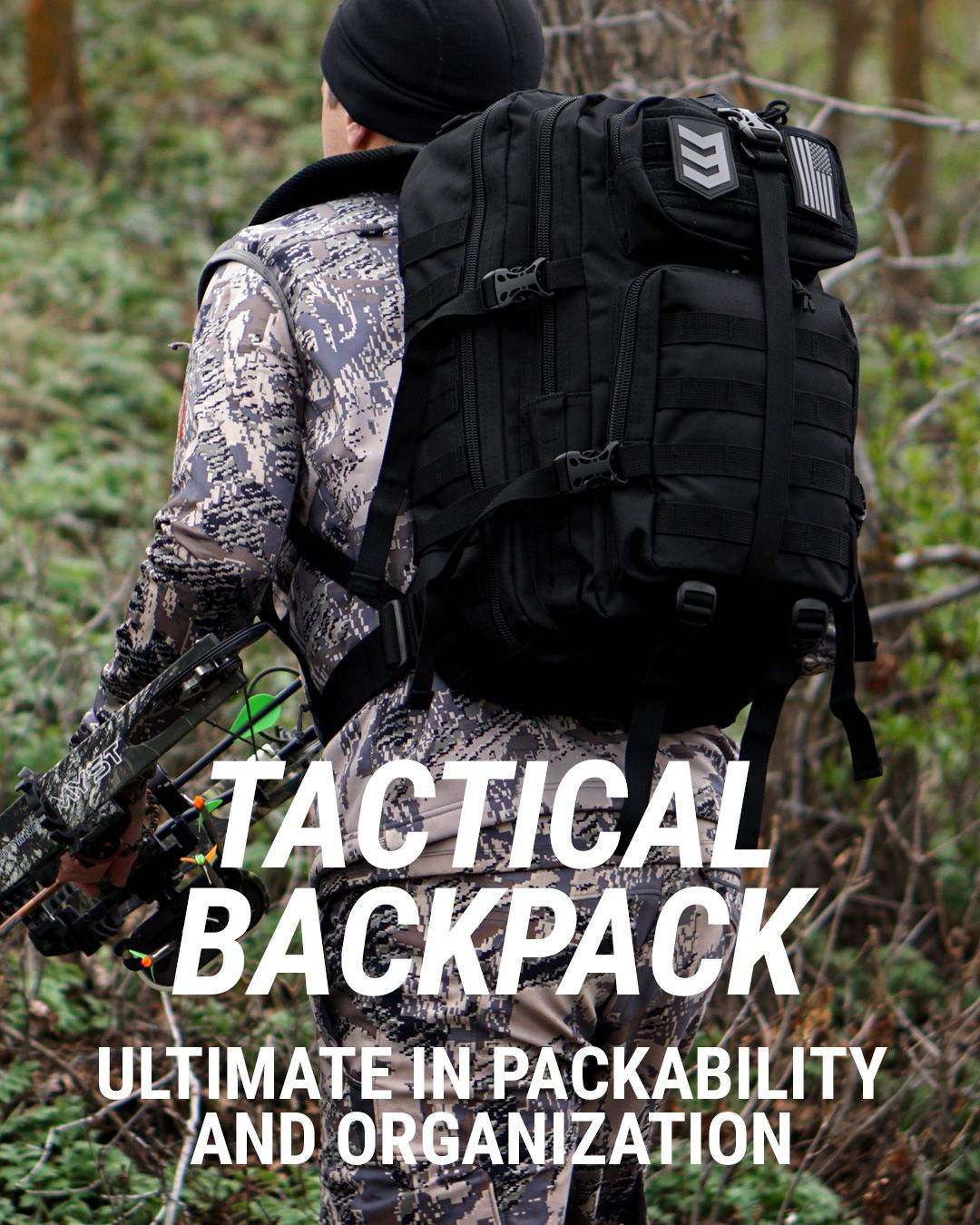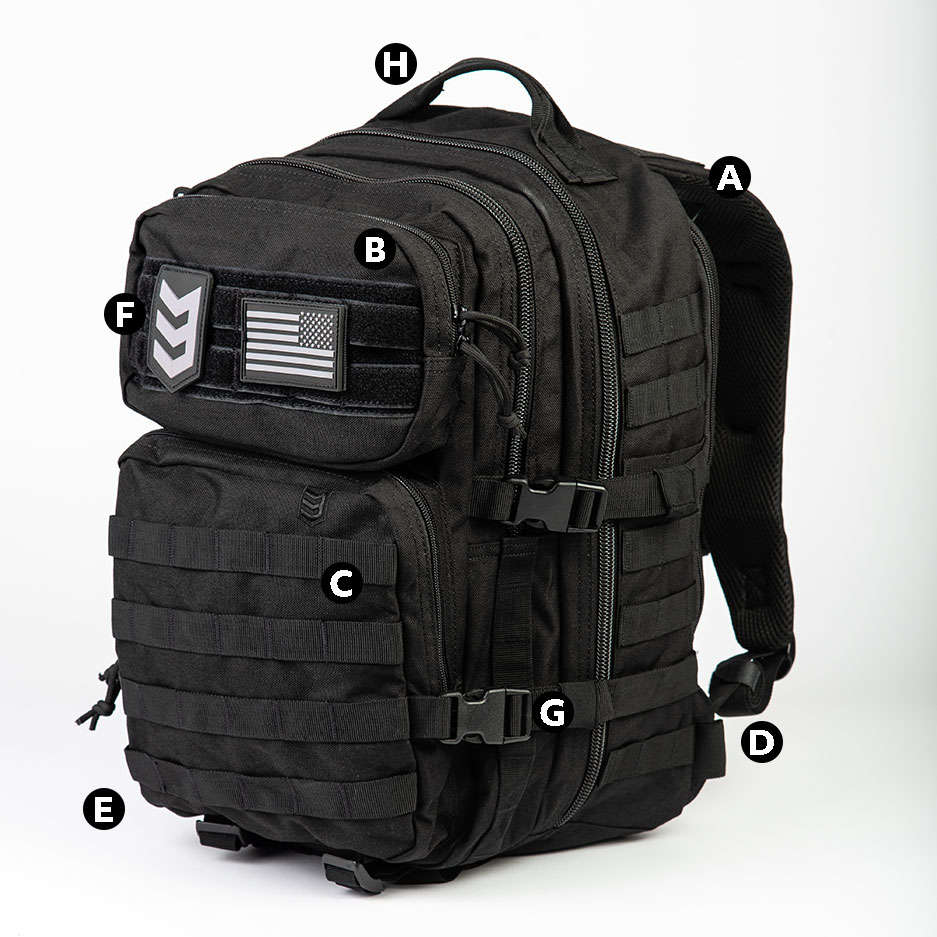 Velox Tactical Backpack Features
A - Heavy-duty padded shoulder straps to keep you comfortable
B - Rugged 1000D nylon repels water and is wear resistant
C - Fully MOLLE compatible
D - Adjustable sternum strap and optional waist strap
E - 27 Liters
F - Patches included
G - Compression straps allow you to secure all of your gear
H - Reinforced grab handle


ADDITIONAL FEATURES & SPECS
18"h x 12"w x 8"d
External padded laptop sleeve fits most 15" laptops
Admin panel to keep you organized
Clamshell design for lay-flat packing
Removable waist belt (not included)
YKK zippers
Velcro strap keepers
Hydration bladder compatible
Designed in Utah
Limited Lifetime Warranty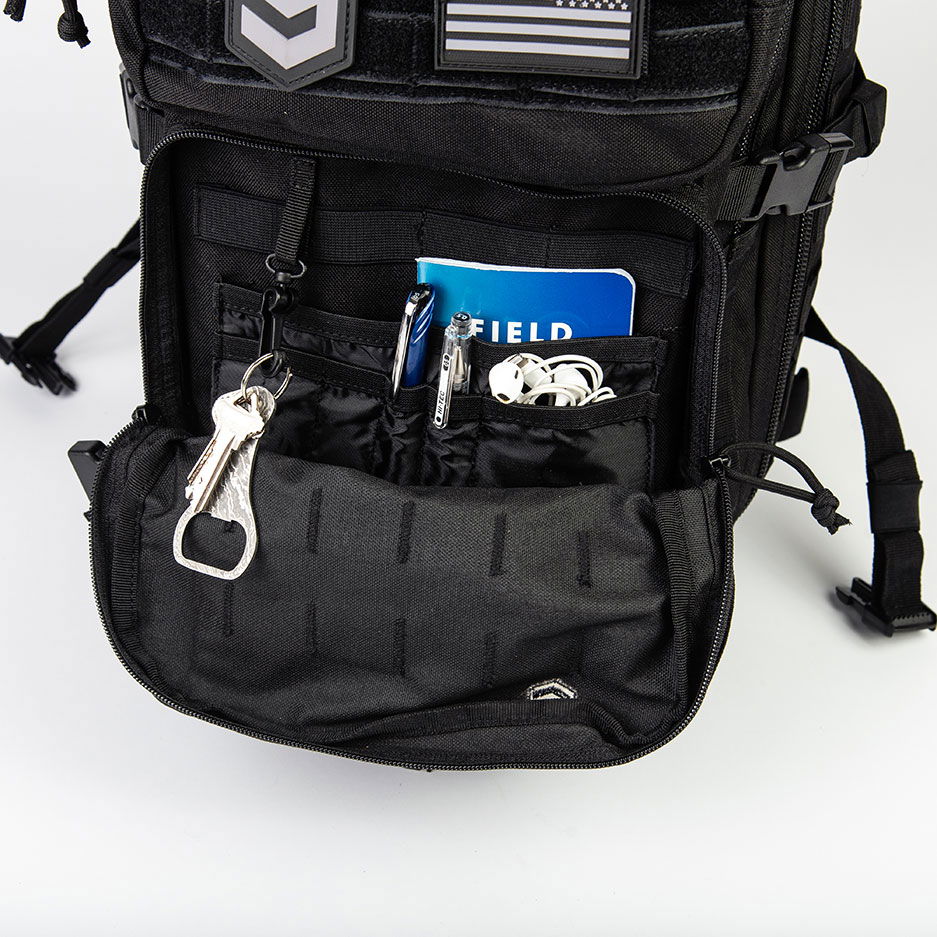 ADMIN PANEL
A well laid out admin panel has a place for everything and will keep your gear organized. Individual pockets are great for pen, pencils, or other small items and a row of elastic webbing lets you add other larger items.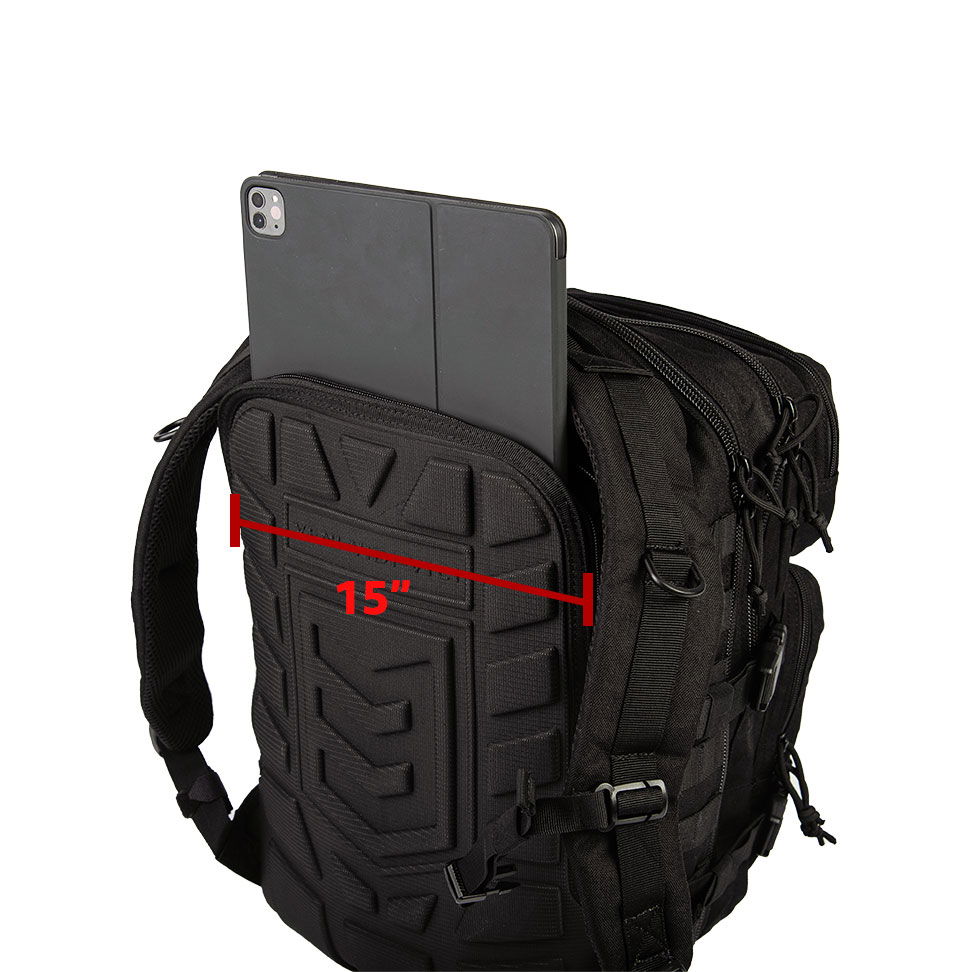 PADDED LAPTOP SLEEVE
UPDATED The Velox's laptop pocket has been moved to the outside. Allows you quick access to your laptop, while preventing theft when carrying your backpack.
A padded laptop sleeve fits most 15" laptops and tablets. This sleeve can also be used to carry a 3 liter hydration reservoir.
HYDRATION COMPATIBLE
Fastens through universal hydration bladder bags opening. Dedicated top opening for tube. Hydration reservoir sold separately.
Searching for
More Capacity?
The Paratus 3-Day Operator's Pack
comes with three MOLLE accessory
pouches to give the ultimate in
customization and organization.
SHOP THE PARATUS
3V Gear Velox Backpack Reviews
What to Look for When Selecting a Soft Gun Rifle - FAQ
The Velox has a dedicated external laptop sleeve that can fit a 15" laptop comfortably.
Yes, the MOLLE admin panels are made to fit any standard size MOLLE strap or clip.
The Rapid Deployment bag can be attached through the MOLLE admin panel on the Velox backpack.
The Velox backpack is durable and modular. It has a lot of capacity and compartments to make use of its storage abilities to pack everything you may need to carry for camping.
Yes, a hydration bladder can be secured with the integrated velcro strap.
No, we have updated the straps to make them detachable and have redesigned them with side padding.
Velox II
Great back, constructed very well. Will continue to purchase your products. Thanks!
Perfect Daily
Pretty much the perfect daily backpack if you have more than average to carry. It will easily fit 3 modern laptops that are thin like a Macbook, Razer and Pixelbook, mine are all 13" ish in size and fit with a iPad Air (2020) into the middle compartment without it being too tight The main compartment is large enough to carry an ample amount of items for example I have packs of small tools, electronics bag and a little first aid kit with room leftover for a 1.5L bottle of water and a hat gloves and jacket in the winter months.
As an FYI there is ample webbing on the bag so you install some extra pouches on the front and sides if you want say a dedicated water bottle pouch. Ideal for long day trips to have one either side with two 1.5 litre water bottles. There are also straps on the bottom of the bag for external storage of a jacket.
The front bottom compartment is ideal for bits of stationary, multitools and other little items you want more immediate access to whilst the top pocket is good as a quick dump pocket or like Me you can use it to house your portable 4G Hotspot hooked up to a big battery for all day use which is mandatory if you have several electronic devices like myself.
The material of the bag is thick and durable but not too over the top as are the handles and shoulder straps. I say this because some military style bags have overbuilt shoulder straps which rub you up the wrong way, particularly when you are wearing just one layer like a t-shirt.
If I had to change anything about the bag then it would be nice to have had clips on the shoulder straps to allow easier put on and removal when fully loaded but this isn't a massive deal breaker particularly as the way the straps are set up on the bag I can easily break the current ones off and put on some clips should I want to but we'll see how I get on.
All in all its a fantastic bag and I have bought and used many others from bigger brands that have been great but not as close to perfect as this one.
Excellent!!! Worth it!!!
I was looking for a pack that was not too small or not too big but just right, 3V Gear had what I was looking for! I can put my laptop inside perfectly and other items. I use this for my security guard job and it is used as a get home bag or if I can not get home, this pack let me pack extra items for that use.
This pack is very comfortable to wear and on your back.
The pack does not include a hip belt, I don't like hip belts so that satisfied me!
Good quality, stitched up and constructed very well! I highly recommend this pack, you'll get your money's worth! p.s. This is my second purchase from 3V Gear so you know they have good quality gear! You will not be sorry!
Best EDC tactical backpack!
The new updated version velox ll has reinforced grab handles and shoulder straps. Clamshell opening allows for easy packing and unpacking. Lots of storage and pockets, meshes well with my Molle pouches. Super awesome backpack
Great pack
Great pack! Lots of straps to attach additional gear, plenty of storage! Great stitching for those who over pack. Worth the price!
Great backpack for a good price
Love the backpack. I am diabetic and need to carry lots of thinks to take care of myself and it all fits nicely into this very good looking backpack.
Very nice!
Bought this as a upgrade to my briefcase in the hopes it hold all my stuff. Very thing found a place. I really like how smooth the zippers work. No stinking. i'm of another the same size for a go bag. Highly recommend.
Daughter's Velox II
I was going to give my old Velox II to my daughter to use. The zipper had broke and I sent it back for repair. It was not repairable and I was given the option for a new one. The new Velox II arrived and my daughter put it to use right away. It carries all her stuff well and she is quite happy with it. Thank you for great service.
Great value
I've been using this pack for about a week and I really like it. There are plenty of pockets, space and the shoulder straps provide plenty of cushion. My only critique is that the strap on the waist belt came undone during the second use. I'm going to see about taking it to a seamstress to have a lip sewn on it; I'm using safety pins for now. Otherwise, I highly recommend this pack.
Hi Laura,
Thank you for the review. We leave the strap on the waist unsewn so it can accommodate more peoples waist sizes. If you weave the loose end (non-buckle side) of the strap back through the front buckle hole, it will lock the strap into place and you won't need to have it sewn.