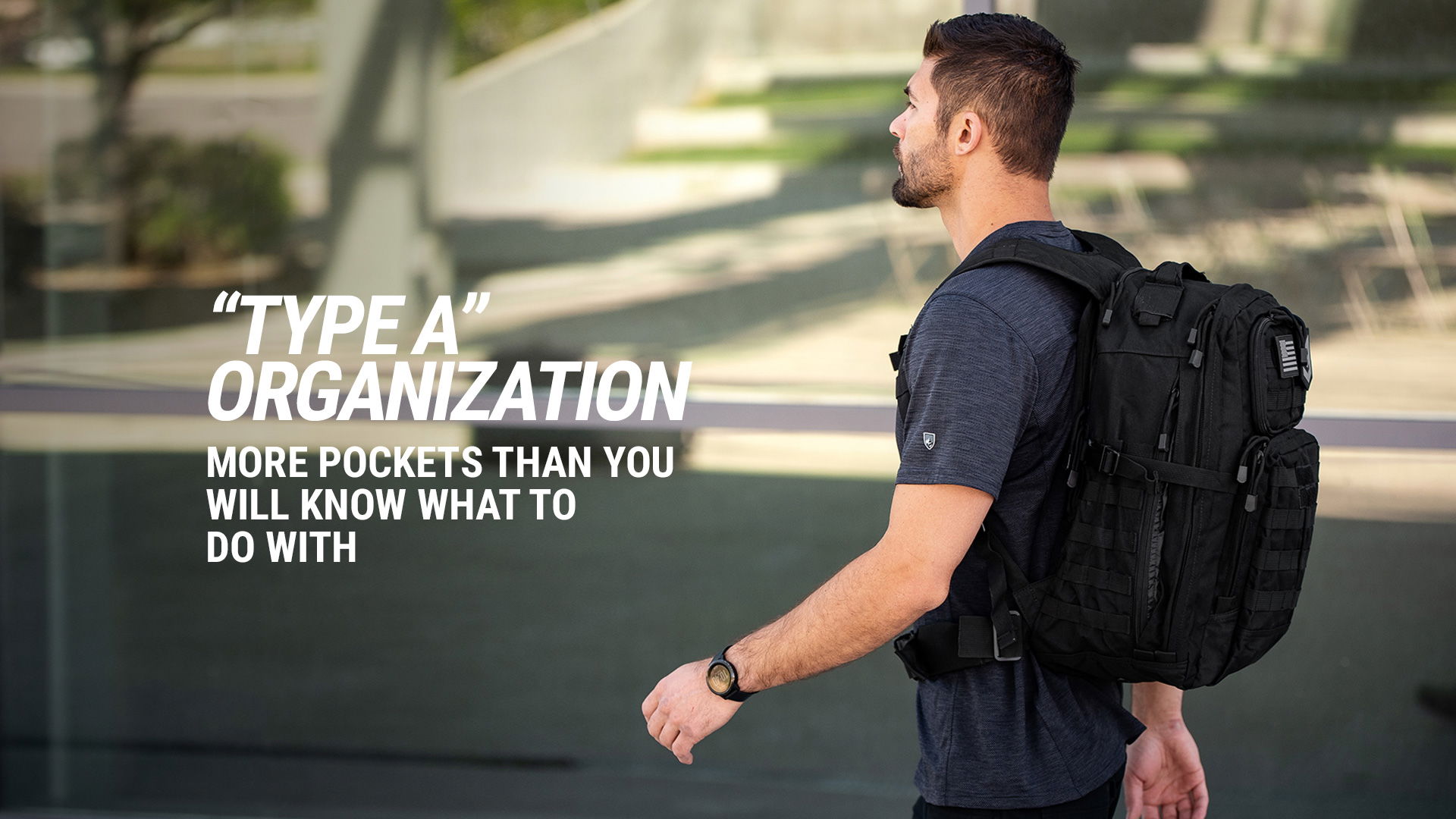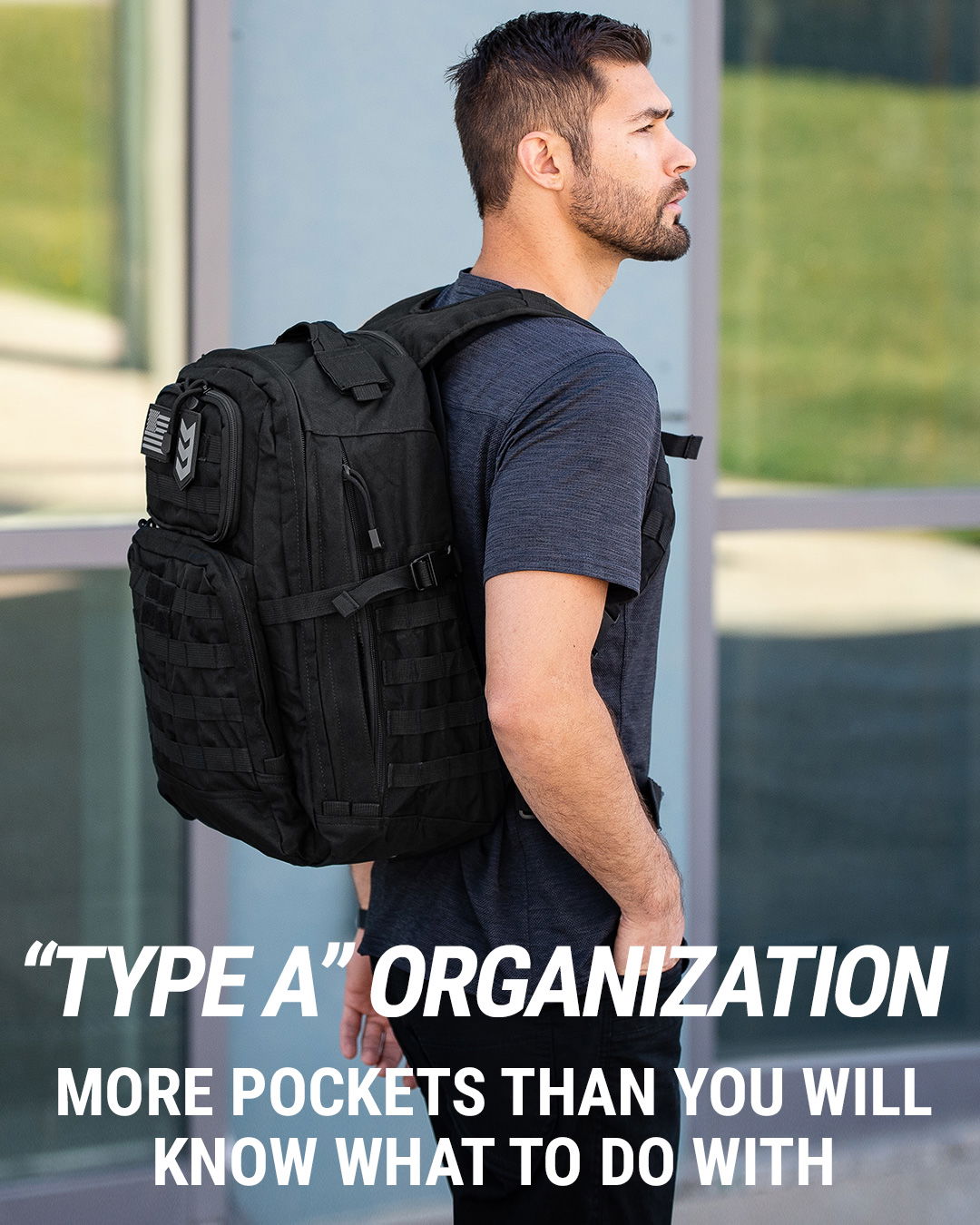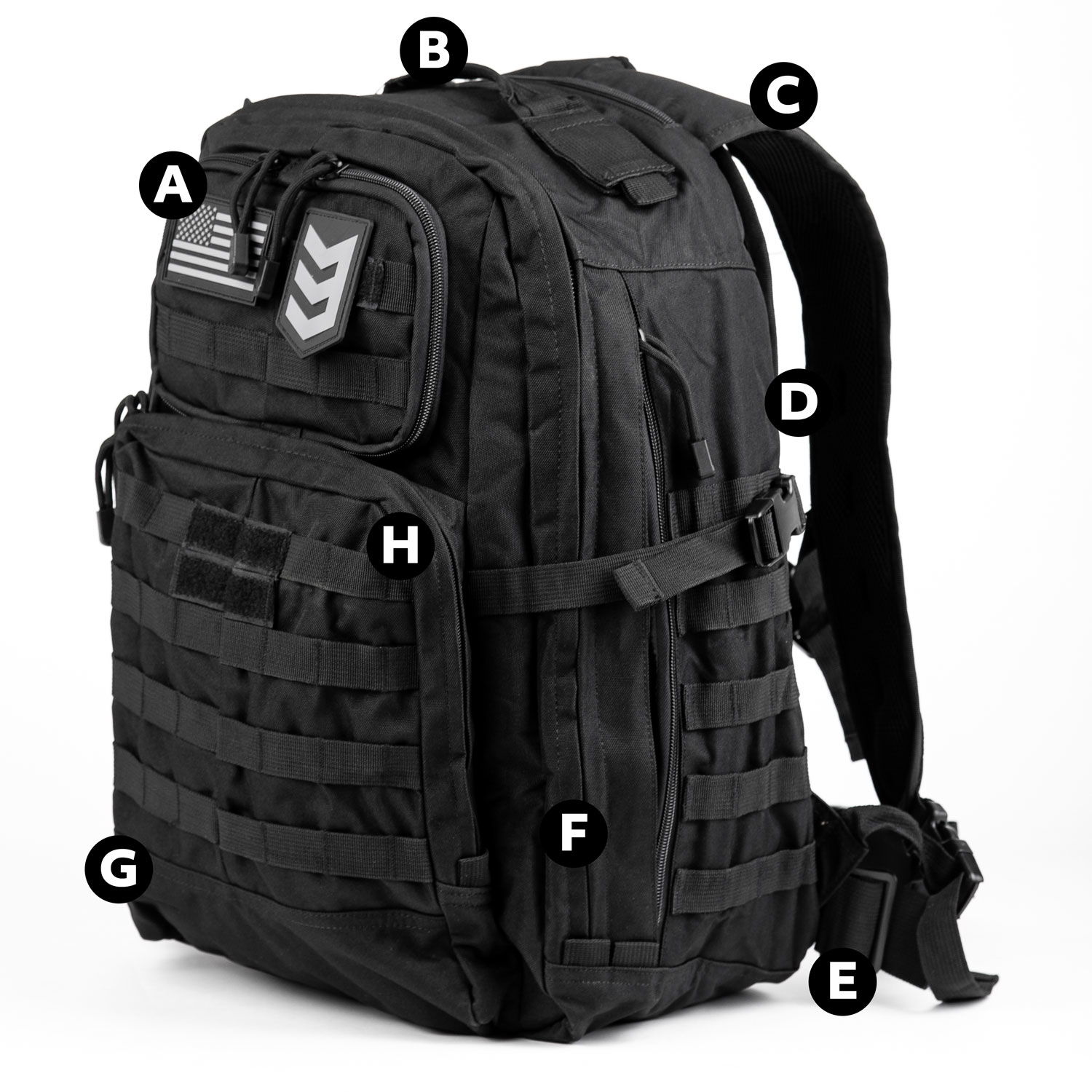 PRECISION TACTICAL 35L BACKPACK FEATURES
A. Velcro ID panel with included 3V Gear and American Flag patches
B. Rugged grab handle
C. One-piece "yoke" style shoulder straps
D. External laptop compartment
E. Removable waist belt (sold separately)
F. Lay-flat clamshell design
G. 1000D rugged polyester
H. Tons of external pockets and organization

ADDITIONAL FEATURES & SPECS
Internal padded pocket for a laptop, tablet, or hydration reservoir
Large main pocket with multiple individual mesh pockets
Sunglasses stash pocket
2 External slotted side pockets
YKK Zippers
MOLLE compatible
Included American Flag (standard or forward) and 3V Gear logo patches
Dimensions: 19"h x 16"w x 9"d
35 Liters
Weight: 3.7 lbs
Available in: Black
Limited Lifetime Warranty
Imported
Precision Tactical 35L Backpack Details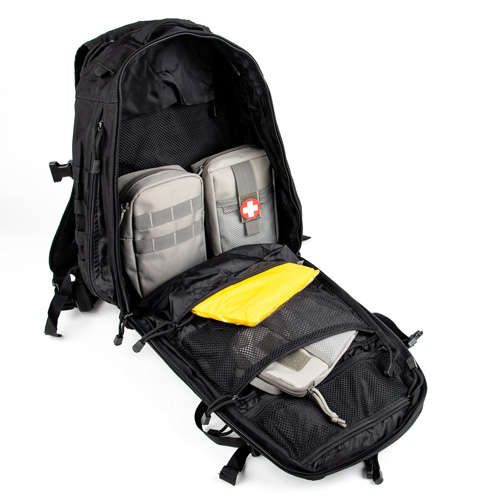 A large opening gives you total access to all of the internal pockets and organization. Plus, you can easily load out your backpack.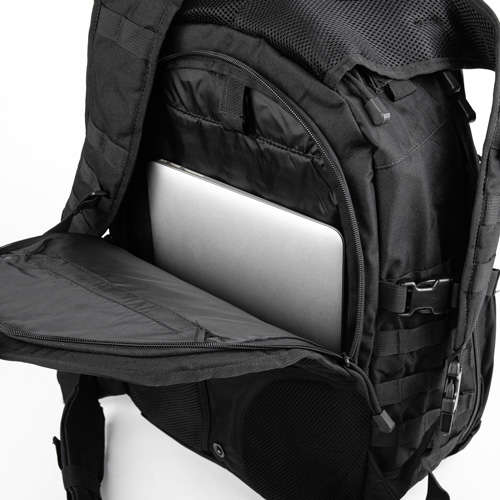 An external padded laptop sleeve has enough room to easily carry most 15" laptops or tablets. With the laptop pocket being on the outside of the backpack, you won't have to open the main compartment of your bag.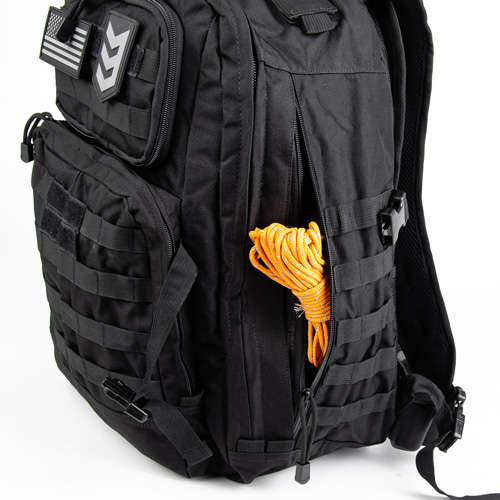 A large side pocket gives you additional organization and lets you easily stash items you need quick access to.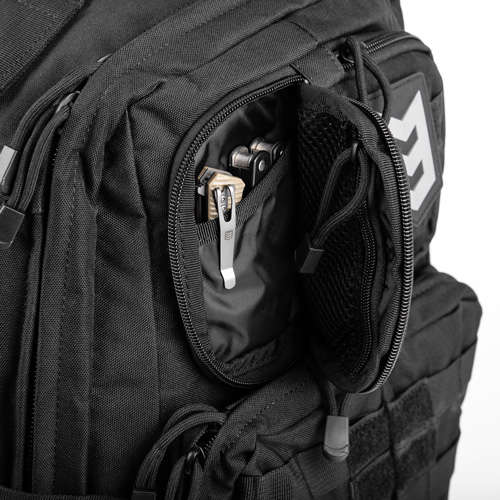 Small zippered pockets on the front of the bag allow you to stash all of your small accessories.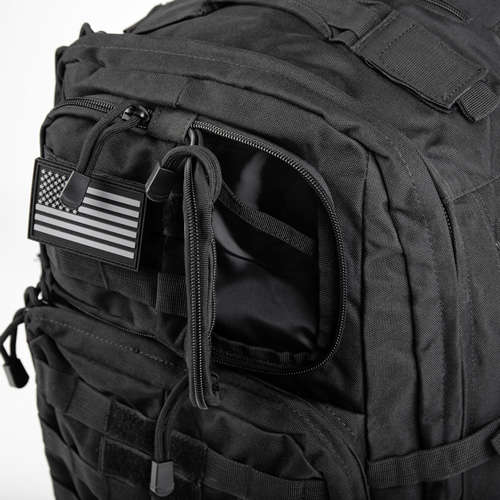 The external zippered pockets also feature zippered mesh pockets. This provides even more organization and allows you to see what is in each pocket.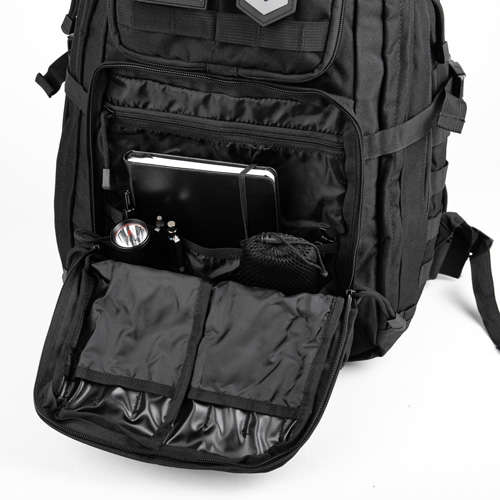 A large admin pocket lets you organize everything. Pens, pencils, flashlights, note books, EDC tools, etc.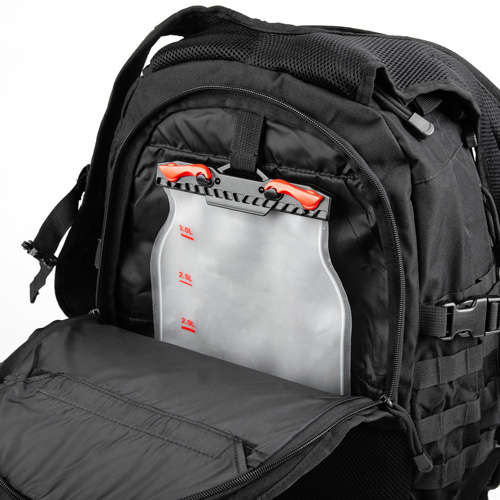 The external pocket also doubles as a hydration reservoir pocket with a built velcro faster to hold your water reservoir upright. The pocket also features a drain hole in case your reservoir fails. *Reservoir not included.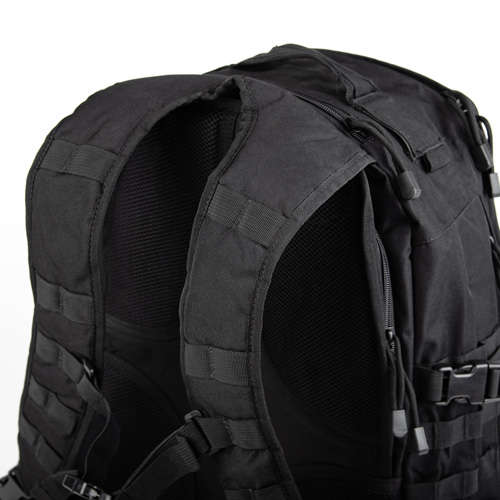 Yoke Style Shoulder Straps
The one-piece "yoke" style shoulder straps are incredibly comfortable and distribute the weight of your backpack across the length of your shoulders instead of two narrow spots.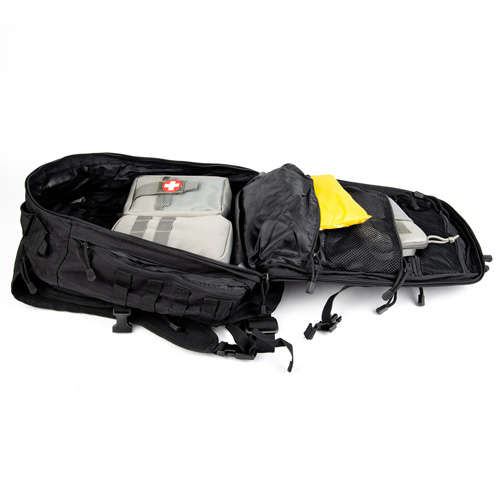 A lay flat design allows you to easily pack and organize the backpack. This is ideal when loading out the backpack as a bugout bag or get home bag.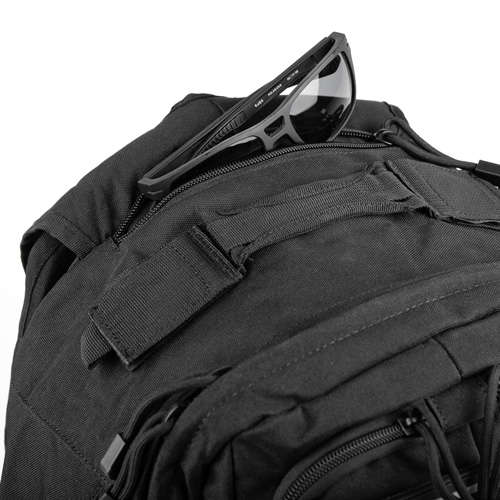 We all carry sunglasses and don't want to just toss them anywhere is the pack. The Precision backpack has a dedicated stash pocket just for your glasses or other small accessories.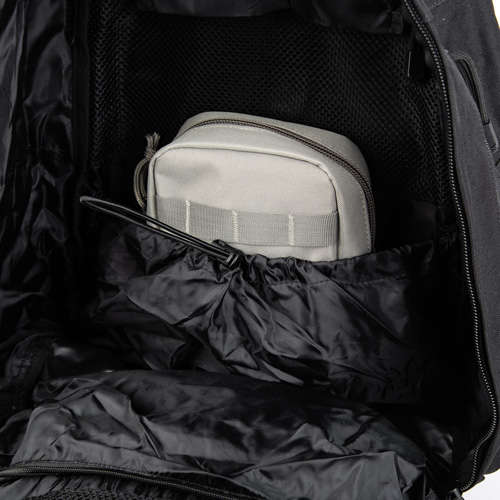 Separate Compression Pocket
The main pocket features a dedicated compression pocket that will keep items separate from other items in your bag. Think shoes that you don't want rubbing up against your other gear.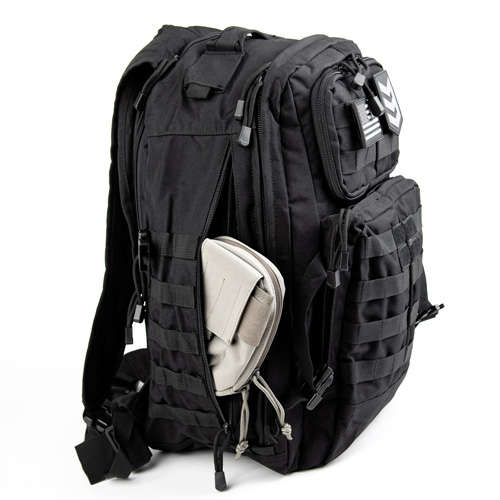 This allows you to refine what you carry and make sure everything is in its right place.
3V Gear Precision Tactical 35L Backpack
Great tactical Day+ pack
This is a great pack for big day hikes, carry on luggage of plane trips and it looks cool too! Thank you 3V Gear for making tough, affordable tactical packs available in my home town of West Jordan!
Side pockets for water bottles
I have been looking for years for this backpack. ALL, and I mean ALL, other backpacks of this size have small, wimpy elastic pockets that will not securely hold my water bottles. This backpack is the bomb! The side pockets fit my bottles and completely zip closed. Also, made in America and at a great price. Can a pack have too many pockets? I hope to visit the factory when I am skiing in Salt Lake City next week.
3V Gear Precision Tactical 35L Backpack
What a great product, well made and designed. I am very happy with this purchase, it carries all of my stuff with no issues. I would recommend to anyone looking for a quality backpack.
Outstanding Qualities and Spacious w/o bulk!
I have owned numerous backpacks over the years. 3V, you've nailed it! Spacious, well made, actual usable compartments, adjusts seamlessly, and the shoulder straps are made for those of us that are always on the go! Comfort and reliability. Ordering an additional backpack from my OCD husband.
It's okay 👍
This backpack is good. There's only a few things I disliked about it. Is it better than 5.11s Rush 24? Most likely not, but that why it's 45 dollars more expensive. I like this pack a lot and the things that bothered me about are not really a deal breaker. First thing I noticed with my pack was that it was missing the elastic toggle for the inside pocket. Second, it doesn't have a dedicated laptop pocket. Third, I wish the shoulder straps were slightly more padded. Fourth, the Molly webbing is way to tight. Fifth, I wish the inside of the sunglasses pocket was fleeced. And the last thing I didn't like about it was the inverted U.S. flag. I don't see the point in selling that. The one thing that I loved the most about this pack that my Rush 24 doesn't have it the soft mesh padding on the shoulder straps and back portion of the pack for wicking out sweat… all though I see how that could be the one part of this pack that's gonna give someday. I'm hoping the warranty covers that. If those little problems and upgrades could be solved and made the pack $99-$109.99 I would so recommend it to friends and family.
3V Gear Precision Tactical 35L Backpack
Sturdy
Not sure why there aren't a lot of reviews and what not on this but I am all about this pack! The organization wasnt a joke and even when i placed multiple packs inside for a deployment it fit well, wasnt bulky, and fit under the chair on plane just fine. Plus maybe it was the yolk straps but it all felt lighter than using my amazon purchd pack. It looks way bigger inside for a 35L bag. That lil pocket on the inside is awesome! Got my sweater protected inside it away from everything I had in the bag. Worth the price! I'm a 3v brat cuz whichever backpack or sling I use from 3v, sparks a convo and intrigue. I would and have definitely recommend(ed)!
Favorite backpack!
My nephew was telling me about this great backpack he found. I was in the market for a new pack and after hearing from him, I decided to get one. I have to say is a great pack for hiking and carrying gear! Love it. Definitely worth the price! Got a great picture showing it off at Arches National Park!
A great pack for us folks whose office is outdoors
At first this pack was too heavy for me. I abandoned it for a smaller one from another maker. I recently decided after getting stronger I could revisit. Smart choice. This pack is so thoughtfully constructed. I wasn't sure about the zippered side pockets for carrying my water bottles. Now I wonder how I did without them. Much better than the old school short mesh pockets. Nothing going to fall out. In case you have to get horizontal for whatever reason. I like having the right tools for the job. We chose a sling for our bag from another more popular brand when we started up this position. Not considering shorter people with breast. I buy my own bags. This is now my fave. 3V keeps a great price point as well. A great quality bag comparable to the big brand, at a much better price.