DOUBLE GUN CASE
"Absolutely thrilled about this case. It fits everything I need it to plus some. This is my second pack from 3V, and look forward to a few more."
- Simon Mattson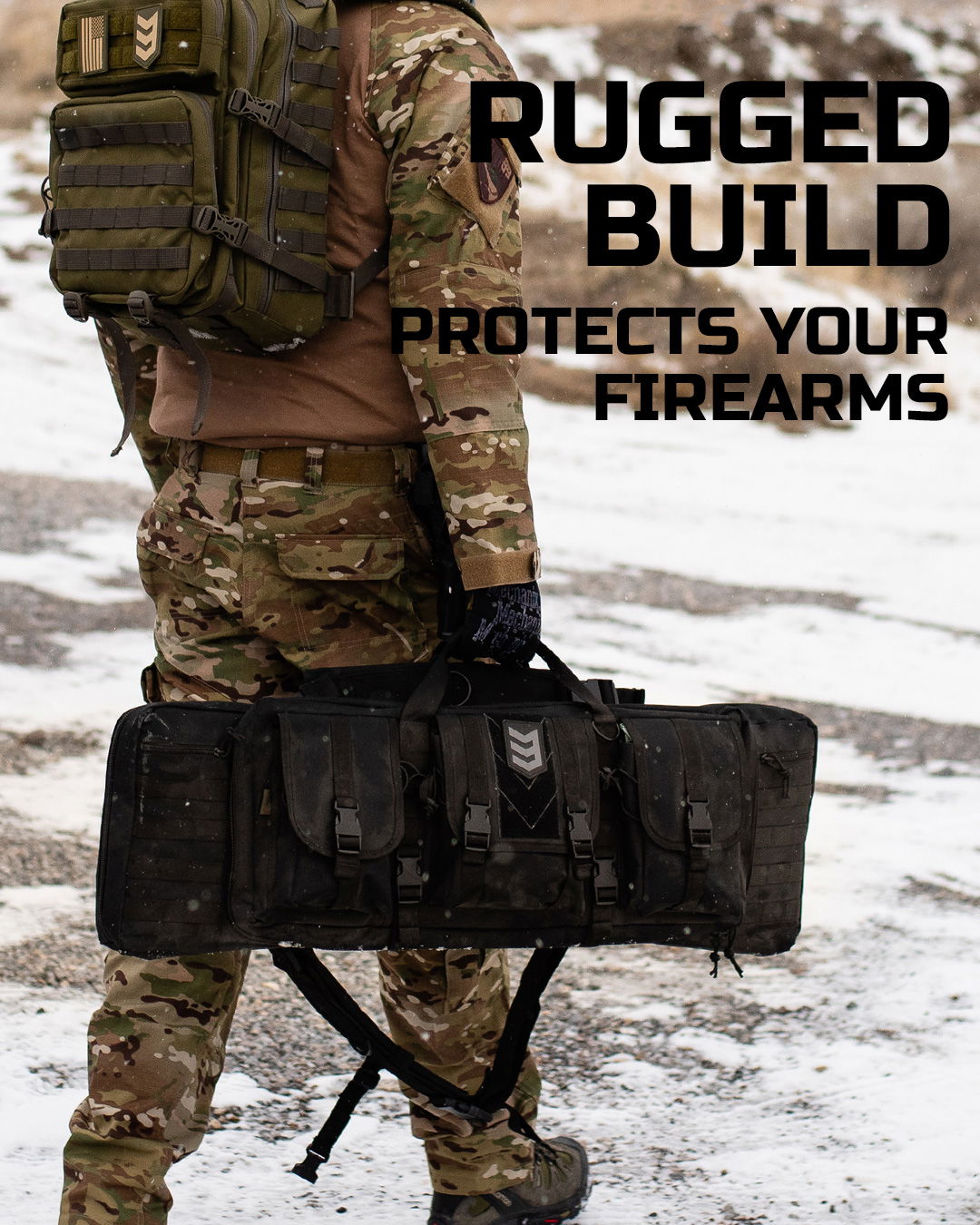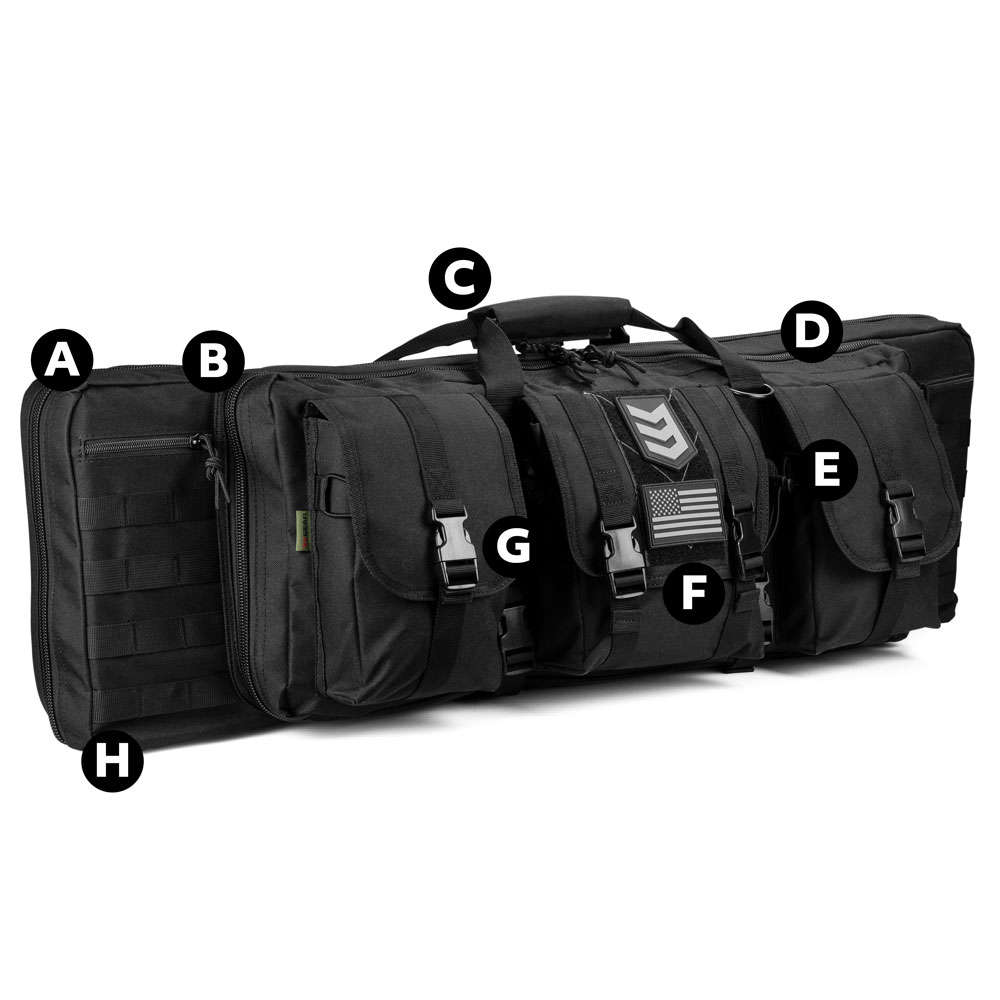 Ranger 36" Gun Case Features
A - 100% padding to protect your firearms.
B - Holds two rifles up to 36" each.
C - Padded grab handle.
D - Large separate pocket for pistols and magazines.
E - Three large accessory pockets.
F - Patches included.
G - Compression strap keeps your gear secure.
H - MOLLE compatible.
ADDITIONAL FEATURES & SPECS
12"h x 36"w x 8"d
Large zippered front compartment (24" x 10" x 2") with two padded pistol pockets
Detachable padded and adjustable backpack straps
Water resistant
Lockable zippers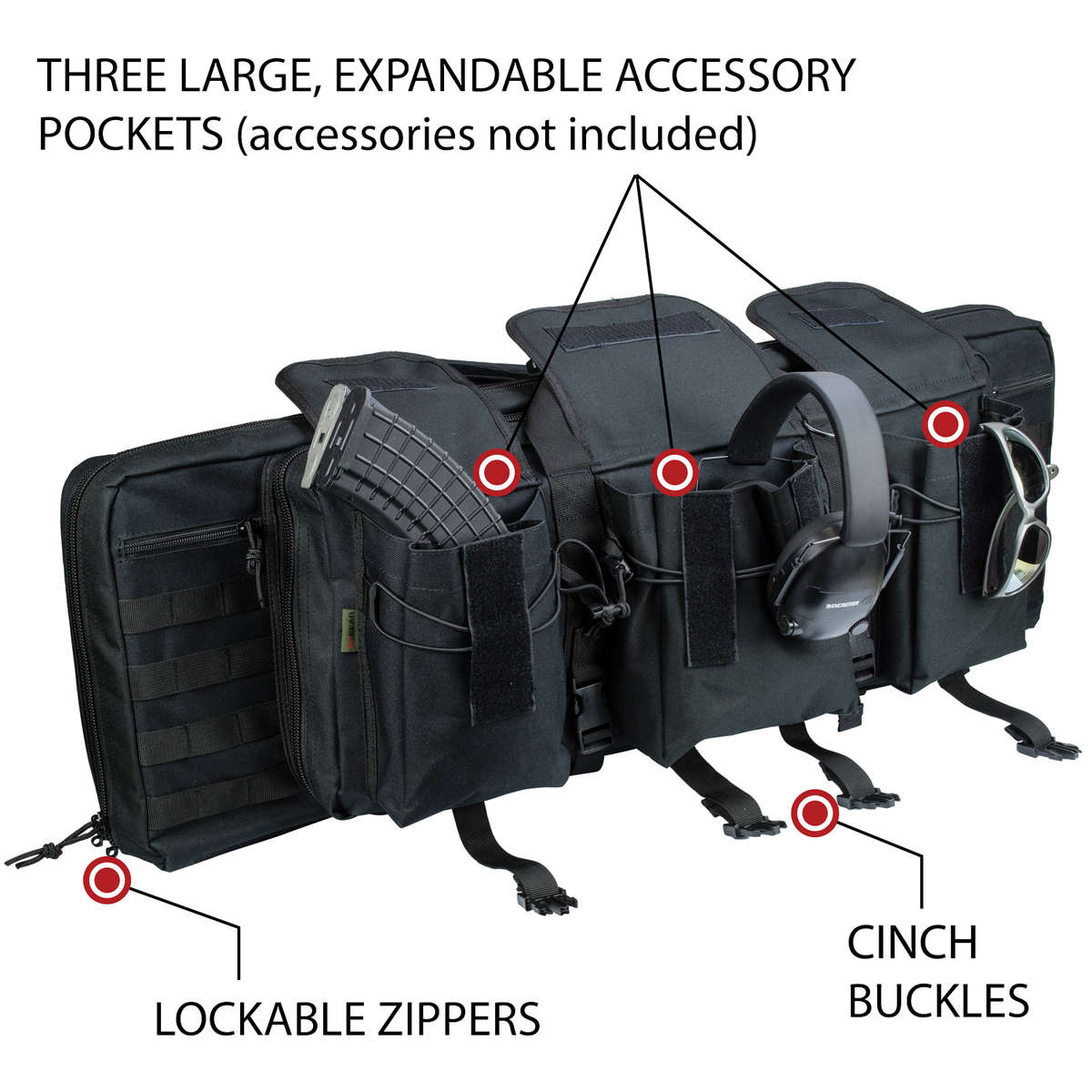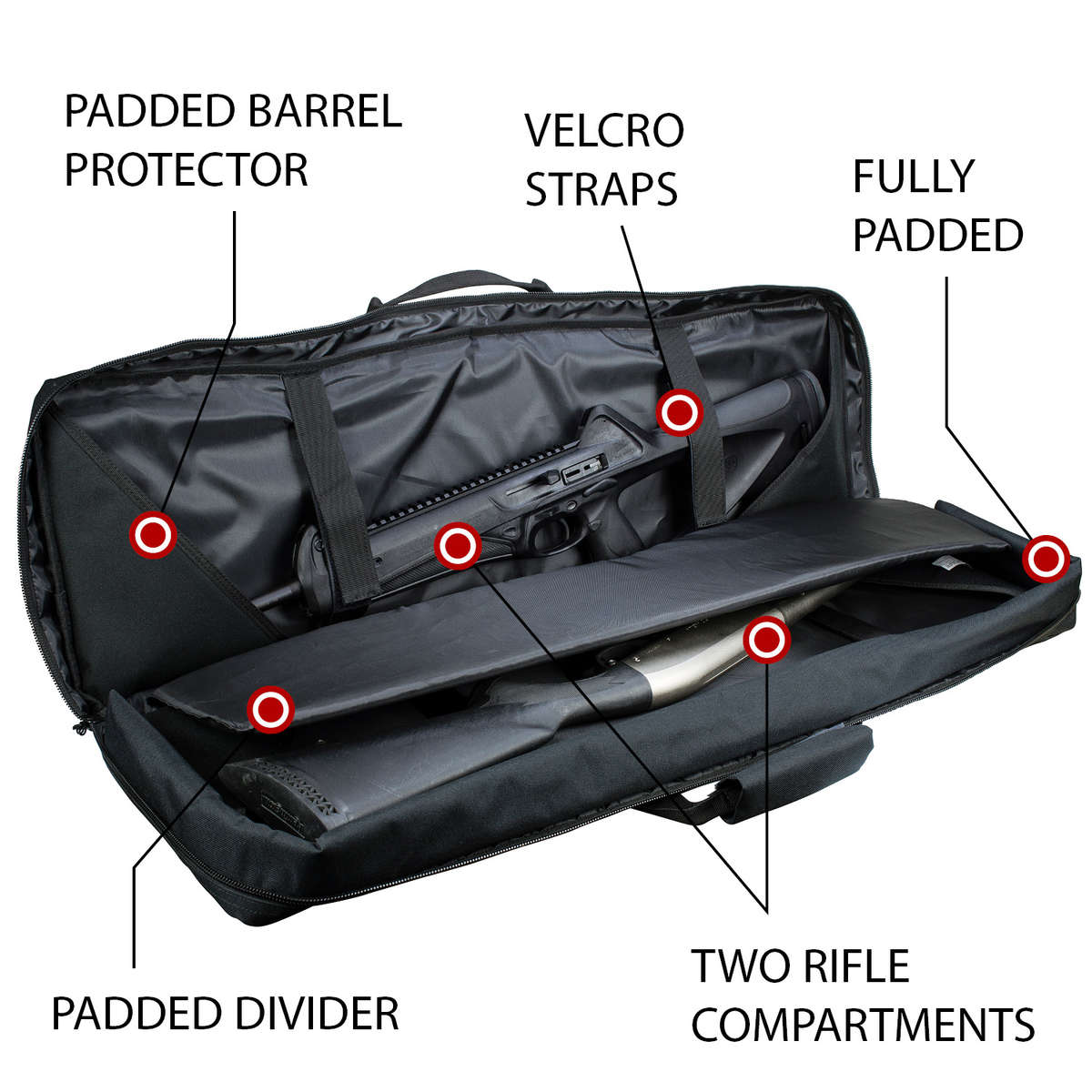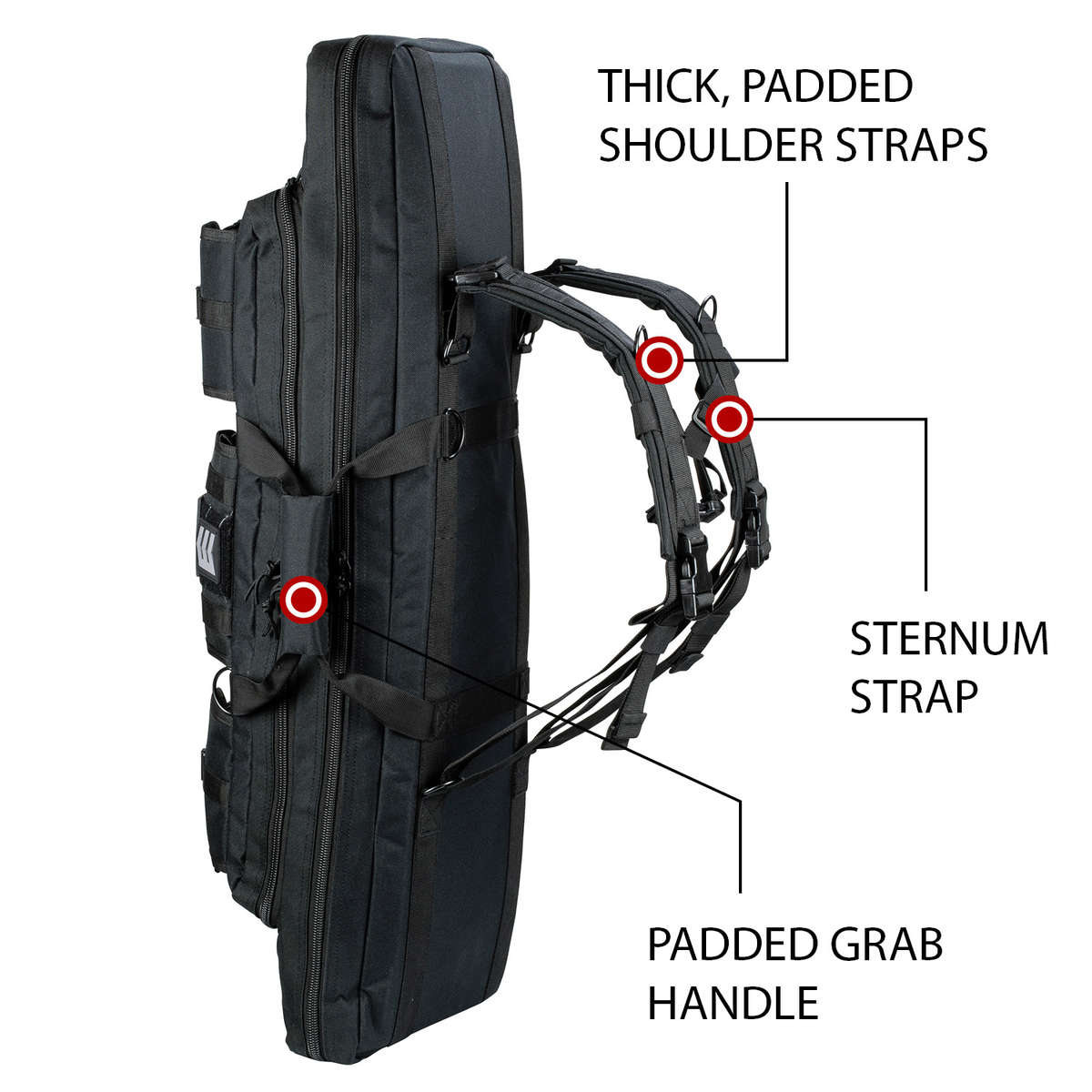 What to Look for When Selecting a Soft Gun Rifle - FAQ
Yes. You can remove the shoulder carry straps, and place them back on if preferred at a later time.
The Ranger 36" gun case has two lockable zippers that can be fastened together with a lock. The lock is not included.
The front MOLLE panels measure 6.5" wide by 7" high. MOLLE webbing is standard 1.5" wide by 1" high.
A thick, multilayer cushioned material is fitted through the borders and interior of our soft gun cases to help keep your guns protected.
Awesome Double Rifle Case!
I really love my Ranger double rifle case. I'm able to fit an AR and a 18" barrel lever rifle comfortably inside with room for other gear as well. I really appreciate all of the storage compartments which really helps organize gear for the range. The bag is very well made and feels like it should cost more. Overall, it's a great bag at a reasonable price. I definitely recommend it.
3V packaging violates my opsec!
I've ordered from them before and so expect this rifle bag to be of good quality. I was quite unpleasantly surprised, however to find that the box in big, bold letter, large enough to be read from the street, proclaimed many and varied phrases that in effect said "HEY! THERE'S SOMEBODY THAT HAS GUNS AT THIS HOUSE!" Seriously? I'm trying to keep a no-profile in this neighborhood, and I get this? And what's with the big lettering that says 'Saturday Night Special'? (Not the only tell-tale, I'm telling you.) Giving a shout-out to cheap, low-quality guns that were regulated out of existence?
OPTICS, GUYS OPTICS. AND YOU'RE NOT HELPING MINE AT ALL.
I will not order any more products from this company if they're going to shout me out when the package is delivered. I can crap out my own security without their help just fine, no-thank them very much.
Back works very well for my application. I will definitely purchase from 3V Gear again.
Very well made
Make it in white (Snow White)
DID IT'S JOB!!
It carried both my rifles nice and snug. Also had plenty of room for my side arm, magazines and extra range gear.
Best bag and best price
This bag comfortably carries two AR-15 rifles, plus all the other range gear I need in a day. Plus this bag was on sale for a killer price so I bought two!! This bag is the same if not better in quality, compared to bags they sell at local sporting good stores. I'm glad I decided to get two of them. Thanks 3V Gear for an awesome rifle case at an awesome price!
Awesome Case!!!
Love the case. Thought a double padded case was a bit much at first, but no regrets. Love the storage pockets in the front, able to hold all my AR and Pistol magazines along with some extra ear pro.
Totally good bag.
This is my to go bag to the range. Super durable, low profile, and tons of space.