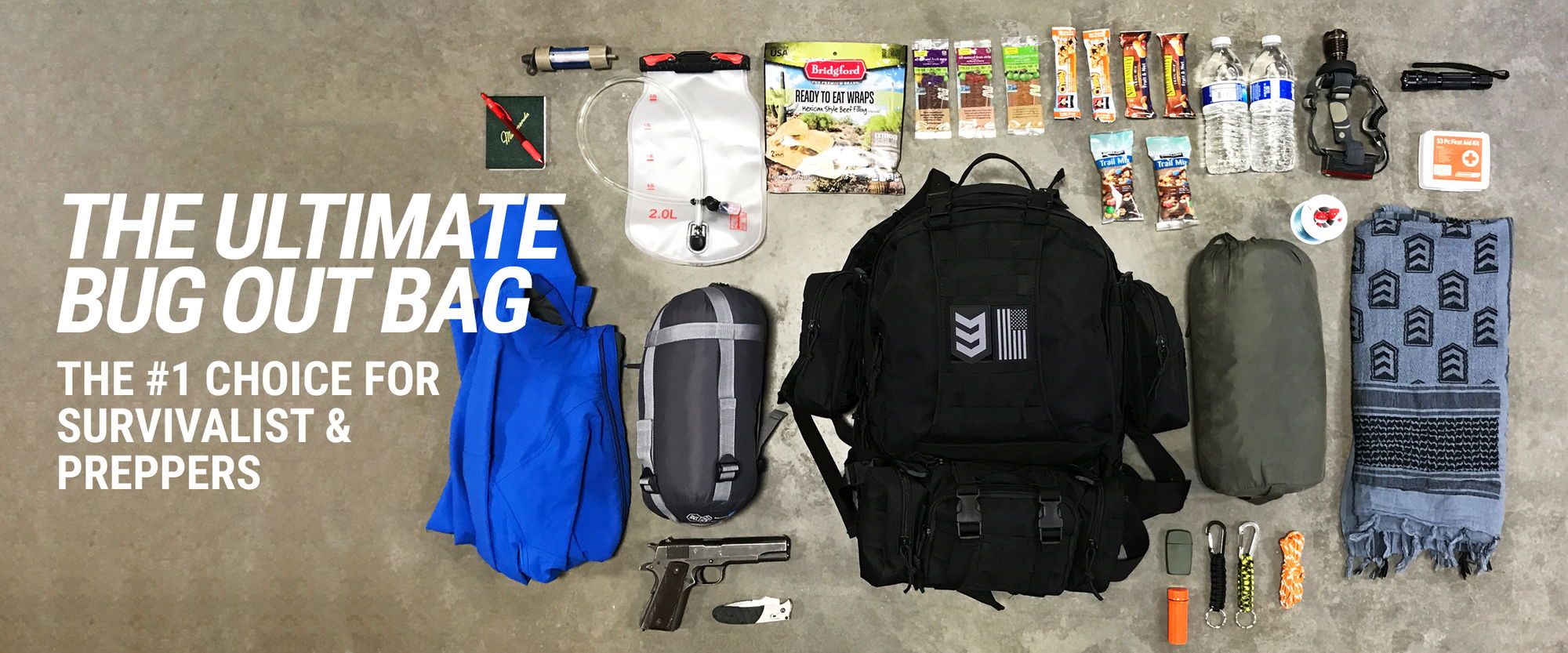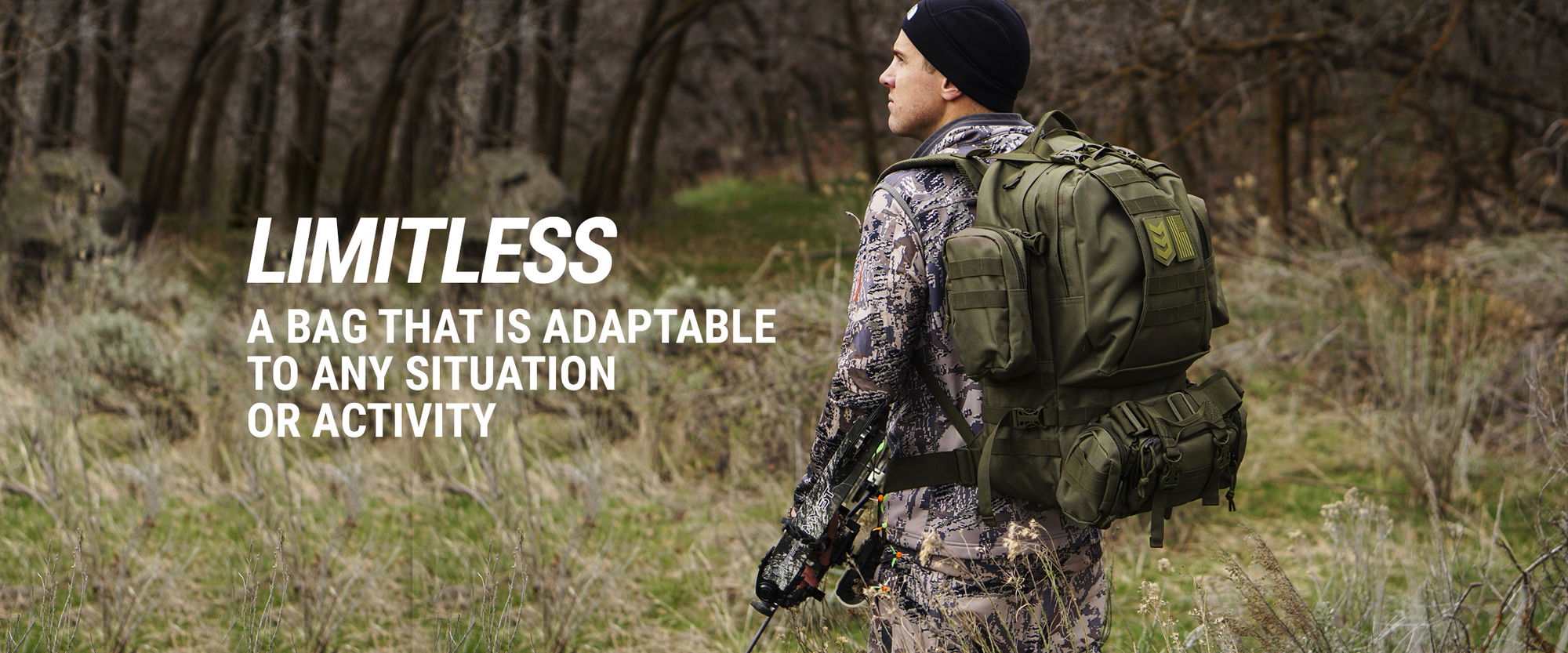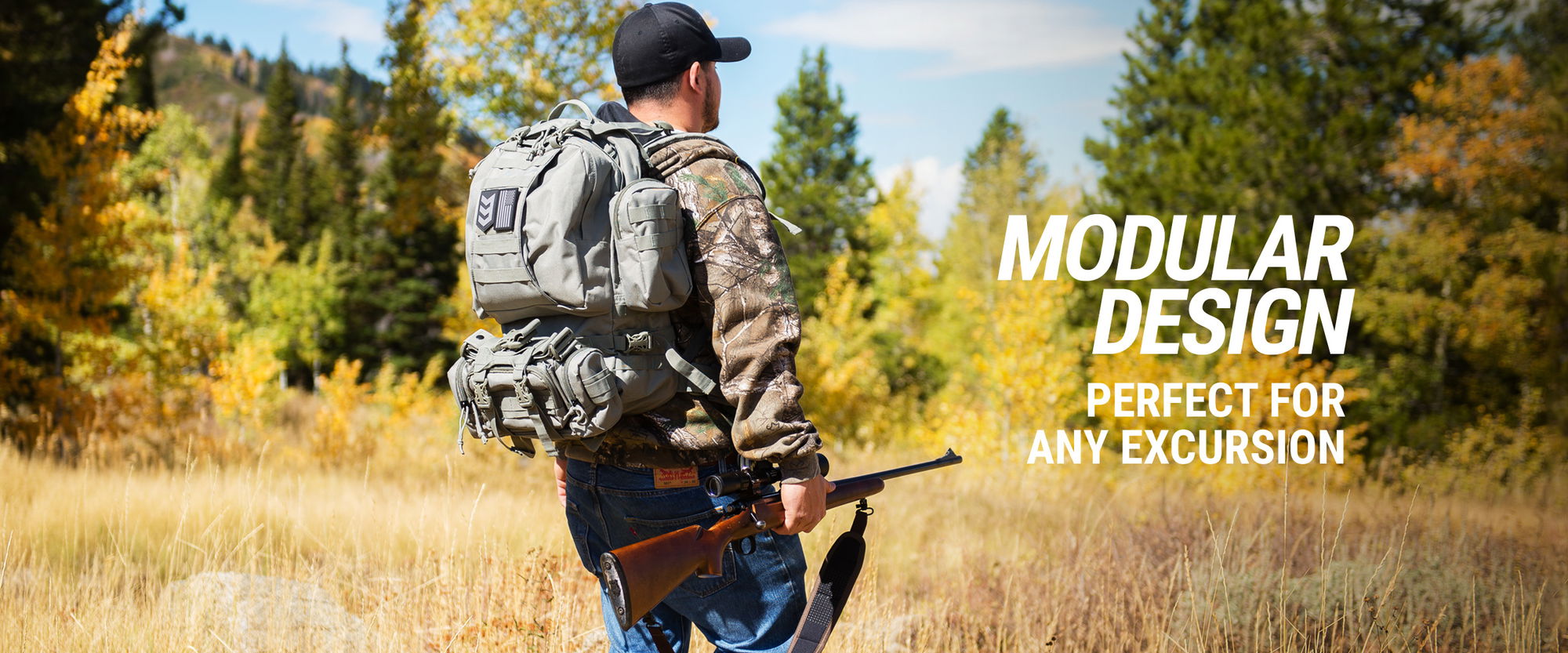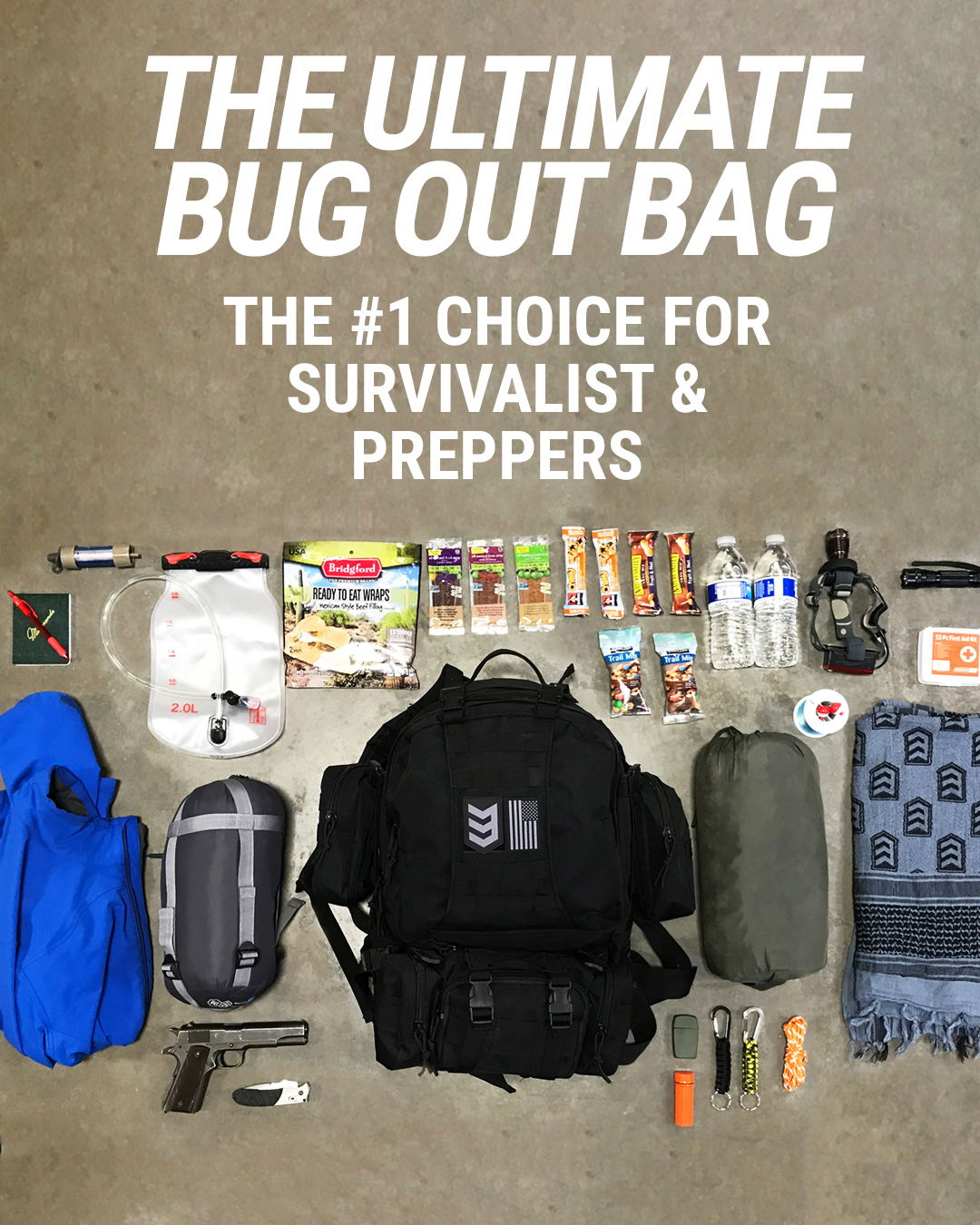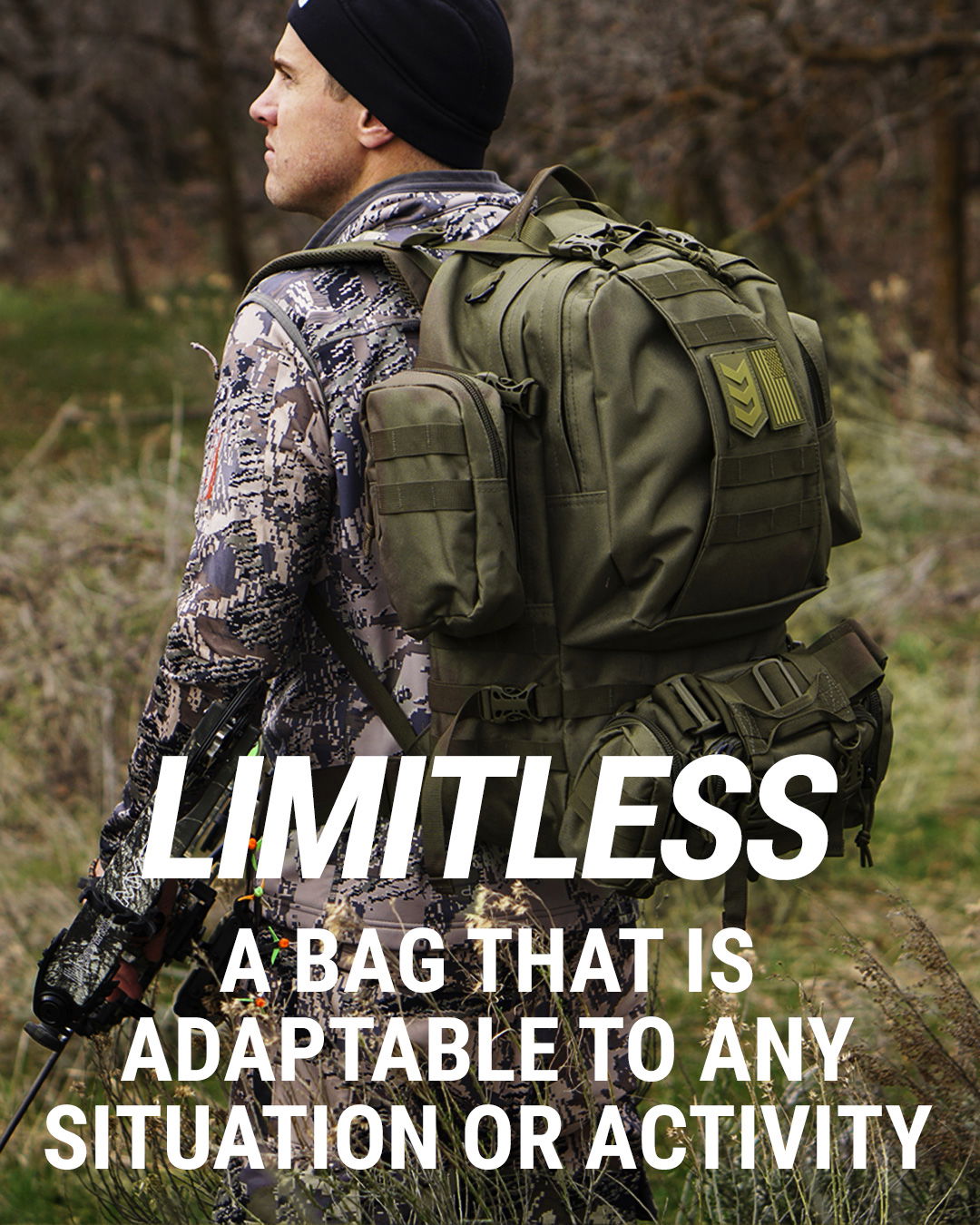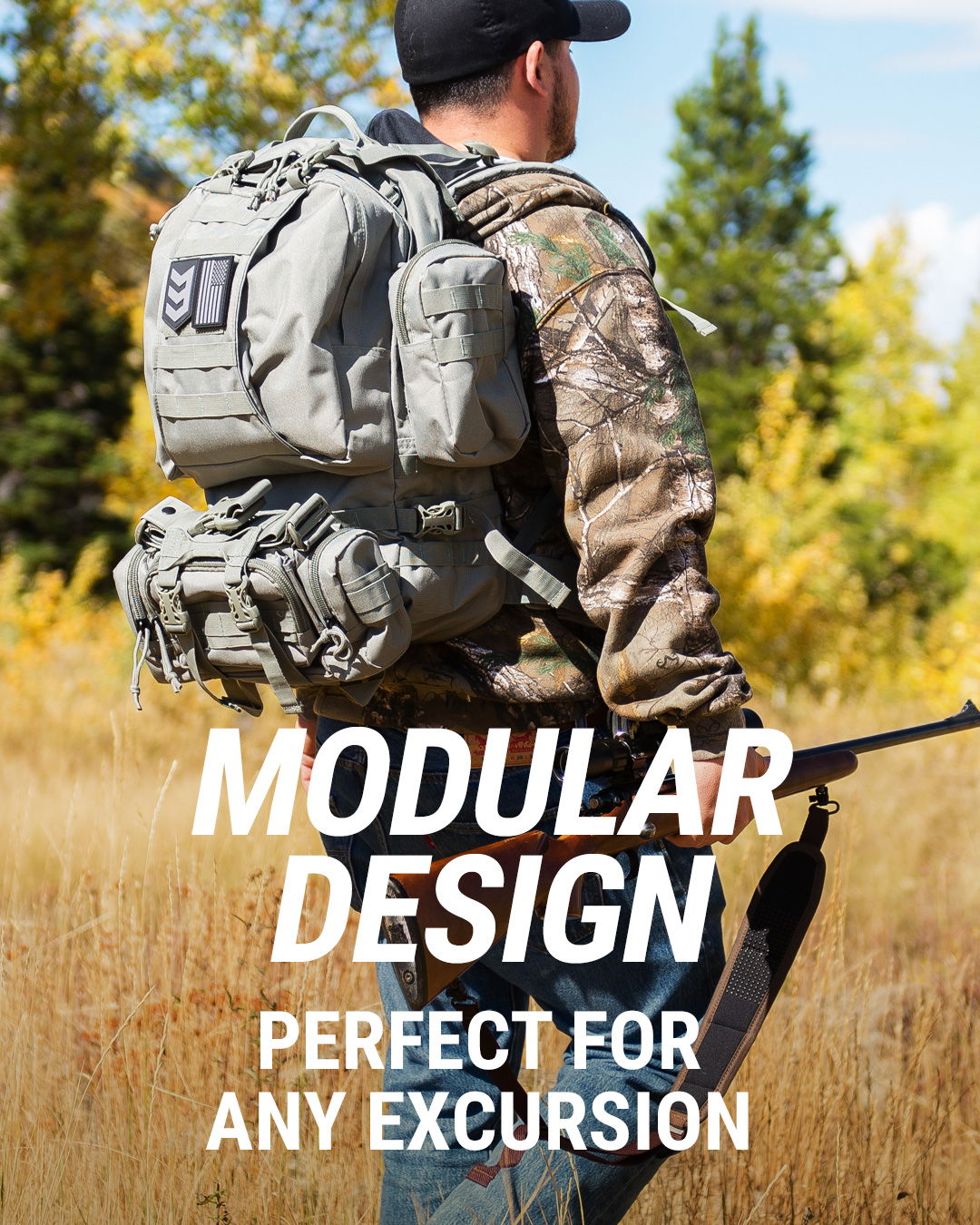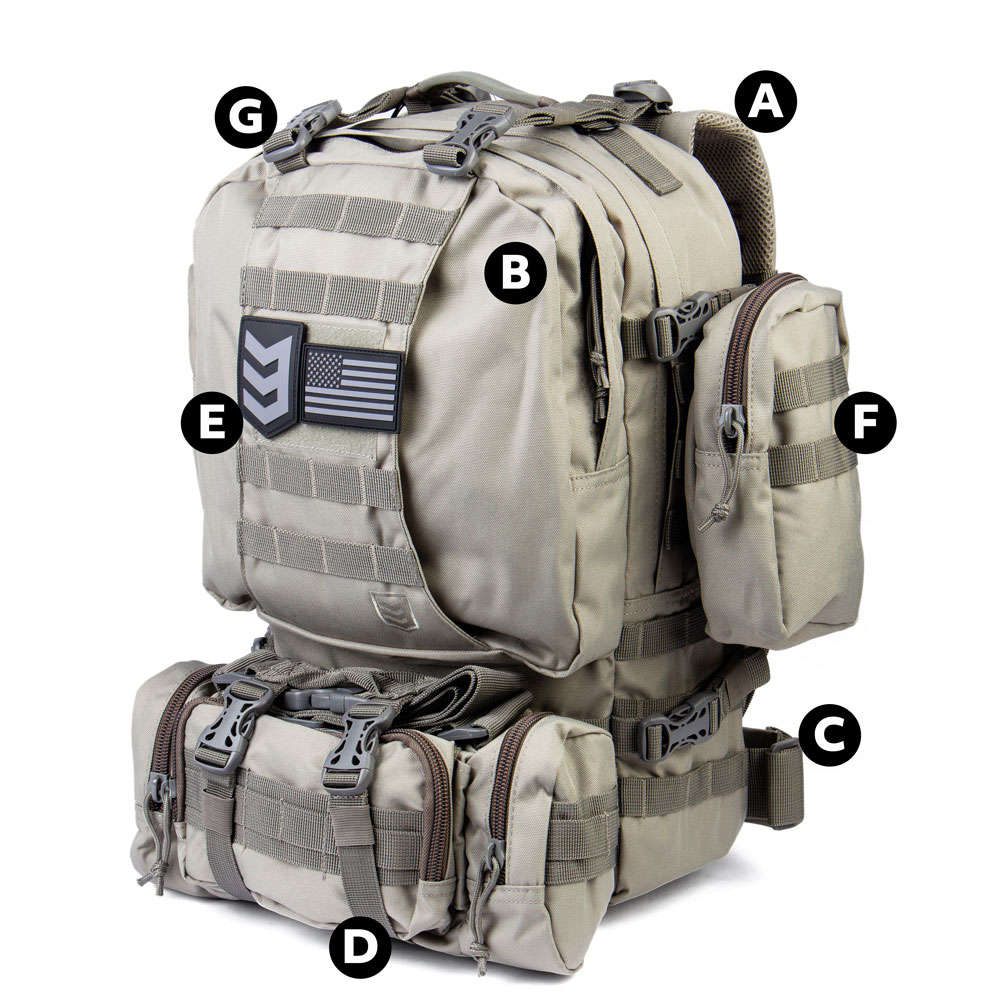 Paratus 3-Day Backpack Features
A - Heavy-duty padded shoulder straps to keep you comfortable.
B - Rugged 600D fabric repels water and is wear resistant.
C - Padded waist belt and sternum strap allow you to take the load off your shoulders.
D - Rapid Deployment Pack is removable for quick excursions.
E - Patches included.
F - 2 MOLLE accessory pouches are perfect organizing your gear.
G - Multiple adjustment points allow you to secure your gear.


ADDITIONAL FEATURES & SPECS
Dimensions 20"h x 12"w x 8.5"d
40 Liters
Total Weight 4.45 lbs.
Available in: Olive Drab, Black, Foliage Grey and Coyote Tan
Limited Lifetime Warranty
Imported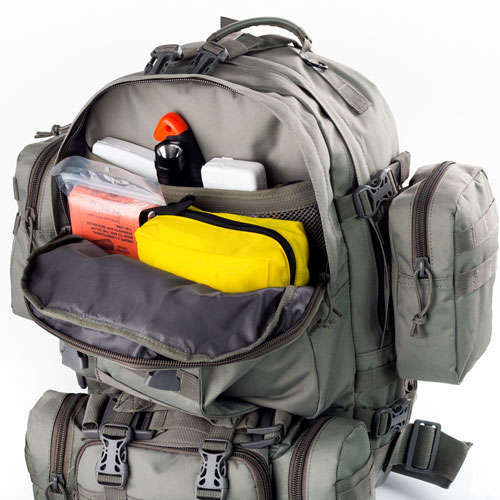 With numerous pockets and sleeves, there is plenty of room to organize your gear.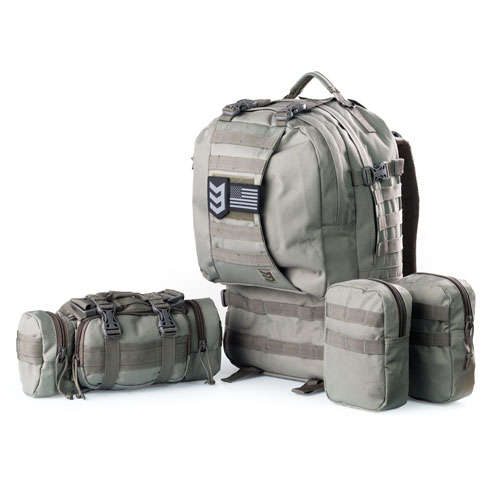 Using a MOLLE system, the accessory pouches can be removed and additional pouches added.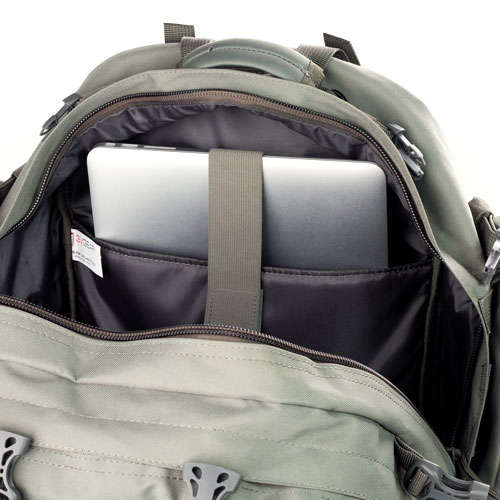 A padded laptop sleeve fits most 15" laptops and tablets. Also, doubles as hydration reservoir pocket.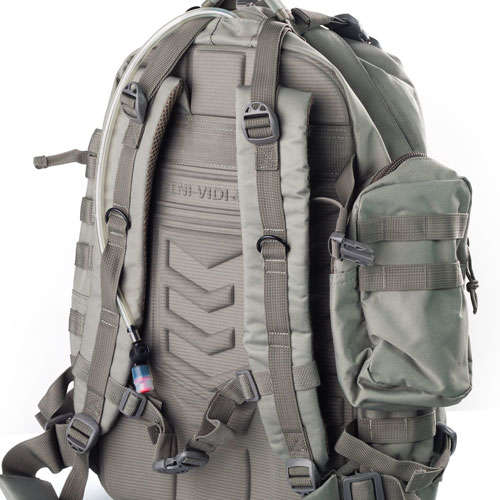 The Paratus comes with an EVA molded back panel which allows for additional airflow and keeps you cool.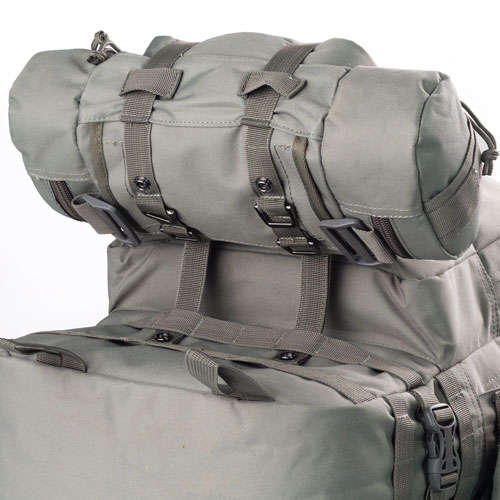 The multiple MOLLE attachment points let you customize the backpack to suit your needs.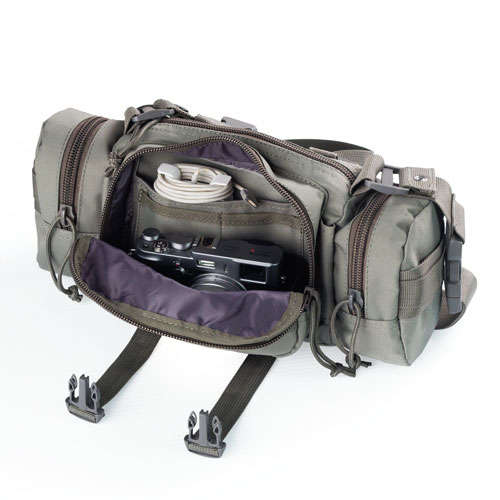 The Paratus includes the Rapid Deployment Pack. This small pouch is perfect for when you need to leave the main pack and only carry the essentials.
3V Gear Paratus 3-Day Backpack Reviews
Where do I begin?
This pack is not a 3-day bug-out, survival, camping, hiking, nor backpacking pack. Here are its deficiencies. (1) You cannot get the waist belt to maintain adjustments, as the portion of the belt attached to the pack on both sides slips through the tensioner upon any adjustment using the straps near the buckle. One either has to attach the back of the strap to the removal pack on the bottom, which results in no adjustment capability up front by the buckle or modify the backend tensioning somehow. (2) The shoulder straps have no tensioning straps on the front of each strap so as to quickly adjust tension or raise the pack on your back. (3) The shoulder straps are not connected to the pack with what could be termed sufficiently strong threading as the threading appears to be two courses of what looks like thread used to attach a button to a dress shirt. (4) The removal pack is does not stay in place with any weight of equipment placed inside. The snaps that hold the small pack to the main pack do not stay closed with weight. (5) The removal side pouches use hook and loop MOLLE straps to hold the pouches to the main pack. Again, these straps are only attached to the pouches using a single thread line on each side of the individual strap. (6) The internal so-called hydration pouch is not really a hydration pouch other than having a hydration port at the top of the pack. It is beginning to fall apart after only 2 uses involving only a couple of hours on the trail on separate occasions. (7) You better not exceed twenty pounds in weight as the tensioning system used to snug the compartments on the pack do not remain as adjusted. Moreover, these straps are not actually lined-up and therefore do not serve any fighting purpose, especially if you attach any additional pouches to the back of the pack. (8) Finally, the shoulder strap sternum connection is too high and almost becomes a choker.
I would recommend looking elsewhere as this does not serve its purpose as advertised.
JAL
Hi JAL! We're sorry to hear our Paratus didn't live up to your expectations. As far as the waist belt, you just have to loop the strap back through to ensure it will have that tension and be able to stay while still remaining adjustable. The sternum strap can also be moved lower down on the packs should straps so it's not too high up and close to your neck. You can adjust the should straps so the pack can be lower or high on your back by cinching the smaller straps on the bottom of the actual back pack straps. We understand that our pack may not be a perfect fit for each individual and we're sorry the Paratus didn't fit the bill for you at this time. Feel free to reach out to us through our customer support at:
support@3vgear.com
and we'd be happy to help in any way we can. Thanks for your input and we'll definitely keep some of these key issues in mind.
Paratus 3-Day Operator's Backpack
Zippers could be better. Overall good for the money.
3 day Paratus bag
3 Day Paratus Bag has been perfect for hiking/ruck marching. Quality product with good weight distribution.
PARATUS 3-DAY BACKPACK
The padded waist belt and sternum strap kept losing up are simple to mile hike through the woods it was kind of annoying if there was a better way to lock the straps in place after you adjusted them for comfort for them to stay it would make us a lot better other than that it's a really good pack overall