3V Gear Paratus 3-Day Operator's Backpack
3V Gear Paratus 3-Day Operator's Backpack
Paratus 3-day
Well put together except the shoulder straps in my opinion are a little thin and weak feeling for any long term use. The 3rd MOLLE pack that comes on the front I had to customize a bit as to keep the snaps from coming undone anytime the pack is set down especially if it has any kind of weight in it. So far all in all it's a solid pack for the price.
Everything I could ask for and more!
I'm a catastrophe adjuster and work security for the government and I can say this is the bag! Carries everything I need with room to spare! Also, great quality material! Thanks 3V!!
Great bag
Superior bag….Carrie's everything I need for the trip
Straps and sizing
The back pack overall is decent. Can't argue with the price for what you get. I'm 5,9 with my pack fully loaded I noticed the straps that go around your waist do not hold. I found my self constantly tightening them back to place. I bought the pack still unsure of what I could store inside. Added a few organizers to make the pack more efficient.
Hi Shayn,
Thank you for your order and review. If you are referring to the waist straps coming loose on the buckles near the pack, simply weave the nylon strap back through the front of the buckle and it will lock it into place. We do this on purpose so people can get the best fit for their waist and then lock the straps in. If you are having a different issue, please feel free to reach out to us and we will do what we can. support@3vgear.com
Operator backpack
Fits great. Very durable. The only suggestion I would give is make the hole for bladder tube a little bigger.
Decent, but could be improved
Overall the size, quality, appearence and price of the pack is decent for a day pack or 3 day pack. My one biggest complaint, and it's damn near a show stopper, is the waist strap is completely insufficeint. It has no padding. Provide a padded option for the waist strap and I would give the pack 4 or 5 stars.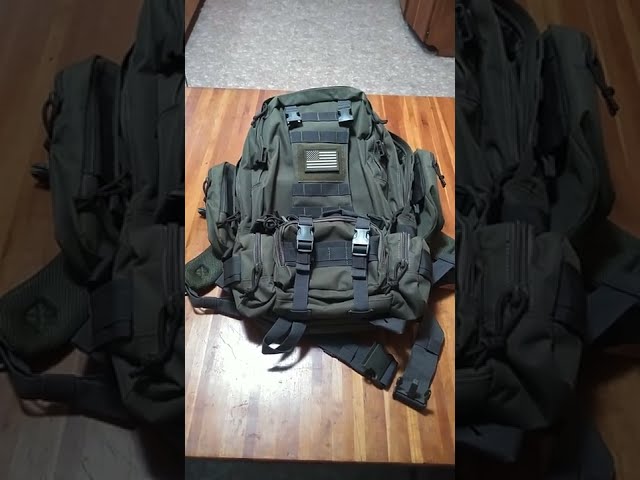 Thank you Matthew for your review and feedback. An optional padded waist belt will be available in about a month.
3V Paratus backpack
This is definitely one well made piece of equipment, with plenty of room, extra pouches to stow your gear that can be moved around on the molle strip's or just hang more stuff on it. I'm really liking it 👍
3V Paratus 3-Day Backpack
The Paratus Backpack was my first piece of 3V gear, and after 5 or 6 years of use it was starting to show some wear and decided I needed to replace it. That pack was my 'go to' pack when I went camping, hunting, snowshoeing, sailing and my carry on bag when flying. So when I needed a new back pack for my travels I bought my second Paratus 3-Day Backpack and repurposed the original for storage of some less used gear.
Over the years I have bought other 3V products because of the price and quality of your products. I now have gun cases, first aid pouch's, dry bags, and duffel bags.
This kind of sounds like a paid advertisement doesn't it? Just know that I am satisfied with all my 3V gear. Thanks .