AMAZING RIFLE BAG
"The 42" gun bag is very well built. There are plenty of storage for my eyes and ears, 9mm and 12 ga ammo, cleaning kit, pistol and shotgun. I enjoy the backpack feature which makes carrying things easier."
- Ken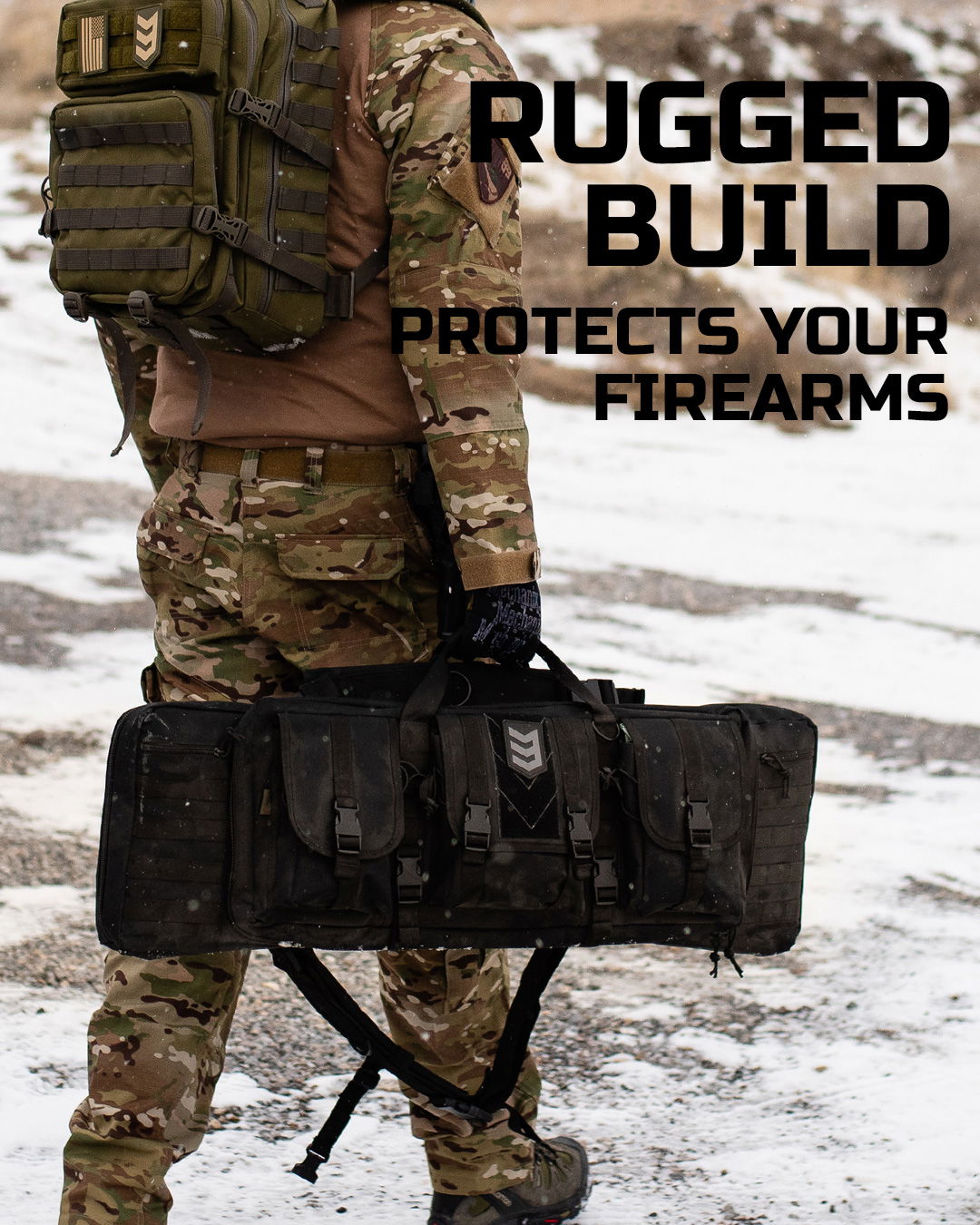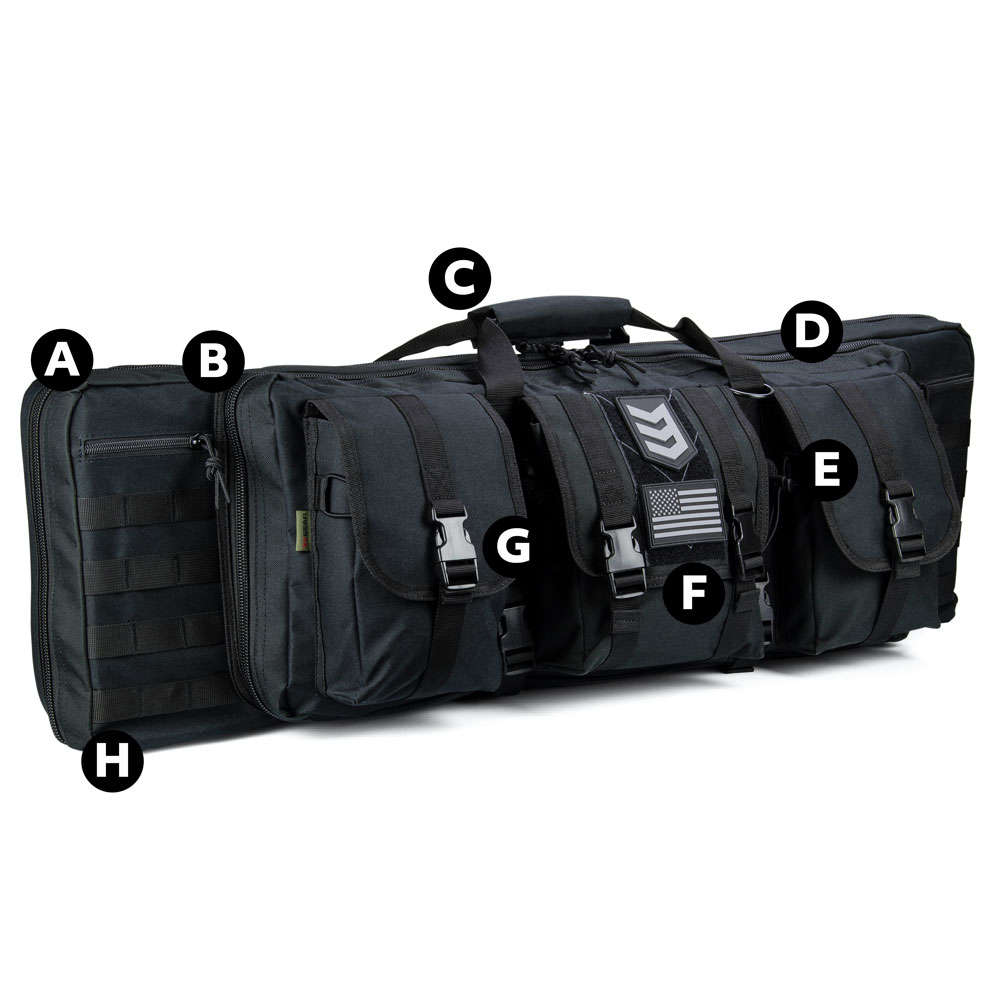 Ranger 42" Gun Case Features
A - 100% padding to protect your firearms.
B - Holds two rifles up to 42" each.
C - Padded grab handle.
D - Large separate pocket for pistols and magazines.
E - Three large accessory pockets.
F - Patches included.
G - Compression strap keeps your gear secure.
H - MOLLE compatible.
ADDITIONAL FEATURES & SPECS
12"h x 42"w x 8"d
Large zippered front compartment (24" x 10" x 2") with two padded pistol pockets
Detachable padded and adjustable backpack straps
Water resistant
Lockable zippers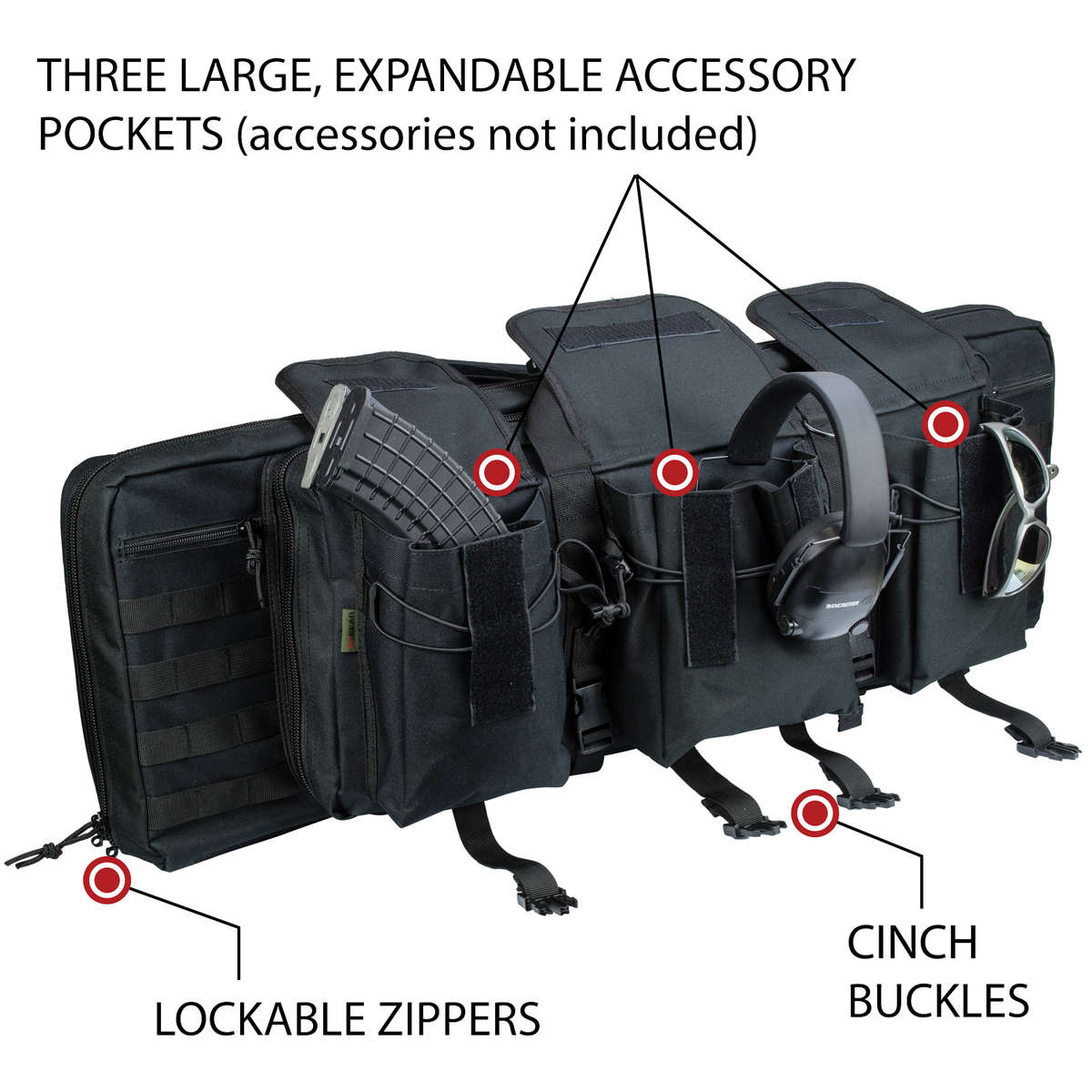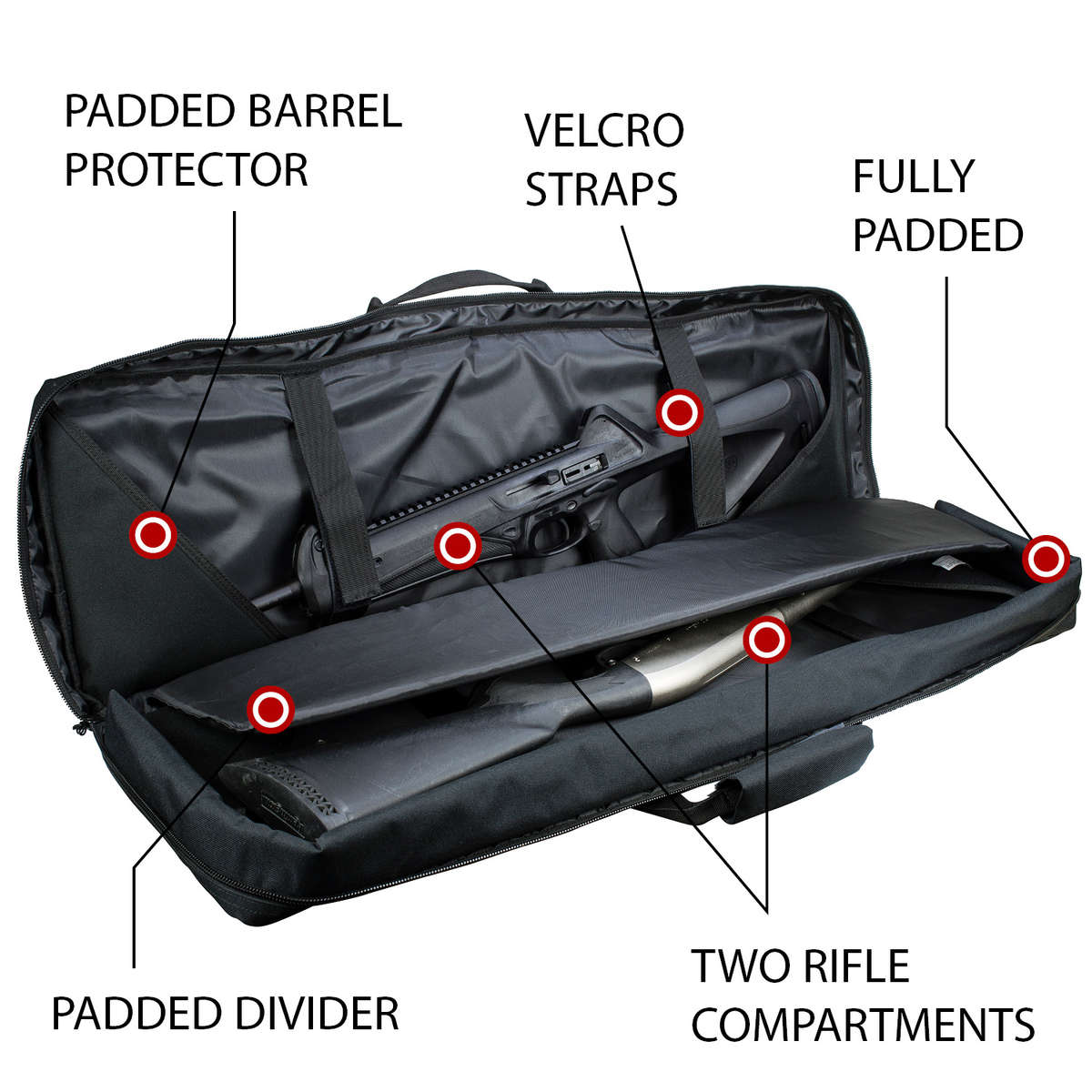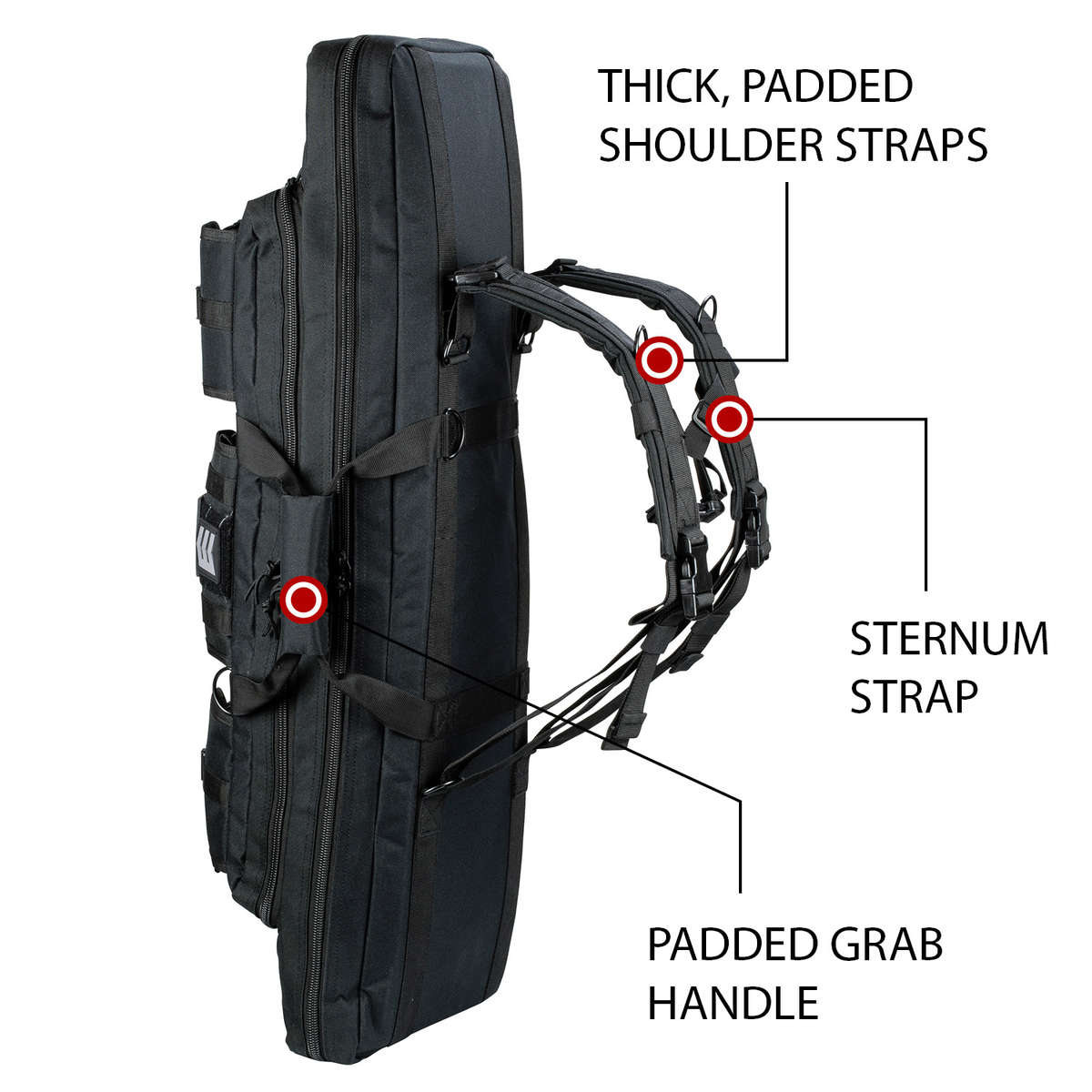 3V Gear Ranger Gun Case Reviews
What to Look for When Selecting a Soft Gun Rifle - FAQ
Yes. You can remove the shoulder carry straps, and place them back on if preferred at a later time.
The Ranger 42" gun case has two lockable zippers that can be fastened together with a lock. The lock is not included.
The front MOLLE panels measure 6.5" wide by 7" high. MOLLE webbing is standard 1.5" wide by 1" high.
A thick, multilayer cushioned material is fitted through the borders and interior of our soft gun cases to help keep your guns protected.
Game changer
Very useful, quality, and a ton of storage options!
Nice while it lasted
Nice bag. . .for a while anyway. All my zippers suffered catastrophic failures one after another. I'm not particularly hard on my gear, this was just a range bag for me. Maybe they need to got with YKK zippers in the future
We're sorry to hear about the issues with your case. Feel free to submit a warranty claim here:
https://3vgear.com/pages/warranty
Our Warranty Department will get you taken care of from there.
3V Gear Team
Great bag!
I admit I was skeptical at first but the bag is solid and does what I need it to do. A great purchase! May look into getting another.
Solid bag
Very functional with the added pockets
Great product, great company to deal with
Well made products, outstanding customer service!
Hi JJ,
I understand that you are frustrated with the shipping. Unfortunately when you refused to pay the customs in Canada the order was returned to us and we refunded your order. We cannot refund the shipping as that was paid to USPS and USPS is not going to refund the shipping cost because you refused to pay the customs and duties. Please feel free to reach out to us if you have any additional questions or comments. support@3vgear.com
Great rifle case
It's a great rifle case! It holds 2 rifles plus there's another pocket that holds my 9mm (6 1/2 barrel, folding arm brace) carbine. It has more than enough room for all 3 of those plus a couple hand guns and all the ammo you can carry if need be. Carry like a duffle bag or wear like a back pack. I bought 2 of them. One was a gift. Son in law loved his as well. Pretty fast shipping even this time of year! Thanks.
Fast shipping
I've only done a test fit but so far so good
3V rifle case
Very good quality. Best double case I own. Lots of room and excellen divider padding between rifles.
Great Gun Case!
Excellent materials and craftsmanship, complimented by multiple magazine pouches, a large compartment that can hold targets, etc, make this an outstanding buy. Once again, 3VGEAR delivers....