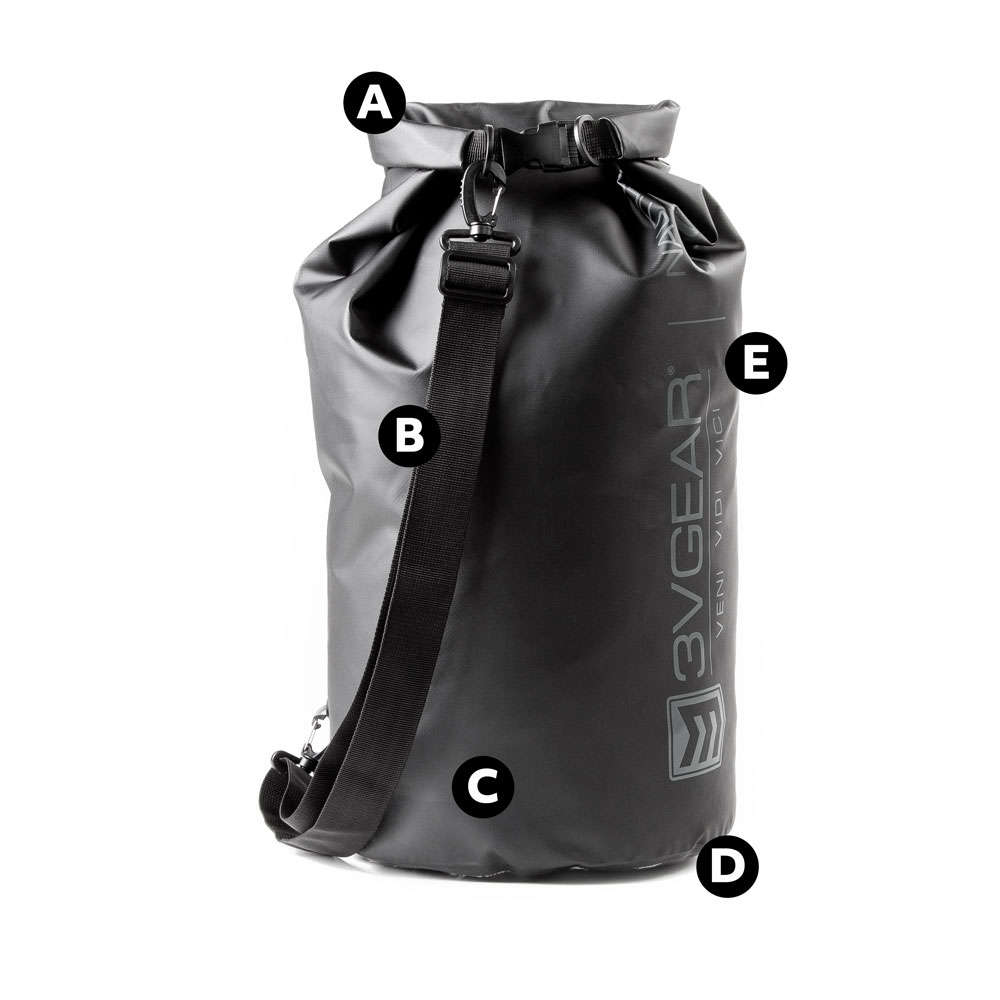 Nautilus Dry Bag Features
A - Roll-top design keeps water out and doubles as a grab handle.
B - Adjustable shoulder strap makes it easy for hands-free carrying.
C - Made from strong, waterproof tarpaulin.
D - Sealed seams.
E - Available in 15 and 30 liter sizes.
ADDITIONAL FEATURES & SPECS
15 liter: 21"h x 9"w
30 liter: 25.5"h x 10.5"w
Removable shoulder strap
Limited lifetime warranty
Imported
Nautilus Dry Bag - 60 L
Looks to be a descent bag, shoulder strap padding is not well padded for a 60L bag, also depends on type of gear you carry.
Zippers are not of high quality, I feel all equipment should carry YKK zippers, so we'll see how long they last!
I feel some End pockets would be a benefit and some Molle straps around and throughout the bag would be beneficial.
Velcro on handle is not "strong" Velcro to hold together, especially after dirt/wet conditions come into play.
I've bought much 3V gear in the last few years, good budget friendly gear, hard core use may stress this and their other equipment to a point of strain and deterioration.
Great Bag
The price was to good to be true, so I expected a cheaply made bag. What I recieved was not that. The bag is solidly made and I will buy more from them.
For the things you don't want wet
This dry bag is huge it fits all my stuff. As a matter of fact I was able to fit a chang of cloths with all my other stuff. This bag should go for double the cost. This thing is quality. If you don't think so go to Bass Pro or West Marine and compare them. I did and and it's a hell of a value. Once a again 3V kicks it out of the park.
Good to go
Good quality item. Good to go.
Great for storing hunting gear on longer trips
I use these on week long hunting trips. I pack things I like to change daily in the 15l. It easily stores two days worth of long underwear and socks. Spare shirts and pants go in the 30l. Using these allows me to transport plenty of gear in the bed of my pickup.