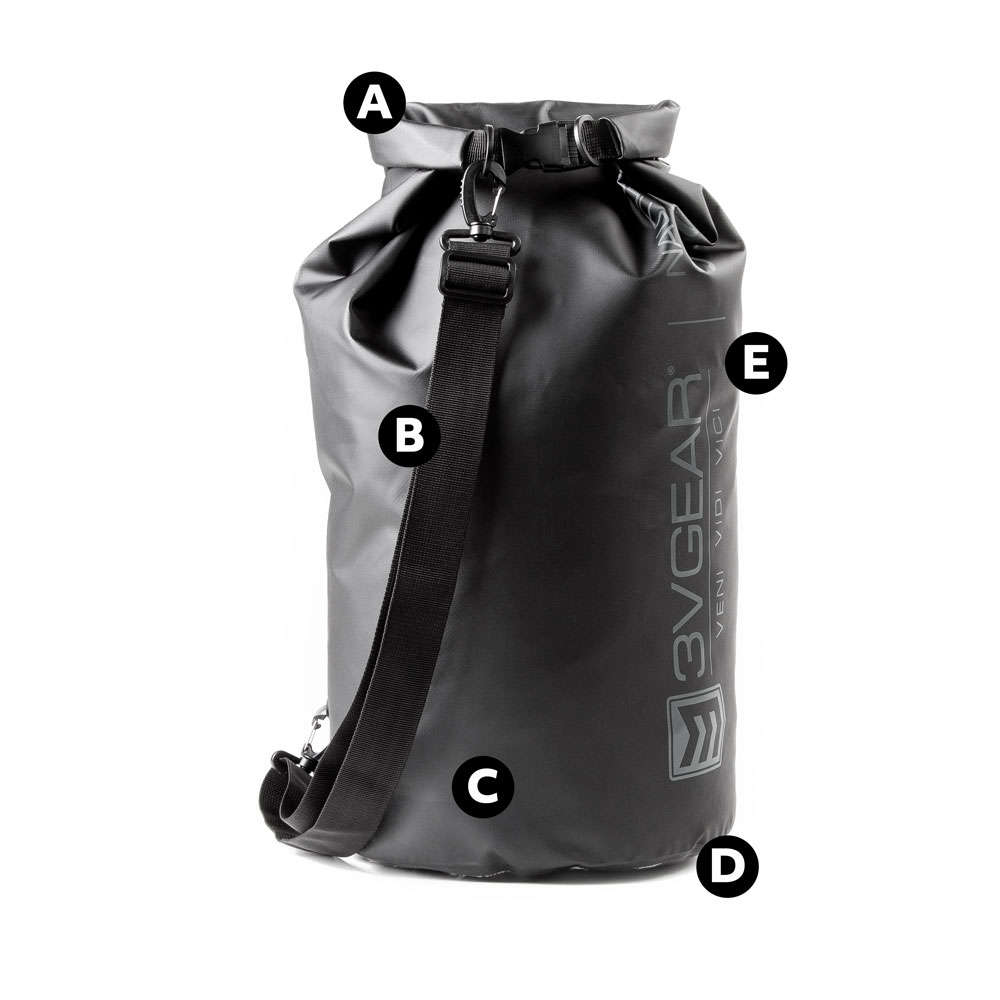 Nautilus Dry Bag Features
A - Roll-top design keeps water out and doubles as a grab handle.
B - Adjustable shoulder strap makes it easy for hands-free carrying.
C - Made from strong, waterproof tarpaulin.
D - Sealed seams.
E - Available in 15 and 30 liter sizes.
ADDITIONAL FEATURES & SPECS
15 liter: 21"h x 9"w
30 liter: 25.5"h x 10.5"w
Removable shoulder strap
Limited lifetime warranty
Imported
Become an Ambassador
We're on the lookout for influential adventurers to bring our brand to the masses. If you're over 18 and have a cool story, apply through our contact page below.
NAUTILUS WATERPROOF DRY BAGS
I already have two of these bags and decided I need two more for an upcoming sailing/diving trip to the BVI
3V wins again
Ordered two 15L Nautilus dry bags. Great quality as described, arrived ahead of schedule, and great pricing. Customer service was spot on. Will be using these for keeping our KSB-20 down bags dry. We have several other 3V items. Highly recommend the product line and the company.
Perfect Item For Rainy Day
I live in California which is usually raining by the Spring time or the early of Winter which causing a lot of trouble to my non-waterproof bag. This item help get through it
Nautilus waterproof bag
I like the quality of the bag. Is there a video showing the best way to close it?
Nautilus Dry Bag 15L and 30L
The items were just as I expected. I have used cheaper big box items before but they break down over time. These feel much more durable and flexible. I feel comfortable that I will continue to be pleased with their performance.