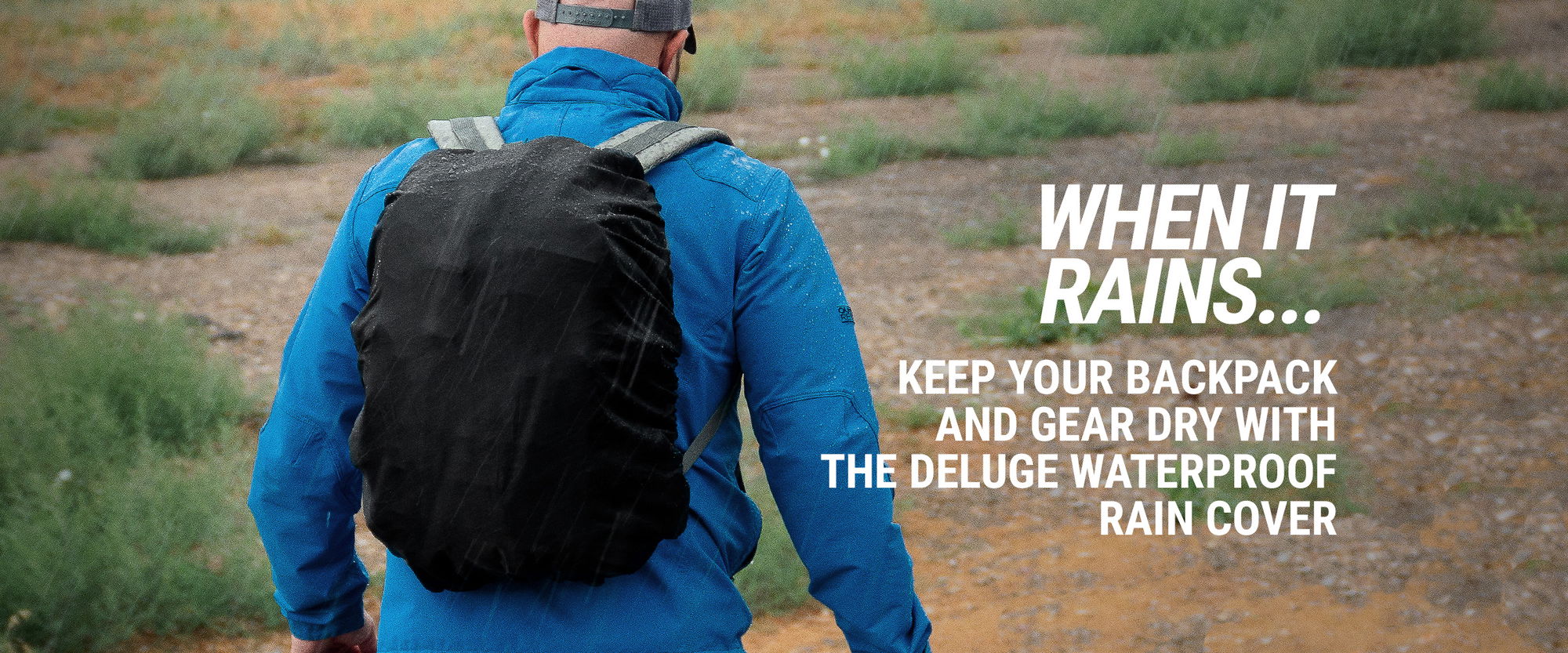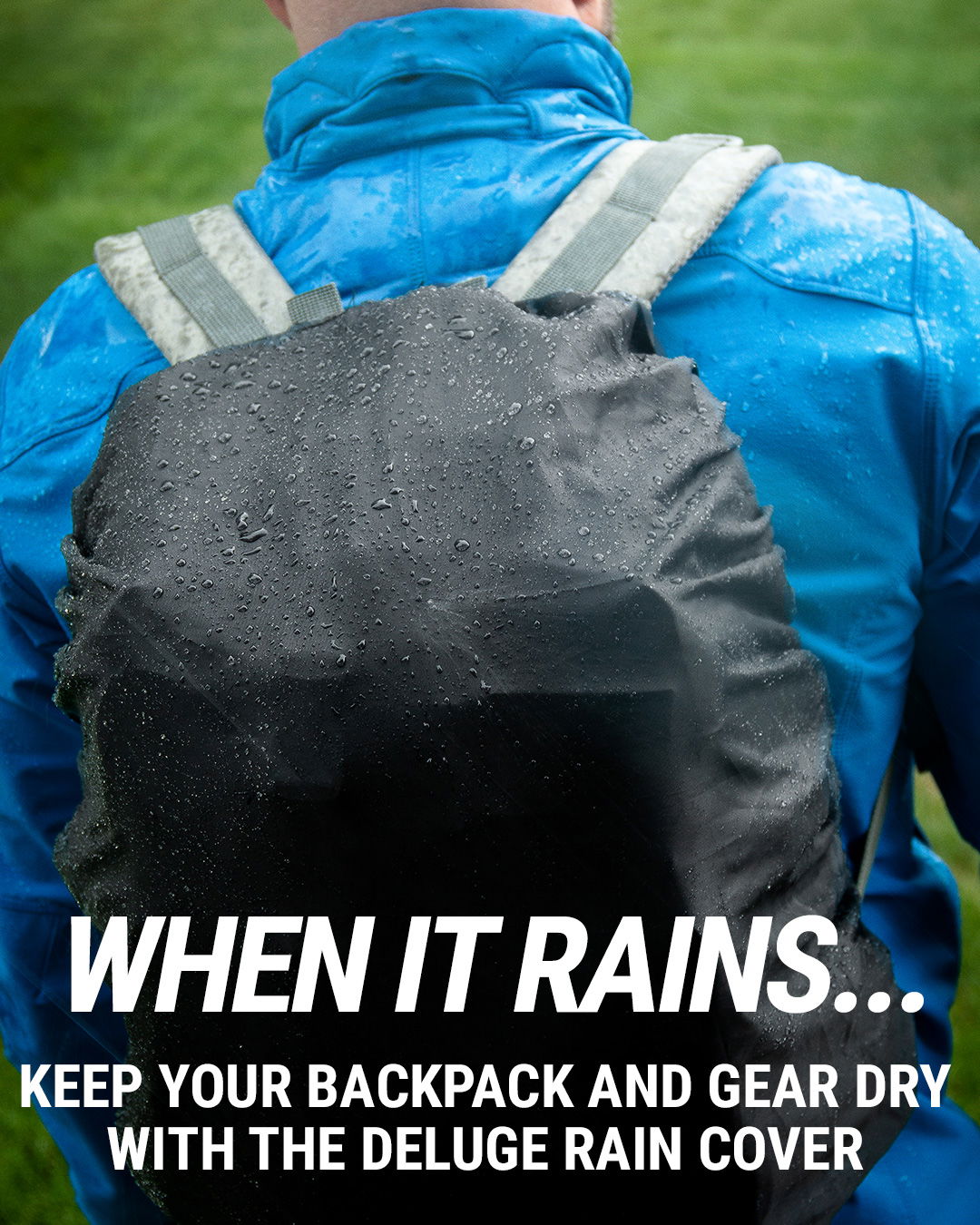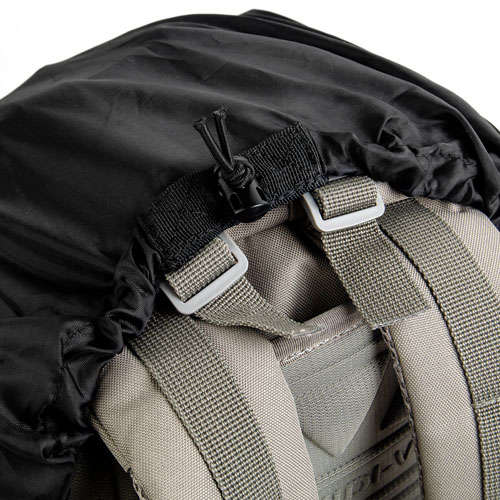 Reinforced Compression Strap
A thick elastic cord allows you cinch the rain cover tightly around your bag. Plus, the cord and buckle are reinforced with nylon webbing for long lasting strength and durability.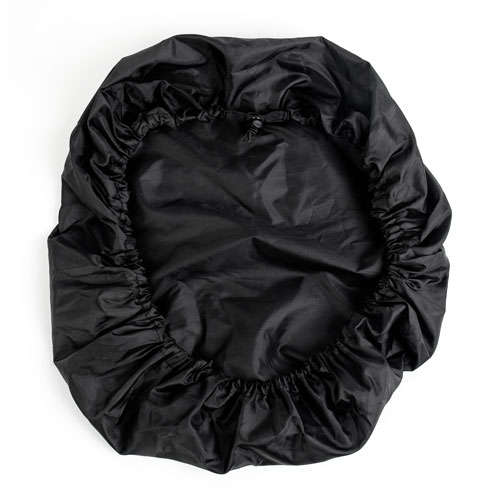 A universal fit means that you can use the Deluge rain cover with just about any bag or backpack.

BAGS THAT THE DELUGE RAIN COVER WILL FIT
- Velox II Quick Action Backpack
- Outlaw II Gear Slinger Urban Sling Pack
- Subrosa Urban Tech Backpack
- N.T.K. Covert Messenger Bag
- Guardian "Qui Vive" Premium Tactical
- Precision Tactical 35L Backpack
- Transit Redline EDC Backpack
- Shield Redline Anti-Theft Backpack
- Cipher Redline Messenger Bag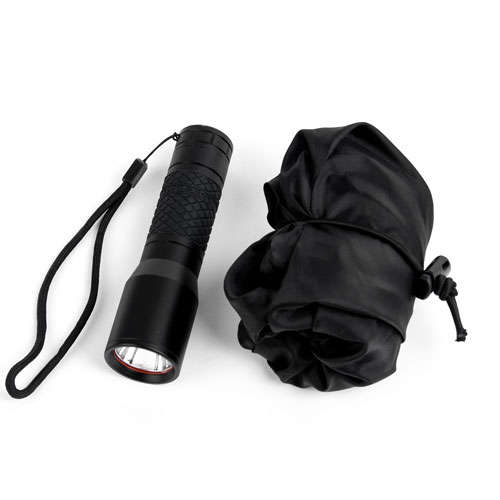 The Deluge rain cover rolls up on itself for storing and the compression strap will hold the it together. No extra case or bag to store or worry about. Compresses to 5"x3".
5 Stars
Works Great. If I could make one recommendation, I would put the water bottle holder on the other side. This would make it accessible when the bag is rotated around the front, thus putting the water bottle on top. And when placing the bag on the table or floor, it's not sitting on the water bottle.
Works Great!
Threw this on my EDC bag and works like a dream 🤌🤌🤌🤌
Perfect to protect my B.O.B.
The backpack rain cover was exactly what I wanted to cover by BOB to protect it from dust (and perhaps someday, weather). Fits great, glad I found it.
Backpack Rain Cover Just What I Needed in Texas!!!
The 3V Gear Deluge Waterproof Backpack Rain Cover was the one EDC item I didn't know I needed until now! It's rugged, waterproof and fits my backpack PERFECTLY! It's snug yet has more wiggle room to use on a larger pack if needed. I've already put it to use here in Central Texas as we come into the stormy summer season and I had to buy a second one for my college kiddo who treks across the Texas State campus in all kinds of weather : ) The price point is VERY reasonable and this product is a TREMENDOUS value for the money! Shipping was reliable and quick, too!!!
Full Faith
I carry this on my motorcycle and, luckily, I haven't had to use it yet. However, I have full faith in the products 3V Gear make so I'm giving it 5 stars. I'm sure it will bail me out one day when I'm stuck riding in the rain.
It works
Outstanding piece of equipment
Deluge Waterproof Backpack Rain Cover
Fits Right
I bought this backpack raincover to fit on my motorcycle seat overnight. It fit really well. Would be even better with a strap underneath but the elastic tends to keep it on.