AMAZING RIFLE BAG
"The 42" gun bag is very well built. There are plenty of storage for my eyes and ears, 9mm and 12 ga ammo, cleaning kit, pistol and shotgun. I enjoy the backpack feature which makes carrying things easier."
- Ken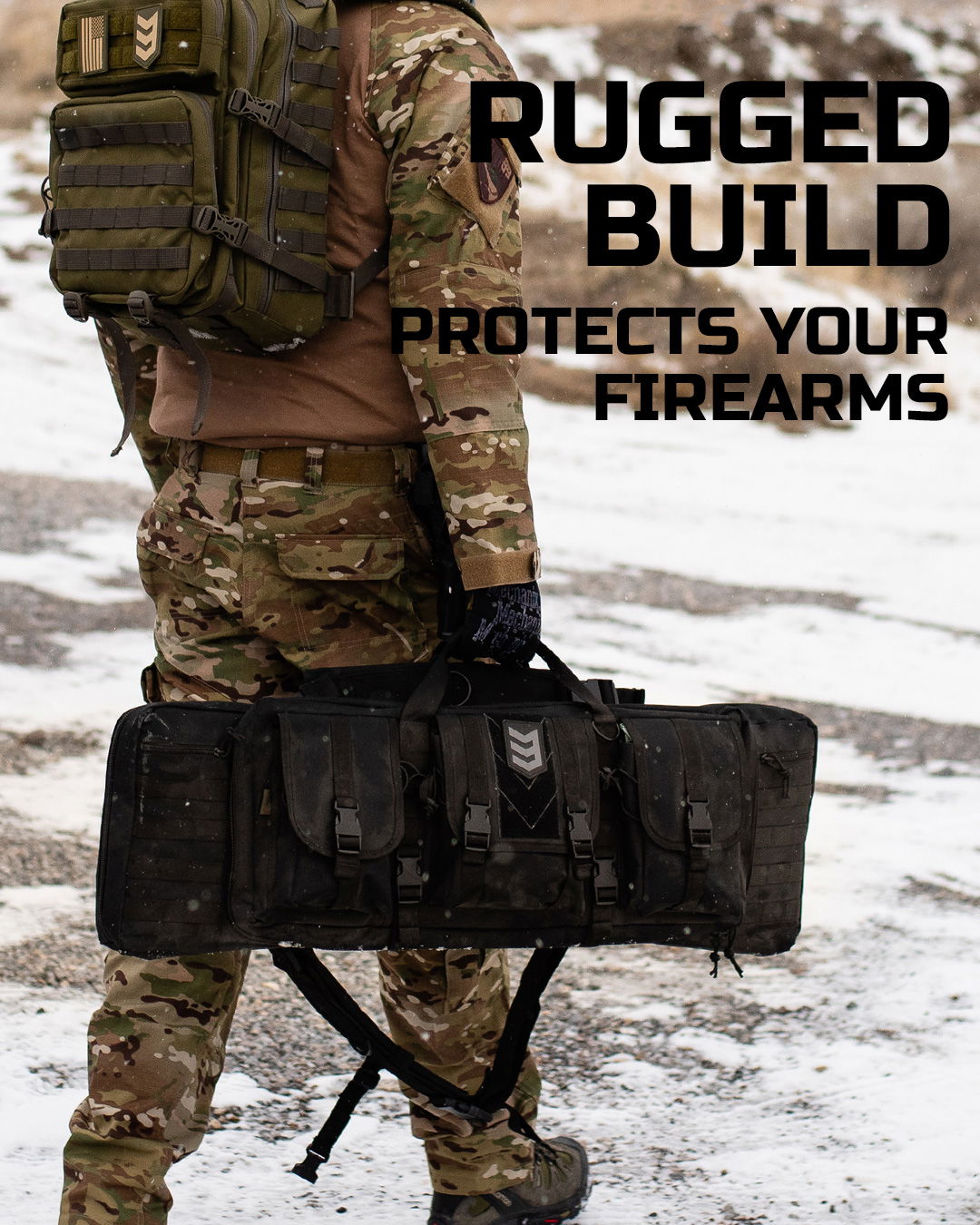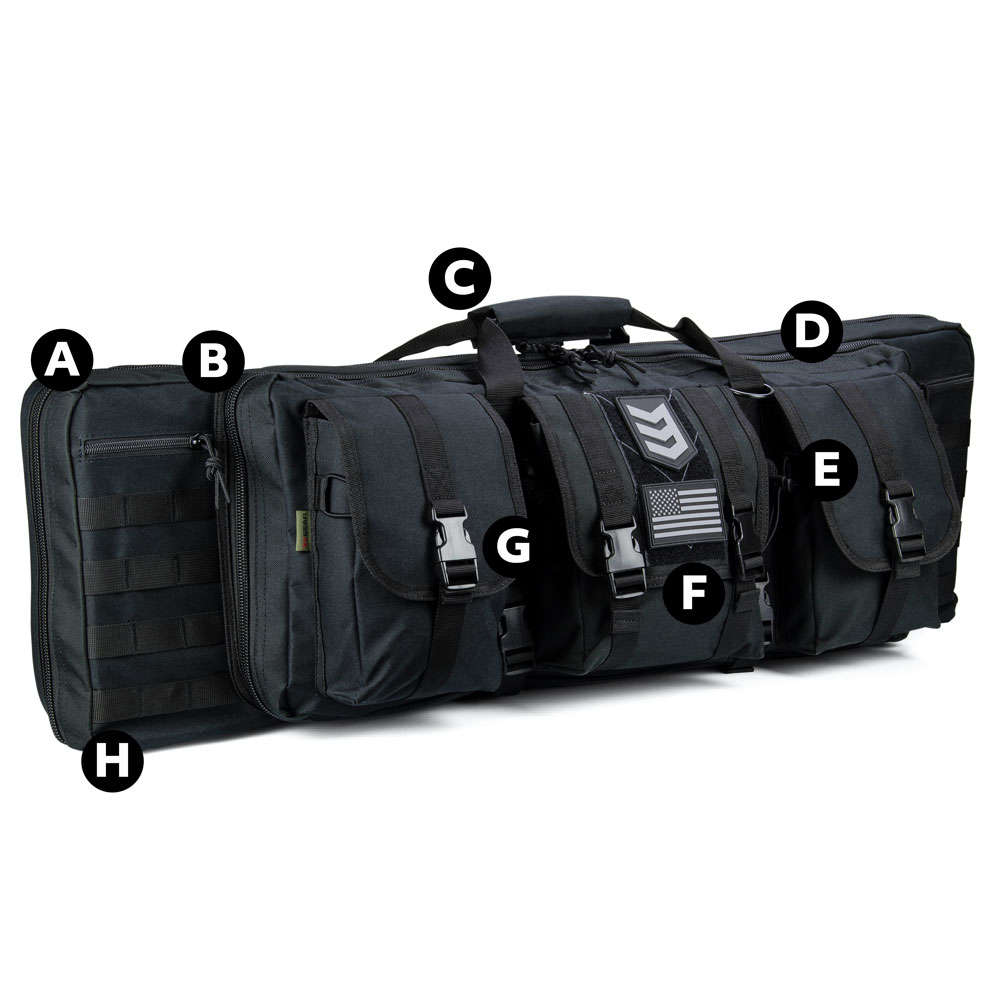 Ranger 42" Gun Case Features
A - 100% padding to protect your firearms.
B - Holds two rifles up to 42" each.
C - Padded grab handle.
D - Large separate pocket for pistols and magazines.
E - Three large accessory pockets.
F - Patches included.
G - Compression strap keeps your gear secure.
H - MOLLE compatible.
ADDITIONAL FEATURES & SPECS
12"h x 42"w x 8"d
Large zippered front compartment (24" x 10" x 2") with two padded pistol pockets
Detachable padded and adjustable backpack straps
Water resistant
Lockable zippers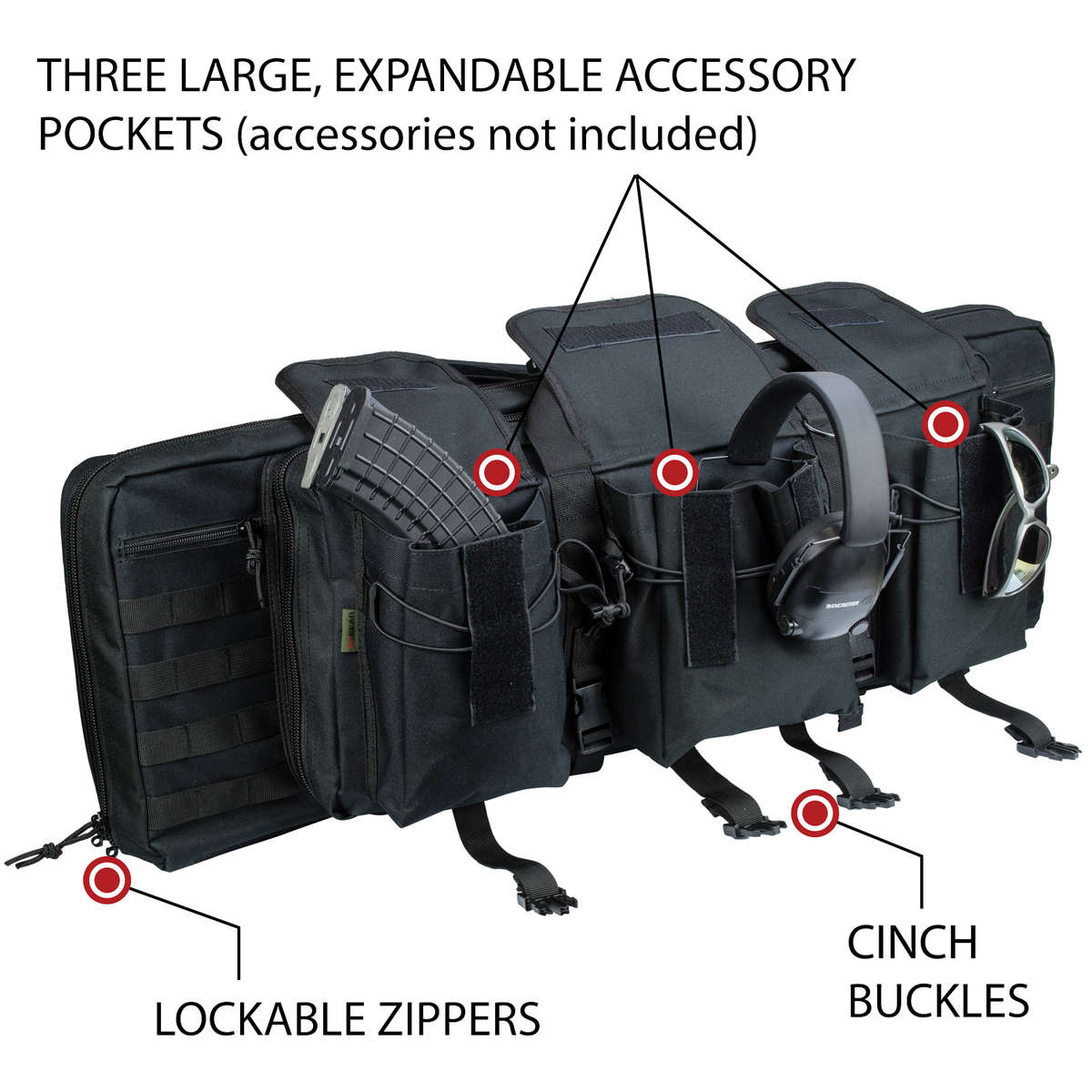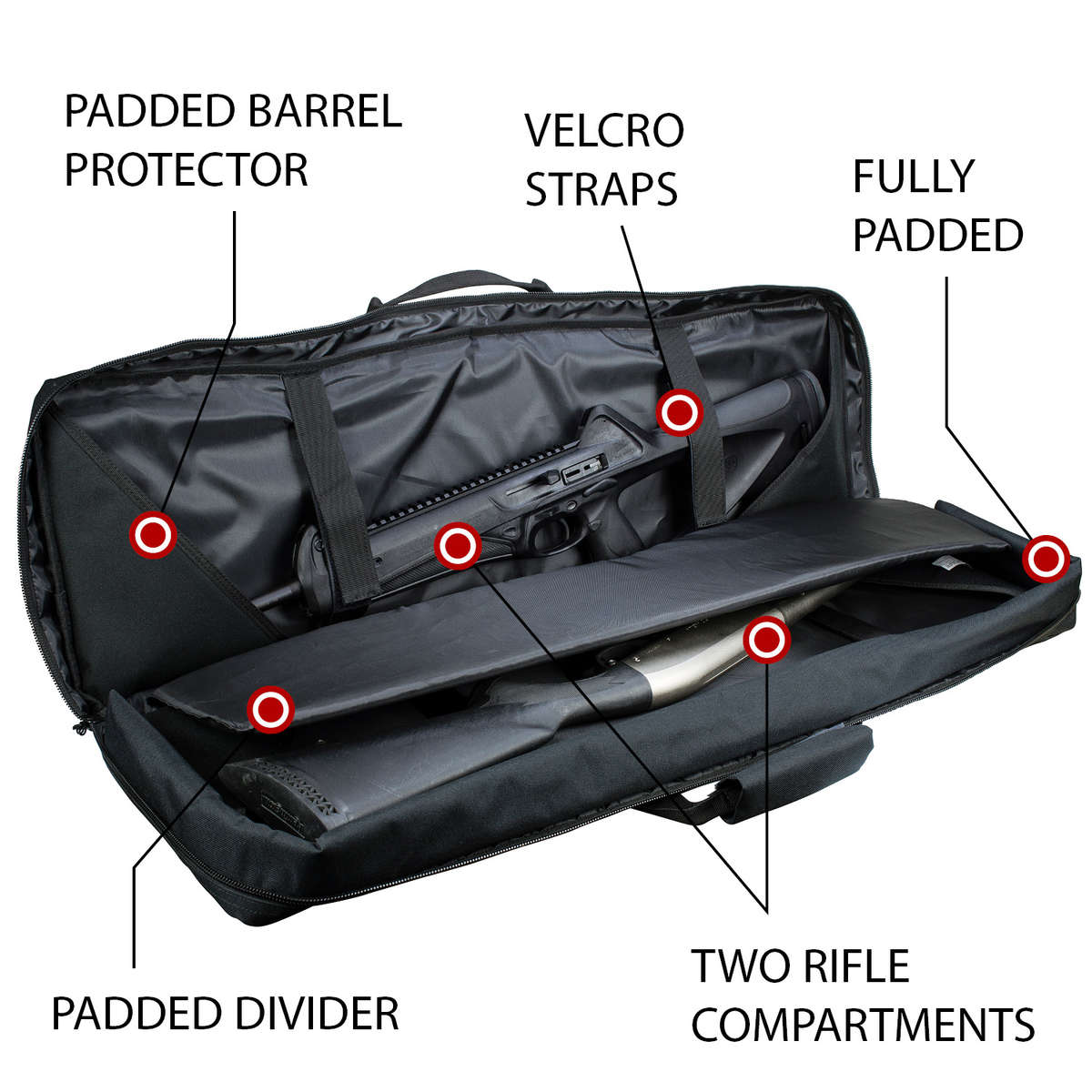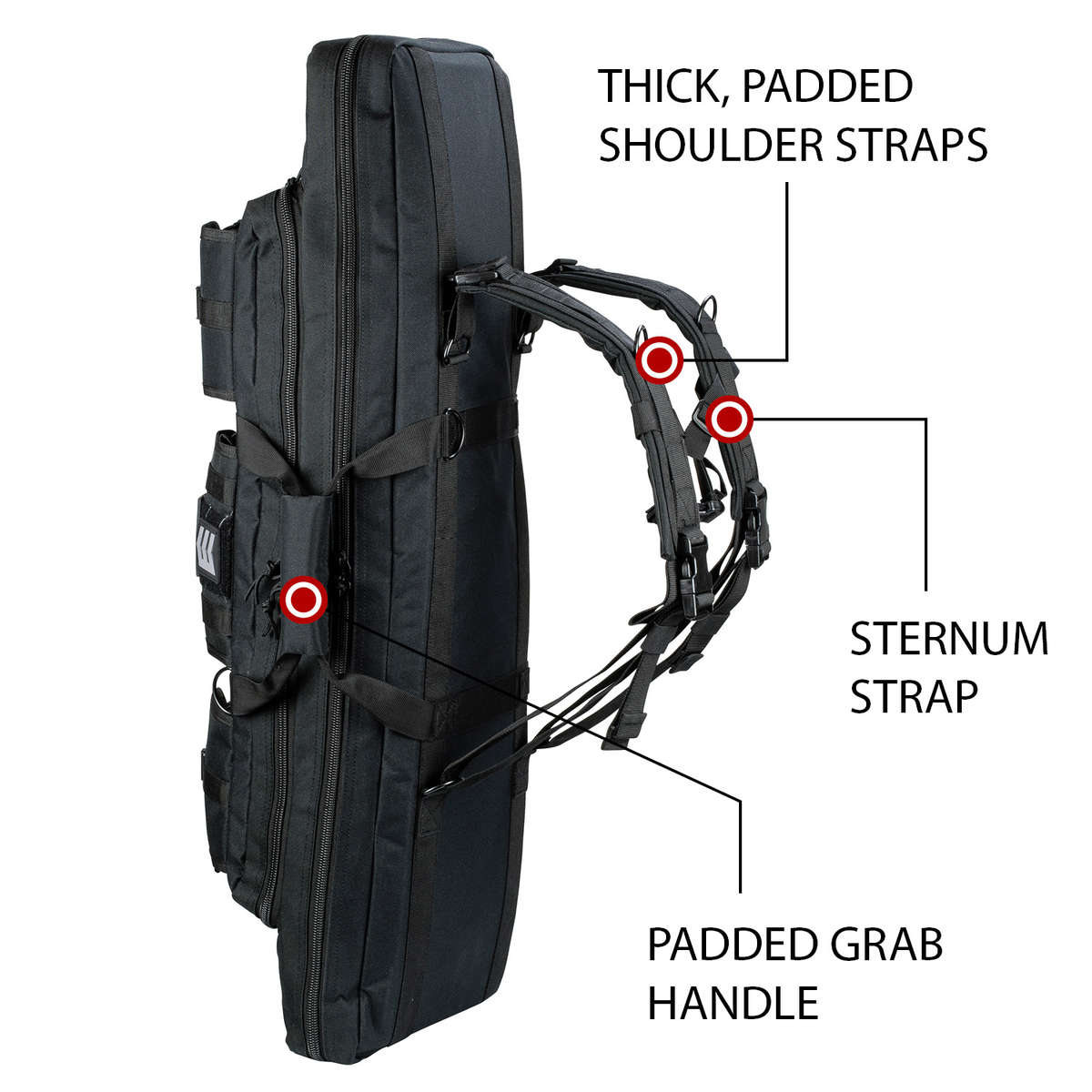 3V Gear Ranger Gun Case Reviews
Don't overthink it!
Excellent case! Superb quality! If you're looking at it, buy it! Also, love the 36" covert case. Both are GTG.
Ranger 42" double gun soft case
So far the quality seems exceptionally above the average bag/case I've seen so far. Can't wait to get it in the field.
Great Product and Customer Service
AWESOME !!!! Best case ever !!!! Price is fantastic !!!! Easy and perfect for all my guns. Plenty of storage and xtra pockets for "Stuff"
What a Deal !!!!
Ranger 42" Padded Double Rifle Gun Case
Perfect case.
this bag is amazing, great support and space. lots of room for many more items. very light and durable.
AMAZING GUN BAG
This bag is better than expected! Very large, sturdy and great quality for the price. Using the backpack straps makes the bag manageable to carry when it's packed with 2 rifles, ammo and gear. Very happy with the purchase.
GreatCase with One Issue
I recently purchased this for use on my range. While I think the case itself is great and will use it routinely, the shoulder straps for carrying the case need work. I'm 6'0", 195 lbs with a 34" waist and decided to walk to the range this weekend with the case on my back. This one mile walk to the range through the woods was pleasent enough, except for the straps where they cross the waist line to attach to the low point on the case. Some padding could be added to this part of the straps. Aside from this minor inconvenience, I am very happy with the purchase and will keep it with my other four bags from 3V. I will likely keep the use as a backpack to a minimum, but overall very happy with this case!
Ranger 42" Padded Double Rifle Gun Case
Great product!
Was more than what I expected! a great product and I will put it to good to use! As always comes with great customer service. A real plus to buy local as well.
Great Gear!
Great Gear, At a very fair price! Quality
Product, nice bar-tac stitching! Great design. Would be willing to pay extra premium for #10 YKK Zippers. Thanks 3v Gear. You have another dedicated customer!