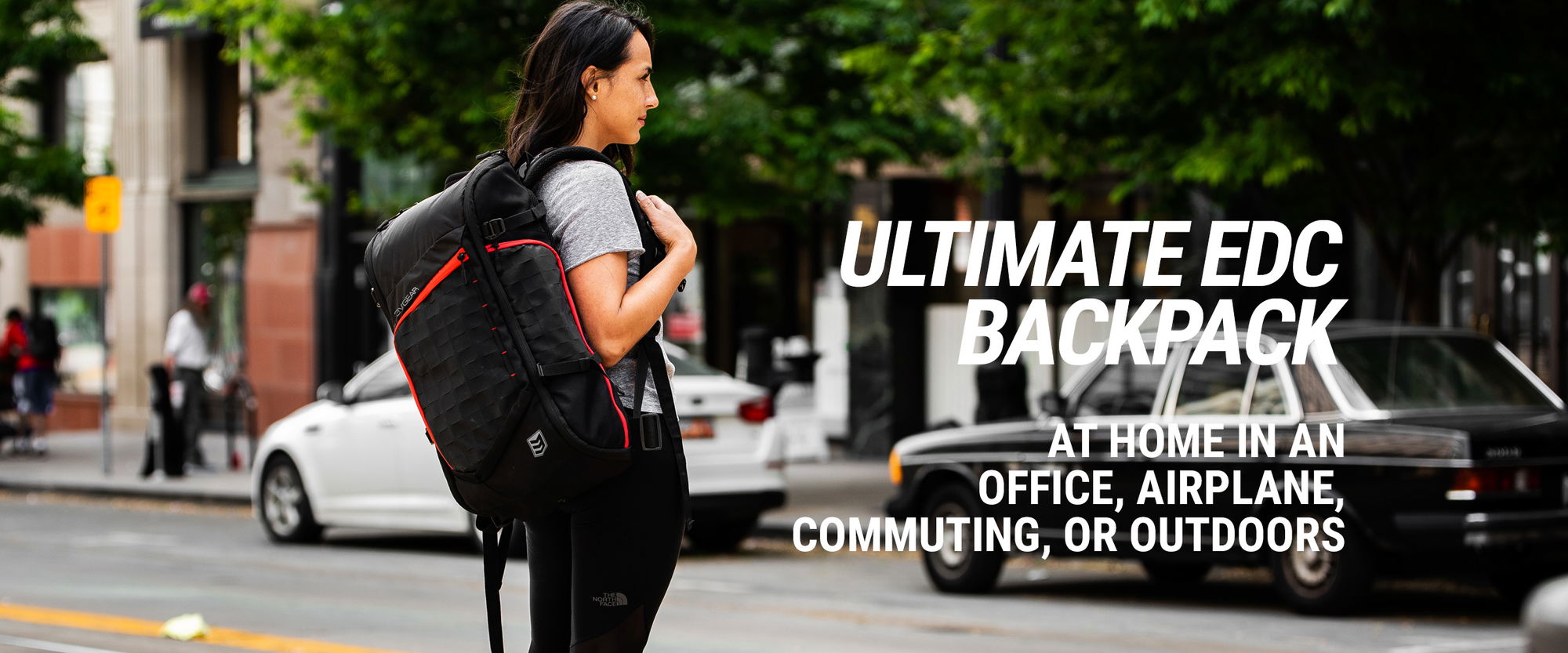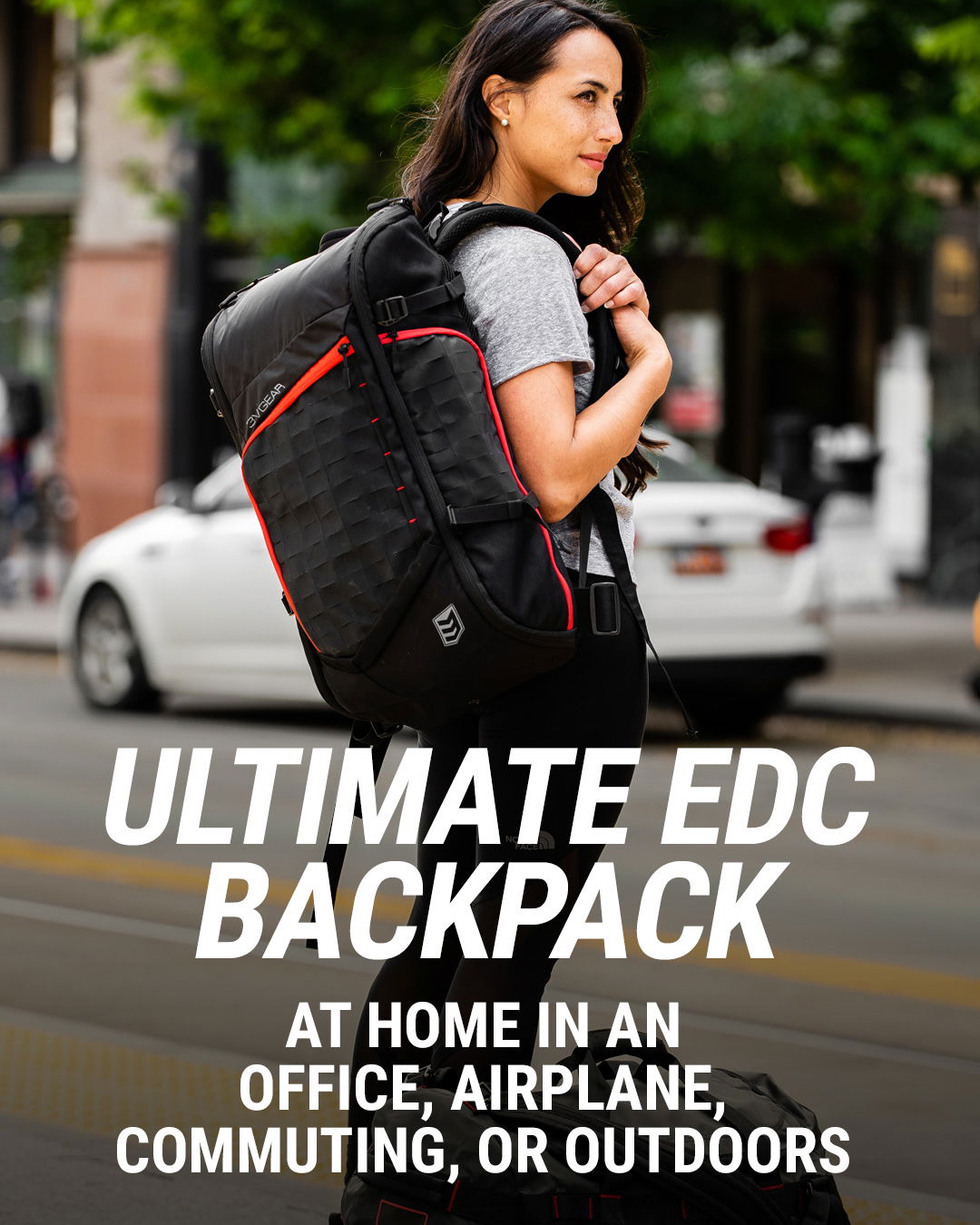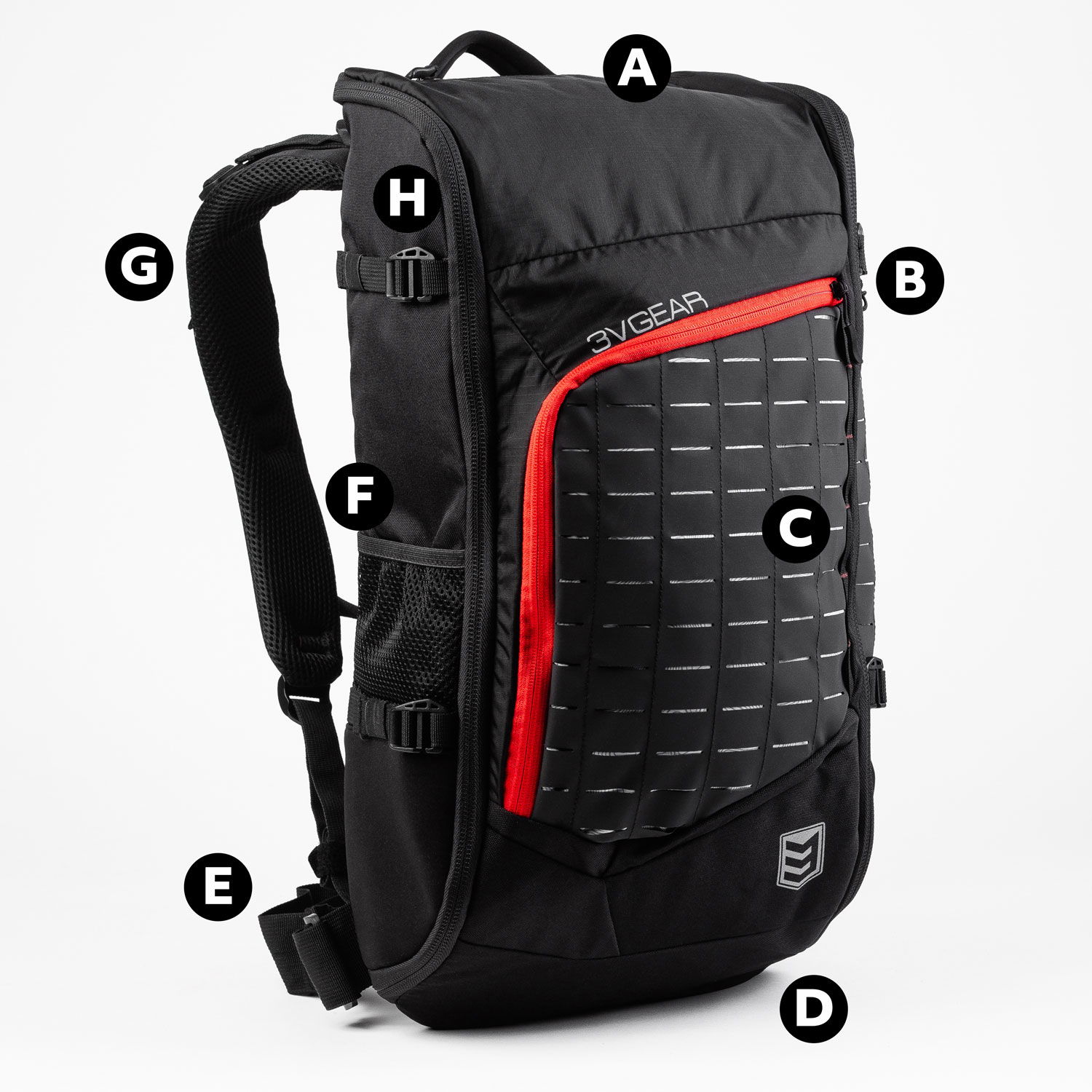 TRANSIT EDC BACKPACK FEATURES
A - Heavy-duty ripstop construction
B - YKK zippers and rubber zipper pulls
C - Die-cut MOLLE panel
D - 40-liter size
E - Removable waist belt
F - Water bottle pocket
G - Thick, padded shoulder straps
H - Compression straps
ADDITIONAL FEATURES & SPECS
Adjustable sternum strap
Clam shell design for easy packing
Large admin pocket
Padded laptop sleeve
Dimensions 22"h x 14"w x 8"d
40 Liters
Total Weight 2.35 lbs.
Limited Lifetime Warranty
Imported
PADDED LAPTOP SLEEVE
The Transit EDC Backpack features a large padded laptop sleeve that will fit most 15" laptops. The large "U"-shaped zipper makes it easy to access your laptop without opening more of the bag.
SECURITY POCKET
We added a small secure pocket on the back of the Transit. This was designed to hide valuables from would-be thieves. Perfect for your passport, cash, or a small CCW. With it being against your back it would be very difficult for anyone to gain access to this pocket without you knowing.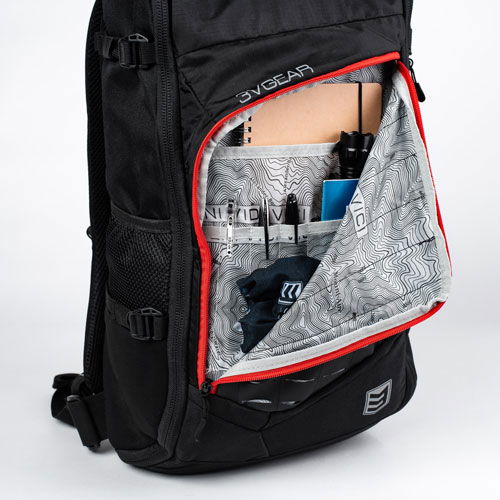 Let's face it, we all love loads of pockets. This way we can keep everything in its rightful place. Our unique hi-viz topographical map liner makes it easy to see all of your gear.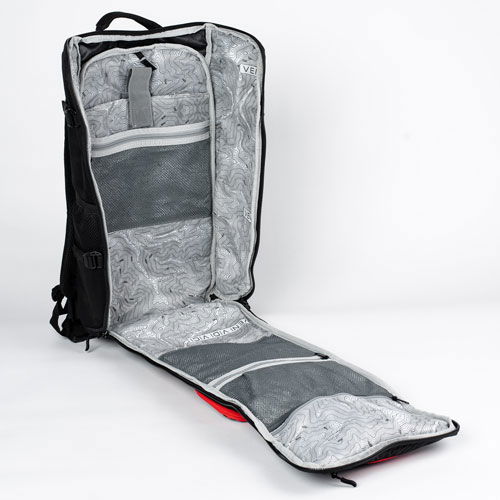 A full clam shell opening for the main compartment lets you pack and access your gear with minimal effort.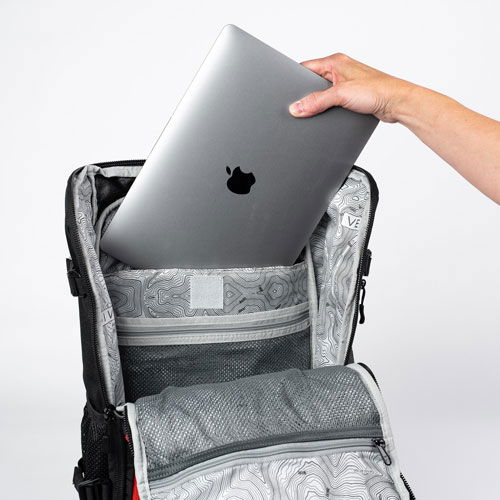 A large padded laptop sleeve will keep your laptop cozy while you are on the move. The laptop pocket accommodates most 15" laptops.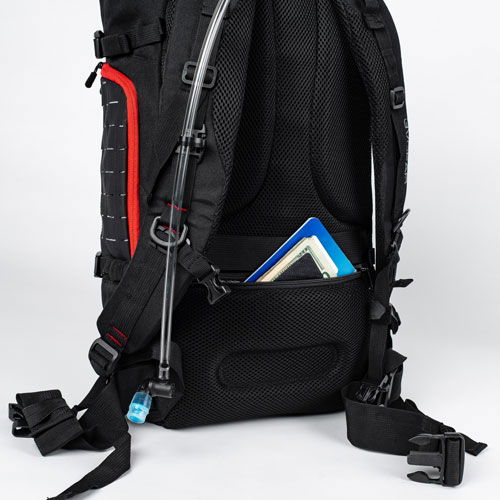 The Transit Backpack features a hidden security pocket on the back of the bag. This is perfect for storing your wallet or passport and can double as a CCW pocket.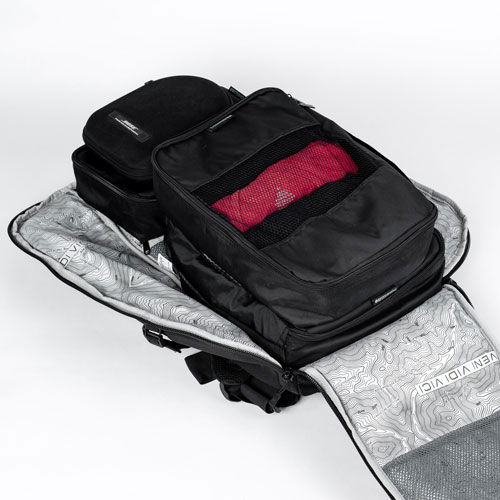 With the main compartment completely unzipped you can easily pack your bag in a more civilized way. No longer do you have to cram your stuff into the bag. This design is perfect when using packing cubes.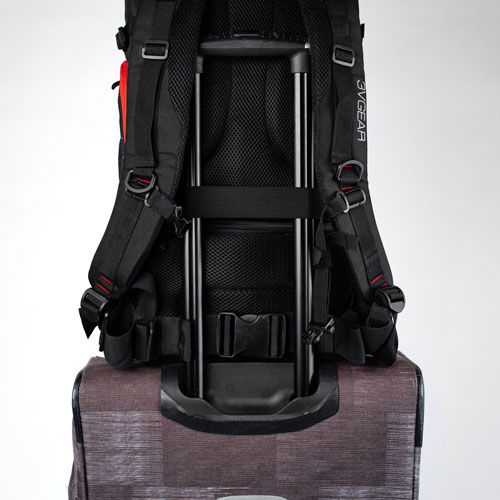 Luggage Trolley Passthrough
While the Transit Backpack is TSA compliant as a carry on bag, sometimes you may have more luggage when traveling. If you are using a roller bag, the Transit will easily sit on top while you move through the airport.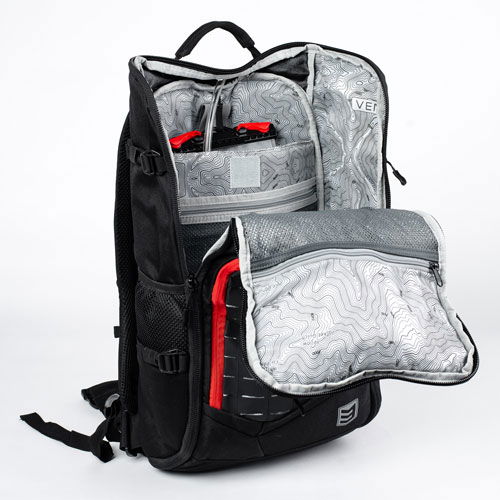 The Transit is hydration compatible and will fit up to the 3-liter hydration reservoir.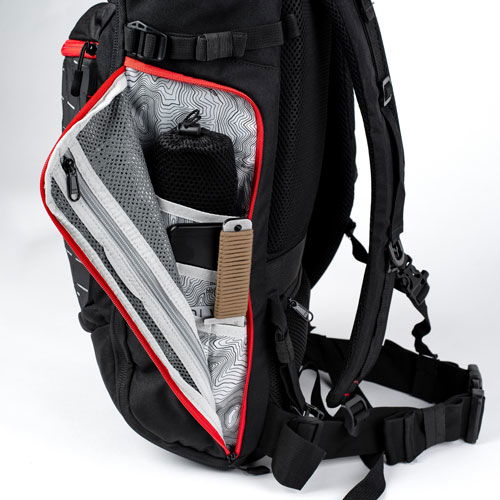 More pockets! The side of the Transit features a unique secondary admin panel. This is perfect for keeping your gear organized in different sections of the bag.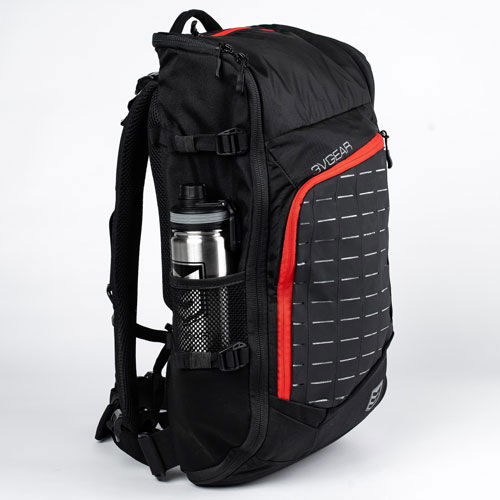 Large Water Bottle Pocket
A large water bottle pocket will fit most water bottles and is large enough to hold additional items you may want to lash to the outside of the bag. Say a tripod or something similar.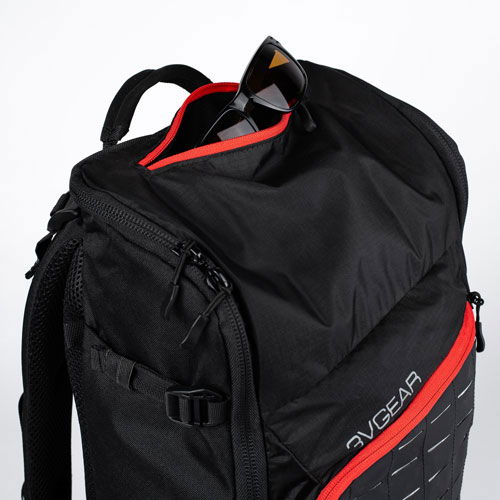 A lined accessory pocket adorns the top of the bag and is perfect for stashing your phone, wallet, keys, etc.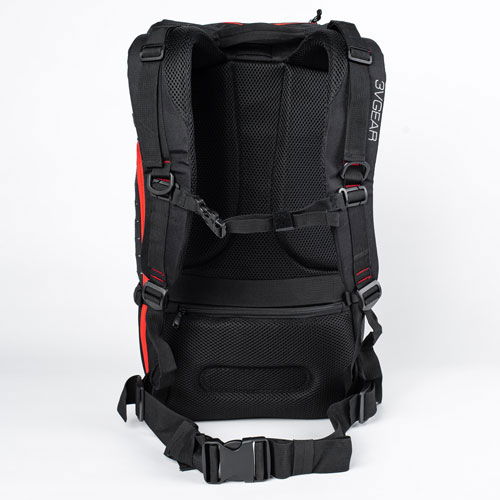 With the included sternum strap and waist belt you can adjust the load on your back. Both straps are removable as well.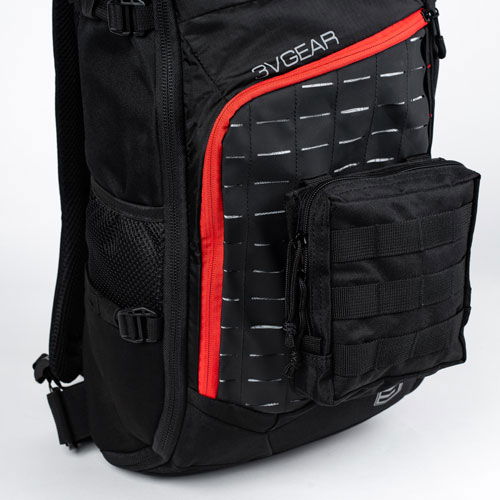 With a die-cut MOLLE panel you can add your favorite MOLLE pouch for a bit more organization.
3V Gear Transit EDC Backpack Reviews
Versatile at the perfect size.
This is the bag you want if you need an EDC that can accommodate a few more items than what your traditional EDC does, while not feeling like you have a ruck pack on.
Great bag
I recently purchased this bag and several others. I have only had a chance to use the bag twice and I must say both times I have enjoyed it. It is a very comfortable pack, easy to pack and locate items. It is very easy to keep organized. I love the flexibility of it. I feel that this will be my go to bike packing bag, hiking bag. I might get another one for my sons school pack as well.
Good bag
Due to materials and construction, i believe the Redline is more suitable for vehicle travel or as I plan to use it for the gym. Good features and style. I like the bags but I would not trust them for long term travel.
Nice bag, could use a few improvements to be an amazing bag
I've been using the Redline EDC as my everyday commuting backpack around the city for two weeks. It has nice build quality and is made from nice materials. I like the back padding they use on this bag vs the foam panels 3v uses on the Velox.
The strap adjustability is good, but it would be nice to have integrated strap management. I don't really use the hip strap and keep it removed, but the chest strap is excellent. The way the compression straps work is great, it does not get in the way of opening the main compartment, and can be totally removed if desired. I wish more products used this system as its way more practical.
A few key improvements it could use would be a flat bottom. Whenever I try and sit this bag down, such as at a grocery store to load a bag into it it, it's constantly sliding around and unable to stand up to due the bottom of the bag being rounded. I think a flat bottom of the main compartment would be be more useful.
Additionally I have found that when I have my water bottle, which is only 16oz in the pocket, the mesh is so tight it presses the bottle into the bag, removing interior space. If the bag is fully loaded you will not be able to carry a water bottle.
Which brings me to my last thought for improvement. I like the slim profile of the bag, it makes commuting on the bus or train very easy compared to a bulky bag. However I think the bag would benefit from being perhaps 5-6 inches shorter and a bit deeper. Paired up with a squared bottom, such a revision would make using this for everything in the city so much better. The way the top of the bag operates is excellent until you want to dump in a bulky item, at which point the overall narrowness of the bag, and lack of flat bottom causes the bag to fight against you loading the item(s).
The front administration pouch is great, but it would be greater if it had a clip for your keys in it.
Overall a good bag. I hope the next version can fix the few shortcomings I've found using it as a daily city commuter backpack, and make this into an amazing backpack.
Great EDC/travel/bike commute bag
I've had this bag for about 6 months now. Here are my thoughts.
○ Pros: The pack is light, the lightest of the backpacks I own in the 35-50L range, including some smaller packs from Osprey. Due to being longer, it's pretty narrow & because of the lighter materials it compresses very well when not full. This means it's better for me as an EDC than other packs in this range. The water bottle holder is decent & the compression strap can make sure it stays secure. Not only that, but this is one of the few tactical-style backpacks I've seen where the compression straps are built so they don't prevent access to the main or front admin compartments (it can prevent full access to the side admin compartment, but this isn't that big of a deal). I understand for some that compression straps can act as a sort of theft deterrence due to the extra step it takes to get into the bag, but I really like this setup & wish more bags would do it this way. The j-top clamshell opening allows for top loading, fully-open loading, & even some side loading access if you place the zippers right. The admin pockets on the front & side give some good options for creative packing, & the side admin can also be used as a secondary water bottle pocket for a thinner bottle. The secret pocket in the back harness is bigger than it looks & perfect for my wallet, phone, etc. The soft stash pocket on top is roomy enough for several fragile items. The mesh pockets in the main compartment are awesome, & sometimes easier to throw my tech stuff in than the admin pockets. The laptop compartment fits my 14-inch Chromebook pretty easily, & has some good suspension away from the bottom of the bag. High-vis lining with dark-exterior bags is always a plus, & the topographic map design is unique. The back harness is very comfortable, with soft but supportive & breathable mesh that hasn't left me too sore even when fully loaded out or left my back too "swampy". The hip belt is pretty decent for securing the bag while bike riding but I usually take it off anyway. The sternum strap fits nicely & is pretty adjustable. I love the redline color scheme; it looks just unique enough to stand out, but isn't in-your-face tactical.
Cons: Not having a separate laptop compartment means you've gotta watch where you place the bag down in wet conditions, especially if there's standing water, because the bottom grommet can allow water to seep in & potentially damage any tech inside. The clamshell opening helps packing better, but because of the bag's narrow shape (longer vs wider) it's hard to pack bulkier items (ex, my large lunchbox). Because of this, the bag often seems more like a 35-38L bag than a full 40L. The admin pockets are relatively thin & built so that once you put something even mildly bulky in one pocket (like my asthma inhaler or my mobile charger), the other ones become unusable. The bag is flexible & has enough give to stretch the main compartment & use all of the available space it has, but doing so will keep you from using the admin panels for much other than a wallet, maybe a phone or PC charger charger, and some cables. I can & have added one of my Maxpedition pouches to it, & it fits well enough to cover most of the MOLLE for a slightly more grey-man look (although one could argue that attaching pouches to the back of a bag screams "tactical bag" the same way MOLLE does). Also, this disrupts the slim profile of the pack. Finally, although 3V Gear does a great job of adding strap keepers to the back harness straps, the compression straps, & even the hip belt, they somehow forgot to add one to the sternum strap. Not a huge deal for me, as I just added my own Velcro ties to achieve that coveted dangle-free experience, but it seems like a strange oversight for a company that is obviously trying to distinguish it's gear from the other more expensive stuff out there.
Even with these cons, this is still a solid EDC/daily commute backpack, and I've grown to really love it. I'll switch it out with another bag like an Osprey, 5.11, or North Face every once in awhile. But I keep coming back to it for its practical organization, solid amount of storage, lightweight & comfortable handling on my back (especially when stuffed full of tech gear or groceries on the bike ride to/from work), along with the cool-looking inner/outer styling. I highly recommend this bag for virtually any use-case scenario, with the possible exception of a workplace where business professional-style attire is expected.
Perfect camera bag!
I bought this bag to go on a cruise, and to carry my camera gear on the excursions. i bought a Tenba camera insert bag before, and this backpack worked perfectly!
Almost perfect
Everything I thought it would be accept one thing. When the backpack is fully loaded the water bottle holder is no longer useable for water bottles. Other than that I'm happy with it. Couple straps on the bottom would be a good addition too in my opinion.
As a truck driver, I love it!
Versatile bag with plenty of zipper compartments.
Excellent pack
Very versatile. Love the feature for zipping open flat. Well made. Was even able to use it as a carrry on at the airport
3V - Outstanding!
Ordered several times from 3V. Without fail, every-time was a great experience. Their products are high quality, shipping is always ASAP, and customer service is exceptional. Will come back again and again.