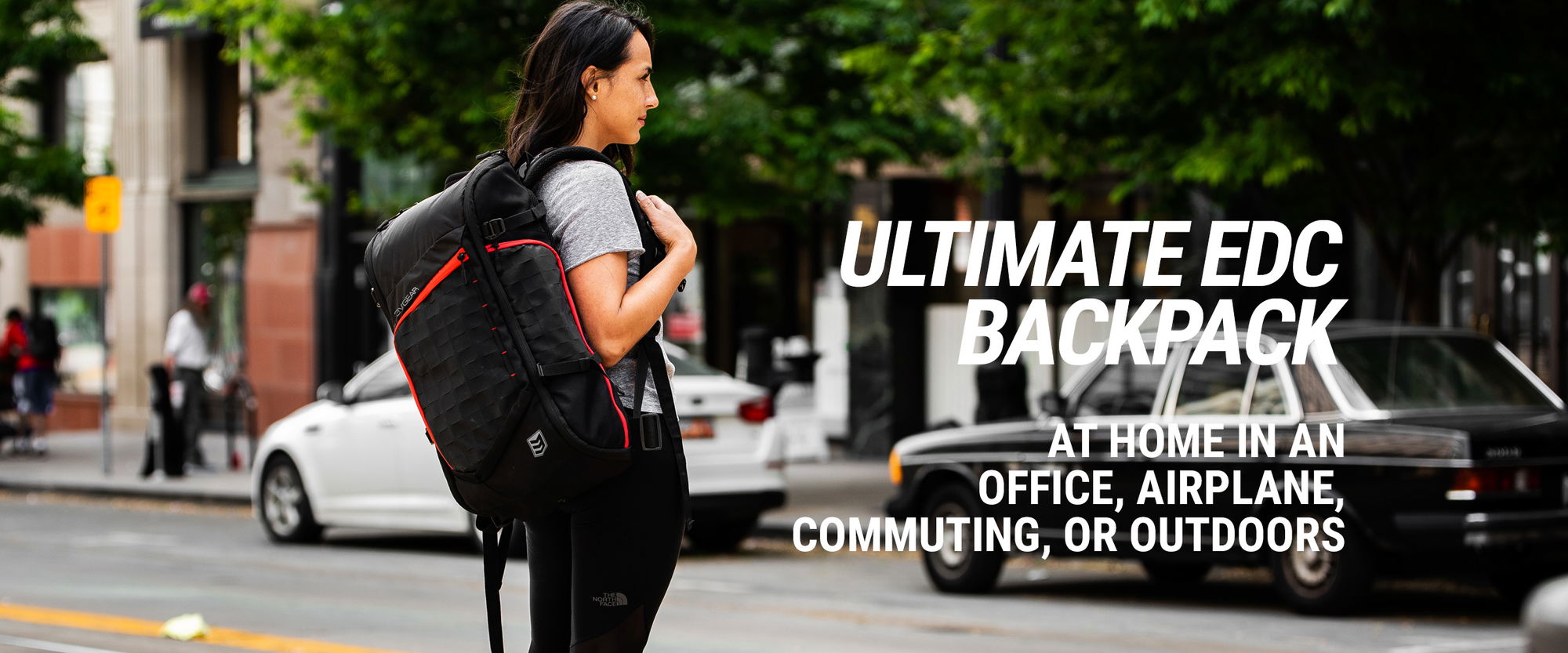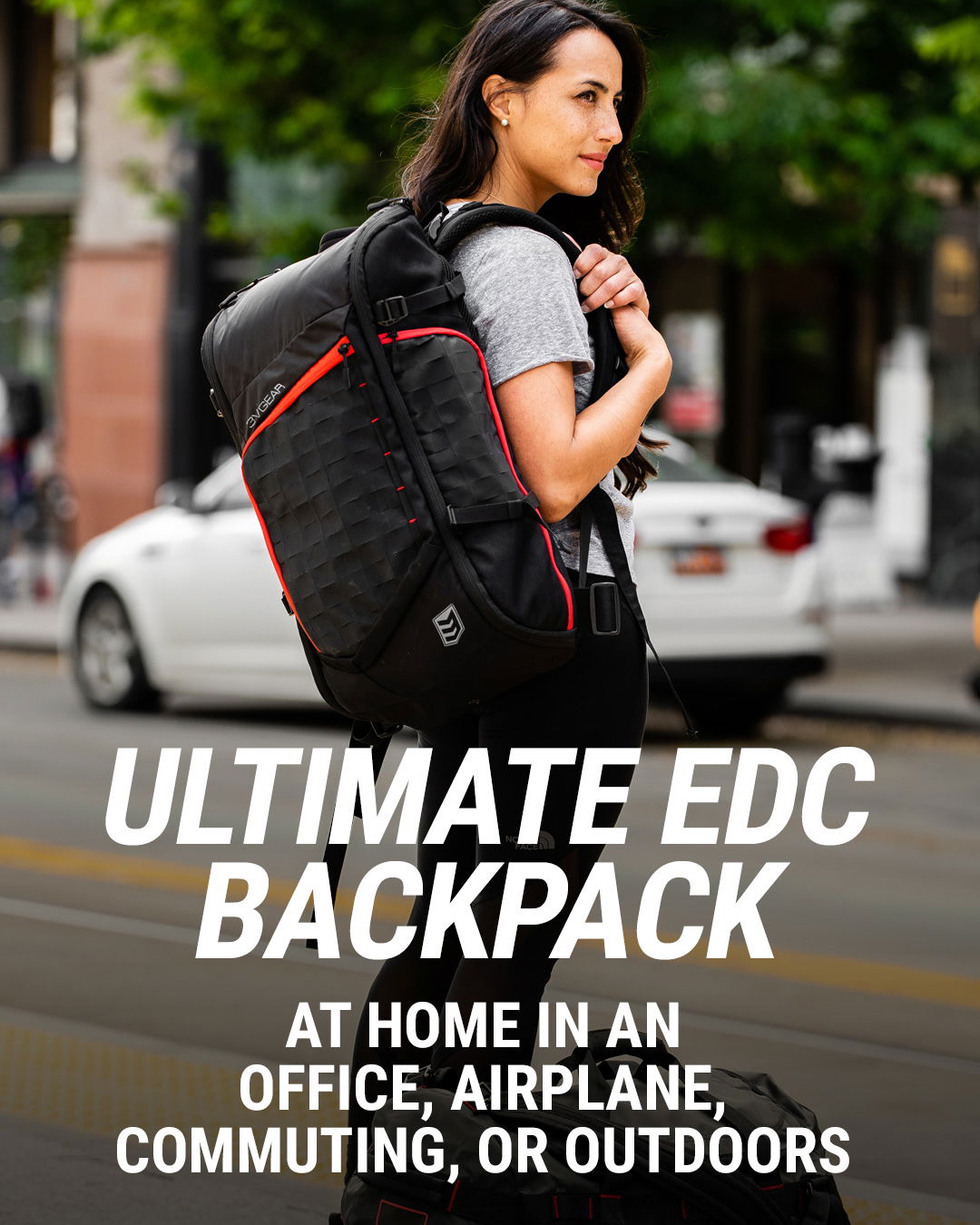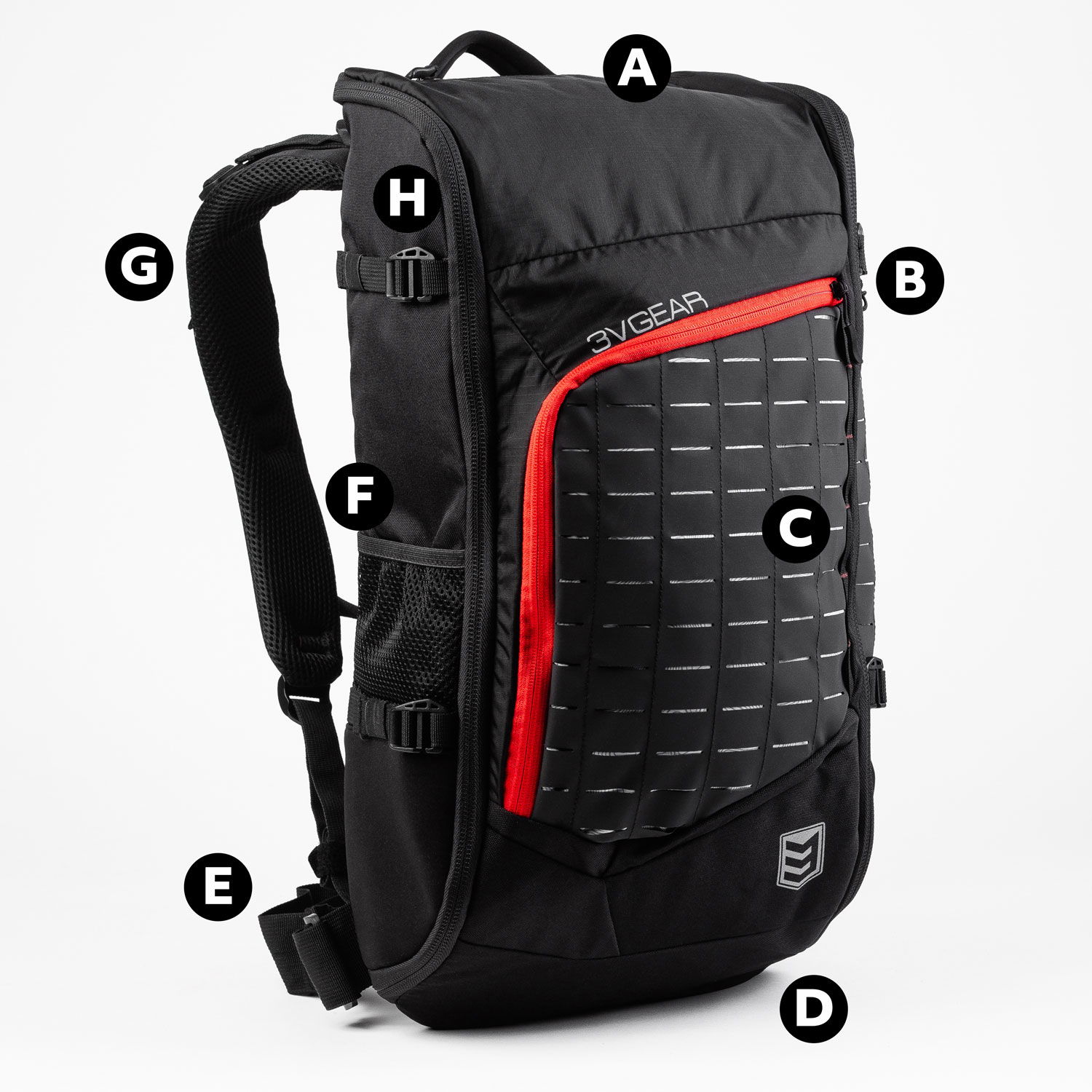 TRANSIT EDC BACKPACK FEATURES
A - Heavy-duty ripstop construction
B - YKK zippers and rubber zipper pulls
C - Die-cut MOLLE panel
D - 40-liter size
E - Removable waist belt
F - Water bottle pocket
G - Thick, padded shoulder straps
H - Compression straps
ADDITIONAL FEATURES & SPECS
Adjustable sternum strap
Clam shell design for easy packing
Large admin pocket
Padded laptop sleeve
Dimensions 22"h x 14"w x 8"d
40 Liters
Total Weight 2.35 lbs.
Limited Lifetime Warranty
Imported
PADDED LAPTOP SLEEVE
The Transit EDC Backpack features a large padded laptop sleeve that will fit most 15" laptops. The large "U"-shaped zipper makes it easy to access your laptop without opening more of the bag.
SECURITY POCKET
We added a small secure pocket on the back of the Transit. This was designed to hide valuables from would-be thieves. Perfect for your passport, cash, or a small CCW. With it being against your back it would be very difficult for anyone to gain access to this pocket without you knowing.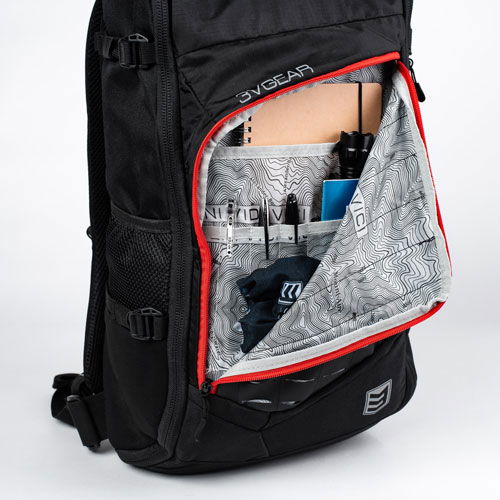 Let's face it, we all love loads of pockets. This way we can keep everything in its rightful place. Our unique hi-viz topographical map liner makes it easy to see all of your gear.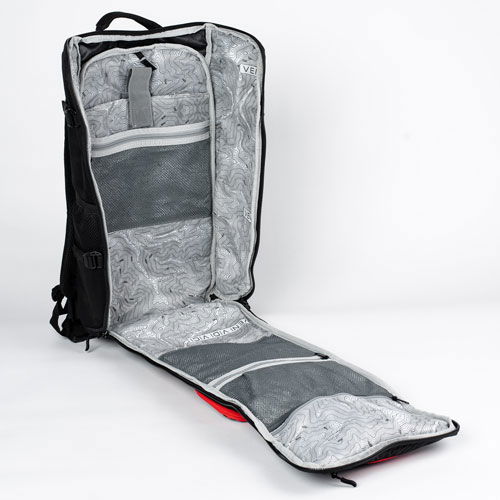 A full clam shell opening for the main compartment lets you pack and access your gear with minimal effort.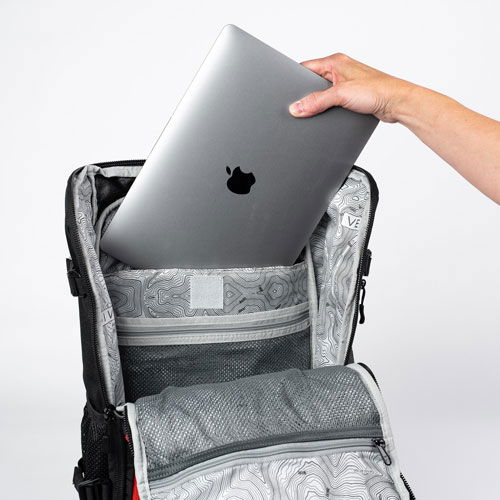 A large padded laptop sleeve will keep your laptop cozy while you are on the move. The laptop pocket accommodates most 15" laptops.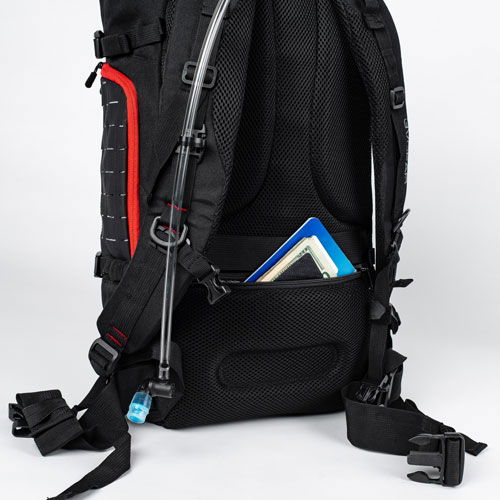 The Transit Backpack features a hidden security pocket on the back of the bag. This is perfect for storing your wallet or passport and can double as a CCW pocket.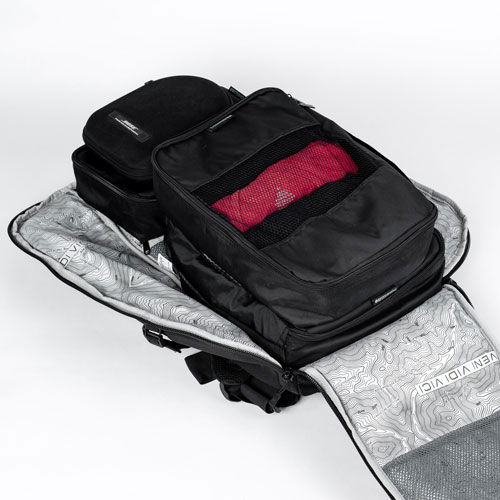 With the main compartment completely unzipped you can easily pack your bag in a more civilized way. No longer do you have to cram your stuff into the bag. This design is perfect when using packing cubes.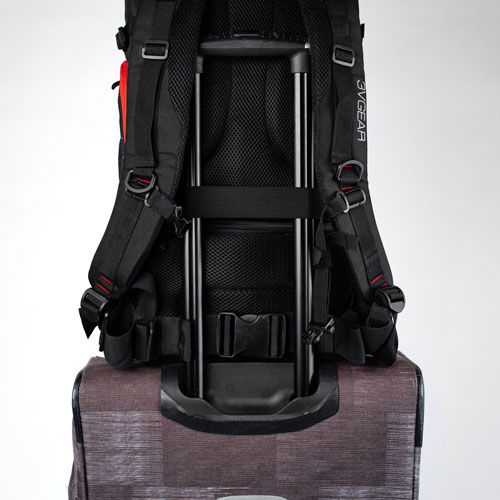 Luggage Trolley Passthrough
While the Transit Backpack is TSA compliant as a carry on bag, sometimes you may have more luggage when traveling. If you are using a roller bag, the Transit will easily sit on top while you move through the airport.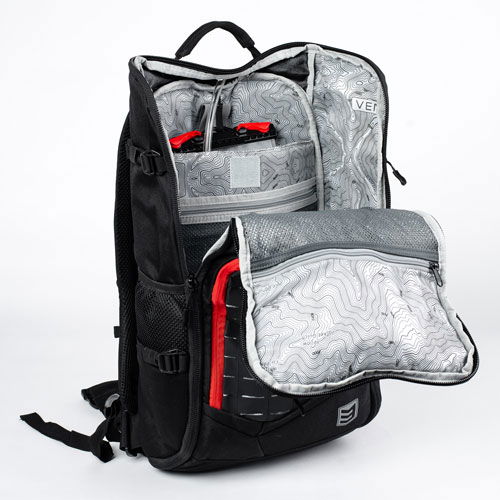 The Transit is hydration compatible and will fit up to the 3-liter hydration reservoir.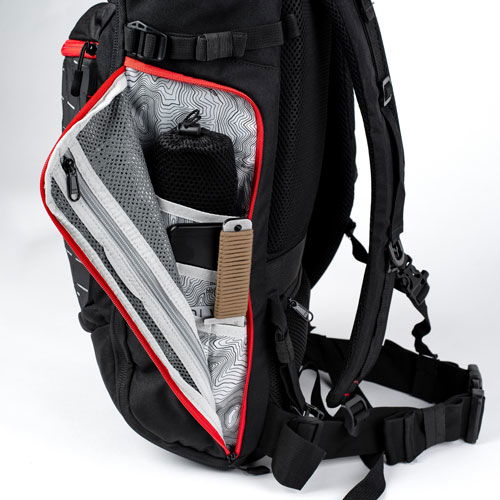 More pockets! The side of the Transit features a unique secondary admin panel. This is perfect for keeping your gear organized in different sections of the bag.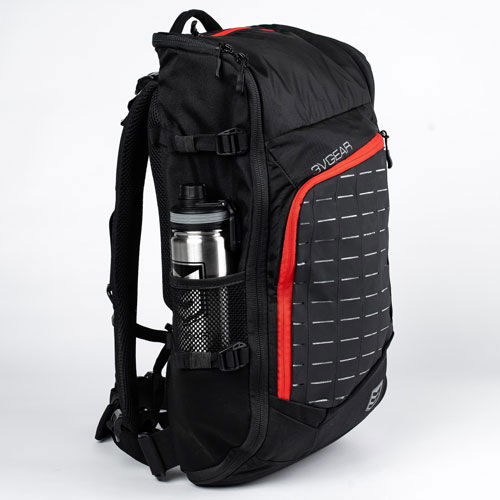 Large Water Bottle Pocket
A large water bottle pocket will fit most water bottles and is large enough to hold additional items you may want to lash to the outside of the bag. Say a tripod or something similar.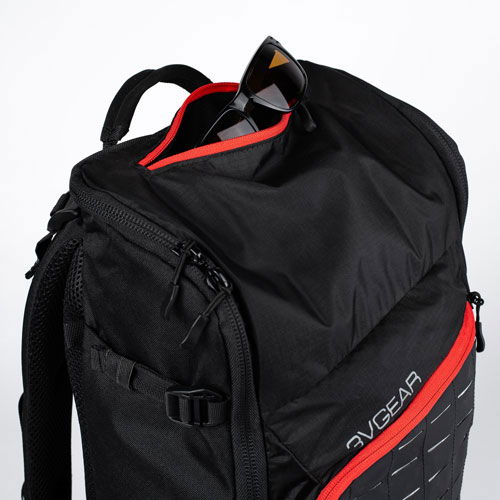 A lined accessory pocket adorns the top of the bag and is perfect for stashing your phone, wallet, keys, etc.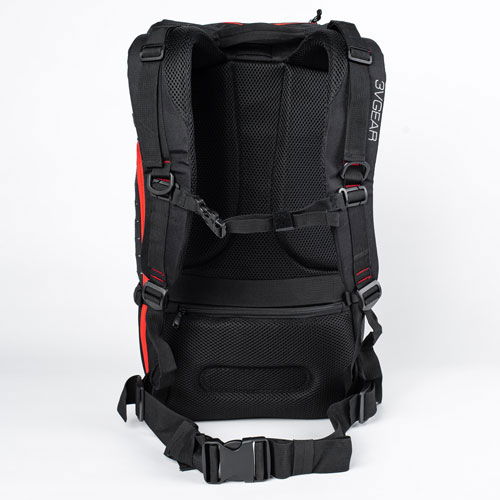 With the included sternum strap and waist belt you can adjust the load on your back. Both straps are removable as well.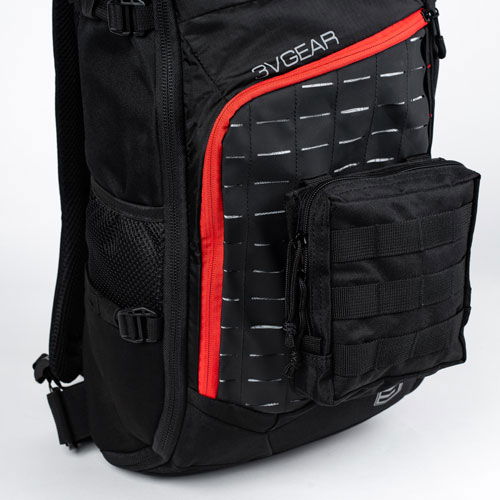 With a die-cut MOLLE panel you can add your favorite MOLLE pouch for a bit more organization.
3V Gear Transit EDC Backpack Reviews
Transit Redline=AWESOME
After using my transit redline backpack for about 3 weeks loaded with my daily stuff for work, a level 3 armor plate and about 60 rounds of ammo. It's holding up great and works beautifully. The only improvement I would like to see are the zippers. More precisely the zipper pulls. They can bend open and the cord comes right out leaving you with no zipper pull at all. Can be fixed with some paracord and pliers but besides that. It's a great pack!
my review for this backpack
This is my new EDC bag next to the Outlaw and a 5.11 styled "12 hour" bag. I alternate between the 3, though I love the less tactical look of this one and the size too. I love the redline line and have ordered all but the Sovreign and Surge, so that should tell you something about this new line. You really cant go wrong, as all of them are perfect "grey man" type of bags.
Mostly a Great Pack
I've had this pack about a week, and overall I'm very happy with it, for now. It's the perfect size for a variety of activities, from EDC to weekend trips. There are lots of storage and organization options, and the shoulder straps are really comfortable. There are 3 things that I hope they improve upon for the next generation: 1) The carry handle seems undersized, and the stitching isn't super strong. I've been carrying mine for about a week, and it already looks like it may try to separate (photo attached). And I'm definitely not overloading it. 2) Additional elastic bands to hold down the webbing straps would be nice. Some are included, but obvious ones are not, such as the webbing straps to tighten/loosen the shoulder straps. When you have the shoulder straps properly tightened, the remaning webbing straps just hang down at your sides. 3) the Molle panel seems a bit iffy. I feel like they would stretch or break easily. I don't really use them right now, so I could be wrong, but just pulling on them with my finger feels like I'm go to stretch them out. Overall, however, I really like the bag. If it stands up for a while, I may consider updating to 5 stars...we'll see.
Awesome pack
Shoutout to 3V for sending me each of the new bags, but I am about to buy another one of these for a gift because it's that nice! I love the full zip pocket, I travel a lot for weekend trips, and this bag is perfect for flying or long drives. This pack might be my favorite backpack I've ever owned!
Perfect size
I ordered the backpack for my son who has joined the Boy Scouts. There are numerous adjustments which can help custom personalize fit the pack to different people in a few minutes. Unfortunately, with the current pandemic, he is not sure when he will be able to fully utilize it. Right now, he is jazzed about the design and can't wait to use it. A lot of thought and work went into the design and practicality of use. The clan shell design makes it easy to pack. There are a bunch of pockets, zippered and open throughout. Looking forward to trying it out. So far so good! I should have ordered the 50 liter model for myself!