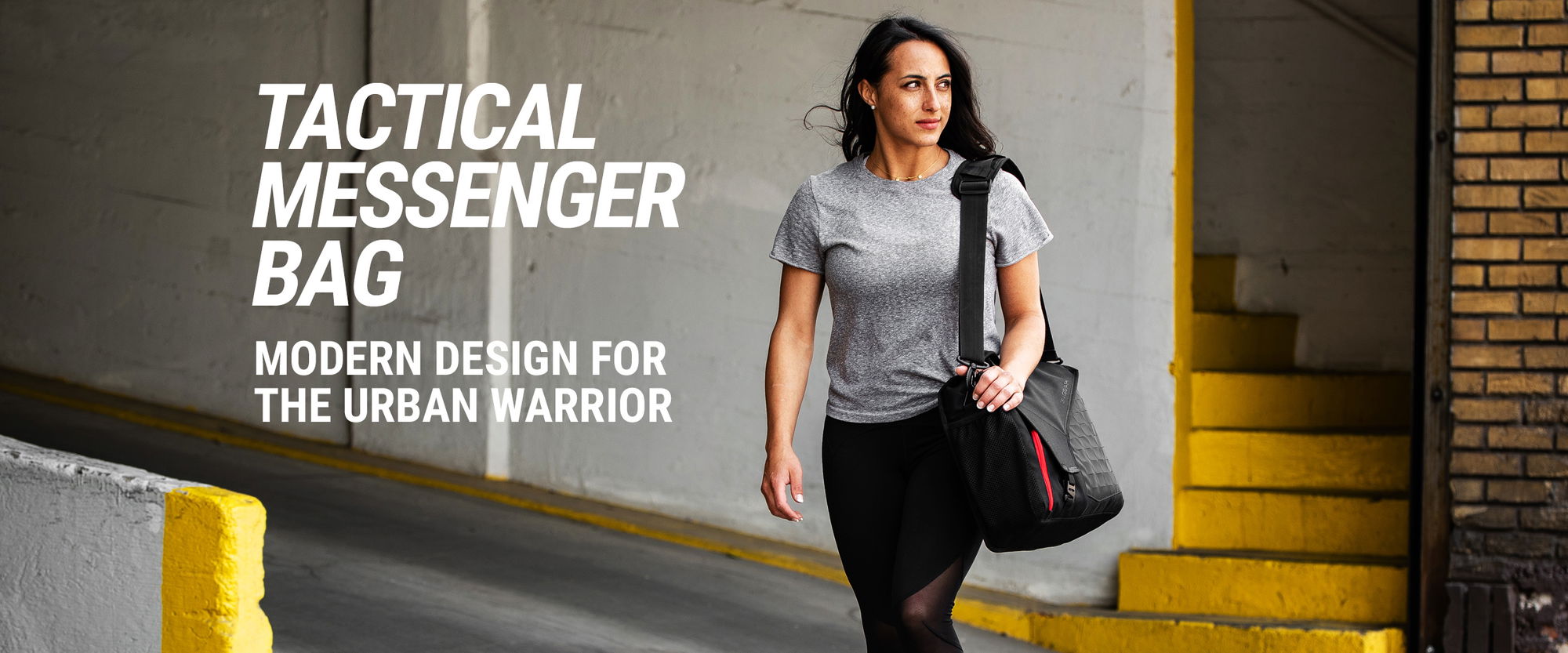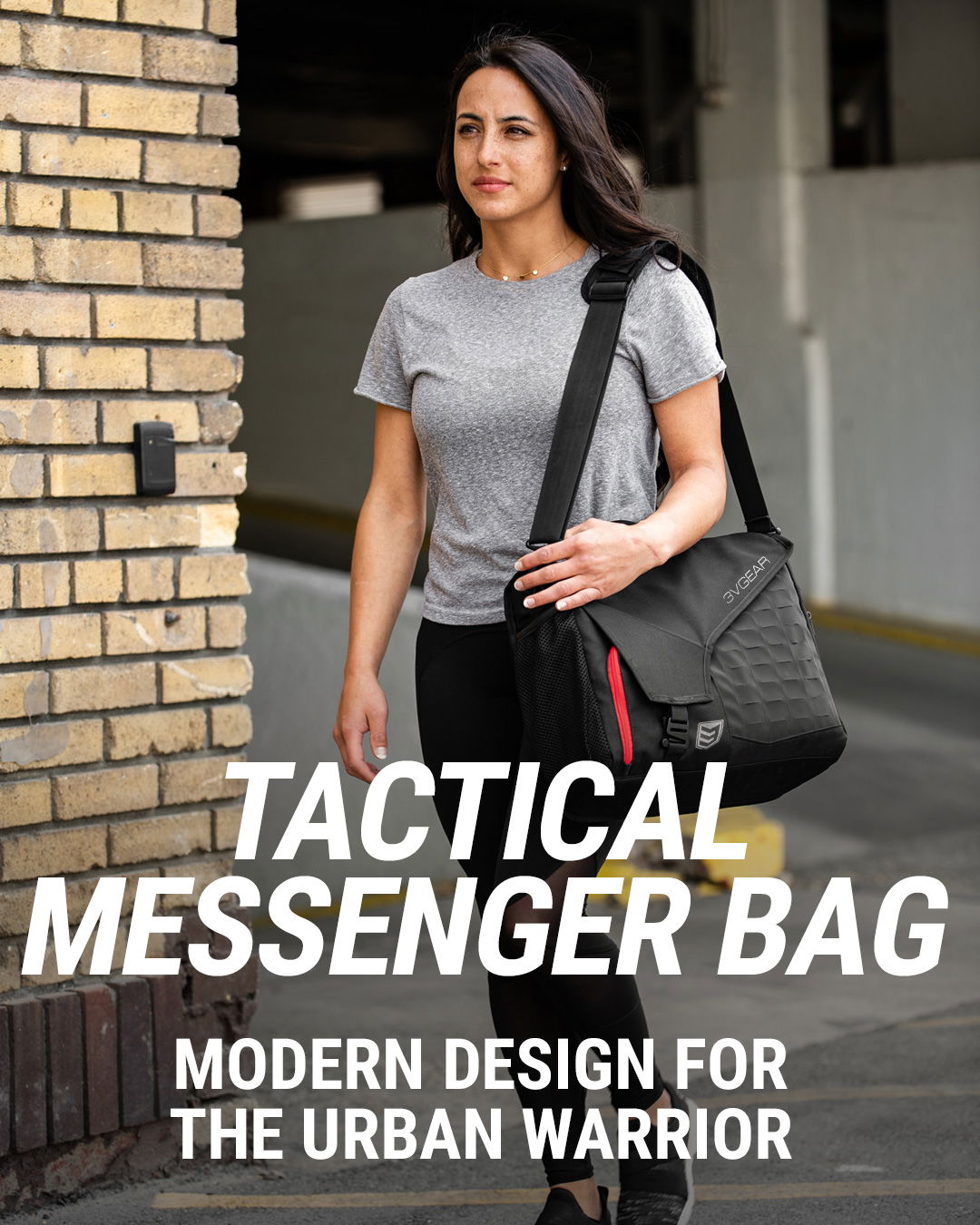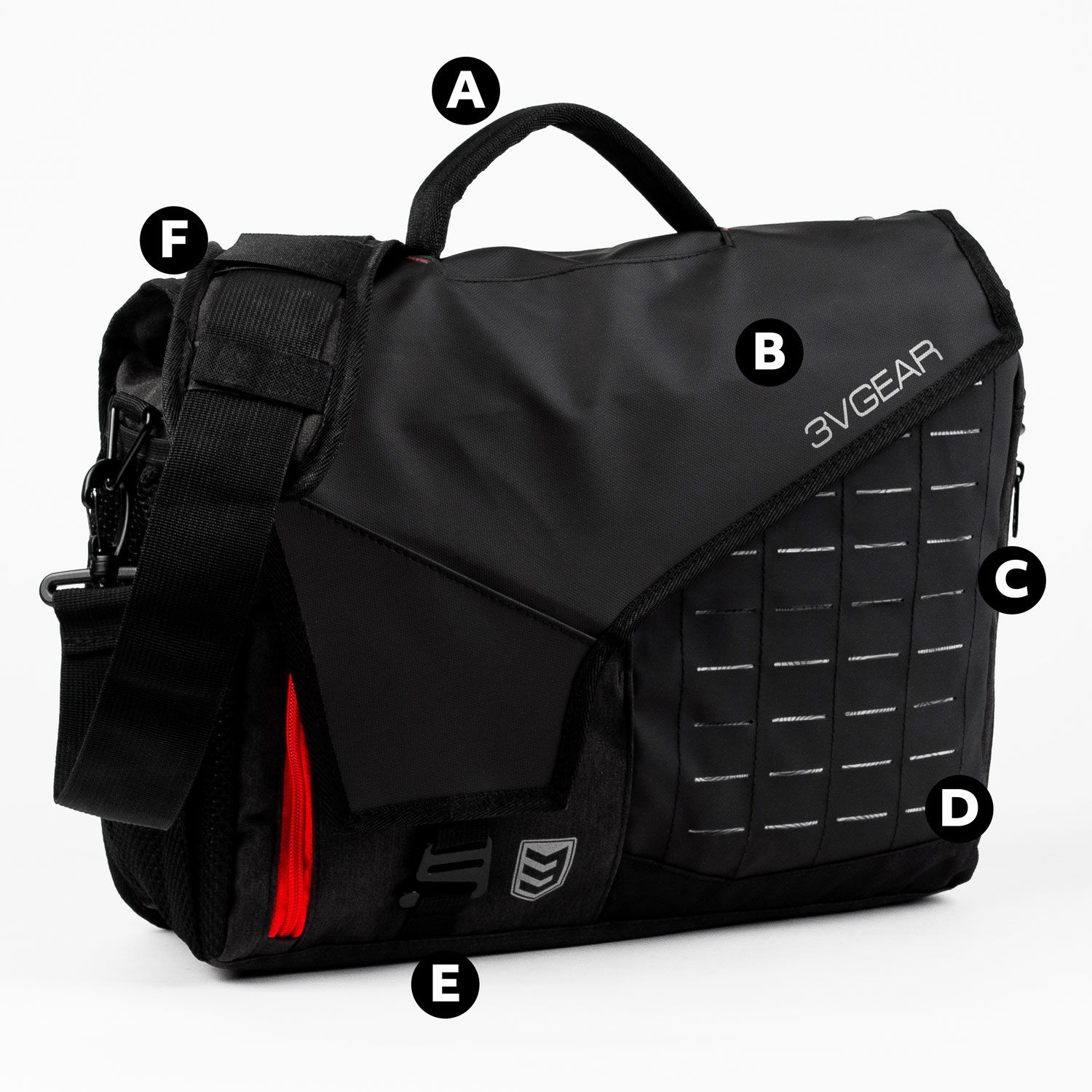 CIPHER REDLINE MESSENGER BAG FEATURES
A - Large, padded grab handle
B - 300 Denier nylon construction
C - Side accessory pocket
D - Die-cut MOLLE panel
E - Adjustable closure
F - Padded shoulder strap
ADDITIONAL FEATURES & SPECS
Large laptop compartment fits most 15" laptops
Top zipper access
YKK zippers
Side water bottle pocket
Admin panel for organization
Luggage trolley pass through
Dimensions 12"h x 16"w x 6"d
Total Weight 1.4 lbs.
Limited Lifetime Warranty
Imported
EASY LAPTOP ACCESS
Gain access to the inside of your Cipher Messenger Bag with this additional zipper. You don't need to open your entire bag to get your laptop. Simply unzip the top red zipper and it opens directly above the laptop. This will make your life much easier.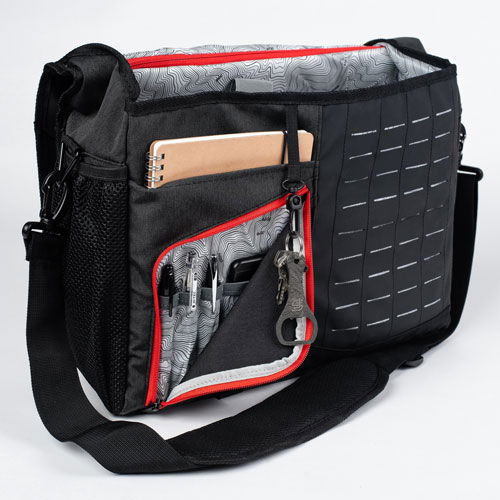 The Cipher Messenger Bag has plenty of pockets and ways for you to stay organized.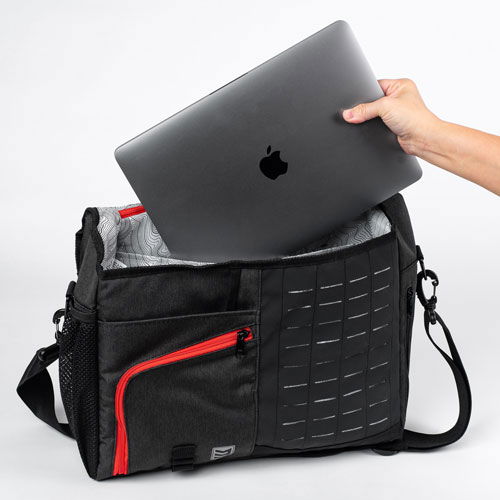 Padded Laptop Compartment
A large padded sleeve will protect your valuable laptop or tablet. Will fit most 15" laptops.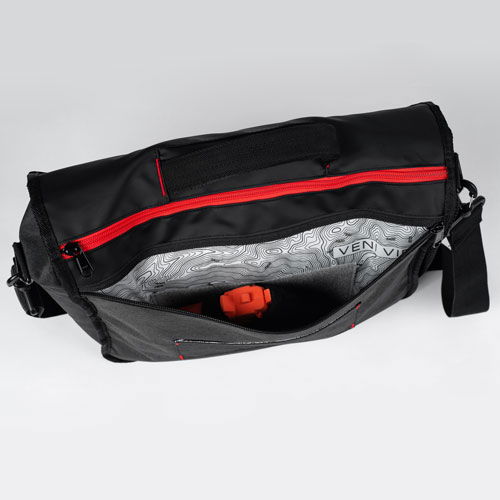 A discreet full zippered pocket on the back of the messenger bag is designed to store your CCW. With a large Velcro panel on the inside you will be ready if the need arises.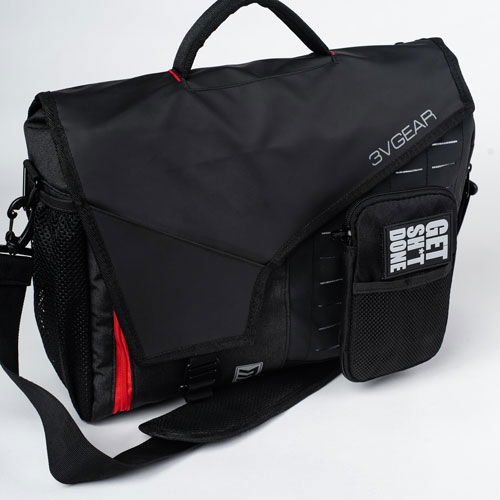 A small die-cut MOLLE panel allows you to add your favorite MOLLE accessory pouch.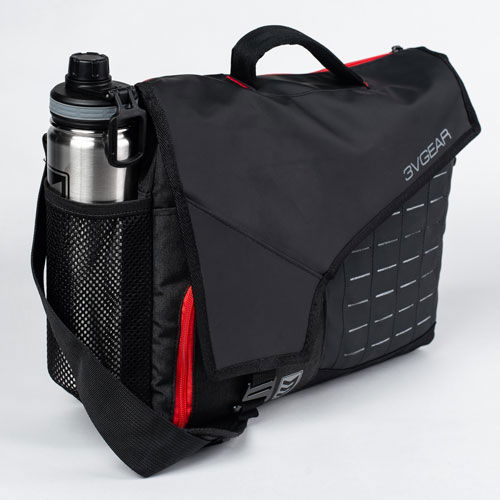 An exterior water bottle pocket lets you keep your water easily accessible wherever you may be going.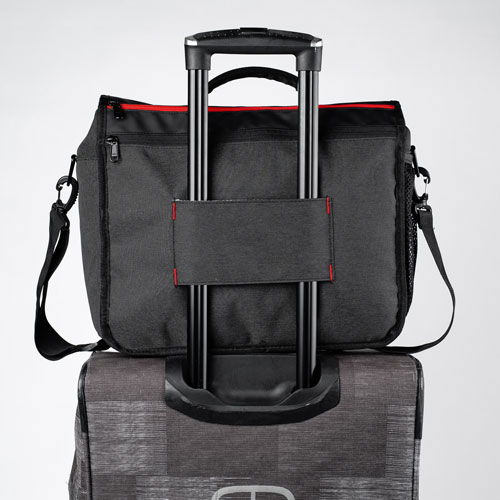 Luggage Trolley Passthrough
A luggage passthrough on the back of the bag lets you easily add it to your other luggage when traveling.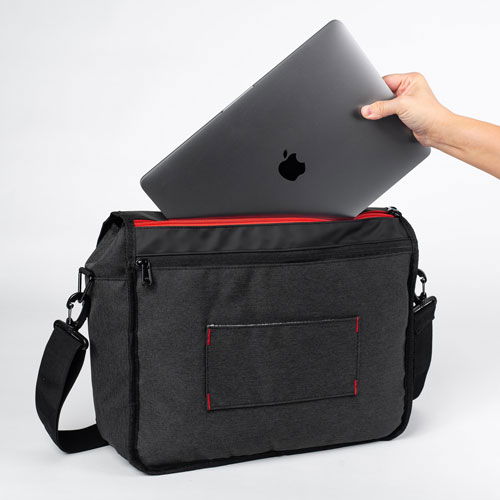 The large red zipper on the top of the bag gives you direct access to the laptop compartment. No need to open your entire bag to get your laptop.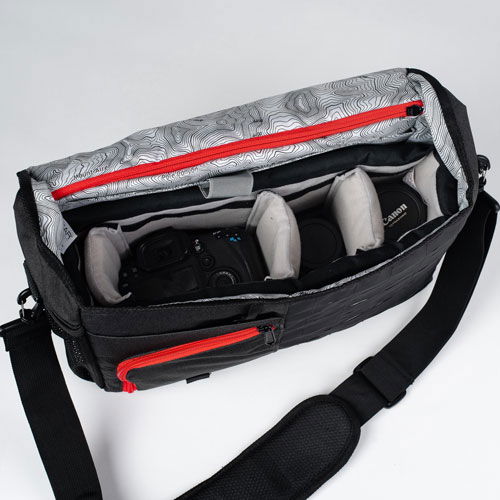 Sentinel Camera Insert Compatible
The Cipher was designed to accommodate the Sentinel Camera Insert. This makes for a very handy and discreet camera bag that doesn't look like a camera bag. *The Sentinel is sold separately.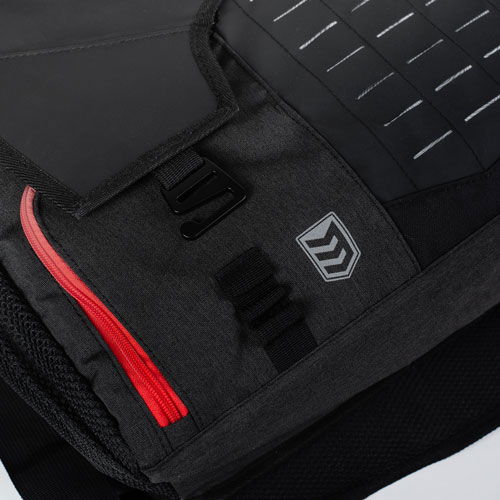 Depending on how much gear you are carrying, there are multiple attachment points for closing your bag.
3V Gear Cipher Messenger Bag Review
Good Bag!!
I really like the Cilher Redline Messenger Bag. I gave it 4 stars because of two small issues:
* The bag can be seen into slightly when closed. Needs to be a little more secure.
* On occasion, when zipping a compartment, the lining gets caught in the zipper.
I do really like the bag and it's great for what I purchased it for and if it wasn't for those two above issues I would of given five stars.
Hello, Carl.
I am sorry to hear about that. If you would like, please fill out the warranty form found on our website so we can make this right for you.
good bag!
This bag is pretty good but it seems a touch light weight and I believe durability will be an issue.
Hello, Charles.
We understand your concern. Good thing for you is we stand behind our products, so if you do happen to have issues or this bag does not live up to your standards. We will be happy to remedy the problem.
Have a great day!
Need Velcro to attach morale patches to
Hello, Michael.
If you are interested, we do have other bags that have sections of Velcro for you to display your patches.
Great gear!
Can't go wrong with 3V....all their products are top notch and customer service is outstanding. Buy whenever you can!!!
Very flimsy
The pocket where you'd put a laptop doesn't hold a 15". And when you pick it up. There's an area that's wide open. If you'd be using it if the weather was bad. Everything inside would be wet.
Hello,
I am sorry to hear that. The laptop sleeve does hold most modern laptops. If you were looking to return the bag, please contact us and we will be happy to help you.
My laptop doesn't fit.
Nice looking bag. Just wish the laptop sleeve was a 1/2 inch bigger.
Hello, John.
Sorry to hear about the inconvenience. We do have other bags that include laptop sleeves with expanded pockets so even bulky laptops can fit.
Except for the flap closure
This messenger bag does exactly what I needed it to do. My laptop, various survival equipment, even a change of clothes. Socks and boxers included fit in there no sweat. AND a G27 back up pistol and 2 magazines. The only thing I'd change is the closure, maybe a good old fashioned snap or an adjustable click strap. I saw in the reviews that other people thought it could be more secure but no one said it was a deal breaker. And the flap is heavy enough and the design is such that the flap stays closed but I'd hate to flip it down in the chair next to me in say a doctor's office waiting room and the flap flop open and my Glock slide out onto the floor, awkward moment indeed. Fortunately the sticky holster works as designed and the Glock stays in it's home,I tried to make it fall out. I'd buy it again and if I was really that worried I'd have my leather guy fix it.
Love the bag but it does not fit a 14.5" laptop.
I absolutely love this bag, but it's too small. Don't believe the description "will fit most 15" laptops." It's a lie. I am going to have to return the bag and continue to look for an EDC laptop bag. It is such a disappointment.
Great bag, not a fan of the closure.
First off, I love the storage and how comfortable this bag is to carry. Fits all my essentials and then some. It's tough as hell and I love that I can attach my EDC pouch to the molle web. My only feed back would be that the way the bag closes isn't very secure and it doesn't snap, lock or some how keep the flap totally closed. Otherwise it's an awesome bag.
Perfect fit
Great bag for daily carry. Plenty of room and pockets for all of my books, files, and equipment. Lightweight and easy to carry. Love the internal pockets and pattern!