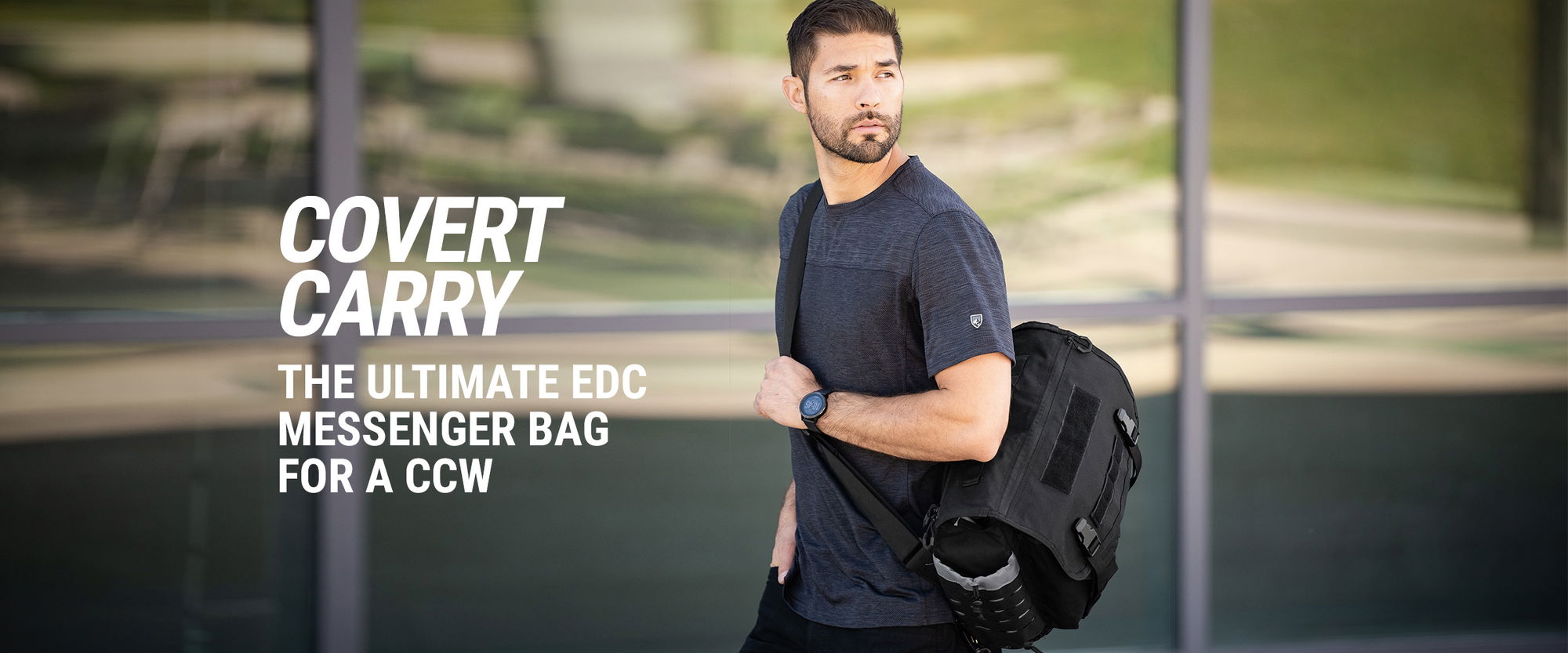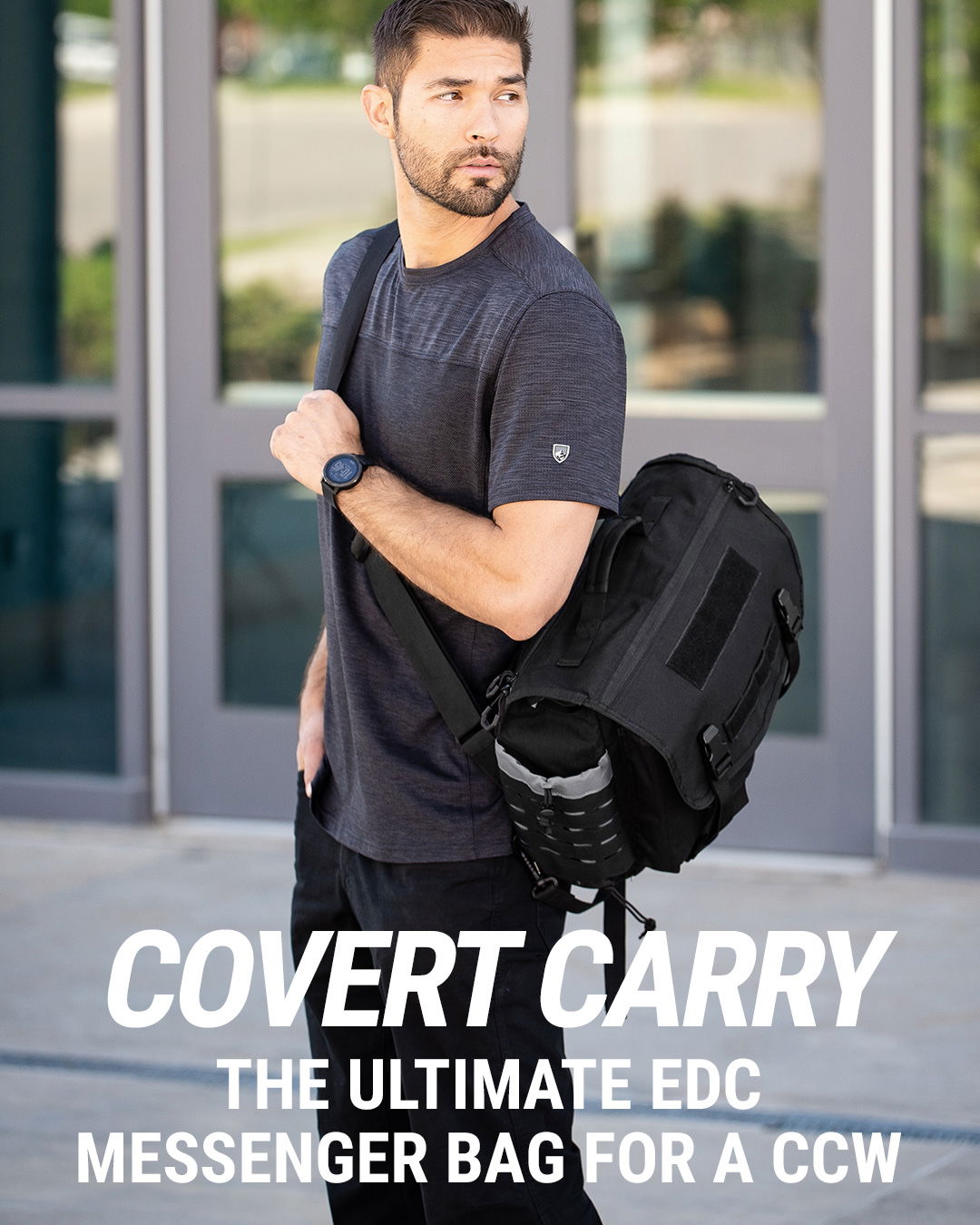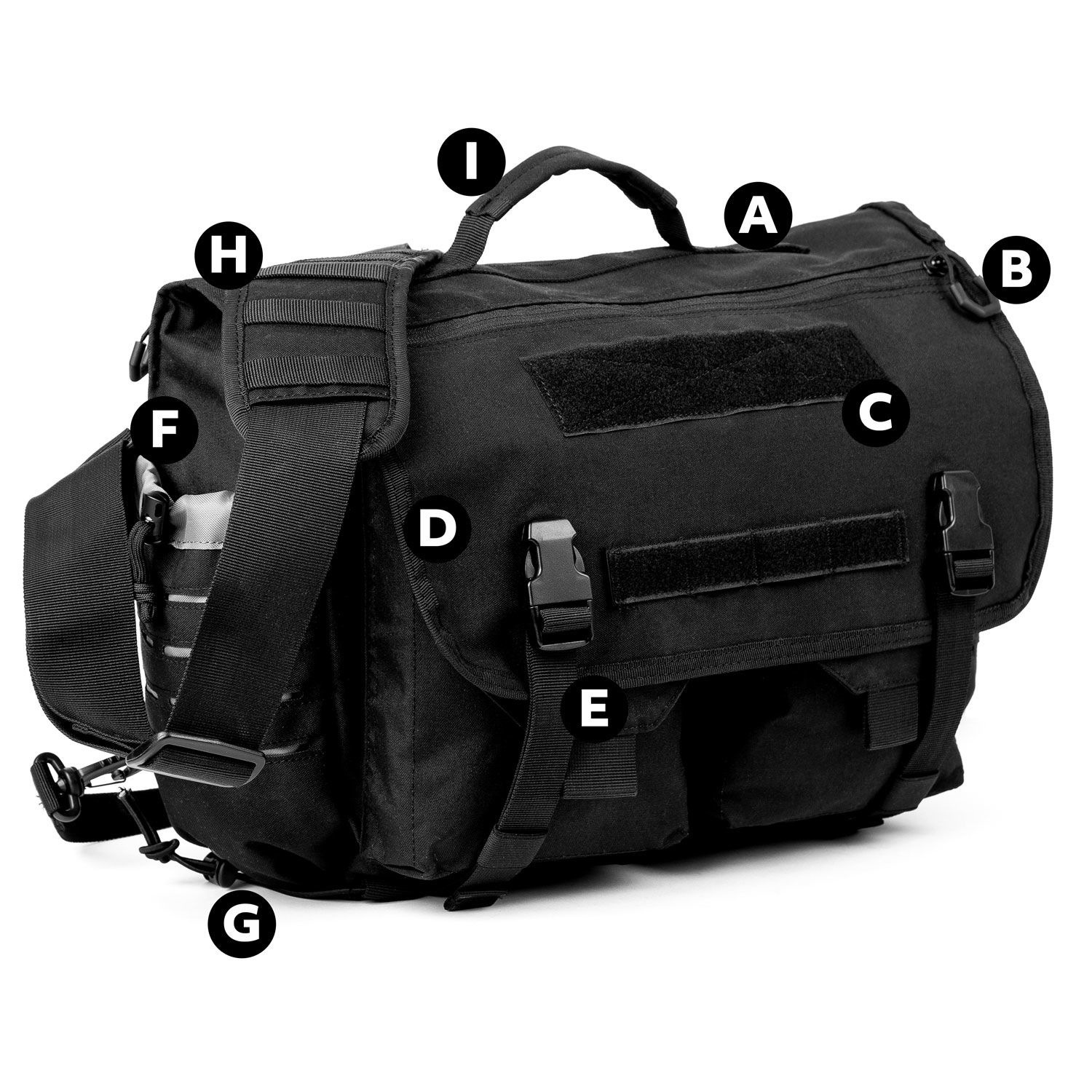 N.T.K. COVERT MESSENGER BAG FEATURES
A. 500D Nylon
B. YKK zippers and silent zipper pulls
C. Velcro ID panel
D. Discreet (SOB) styling
E. Dual, adjustable buckles to accommodate your gear
F. 2 Water bottle pockets
G. Bungee system for attaching items to the bottom of the bag
H. Removable shoulder strap
I. Padded grab handle
ADDITIONAL FEATURES & SPECS
Padded tablet/laptop pocket (pocket dimensions: 15"w x 11"h)
Padded base to protect your laptop and gear
Velcro panel for adding your CCW
2 external and 1 internal water bottle pockets
Removable organizational panel
Included accessory pouch (8"x6.5"x2")
YKK zippers with large rubber zipper pulls
Size: 17" wide x 12" tall x 6" deep
20 Liters
Weight: 1.15 pounds
Limited lifetime warranty
Made in Myanmar
N.T.K. Covert Messenger Bag Details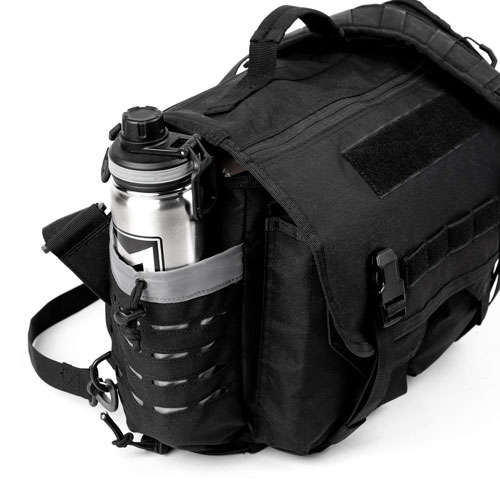 Dual-Water Bottle Pockets
We have added a water bottle pocket to each side of the N.T.K. Maybe you are really thirsty or like two different liquids. Either way, you have options. We actually added one to the inside of the bag but we will talk about that later.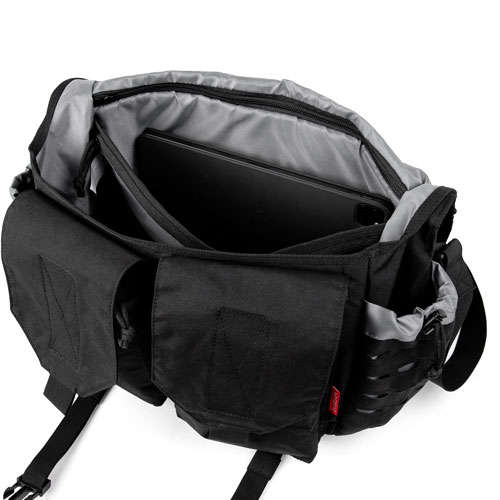 An internal padded laptop sleeve has enough room to easily carry a 15"+ laptop or tablet. The bottom of the messenger bag is also padded so you don't have to worry about damaging your laptop if you set the bag down a little too rough.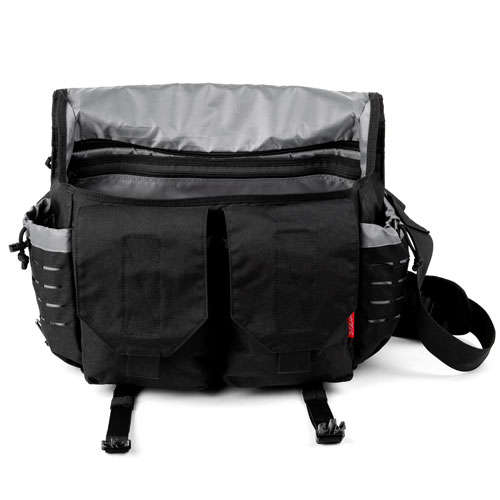 2 Large Accessory Pockets
The N.T.K. features two large velcro accessory pockets on the front of the bag. These pockets are great for keeping all of your gear organized. Plus, the main pocket of the N.T.K. uses a grey liner so it is easier to see your gear in the bag.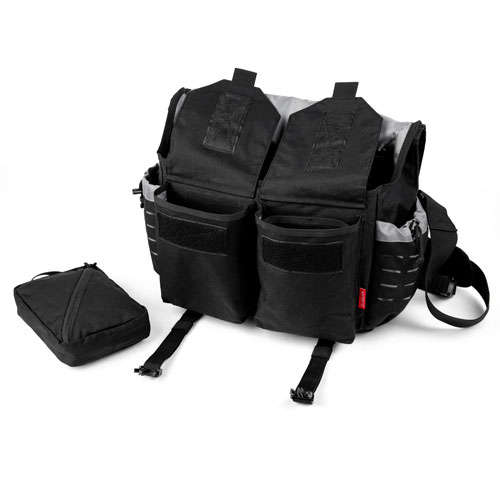 The N.T.K. includes an accessory pouch which is perfect for keeping all of your cables organized. It could also double as a small med kit just for this bag. There are plenty of options for this little pouch. Accessory pouch dimensions: 8"x6.5"x2"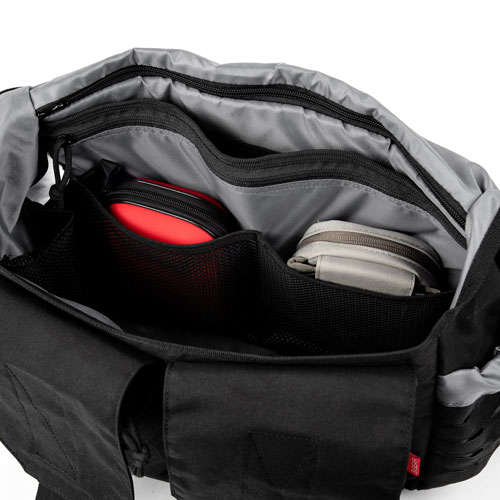 There are two large mesh pockets inside the main section of the N.T.K. These pockets are great for those large items that you don't want floating around on the inside of your bag.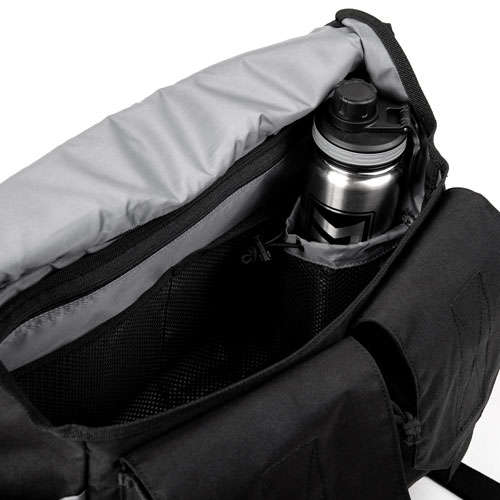 Internal Water Bottle Pockets
Here is that other water bottle pocket we mentioned before. We know some people like to have their bottle on the inside of their bag, so here you go. Of course, you can use it as another accessory pocket too.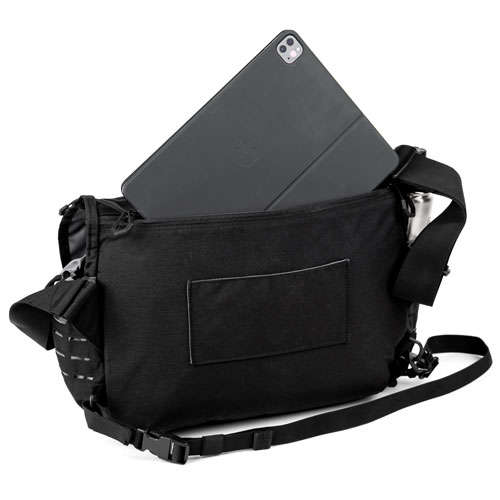 We added a zipper at the top of the bag so you can access your laptop or tablet without opening the main bag. This helps with security and making sure you aren't showing everyone the contents of your bag.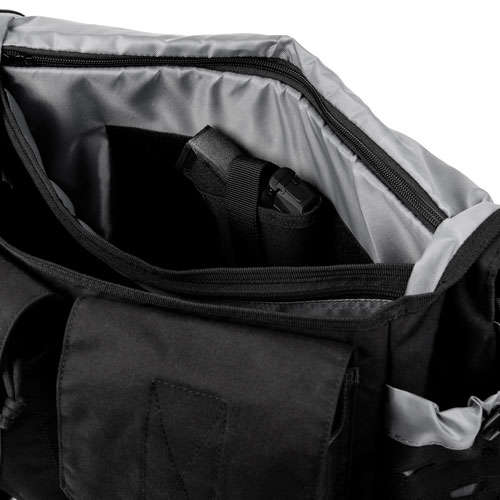 We designed the N.T.K. to be a CCW bag. The laptop pocket has a large velcro panel so you can use a velcro holster with your CCW. This pocket is the same as the laptop pocket and allows you to easily draw your CCW without opening the whole bag.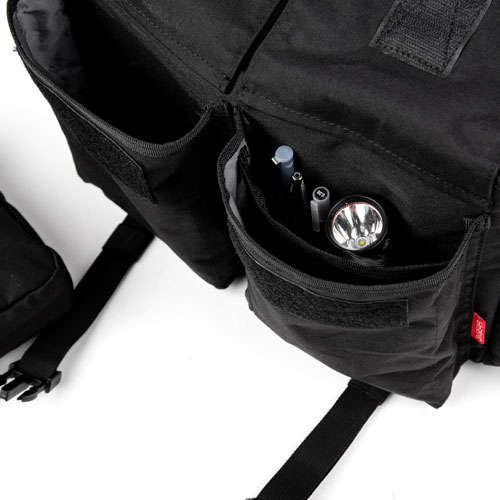 The right front accessory pocket has built in elastic webbing so you can organize more of your gear. Perfect for quick access to pens, pencils, flashlight, and other EDC gear.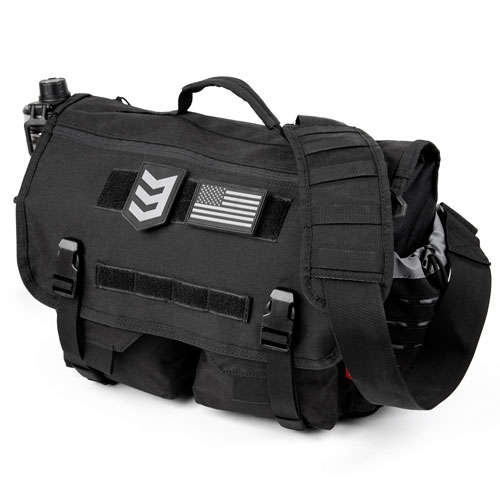 The N.T.K. has a large velcro ID panel so you can add patches if you want. The N.T.K. does not come with any patches. There is also a row of velcro loops so you can attach additional accessories.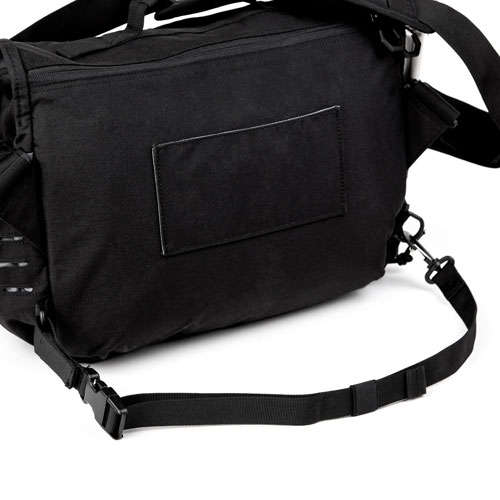 Removable Stabilizer Strap
The N.T.K. comes with a removable stabilizer strap. When you are using the shoulder strap for the N.T.K. you can also attach the stabilizer strap around your waist to keep the bag from moving.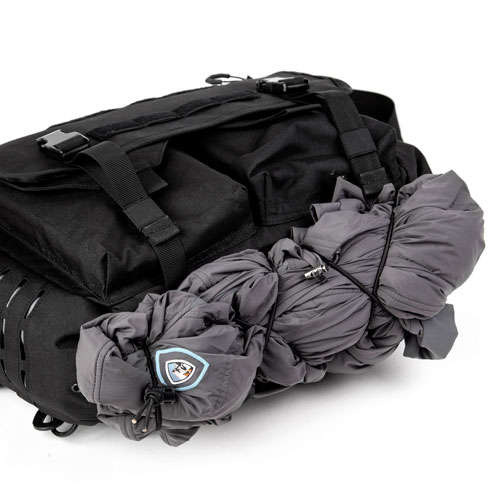 The bottom of the N.T.K. has a criss cross elastic bungee system so you can stash a jacket, umbrella, or other gear to the bottom of the bag.
NTK Covert Messenger Bag
Great bag. I use it daily. One thing I learned is don't force any of the fasteners into place or they stick real bad. Plenty of pockets for organizing your gear.
Best Buy in the internet
I am very happy to have found a one strap backpacks, I cannot use my right shoulder to carry anything and these Two bags and packs are very well made beautiful pieces of craftsmanship.
Thanks again
Howard
Great bag for a great price.
I love the bag. My only issue is that the CCW compartment can be seen into when I am getting my laptop out. I just ordered the redline bag since it has a seperate compartment for the CCW.
Thank you, Joseph. We will take that into consideration. We appreciate your feedback.
Great versatile bag
This bag is very versatile and can be used for a variety of uses. I like the Velcro allowing you to add your own selected patches adding a personal touch to your bag, the variety of compartments, the zipper and netting areas, the adjustable cord at the bottom for items you prefer not to put inside like wet or dirty clothing, and the inside water bottle storage. I do wish the entire belt and connectors in back of the back were completely removable and not just the belt. However, I love this bag and use it as a small gym bag, travel, and other uses.
Great laptop bag!!
Works perfectly for my laptop and carrying all the necessary accessories for trips.
Perfect for a limited amount of stuff
I wasn't sure I really needed this bag but I now find myself using it all of the time. It's great for carrying a small amount of stuff when you don't want to take "everything". Typically I find myself taking only what I need for a particular meeting while leaving the backpack in the truck. Great meeting bag!
gifted tactical bag to son-in-law
he really liked the tactical bag & I love the 2 pistol gun cases that are for me, green & black. 3VGEAR!
You Guys ROCK !!!!
Great products ! Great Value ! And very customer centric. Customer for Life!
Great bag
This is really a great bag with plenty of room for everything you might want to carry