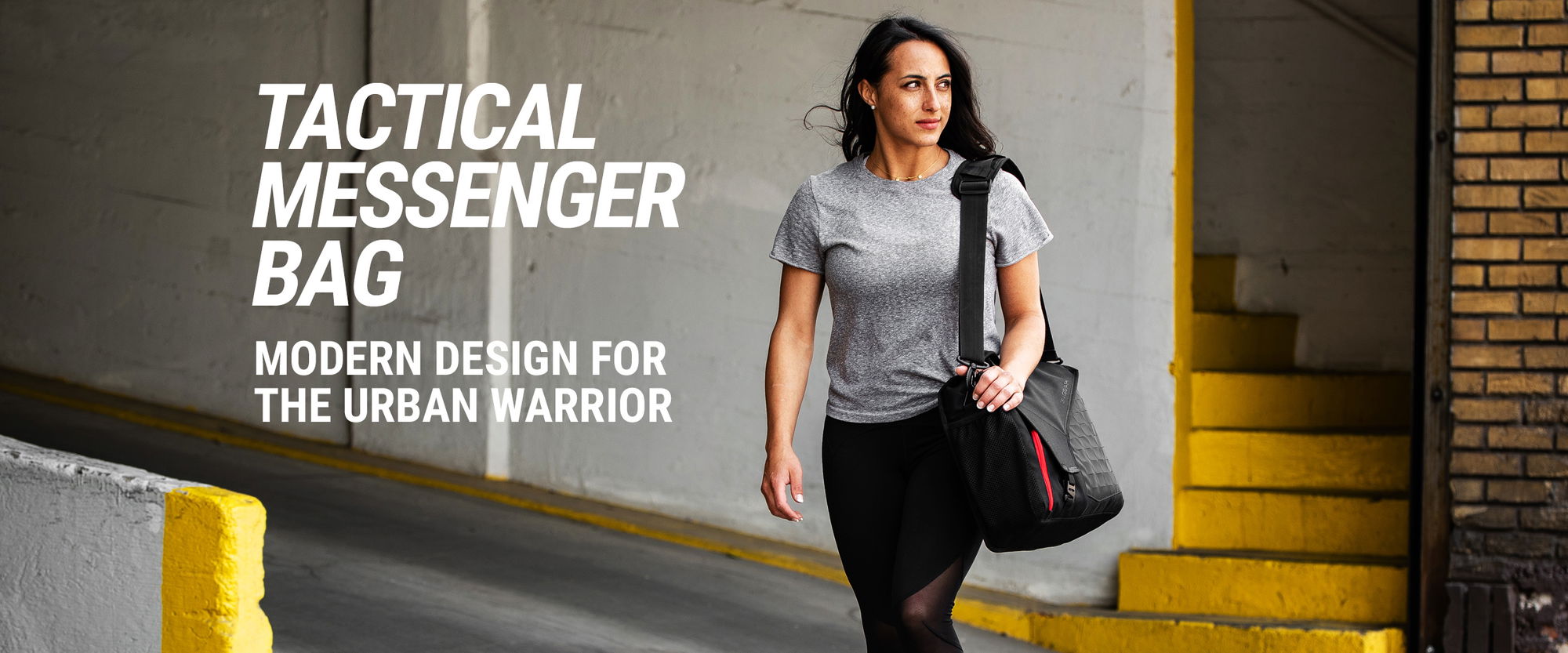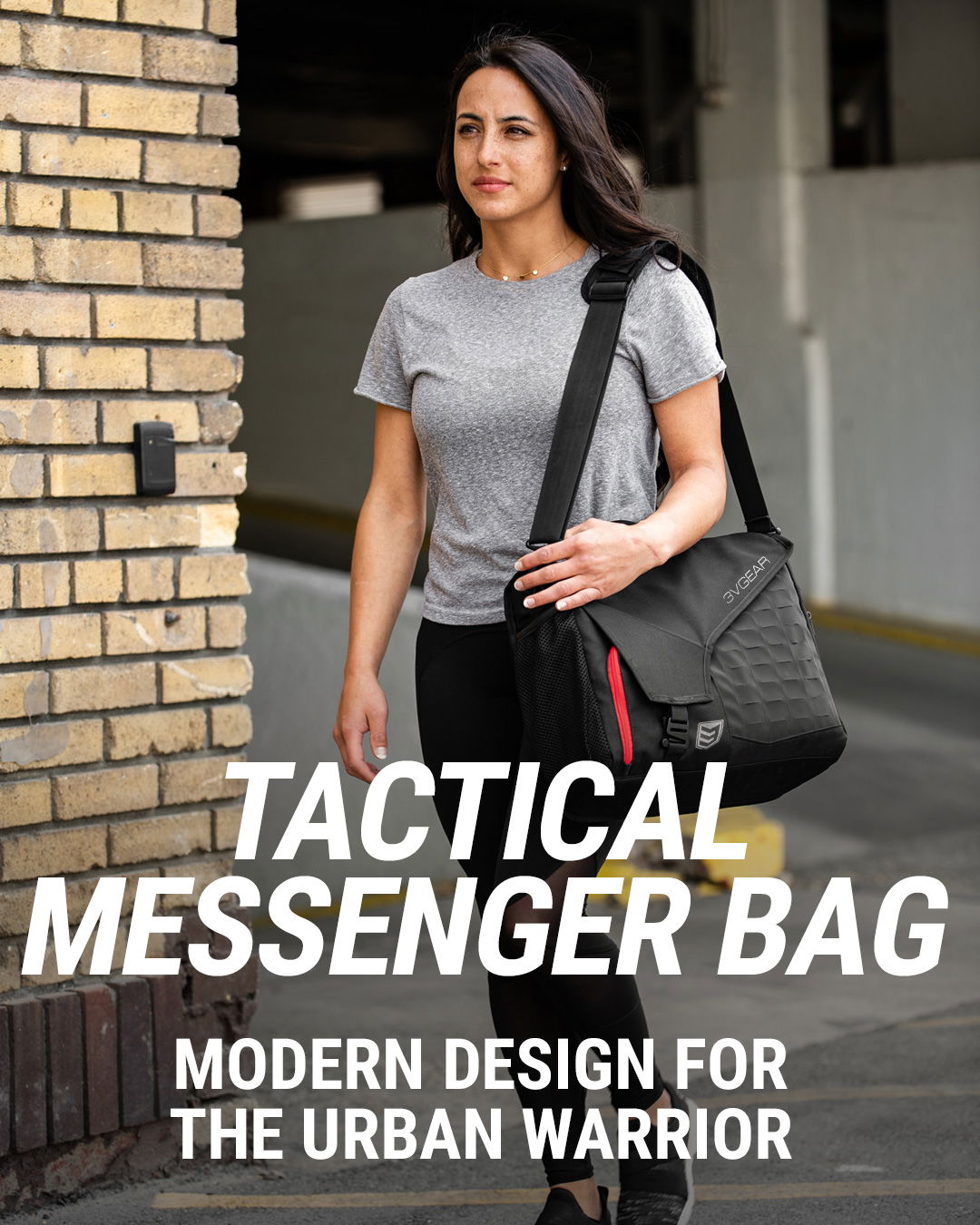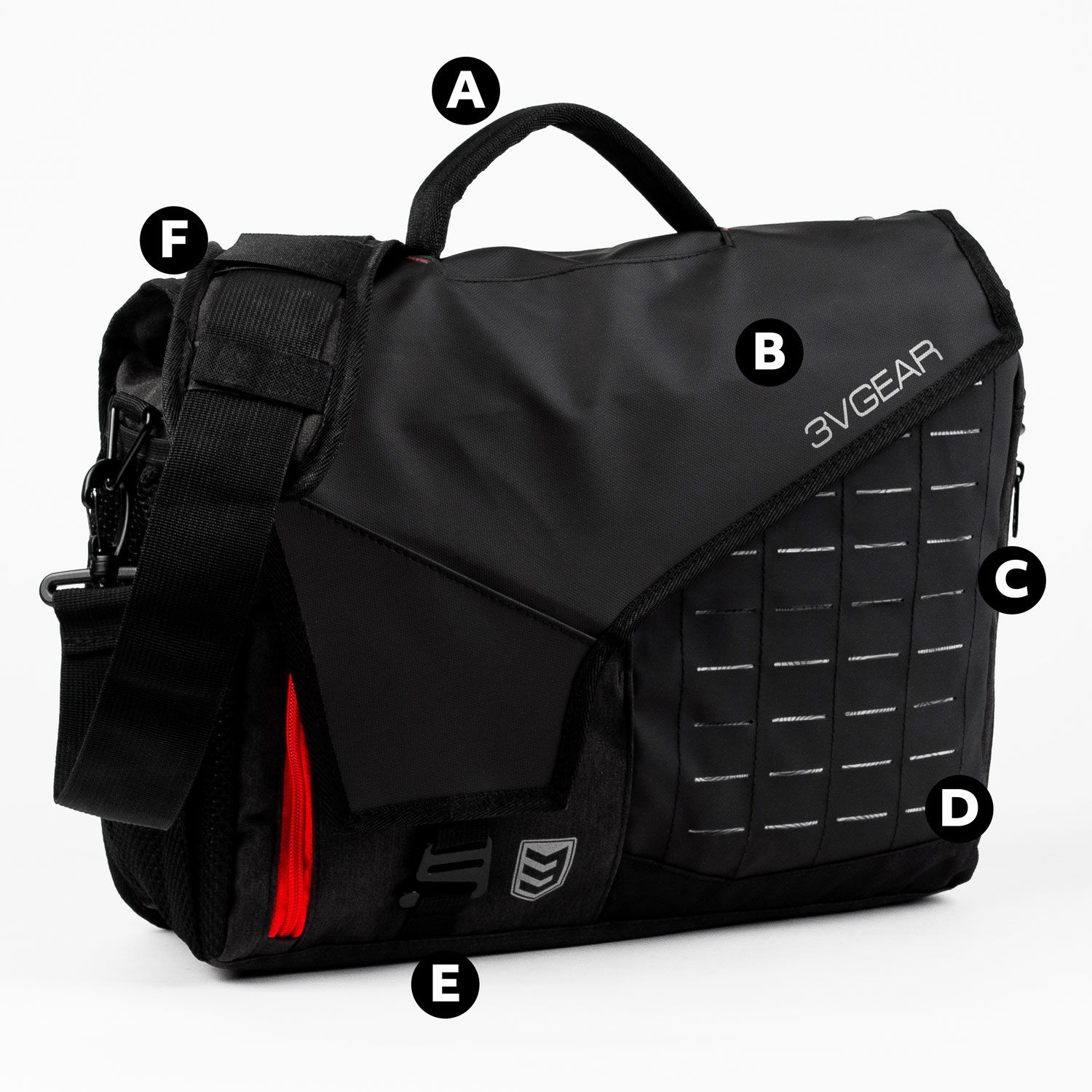 CIPHER REDLINE MESSENGER BAG FEATURES
A - Large, padded grab handle
B - 300 Denier nylon construction
C - Side accessory pocket
D - Die-cut MOLLE panel
E - Adjustable closure
F - Padded shoulder strap
ADDITIONAL FEATURES & SPECS
Large laptop compartment fits most 15" laptops
Top zipper access
YKK zippers
Side water bottle pocket
Admin panel for organization
Luggage trolley pass through
Dimensions 12"h x 16"w x 6"d
Total Weight 1.4 lbs.
Limited Lifetime Warranty
Imported
EASY LAPTOP ACCESS
Gain access to the inside of your Cipher Messenger Bag with this additional zipper. You don't need to open your entire bag to get your laptop. Simply unzip the top red zipper and it opens directly above the laptop. This will make your life much easier.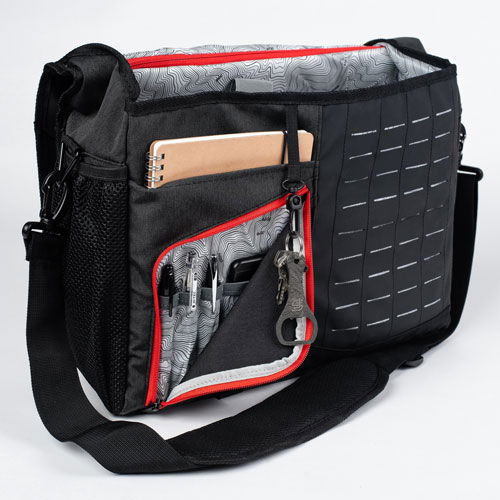 The Cipher Messenger Bag has plenty of pockets and ways for you to stay organized.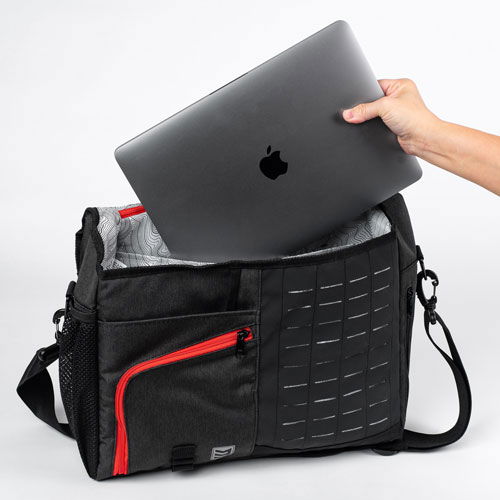 Padded Laptop Compartment
A large padded sleeve will protect your valuable laptop or tablet. Will fit most 15" laptops.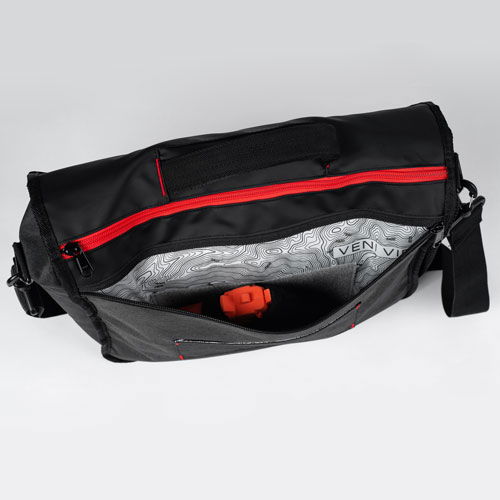 A discreet full zippered pocket on the back of the messenger bag is designed to store your CCW. With a large Velcro panel on the inside you will be ready if the need arises.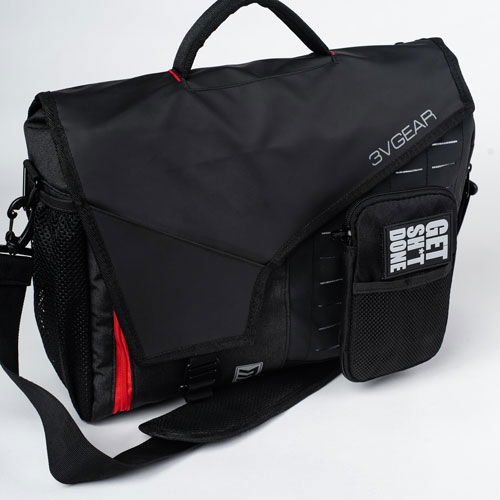 A small die-cut MOLLE panel allows you to add your favorite MOLLE accessory pouch.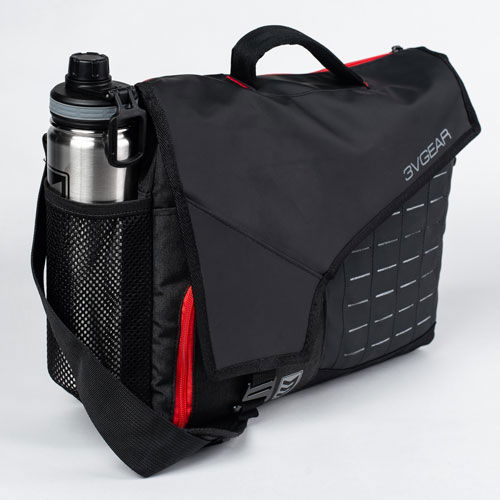 An exterior water bottle pocket lets you keep your water easily accessible wherever you may be going.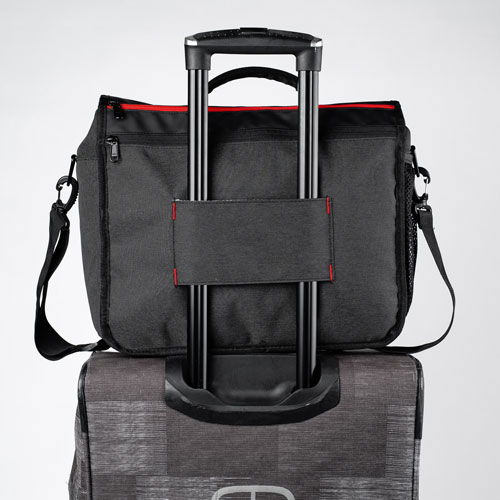 Luggage Trolley Passthrough
A luggage passthrough on the back of the bag lets you easily add it to your other luggage when traveling.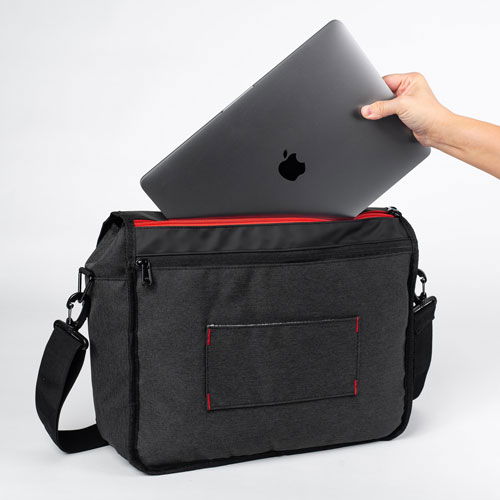 The large red zipper on the top of the bag gives you direct access to the laptop compartment. No need to open your entire bag to get your laptop.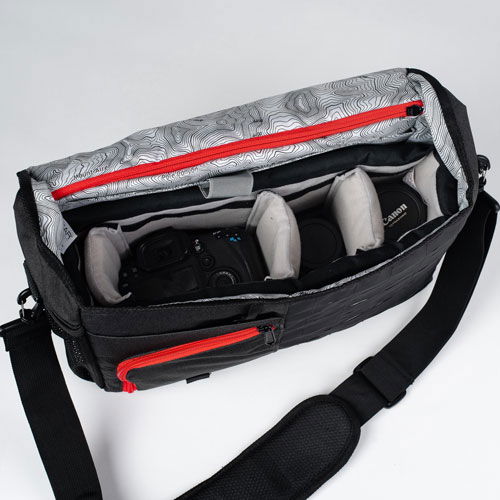 Sentinel Camera Insert Compatible
The Cipher was designed to accommodate the Sentinel Camera Insert. This makes for a very handy and discreet camera bag that doesn't look like a camera bag. *The Sentinel is sold separately.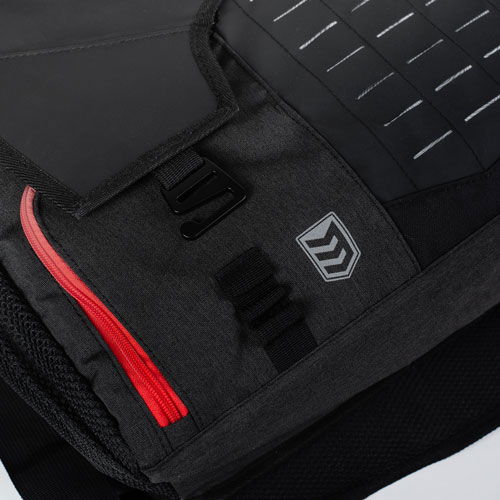 Depending on how much gear you are carrying, there are multiple attachment points for closing your bag.
3V Gear Cipher Messenger Bag Review
Awesome
It is exactly what is advertised. Very well made and sleek. Definitely a plus in a business and urban area.
Will suffice
The bag looks good, has nice storage options, but the offset hook system is a big down fall. The offset part is ok, as I do not put a heavy load in the bag. The hook continually comes loose. It stays together when carrying, but set it down and pick it back up, and the hook comes loose. Very annoying to continually have to rehook the open bag each time you pick it up.
Will have to find a small carabiner or close clasp of sorts to remedy.
Hi Allen,
I'm sorry about the hook coming loose and I will pass your experience onto our product development team. I will also have our customer support team contact you to see if there is something we can do.
I love how strong your products are.
The stitching is great, the material is strong, and the quality is so nice you would swear that it costs a lot more than you would ever think. Thanks so much for a great product.
Great bag!
Perfect size, lots of room. Great detail! Got for the girl, she loved it!
Almost 100%
I purchased this bag for work hoping it would fill a void. That void, being able to carry my EDC and Work in a single bag and have function of both. This bag does it 90%. I carry a large 15" Lenovo laptop. It fits tight in the laptop sleeve and will not fit through the top zipper. Most days out of frustration i end up leaving the laptop flopping in the main compartment so I don't have to wrestle with the bag to get it in. My only other complaint is the non center single clasp. When using the top grab handle the bag will lean very hard under load. NOT DEAL BREAKERS. Just gripes. How ever, for the price of this bag i would definitely purchase again.
Hey Kyle!
Thanks so much for the feedback! The Redline is our newest packs and bags line and your feedback on this new gear is important for us in considering making updates and changes to our any restocks in the future. So hopefully we can make the necessary updates in the future and help fill that EDC void!
Thanks again,
3V Gear Team