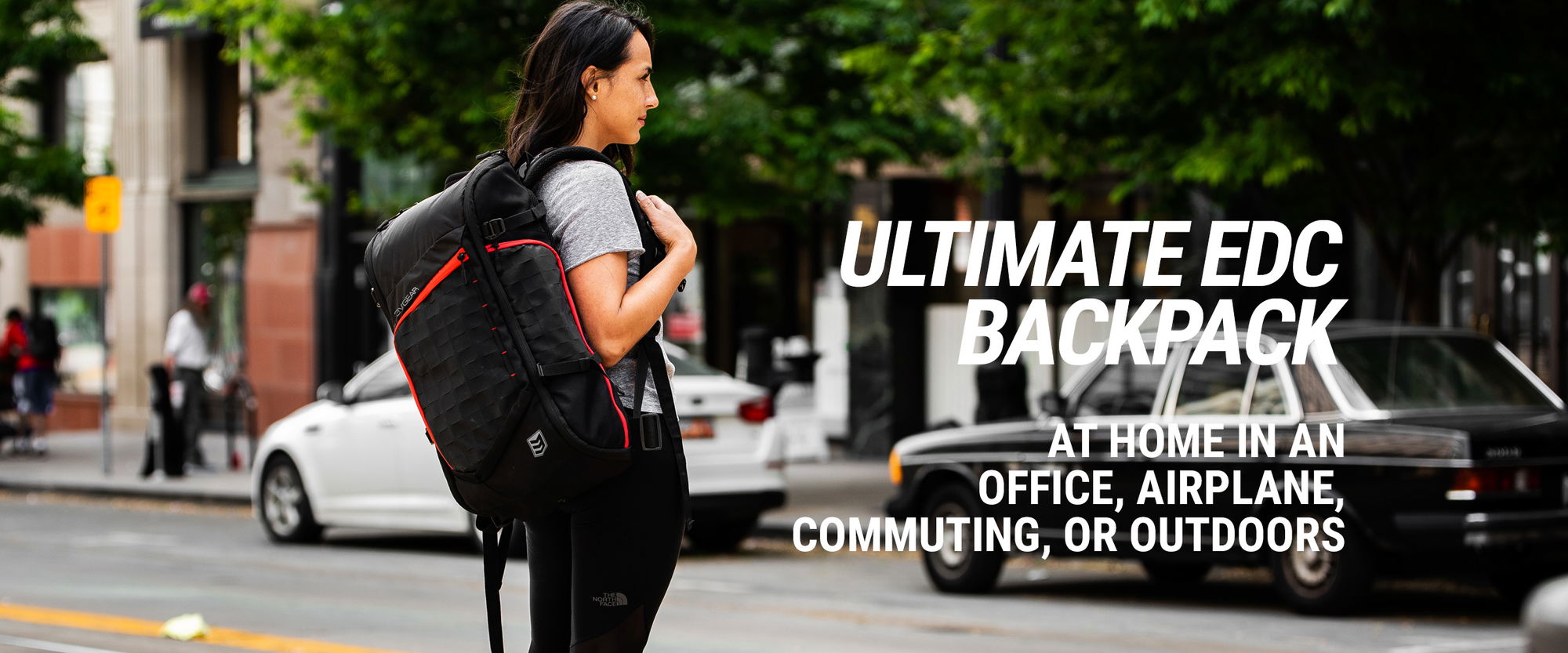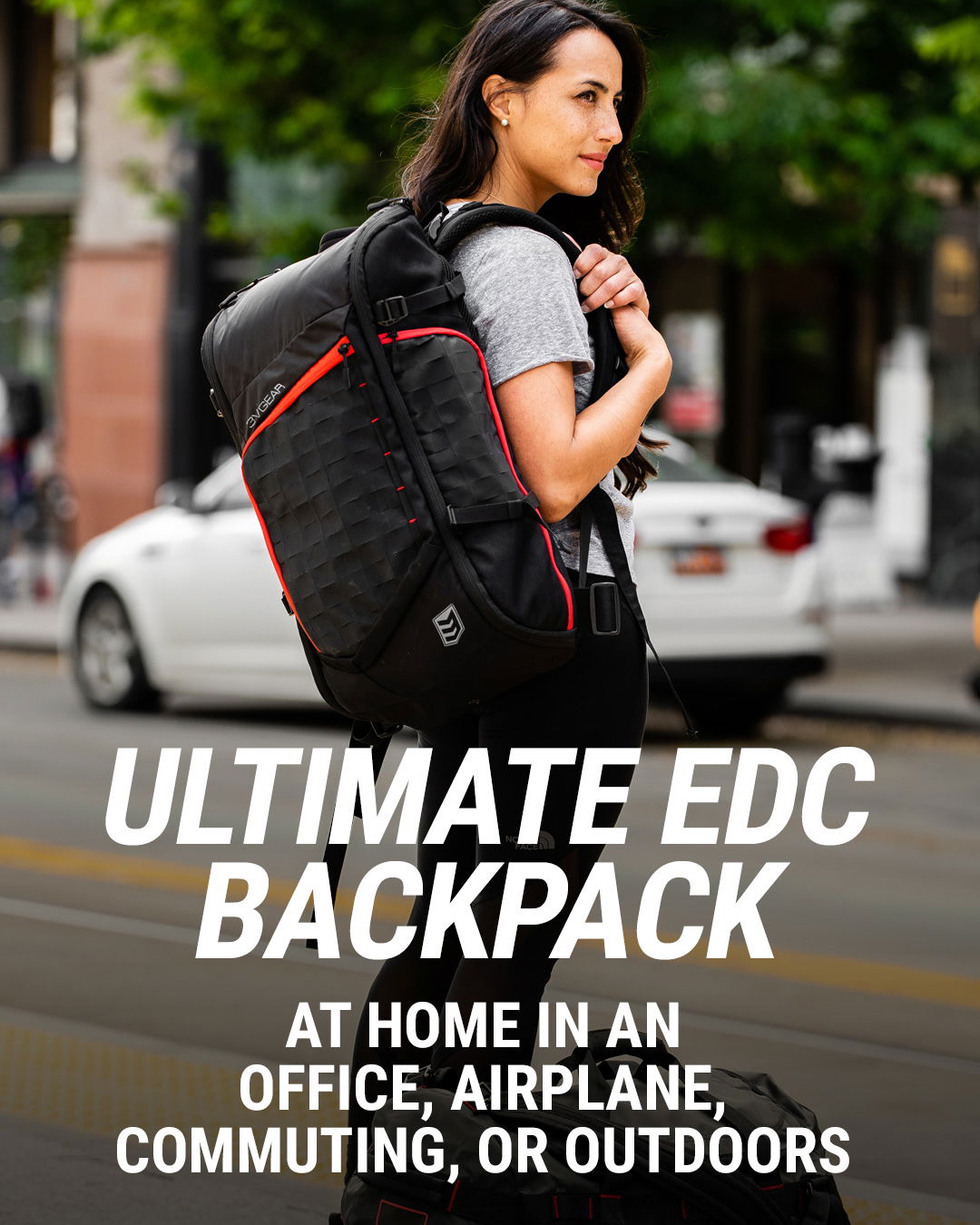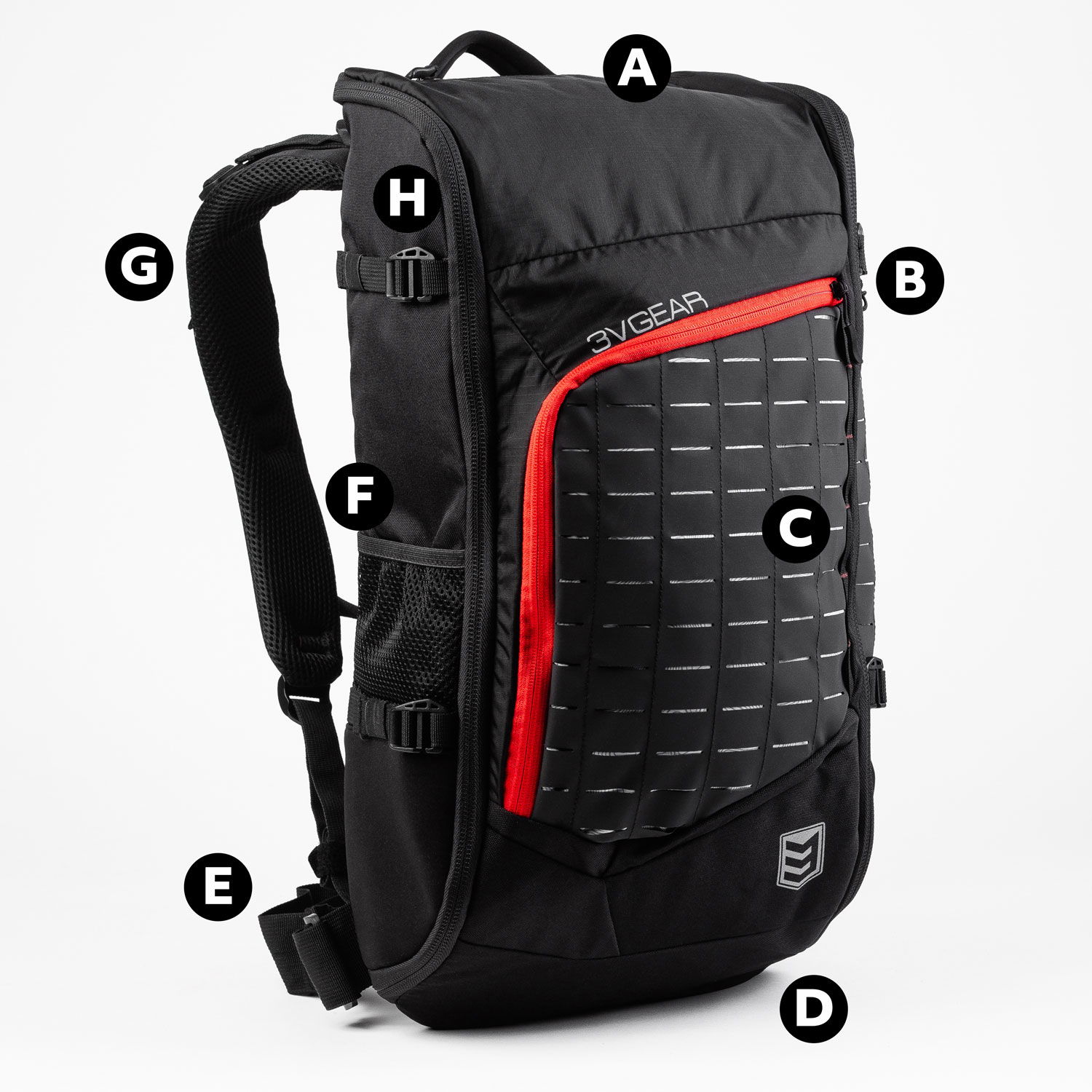 TRANSIT EDC BACKPACK FEATURES
A - Heavy-duty ripstop construction
B - YKK zippers and rubber zipper pulls
C - Die-cut MOLLE panel
D - 40-liter size
E - Removable waist belt
F - Water bottle pocket
G - Thick, padded shoulder straps
H - Compression straps
ADDITIONAL FEATURES & SPECS
Adjustable sternum strap
Clam shell design for easy packing
Large admin pocket
Padded laptop sleeve
Dimensions 22"h x 14"w x 8"d
40 Liters
Total Weight 2.35 lbs.
Limited Lifetime Warranty
Imported
PADDED LAPTOP SLEEVE
The Transit EDC Backpack features a large padded laptop sleeve that will fit most 15" laptops. The large "U"-shaped zipper makes it easy to access your laptop without opening more of the bag.
SECURITY POCKET
We added a small secure pocket on the back of the Transit. This was designed to hide valuables from would-be thieves. Perfect for your passport, cash, or a small CCW. With it being against your back it would be very difficult for anyone to gain access to this pocket without you knowing.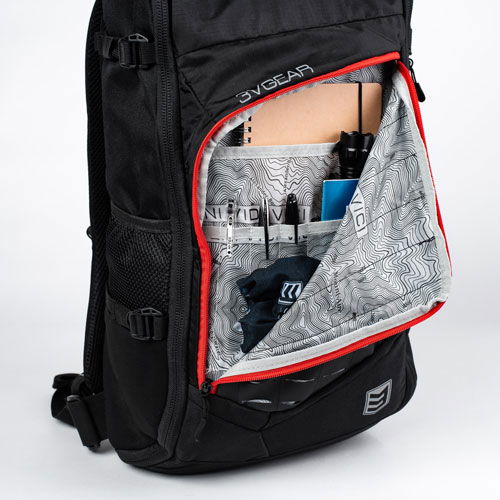 Let's face it, we all love loads of pockets. This way we can keep everything in its rightful place. Our unique hi-viz topographical map liner makes it easy to see all of your gear.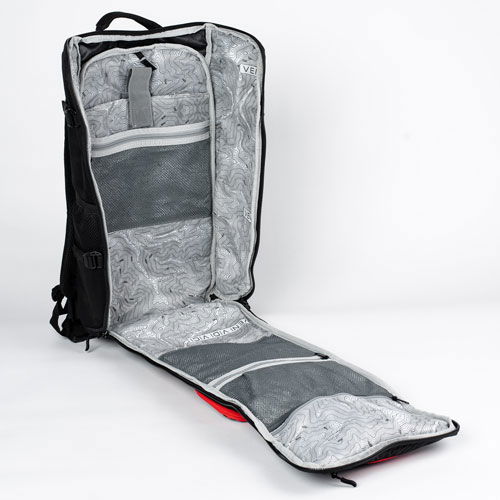 A full clam shell opening for the main compartment lets you pack and access your gear with minimal effort.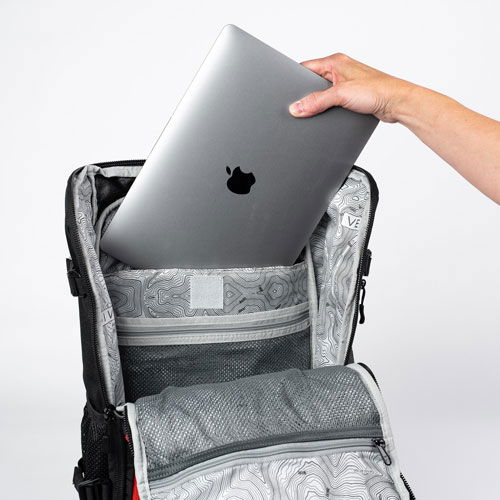 A large padded laptop sleeve will keep your laptop cozy while you are on the move. The laptop pocket accommodates most 15" laptops.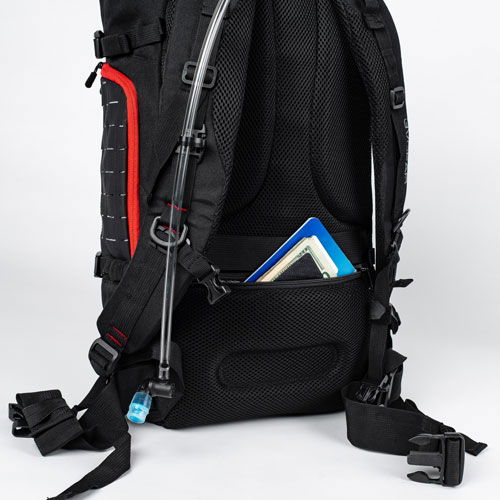 The Transit Backpack features a hidden security pocket on the back of the bag. This is perfect for storing your wallet or passport and can double as a CCW pocket.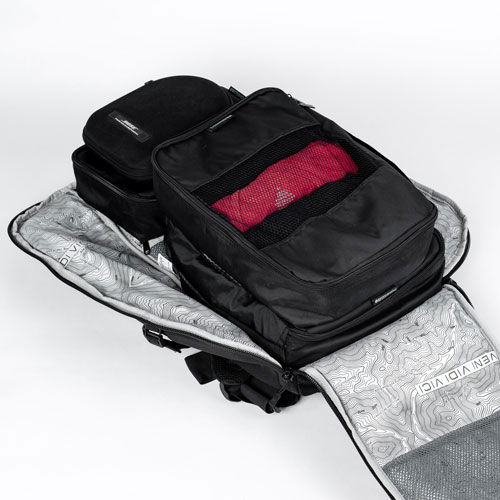 With the main compartment completely unzipped you can easily pack your bag in a more civilized way. No longer do you have to cram your stuff into the bag. This design is perfect when using packing cubes.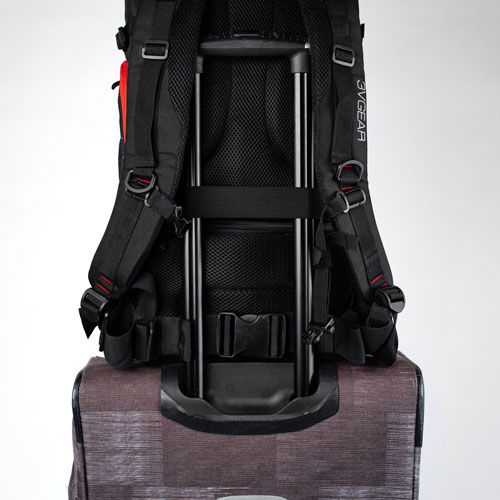 Luggage Trolley Passthrough
While the Transit Backpack is TSA compliant as a carry on bag, sometimes you may have more luggage when traveling. If you are using a roller bag, the Transit will easily sit on top while you move through the airport.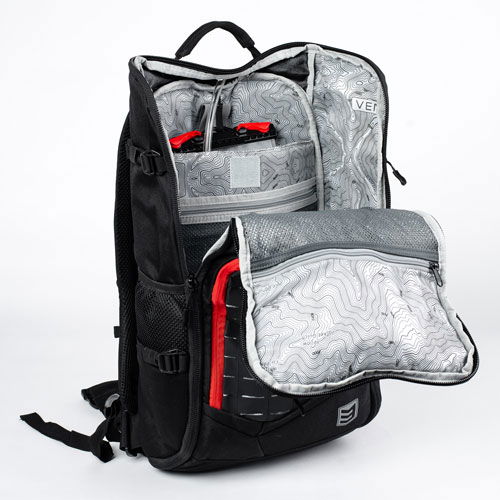 The Transit is hydration compatible and will fit up to the 3-liter hydration reservoir.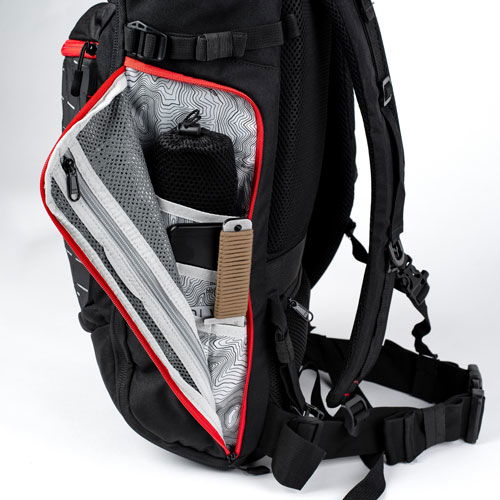 More pockets! The side of the Transit features a unique secondary admin panel. This is perfect for keeping your gear organized in different sections of the bag.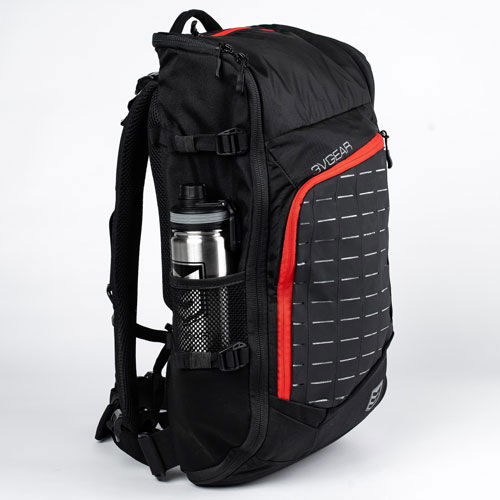 Large Water Bottle Pocket
A large water bottle pocket will fit most water bottles and is large enough to hold additional items you may want to lash to the outside of the bag. Say a tripod or something similar.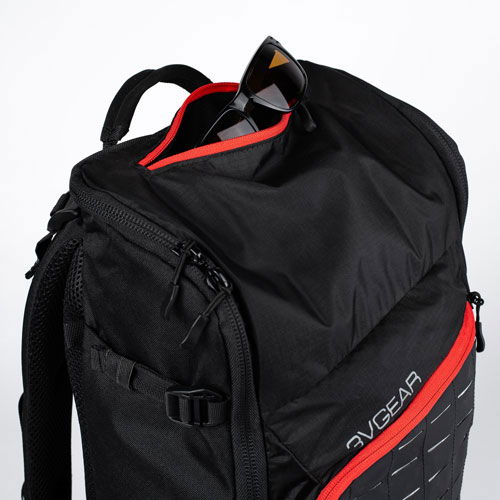 A lined accessory pocket adorns the top of the bag and is perfect for stashing your phone, wallet, keys, etc.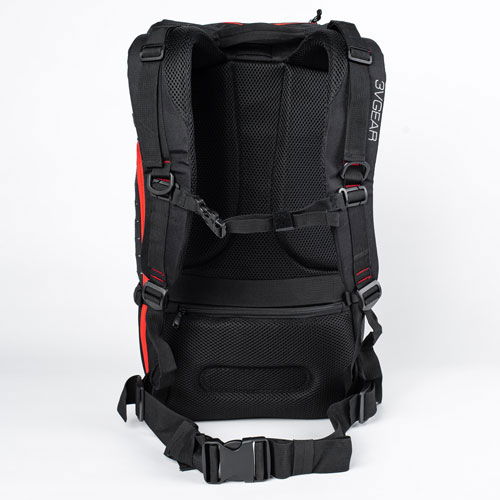 With the included sternum strap and waist belt you can adjust the load on your back. Both straps are removable as well.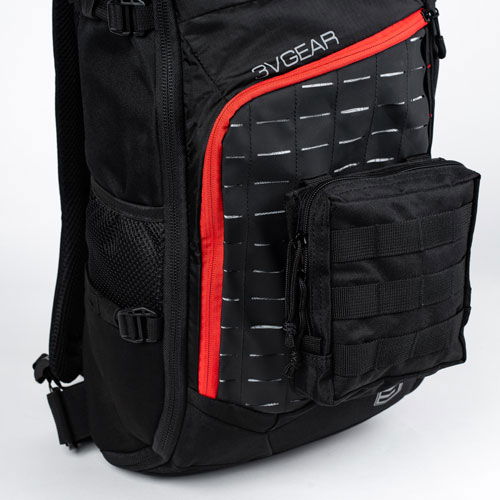 With a die-cut MOLLE panel you can add your favorite MOLLE pouch for a bit more organization.
3V Gear Transit EDC Backpack Reviews
Excellent pack
Very versatile. Love the feature for zipping open flat. Well made. Was even able to use it as a carrry on at the airport
3V - Outstanding!
Ordered several times from 3V. Without fail, every-time was a great experience. Their products are high quality, shipping is always ASAP, and customer service is exceptional. Will come back again and again.
Transit Redline backpack.
Great product very pleased with the backpack.
3v transit
Great bag super durable in the Backcountry and the city and comfortable on the back
Transit Redline EDC Backpack - 40L
while I have yet to fill it, I have examined it closely and I am impressed. I am overweight and was concerned the straps would not work. they made this to fir a well built guy so all the straps fit me and I could not be happier. sucks having edc bags but you cant wear one properly.
its tight, compact and roomy. awesomely structured, thought out and smart.
Thank you
Perfectly descriptive name
This pack is light, naturally lean in profile and storage, but deceptively well thought out in capacity and organization. The more I use it the more I find that it suits day to day needs and handles long weekends with ease. Great gear 3V!
Awesome bag
I have the Redline Shield Anti-Theft bag which is an amazing bag. I carry it with me as my EDC where ever I go. I was looking for a travel bag and I forgot about the Transit 40L that 3v Gear had. I saw some reviews on youtube and I was like I got to get this one as well. So I'm happy with both bags. Better than carrying a big luggage :D around.
Excellent for rucking
Very comfortable on my torso (I'm 6'2" tall). The 35 lb Yes4All ruck weight fits perfectly in the laptop compartment
Snow and Ice Storm 2021
I lived through the Texas Snow and Ice Storm of February 11 - 19, 2021. Twice I used my new Transit Redline EDC Backpack on resupply missions for our Texas neighbors. My pack was fully provisioned with water, stove, fuel, food, extra gloves, hat, sunglasses and EDC equipment. With two 4x4 trucks and four people, we caravanned 26 miles one way to Blanco to refill 18-7 gallon propane bottles, brought in a generator, food, water and diesel fuel. In the end, it was neighbor helping neighbor to make it through a hard week, and we did it along with this pack. The only thing I'd wished I'd had was the 3l hydration bladder and insulated tube. Good thing I just got a flash sale email today.
Great work pack
I got this bag for work. Needed something smaller than what I was using at the time. Carrys everything that I need. Love that it opens all the way down, it makes it easier to load. I like the interior color. Make it easier to find what I'm looking for.