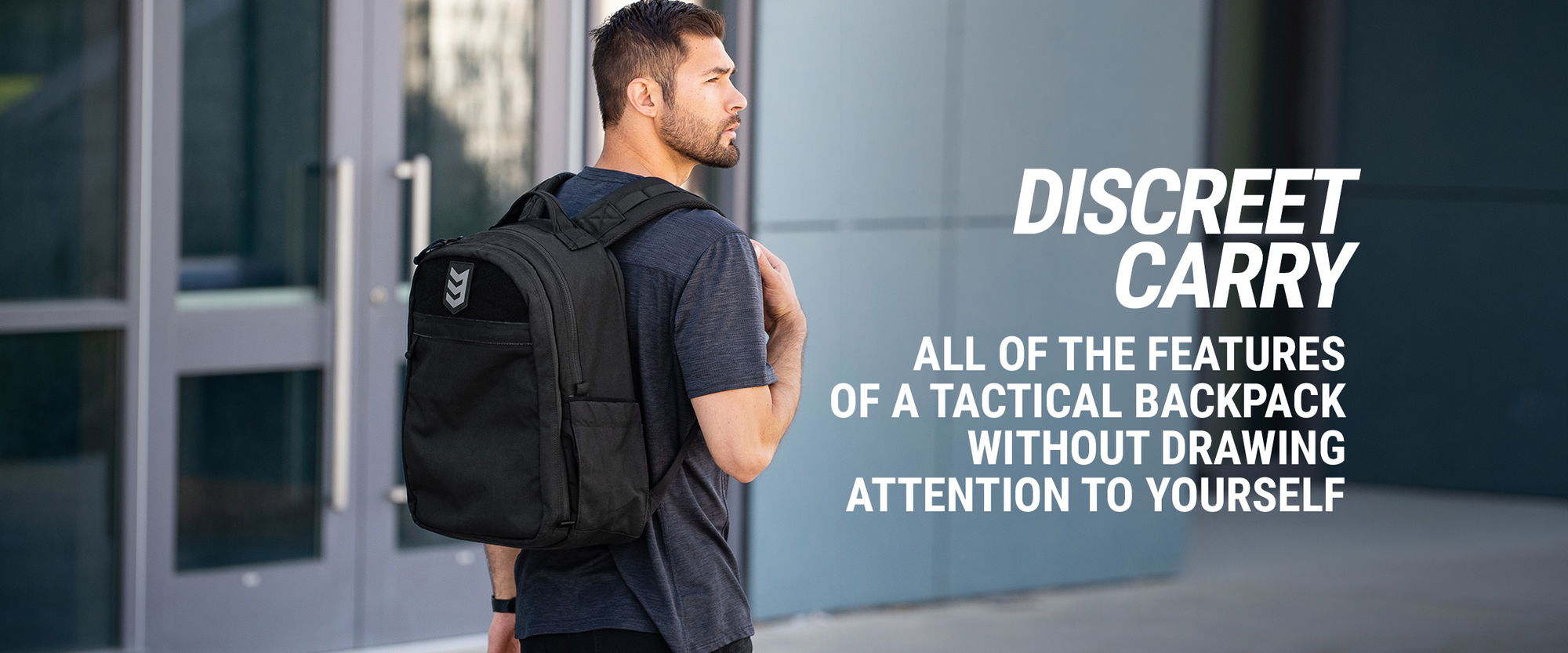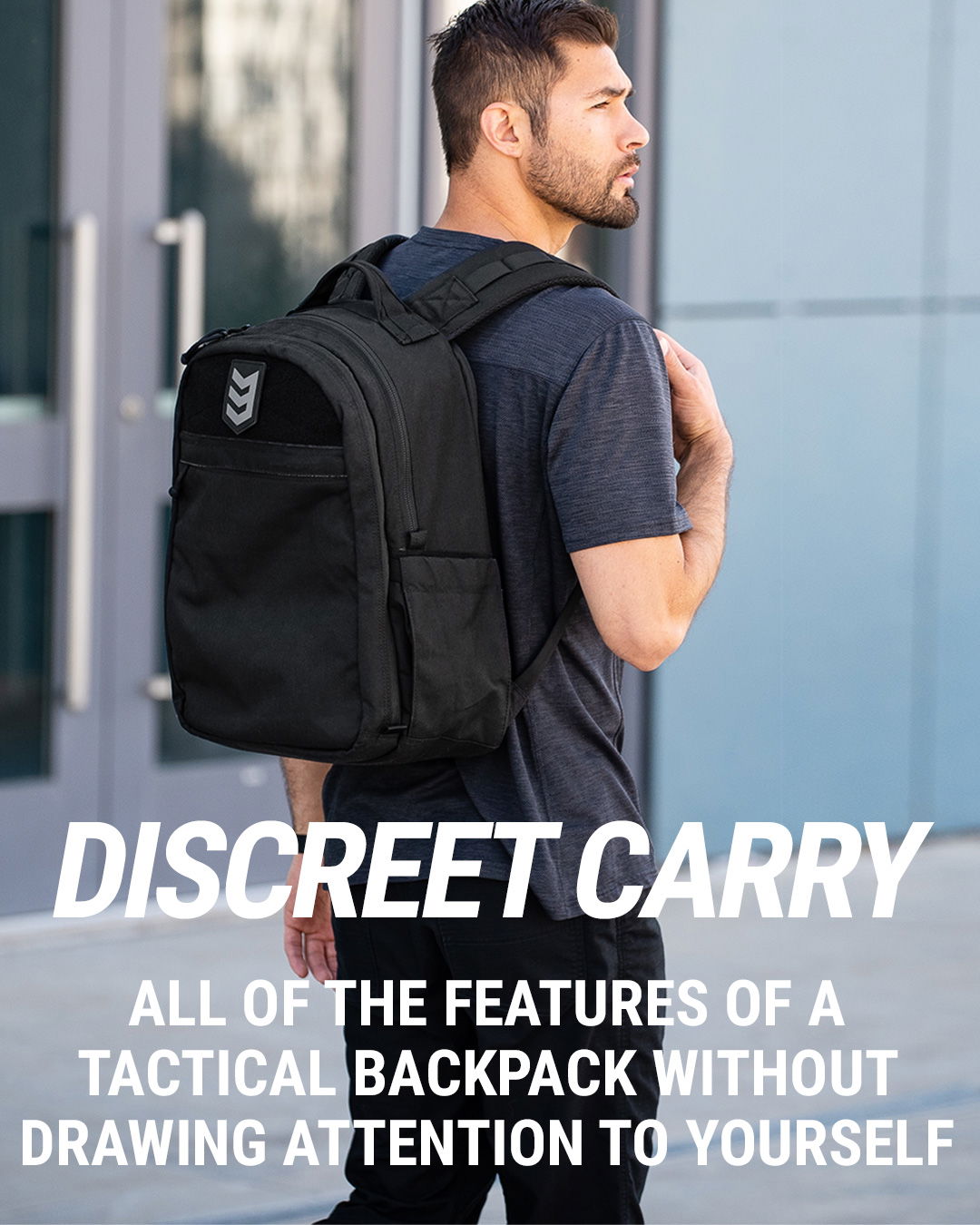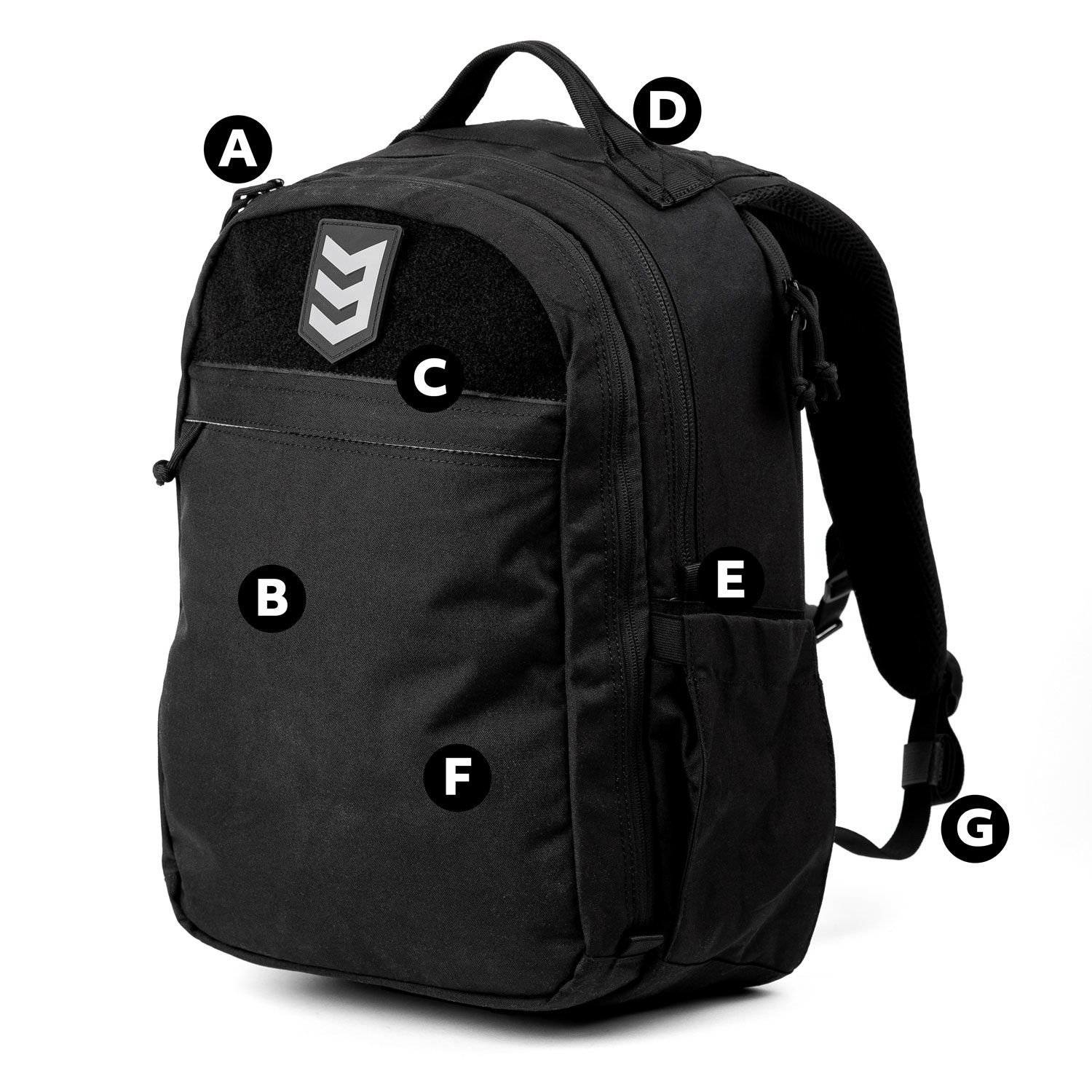 SUBROSA URBAN TECH BACKPACK FEATURES
A. 500D Nylon
B. YKK zippers and silent zipper pulls
C. Discreet (SOB) styling
D. 2 Water bottle pockets
E. Rugged grab handle
F. Velcro ID panel with included 3V Gear patch
G. Velcro strap keepers
ADDITIONAL FEATURES & SPECS
Internal padded pocket for a laptop, tablet, or hydration reservoir
Padded base to protect your laptop or tablet
Dimensions: 19"h x 13"w x 9"d
30 Liters
Weight: 2.55 lbs
Available in: Black
Limited Lifetime Warranty
Made in Myanmar
Subrosa Urban Tech Backpack Details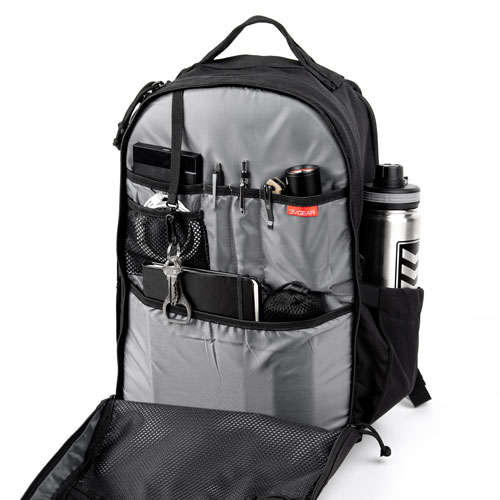 The front pocket features a detailed admin area that allows you to organize all of your gear. With a complete lay-flat design, light colored interior, and mesh pockets, you will be able to store plenty of gear and easily be able to see it inside the pockets.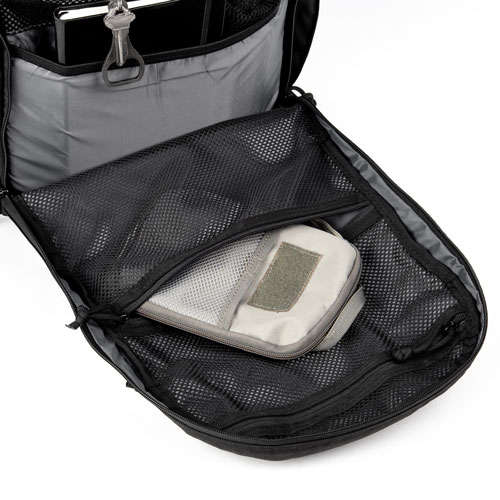 A large mesh pocket sits opposite the admin panel. With dual-zippers, you will be able to carry small items or large items in this pocket.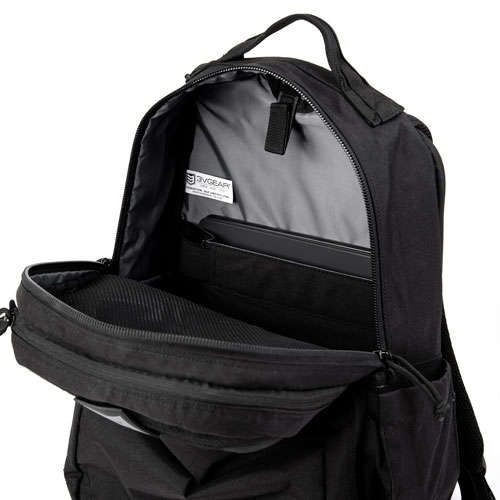 An internal padded laptop sleeve has enough room to easily carry a 15"+ laptop or tablet. The bottom of the backpack is also padded so you don't have to worry about damaging your laptop if you set the bag down a little too rough.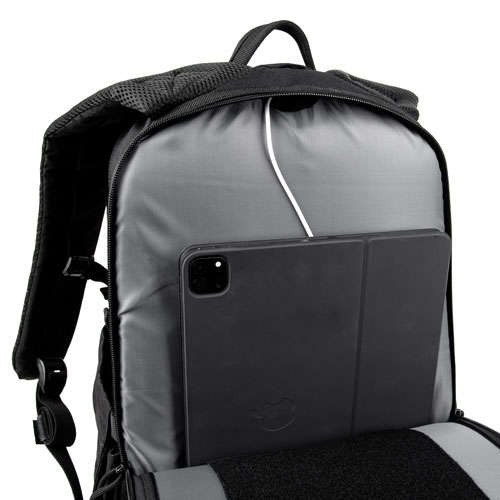 External Laptop Compartment
An external laptop compartment gives you a second location for a laptop or tablet. As an external pocket, you can easily unzip this pocket without opening the main compartment of your backpack. There is also a cable passthrough to the main pocket so you can charge your device on the go.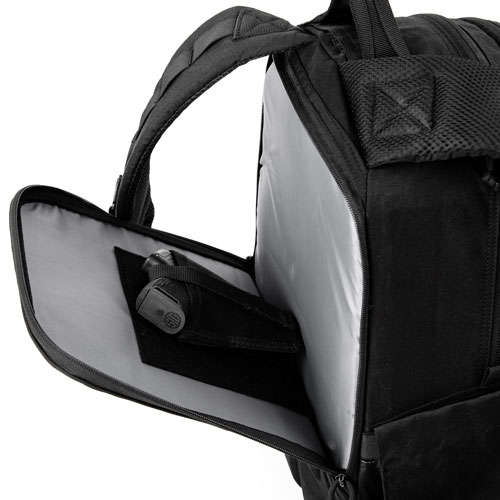 We designed the Subrosa to be a CCW bag. The external laptop pocket has a large velcro panel so you can use a velcro holster with your CCW. This pocket has dual zippers so you can position them in the spot that works best for you and drawing quickly.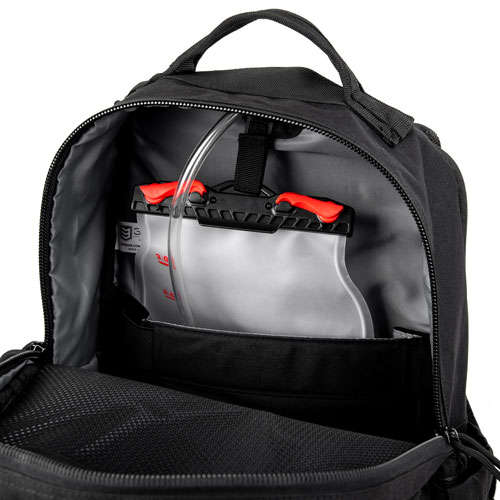 The internal laptop compartment doubles as a holder for your water reservoir. Obviously you don't want to carry your laptop and reservoir at the same time, but we wanted to give you options. There is a nylon velcro'd strap that will hold your water reservoir upright. The Subrosa will fit a 3L water reservoir.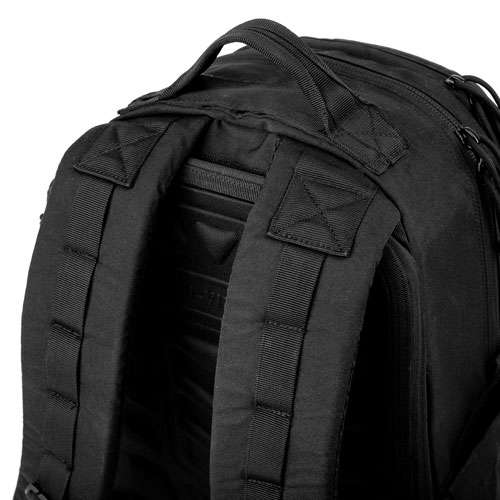 We built this bag with reinforced stitching and extra material at all the critical points. The shoulder straps have been overbuilt for this size of bag but we know this bag will be used for rucking. It needs to have comfortable and strong shoulder straps. The overbuilt grab handle makes it easy to grab with a lot of weight inside the bag.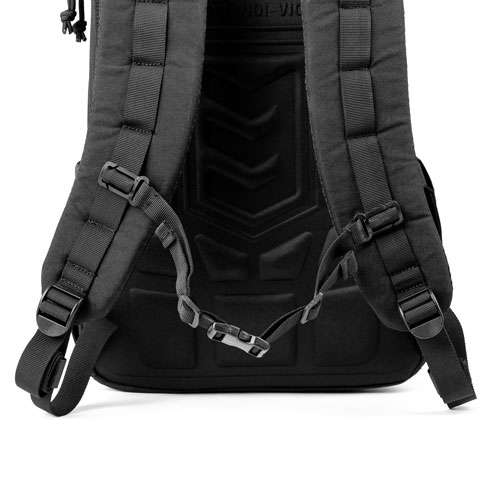 An included sternum strap helps center the backpack and keeps the shoulder strap in place when you are moving. The sternum strap is easily removable if you prefer not to have it.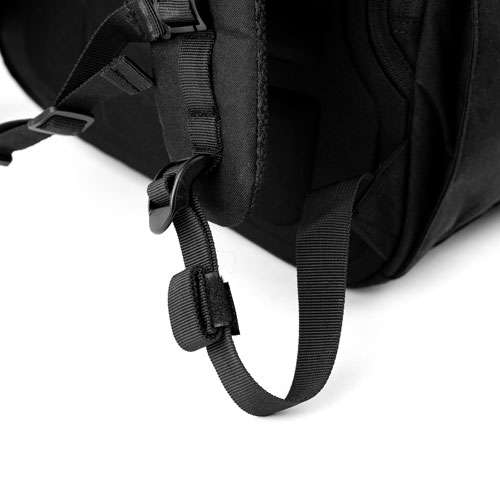 No one likes excess straps dangling all over the place. That is why we have sewn velcro to the end of the nylon strap. You can roll it on top of itself and then velcro it to the other strap keeping a clean and sleek look.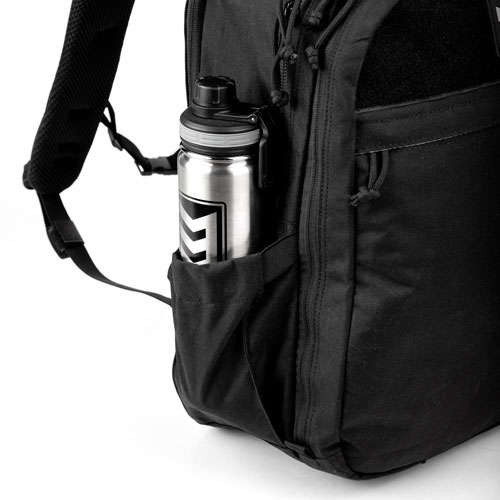 Dual-Water Bottle Pockets
We have added not one, but two water bottle pockets to the Subrosa. Maybe you are really thirsty or like two different liquids. Either way, you have options. Plus, the elastic pockets retract when not in use to keep your backpack looking good.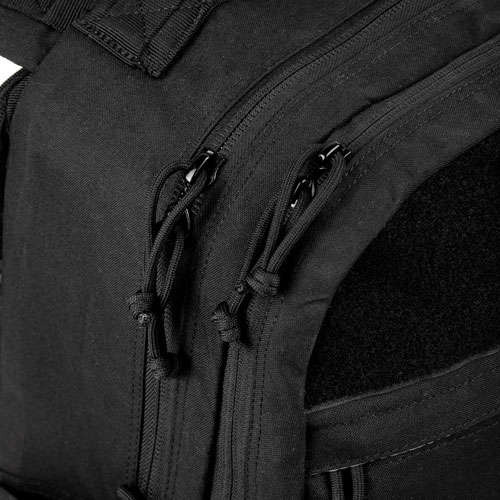 YKK Zippers and Silent Zipper Pulls
Heavy duty YKK zippers are used throughout the backpack. No skimping with generic internal zippers. Plus, with silent, nylon zipper pulls, you won't be walking around with bells on your back.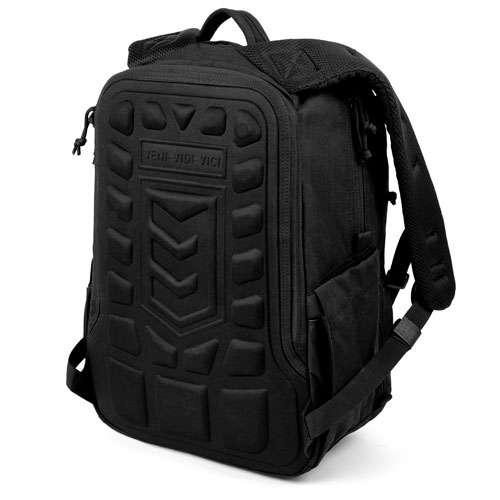 Our trademarked EVA molded backpanel is more expensive than other options but it does double-duty. It allows airflow between the backpack and your back, and it is the padding for the external laptop compartment. Plus, it just looks plain awesome!
Subrosa Urban Tech Backpack from 3V Gear
This pack is very nicely built and I will be back for a third Backpack from 3V Gear in the Future!!
Great Bag for the price
Overall a great bag. Customer service was great. My only gripe are the zipper pulls. As others have mentioned the zipper pulls can easily come off. But nothing a set of pliers can't fix. Maybe next time 3V Gear use different ones.
Subrosa Urban Tech Backpack
Beats out Goruck for best edc
Front pocket with more space and an addition of water bottle pockets hit the mark. A larger patch field is a nice touch but the admin pocket is what blows Goruck out of the water. All in a lighter weight package.
The Subrosa Surprise
This pack is super comfortable, light, and performs way better than I thought it would. It only gets 4 stars because the puller comes off the zipper slider easily (an easy fix with pliers) and this bag is a lint magnet.
Separate interior mesh pockets instead of one large.
Very Nice But Too Many Loose Threads
Nice so far, I like it.
However I had to cut off like 12x+ loose threads, some on the expansion side pockets (tying across the elastic part, that were not suppose to be there, many fibers/ threads around the main zipper, some on the flat strap of the main straps being just puffy).
Compared to my 2x velox and redline 40l, this is the first back that seems like the QA was off and left a funny taste in my mouth. Also the main straps on my GFs Pront pouch just came out on the d-ring portion that holds it in place. Back to the Subrosa, velcro loop had a loose thread, main strap bottom attachment triangle had some puffy threads.
So 3V if you are listening QA this better or reach out to your manufacturer on this one, Velox was perfect, this seemed off. Also note this is more money than the Velox.
Overall, after some cleanup, I am very happy with the bag, mind you I just got it today, but everything else seems fine.
So yea I spent like 20+ min with Leatherman scissors and a lighter cleaning it up. Nothing seemed like a failure point just rough.
Improved version? Yes and No
I just got my new Subrosa so I can't say I've had it long enough to give a solid review but I can certainly compare it to my older Subrosa which has held up very well.
-The old one had a lay flat main compartment but not for the admin while the new one has a lay flat admin but not for the main compartment. Truthfully I would have preferred the main compartment to remained the "lay flat" style but I do like the admin design!
-The zippered laptop compartment on the back is a a big improvement from the velcro pocket that the old one had. I only wish the zippers went all the way to the bottom and the velcro inside was a little bigger.
-Another difference is the old pack had molle on the side while the new one has water bottle pockets on the sides… while I'm ok with the water bottle pockets I liked the Molle better. I was able to put a water bottle on one side and an IFAK on the other with Molle it's just more versatile.
-My final gripe is the one that I can't explain. While my other comments are subjective this one is not. It pertains to the mesh pockets. Based on pictures I thought they would be small pockets but for some reason the upper mesh pocket passes through to the lower mesh pocket. I'll probably attempt to sew this shut at some point.
-Overall I think this bag is an improvement over the old one and I liked the old one!
For the moment I have a 5:11 Molle panel slipped into the interior laptop sleeve and secured to the hydration hanger. Hopefully this will give me some organization and separation in the main compartment.
Subrosa - Excellent
Great daily carry backpack. Fits work laptop nicely. Just what I was looking for.
A Definite Upgrade To Previous Model
I own the previous model of the SUBROSA and it became my favorite bag. Now, this badboy is the better model. Still a compact grey man's bag but with a lot more room and a nice ADMIN section for organization. They reinforced multiple areas on the bag to prevent ripping for heavy use. Very comfortable. 3VGEAR has been listening to all our comments and they continue to deliver at a decent price point. They are my go to store for bags.
I'd buy this bag again. Most definitely .