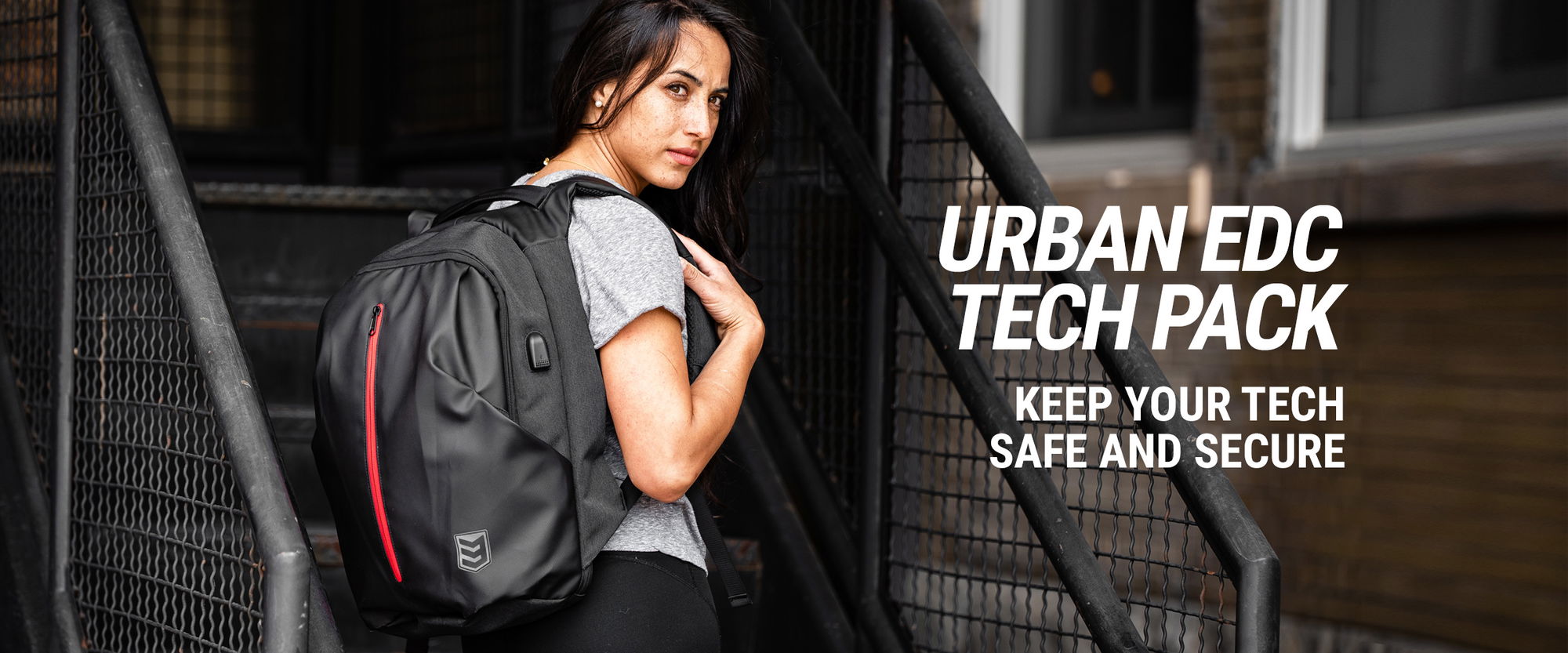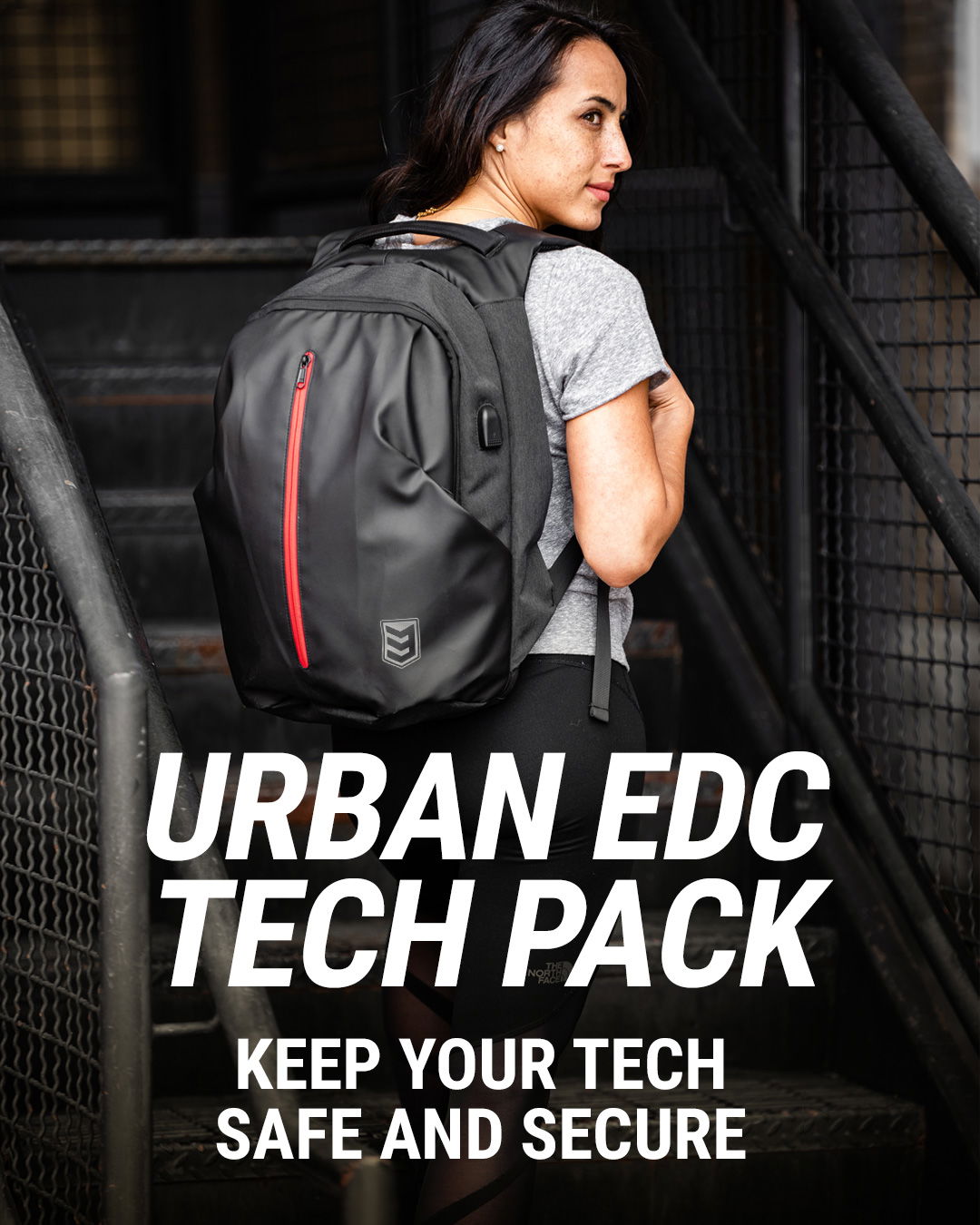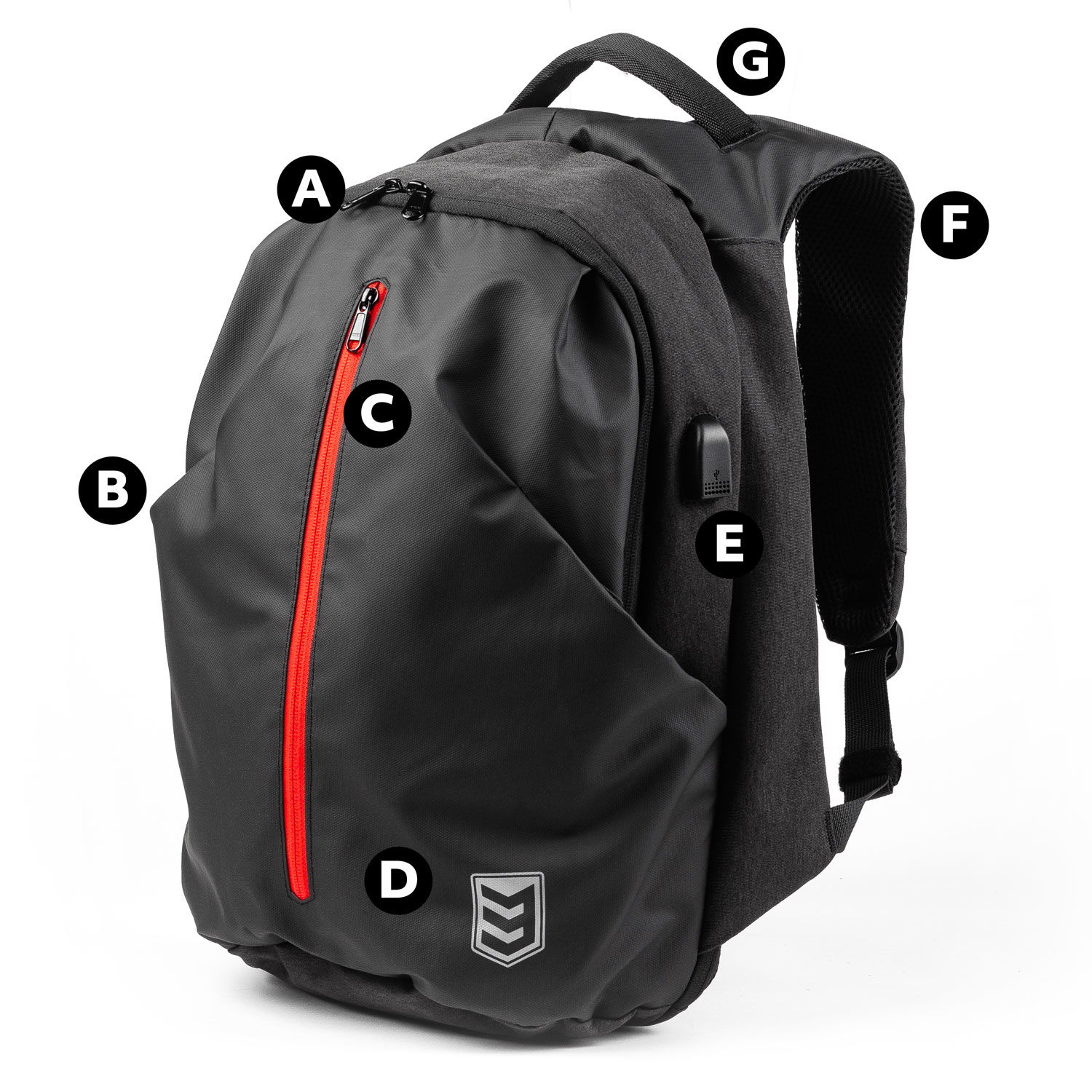 SHIELD ANTI-THEFT BACKPACK FEATURES
A - YKK zippers throughout
B - 2 external water bottle pockets
C - Large exterior pocket
D - Waterproof DWR coating
E - External USB port for charging
F - Padded shoulder straps with stash pockets
G - Padded grab handle
ADDITIONAL FEATURES & SPECS
Separate padded laptop and tablet sleeves
TSA compliant layflat laptop compartment
Luggage trolley pass-through
Secret pocket for CCW, passport, or other secure items
Dimensions 18"h x 12.5"w x 8"d
30 Liters
Total Weight 1.4 lbs.
Limited Lifetime Warranty
Imported
PADDED LAPTOP SLEEVE
The Shield Backpack has a unique clam shell design which allows the back laptop and tablet panel to lay completely flat. This makes it convenient to remove your laptop or tablet and is also TSA compliant so you don't have to remove your laptop from the bag when going through security. Simply unzip the bag and lay it flat.
EXTERNAL USB CHARGING
With an external USB port you can easily charge your devices when on the move. Simply add your favorite power bank to the included USB cable on the inside of the backpack and you are good to go. No longer do you need to worry about having enough battery for your phone.
SECURE POCKET
We added hidden pocket on the back of the backpack to store your personal items. Great for your passport, cash, or other valuable items you want to keep hidden. The zippered pocket is sewn below the trim so you don't know it is there. If you are ever traveling and want to keep a backup of your personal documents or a little extra cash, this is the place to keep it. This pocket can also double as a small CCW pocket.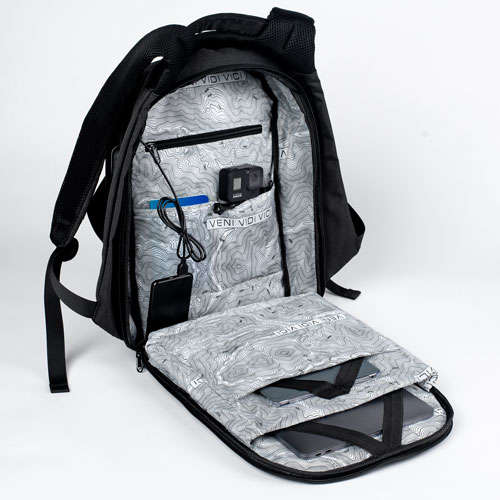 This rear opening tech compartment is laid out perfectly for the digital nomad. With dedicated padded sleeves for a 15" laptop and a tablet, you don't have to compromise on your gear.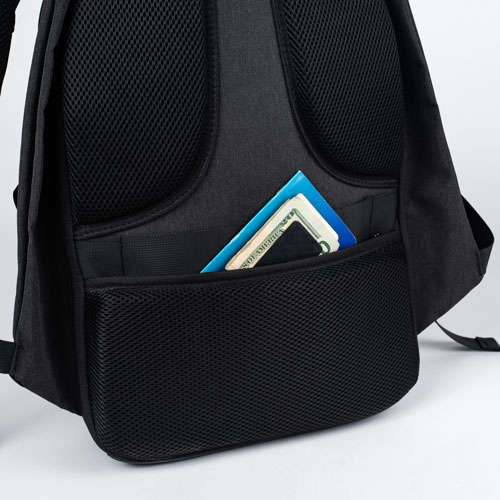 A large hidden zippered pocket on the back of the bag is ideal for carrying a wallet, your passport, a small CCW, or any other valuables you may be carrying.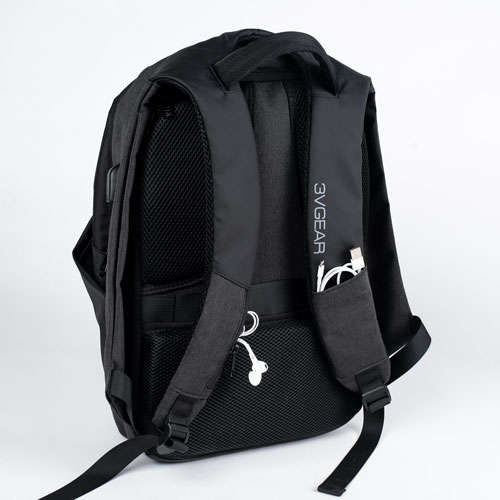 Both shoulder strap features a small pocket, ideal for cords, headphones, keys, etc. The right shoulder pocket is a zippered pocket while the left shoulder pocket is top opening for easy access.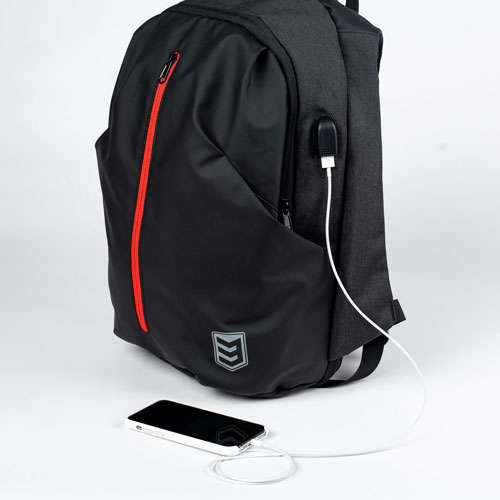 We added a USB port to the outside of the bag to make it easy to charge your phone or other electronics while on the go. Simply add your favorite power bank to the included internal USB cable and you can go all day and night without losing power.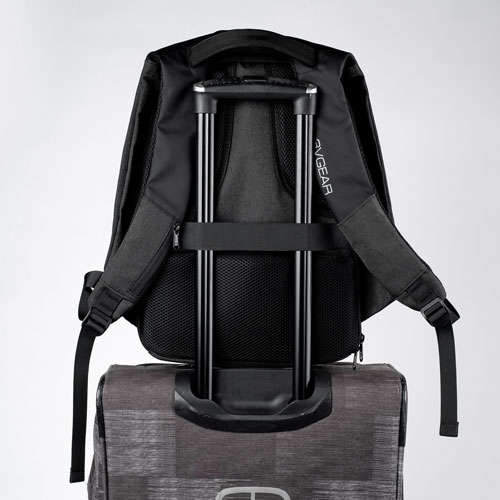 This bag is an ideal carry on bag when traveling and comes with a luggage trolley slip so you can add it to a larger roller bag. This is ideal when waiting in those horrendously long lines in the airport.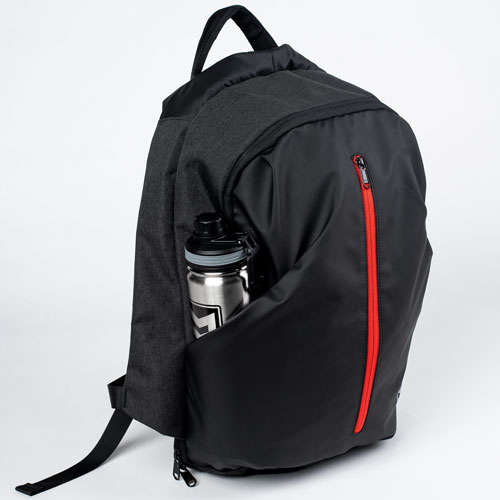 Dual Water Bottle Pockets
Each side of the bag features a water bottle pocket. Of course, you can use them for carrying anything else you would like to stash in there as well. Especially convenient when you are charging your device to drop it into the pocket and not have to carry it.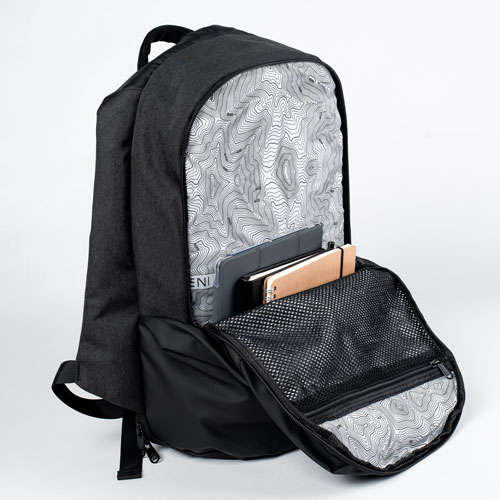 This large middle pocket is great for keeping books and documents in a safe place. A mesh zippered pocket is ideal for keeping you organized.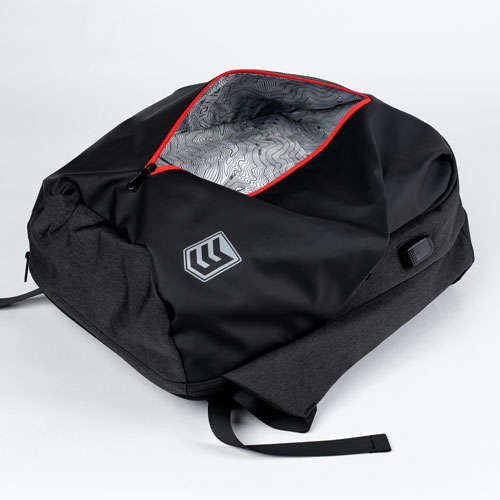 Large Front Vertical Pocket
This pocket is perfect for stashing that jacket that is a little too warm but you don't want to carry it. Plus, with the unique topographical hi-vis interior, you don't need to hunt for your gear.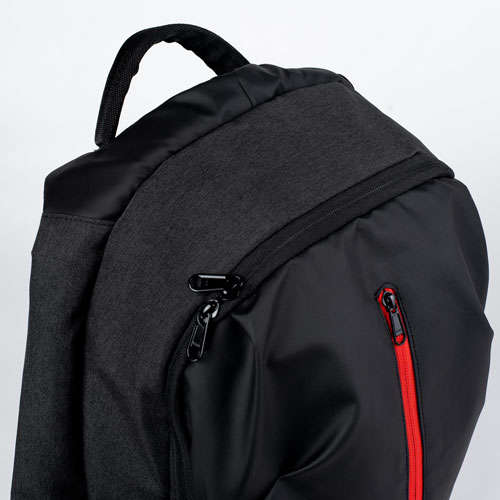 A large padded grab handle makes the bag easy to carry at your side and won't bite into your hand. Plus, we are using YKK zippers throughout the entire bag to give you the best possible experience using the bag.
3V Gear Shield Anti-Theft Backpack Reviews
Replacement for outlaw sling
With the current situation of the United States, I wanted a more grayman style bag as my every day carry. I have had the outlaw sling bag for 3 or 4 years now and it has been great EDC bag but too tatical. I carry a few technical manuals for work, pens, pencils and a small first-aid kit, reading glasses, a streamlight micro along with my lunch box and water bottle. All this fits well into the outlaw and everything is easly accessible. The outlaw sling is listed as 24 liters vs the sheild redline at 30 liters. I dont know if its the layout of the sheild or if it is really 30 liters, but i cant fit all the items that i carried in my outlaw in to the sheild. To get my lunch box in the middle compartment i have to use a decent amout of force, then its difficult to fit my 3V gear water bottle into the side pocket. My lunch container is a bento style rectulanger box that fits inside a insulated container. It wont fit into either of the other two compatments. For a bag that is billed as anti theft, the downward opening zipper in the center of the bag makes it really easy for would be theif to open it and take whatever is in there. I added a small locking carabiner through all three zippers that are on the outer portion of the bag. After a few weeks of trying to make this bag work, I have given up and gone back to the outlaw until I can find something to meet my needs. Overall the bag is good if you dont carry a lunch or any cubed or rectangular items, but as a replacement for the outlaw sling, it comes up way short.
Well made
I love the size not too big , not too small. I use it for work since there is no locker provided for casual employees so I use it as my locker. The only thing I would change is the front pocket that has the red zipper could be a hair bigger or stretchier so I could fit bluejeans and a shirt in there and then I wouldn't even have to open up the main compartment.(just my personal preference) The amount of pockets it has is great! It also would be nice to have a loop or something, I could hang a lunch bag from but it's just a minor preference.
Nice look and function
Due to materials and construction, i believe the Redline is more suitable for vehicle travel or as I plan to use it for the gym. I like the bags but I would not trust them for long term travel.
Quality product as usual
Just an all around great quality product. Does the job for a fraction of the price of others. My only gripe is that I wish there were more color options other than black… that's my only complaint.
Great backpack
This is a great backpack it has the right amount of room for what I need it for. It's more than what I expected.
Shield Redline Anti-Theft Backpack
Excellent and Secure Backpack
The Features and craftsmanship of this backpack make it an excellent choice for the classroom or the office. I anticipate this backpack providing multiple seasons of well-organized security.
Shield Redline Backpack
Purchased for my daughter for school, and she loves it.
Loves how the backside has the padding, especially when carrying her heavy books and computer.
Shield Redline Anti-Theft Backpack
Awesome Bag for work or school
I purchased this bag for a work backpack and loved it. Purchased another for my son in high school. You can't go wrong with a 3v Gear bag.