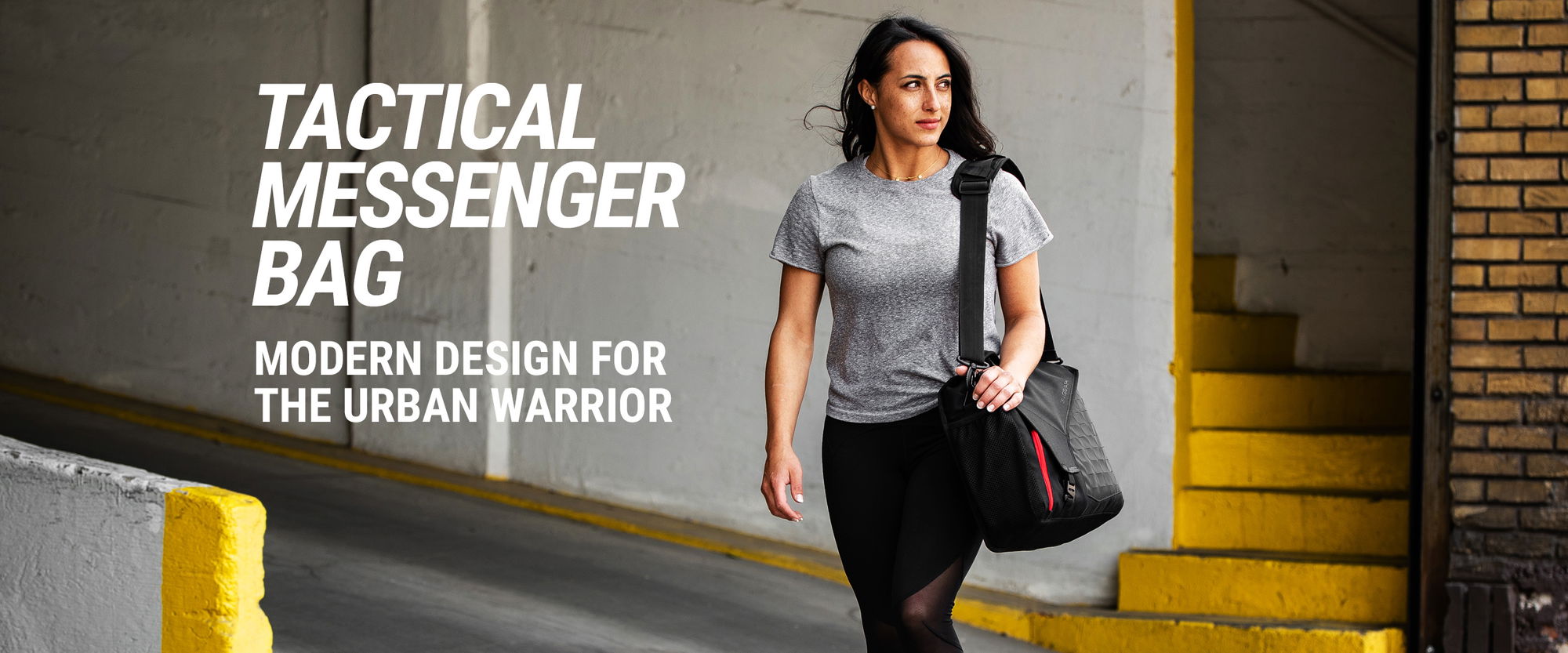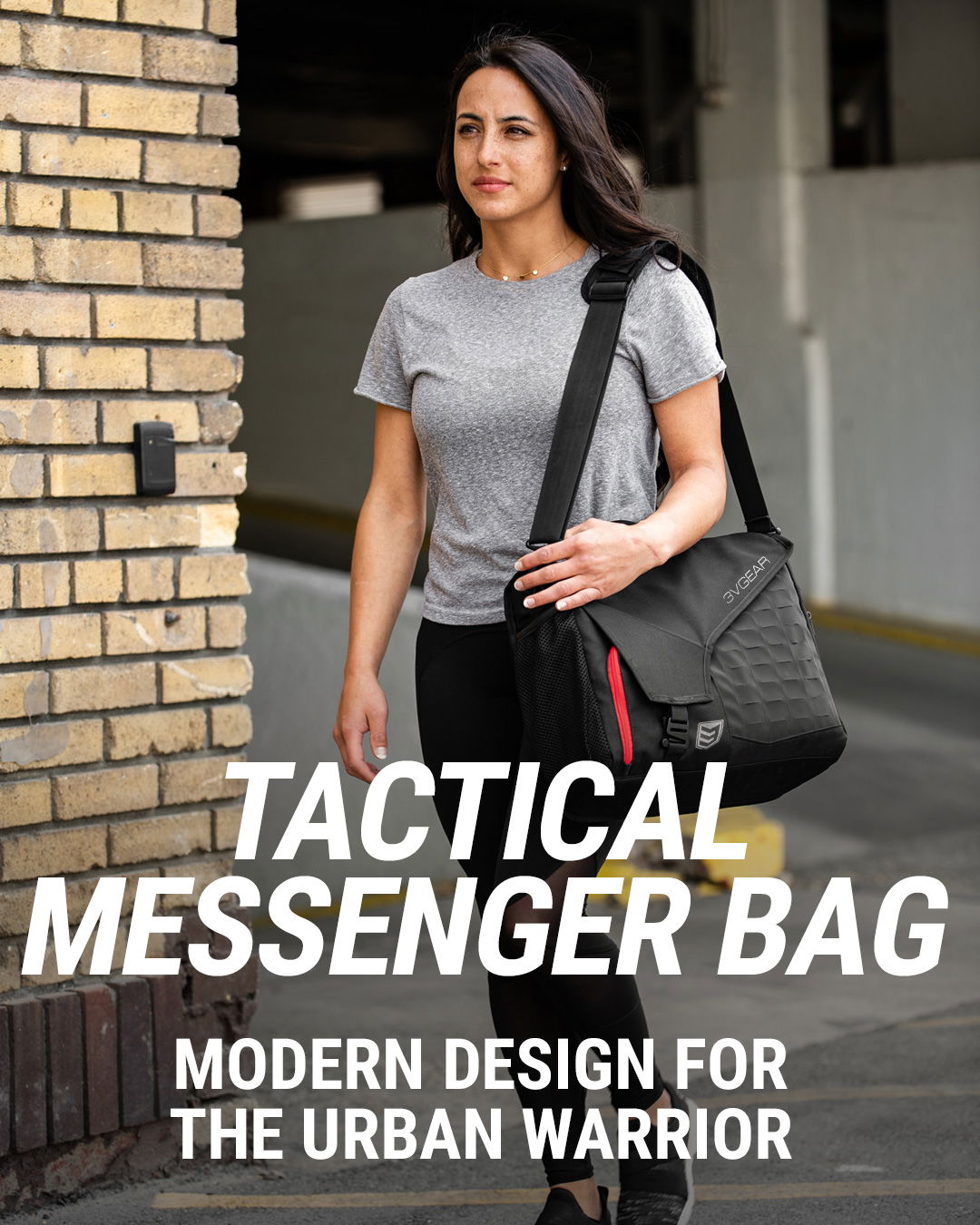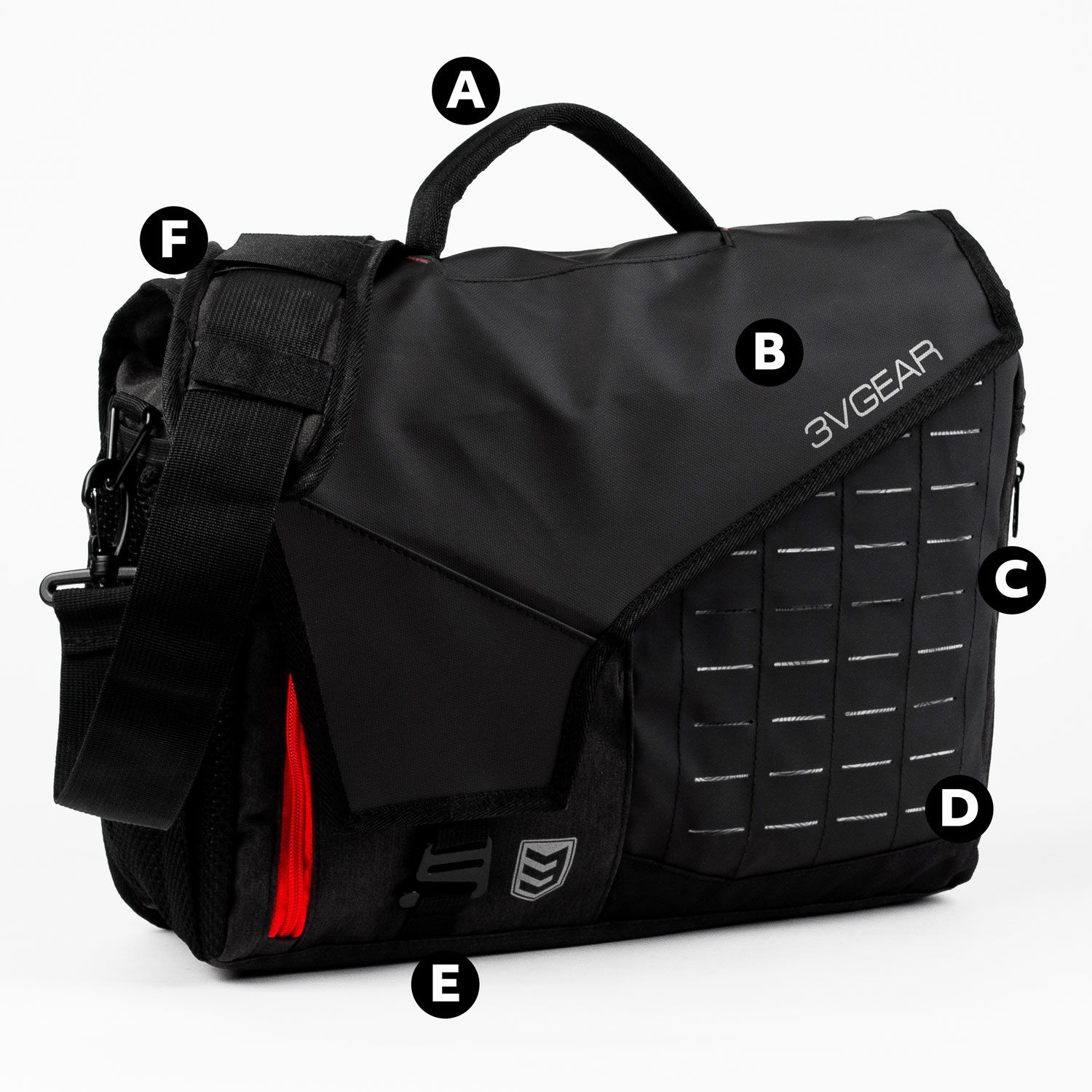 CIPHER REDLINE MESSENGER BAG FEATURES
A - Large, padded grab handle
B - 300 Denier nylon construction
C - Side accessory pocket
D - Die-cut MOLLE panel
E - Adjustable closure
F - Padded shoulder strap
ADDITIONAL FEATURES & SPECS
Large laptop compartment fits most 15" laptops
Top zipper access
YKK zippers
Side water bottle pocket
Admin panel for organization
Luggage trolley pass through
Dimensions 12"h x 16"w x 6"d
Total Weight 1.4 lbs.
Limited Lifetime Warranty
Imported
EASY LAPTOP ACCESS
Gain access to the inside of your Cipher Messenger Bag with this additional zipper. You don't need to open your entire bag to get your laptop. Simply unzip the top red zipper and it opens directly above the laptop. This will make your life much easier.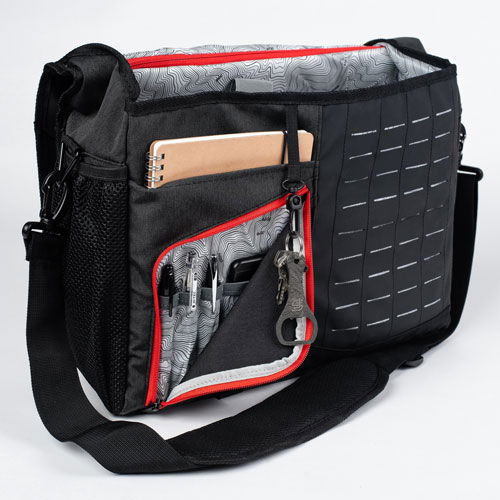 The Cipher Messenger Bag has plenty of pockets and ways for you to stay organized.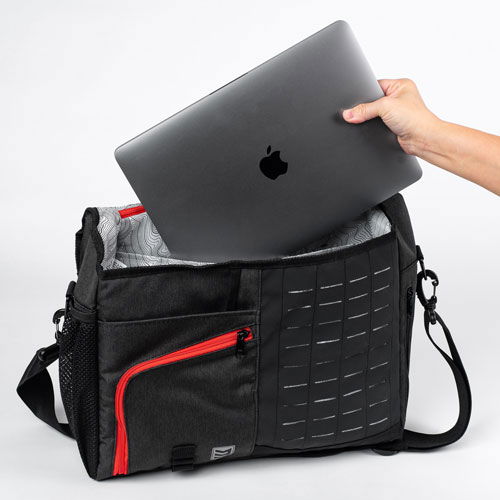 Padded Laptop Compartment
A large padded sleeve will protect your valuable laptop or tablet. Will fit most 15" laptops.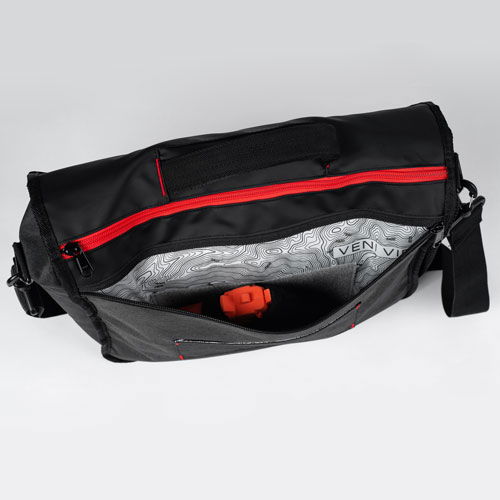 A discreet full zippered pocket on the back of the messenger bag is designed to store your CCW. With a large Velcro panel on the inside you will be ready if the need arises.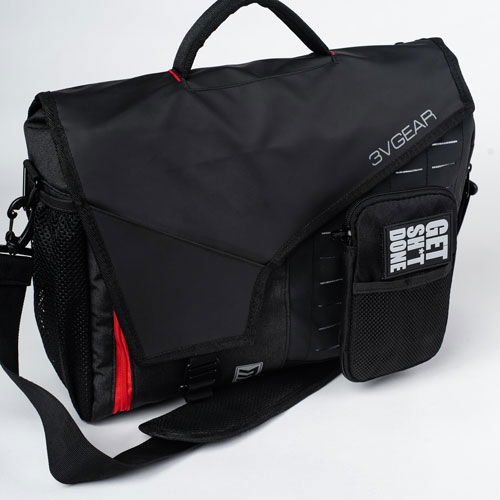 A small die-cut MOLLE panel allows you to add your favorite MOLLE accessory pouch.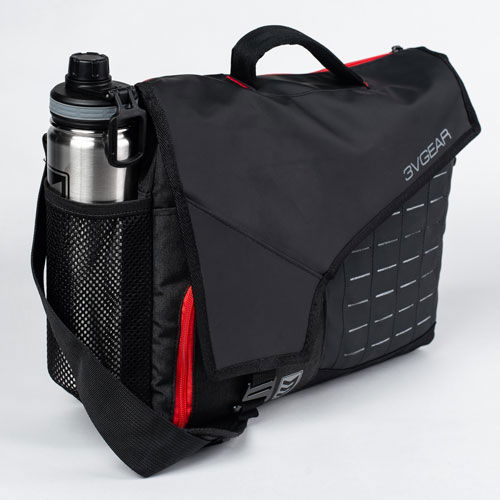 An exterior water bottle pocket lets you keep your water easily accessible wherever you may be going.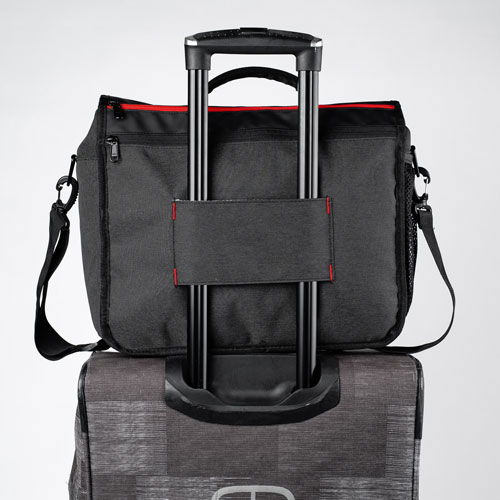 Luggage Trolley Passthrough
A luggage passthrough on the back of the bag lets you easily add it to your other luggage when traveling.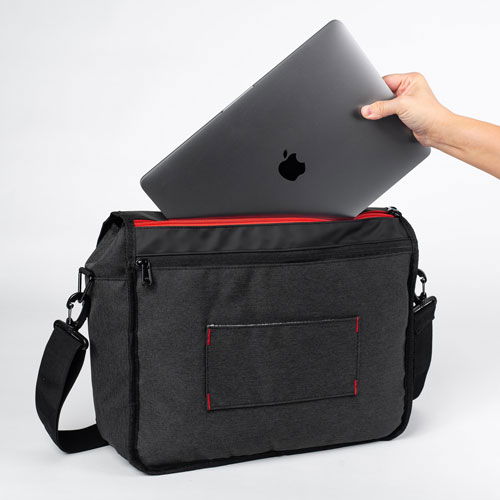 The large red zipper on the top of the bag gives you direct access to the laptop compartment. No need to open your entire bag to get your laptop.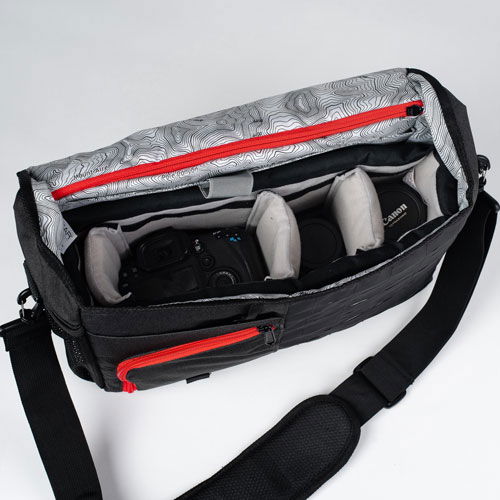 Sentinel Camera Insert Compatible
The Cipher was designed to accommodate the Sentinel Camera Insert. This makes for a very handy and discreet camera bag that doesn't look like a camera bag. *The Sentinel is sold separately.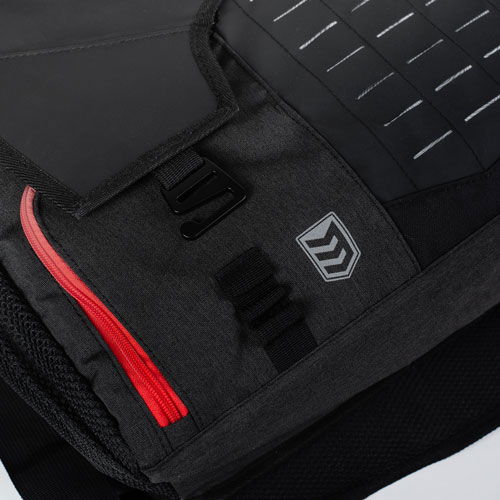 Depending on how much gear you are carrying, there are multiple attachment points for closing your bag.
3V Gear Cipher Messenger Bag Review
Cipher Redline Bag
Great product it works perfect for all my office needs and has lots of availble pockets
Excellent Bag
I love this bag. I was skeptical about purchasing it after reading other reviews about the ends not fully closing; I have zero issue with that. My bag closes up nice and tight and nothing is in danger of falling out. Plenty of room in the bag, and water bottle net portion is big enough for a Yeti Rambler 28oz without issue. Definitely recommend this bag! I also purchased a molle pouch for additional necessities and it fits right down in the bag with all of my other EDC items.
Great looking bag!
First, this is a great looking bad. The outer material is strong and feels great to the touch. The admin panel is fantastic for all sorts of pens and extra supplies, and the interior laptop sleeve is secure for my laptop.
The downside is the latch for closing the bag. It continues to come undone, and puts contents at risk of falling out. It also comes undone when carrying the bag by the shoulder strap.
But I do love the molle panel on the front. Made it easy to connect an extra admin pick for my cell phone charger.
In the seemingly never-ending search for the ideal travel EDC bag, I am trying a messenger style bag. I've had similar (briefcase) style bags in the past but they never quite checked all the boxes. I have yet to carry this bag for its intended purpose, so this is more of an initial impressions than a review.
- The bag itself is very lightweight which is nice but does lead to concerns about durability. Only extended use will tell.
- The padding for the laptop pocket is pretty thin and not elevated from the bottom of the bag so you probably don't want to toss this thing around too much with a laptop in it.
- The shoulder strap and pad are also very lightweight. I wish the strap was a little heavier/stiffer (seatbelt straps) and the pad a little more structured.
- The strap attachments seem a little low on the body of the bag to me. Maybe that's done on purpose to better protect the contents of the main compartment but it seems like they want to pop out rather than in.
- I really like the triangular D-ring used for the strap attachments. I've had bags with D-shaped rings that would spin around in the attachment loop. These won't do that.
- The strap could be longer. I'm 6'2'' and have the strap extended as far as it will go and it's just about long enough for me. If you're taller it might be a problem.
- It would be nice to have a detachable waist stabilizer strap to keep the bag from bouncing around if you're on the move or to keep it on your back if your actually on a bike.
- I like the styling of the cover flap but the angled cut tends to leave the right side (facing the front of the bag) open. The flap should be extended to cover that.
- I get the idea behind the molle panel on the front but with it exposed like that, anything you attach to it becomes a snag hazzard. I really do like the topo map liner behind it and on the inside of the bag.
- The top of the bag could use a "spine" under the handle. The bag tends to deform if you lift it by the handle while heavily loaded.
- I think there's a reasonable amount of organization. The admin pocket on the front of the bag looks good and the slip pocket behind it looks perfect for airline ticket and a passport. There are enough zip pockets on the inside of the bag to keep stuff you really need from disappearing.
- The luggage pass-thru is a nice touch.
- I really like the zipper access to the main compartment with the front flap secured.
- The closure for the front flap is a little fiddly. On the other hand, it's really low profile and seems pretty unlikely to snag on anything.
- The side zip pocket seems like it would be great for a mobile phone or music player. There's no headphone access but the zipper is oriented to close up (something a lot of bags get wrong) so that's not really a problem.
- The main compartment is probably big enough to hold more weight than you'd want to carry. I won't be carrying a laptop in this bag, so it's plenty big enough for my purposes.
A lot of the comments above are about weight with an eye towards durability. In my use case, this bag is likely to last longer than I'll need it to. I only paid about $40 for this bag. At that price, the only thing I'd really like to see changed is better coverage of the front flap over the top of the main compartment.
Thank you for your extensive view on the bag, Paul. We appreciate the feedback we get from our customer to make the changes people look for.
-3V Gear
Great bag! Numerous pockets and plenty of room.
Good Bag!!
I really like the Cilher Redline Messenger Bag. I gave it 4 stars because of two small issues:
* The bag can be seen into slightly when closed. Needs to be a little more secure.
* On occasion, when zipping a compartment, the lining gets caught in the zipper.
I do really like the bag and it's great for what I purchased it for and if it wasn't for those two above issues I would of given five stars.
Hello, Carl.
I am sorry to hear about that. If you would like, please fill out the warranty form found on our website so we can make this right for you.
good bag!
This bag is pretty good but it seems a touch light weight and I believe durability will be an issue.
Hello, Charles.
We understand your concern. Good thing for you is we stand behind our products, so if you do happen to have issues or this bag does not live up to your standards. We will be happy to remedy the problem.
Have a great day!
Need Velcro to attach morale patches to
Hello, Michael.
If you are interested, we do have other bags that have sections of Velcro for you to display your patches.
Great gear!
Can't go wrong with 3V....all their products are top notch and customer service is outstanding. Buy whenever you can!!!
Very flimsy
The pocket where you'd put a laptop doesn't hold a 15". And when you pick it up. There's an area that's wide open. If you'd be using it if the weather was bad. Everything inside would be wet.
Hello,
I am sorry to hear that. The laptop sleeve does hold most modern laptops. If you were looking to return the bag, please contact us and we will be happy to help you.