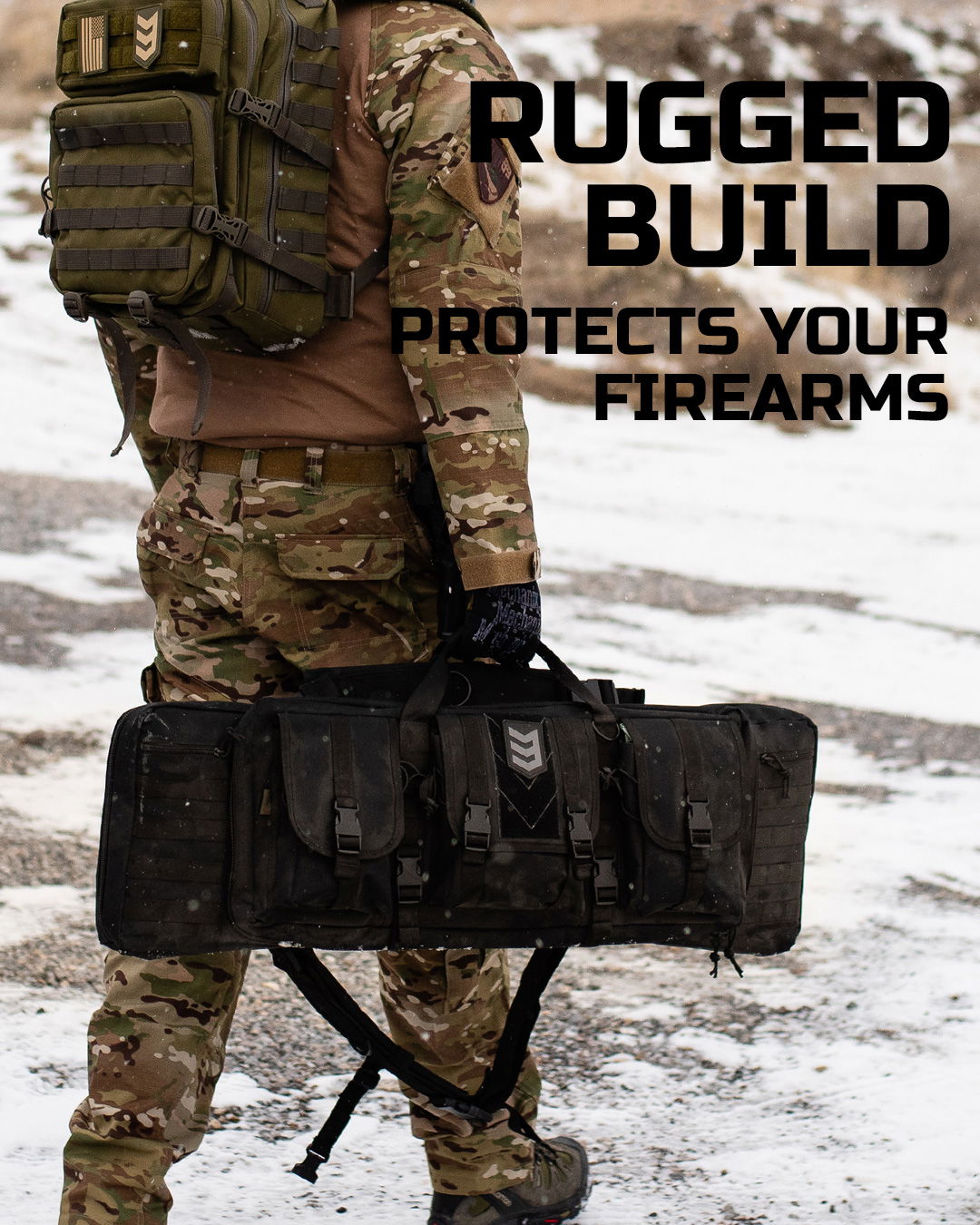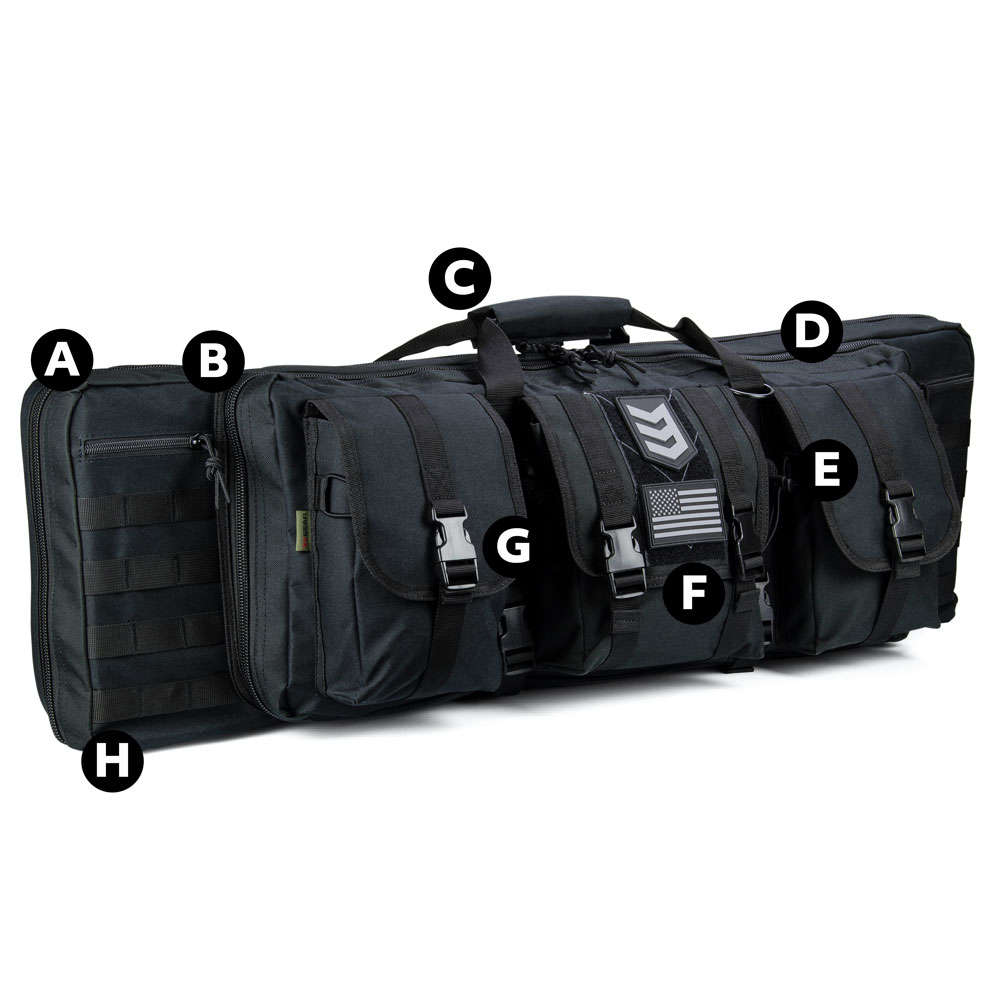 Ranger 42" Gun Case Features
A - 100% padding to protect your firearms.
B - Holds two rifles up to 42" each.
C - Padded grab handle.
D - Large separate pocket for pistols and magazines.
E - Three large accessory pockets.
F - Patches included.
G - Compression strap keeps your gear secure.
H - MOLLE compatible.
ADDITIONAL FEATURES & SPECS
12"h x 42"w x 8"d
Large zippered front compartment (24" x 10" x 2") with two padded pistol pockets
Detachable padded and adjustable backpack straps
Water resistant
Lockable zippers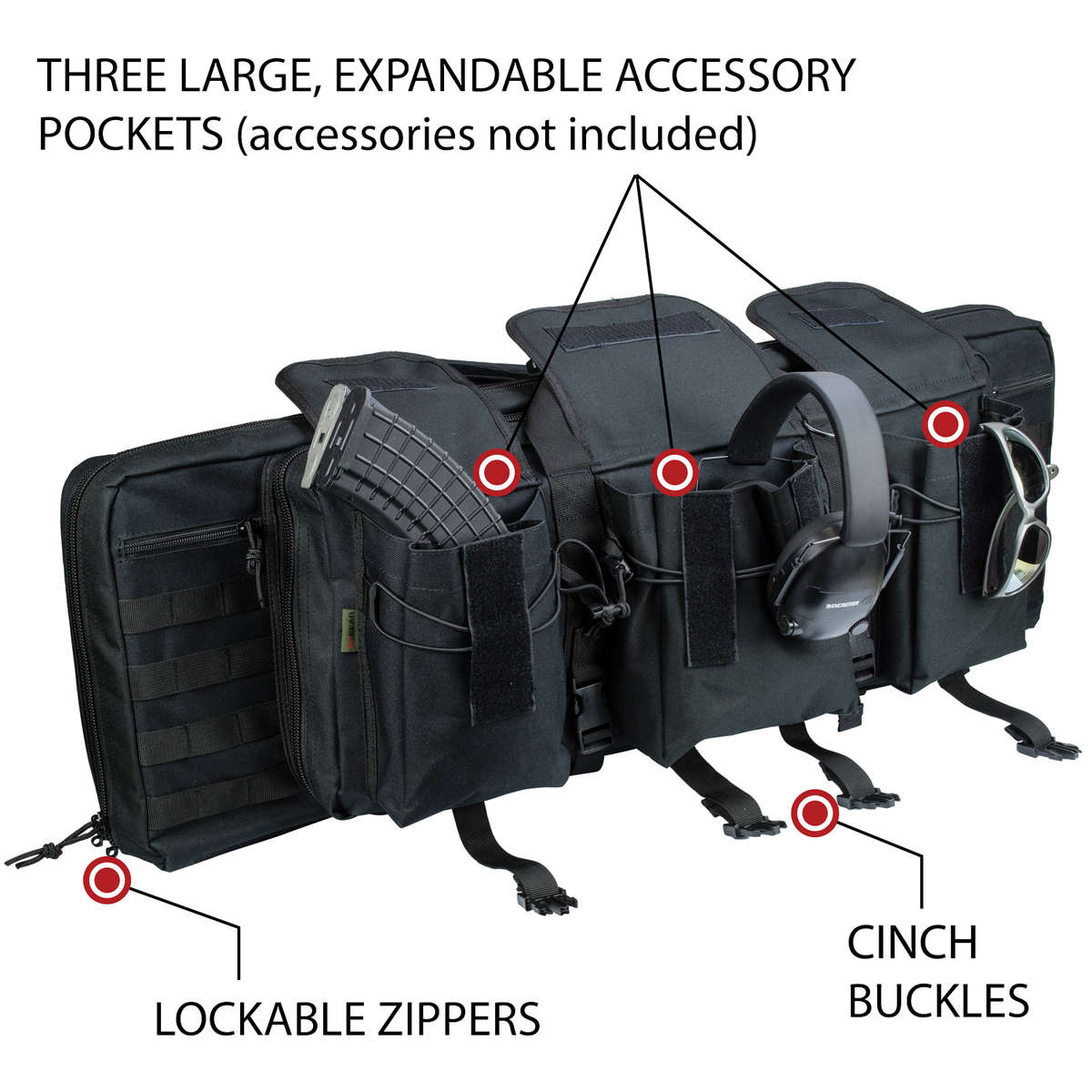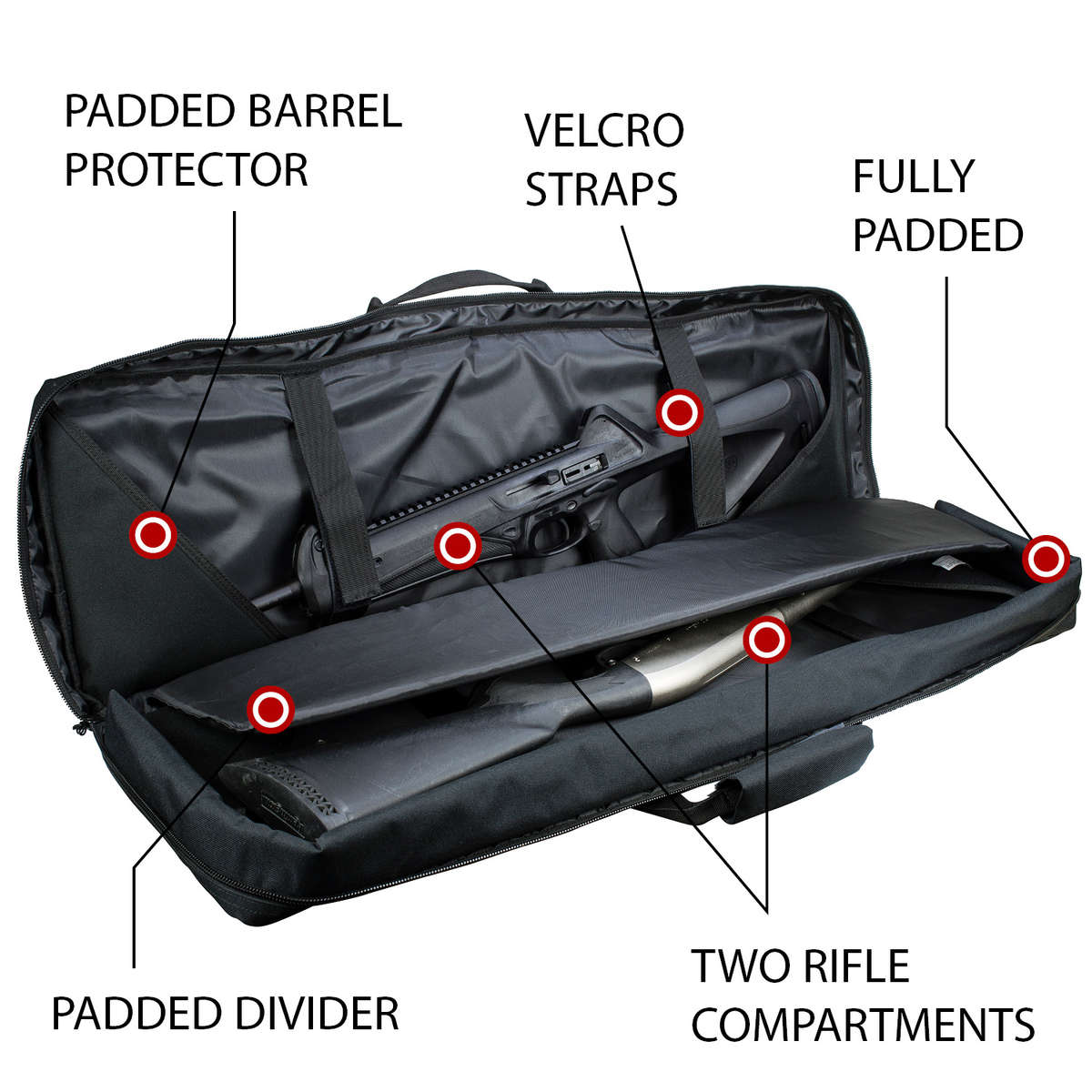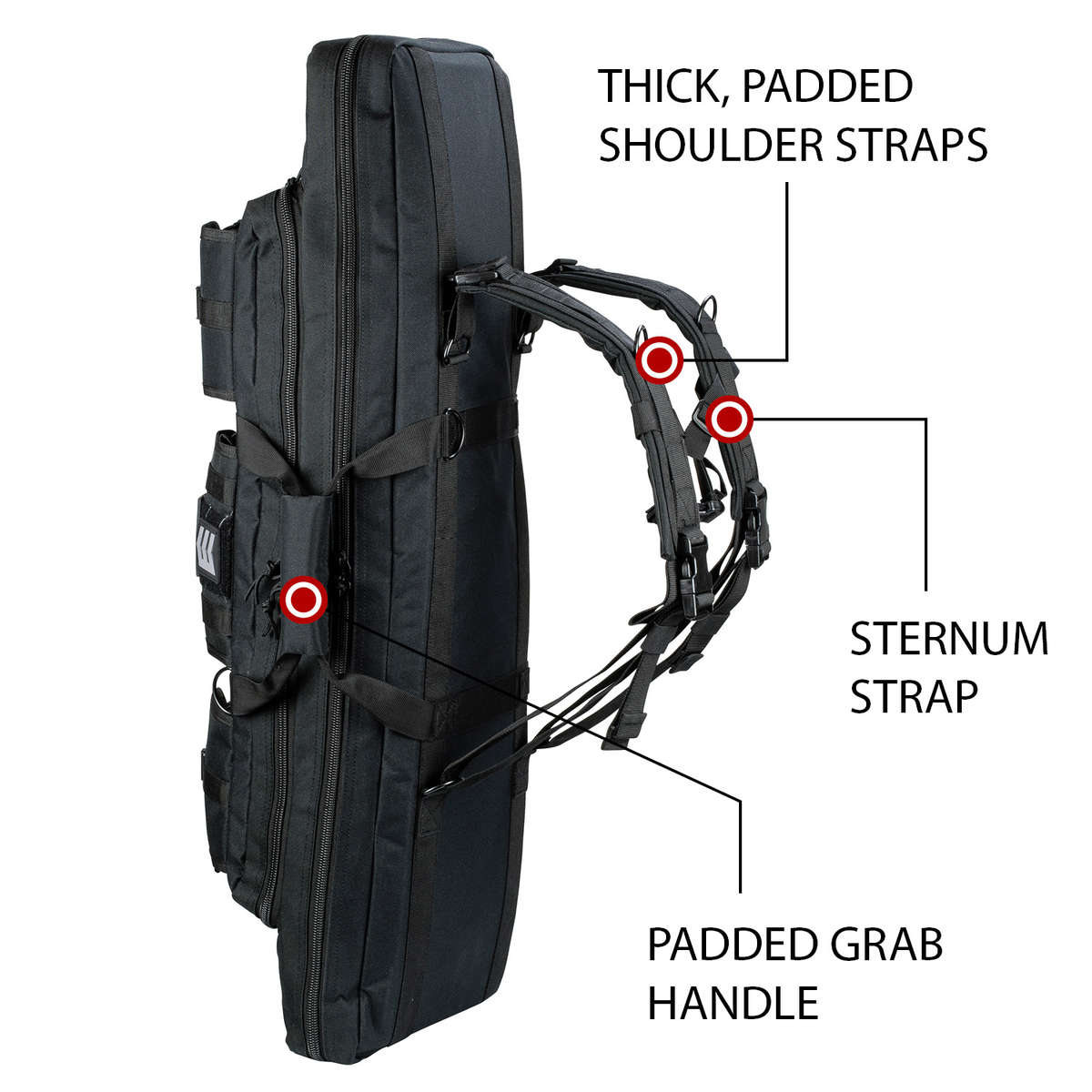 Become an Ambassador
We're on the lookout for influential adventurers to bring our brand to the masses. If you're over 18 and have a cool story, apply through our contact page below.
Amazing Rifle Bag
The 42" gun bag is very well built. There are plenty of storage for my eyes and ears, 9mm and 12 ga ammo, cleaning kit, pistol and shotgun. I enjoy the backpack feature which makes carrying things easier.


I highly recommend this bag.
Ranger 42" Guncase
Awesome product, Heavy duty material looks and feels good in the hand and when transporting weapons from home to the range!!
Simply the BEST
Once again I'm reviewing this product. It is the best carry case I have ever owned, and now own 5 of them. They handle all the abuse I have given them. You also should buy the medic pouch and dump pouch for the ends of the case. Heavy duty zippers, quick disconnects, and Velcro provide a solid closing system for the case. The only downside I have found is that if you are running a 50mm scope it is difficult to fit 2 rifles in the case. I would recommend quick disconnects on the scope base if this is an issue, and to store the scope in the outer zippered compartments. There are a lot of them in this case.
Ranger 42 padded double gun case
Ranger 42. Awesome case!
What can I say? All this for $75? Incredible deal. Very well made, thought out with the multiple gun owner in mind. I can transport 2 rifles, multiple pistols, mags, and ammo with one case. There's so much storage on this case, that you wouldn't need to bring anything else tothe range; everything you need can fit in it, and then some (although it can get heavy). I wouldn't hesitate to recommend this case, or any 3v product; the quality and value are great, which is why I have been a return customer multiple times.