AMAZING RIFLE BAG
"The 42" gun bag is very well built. There are plenty of storage for my eyes and ears, 9mm and 12 ga ammo, cleaning kit, pistol and shotgun. I enjoy the backpack feature which makes carrying things easier."
- Ken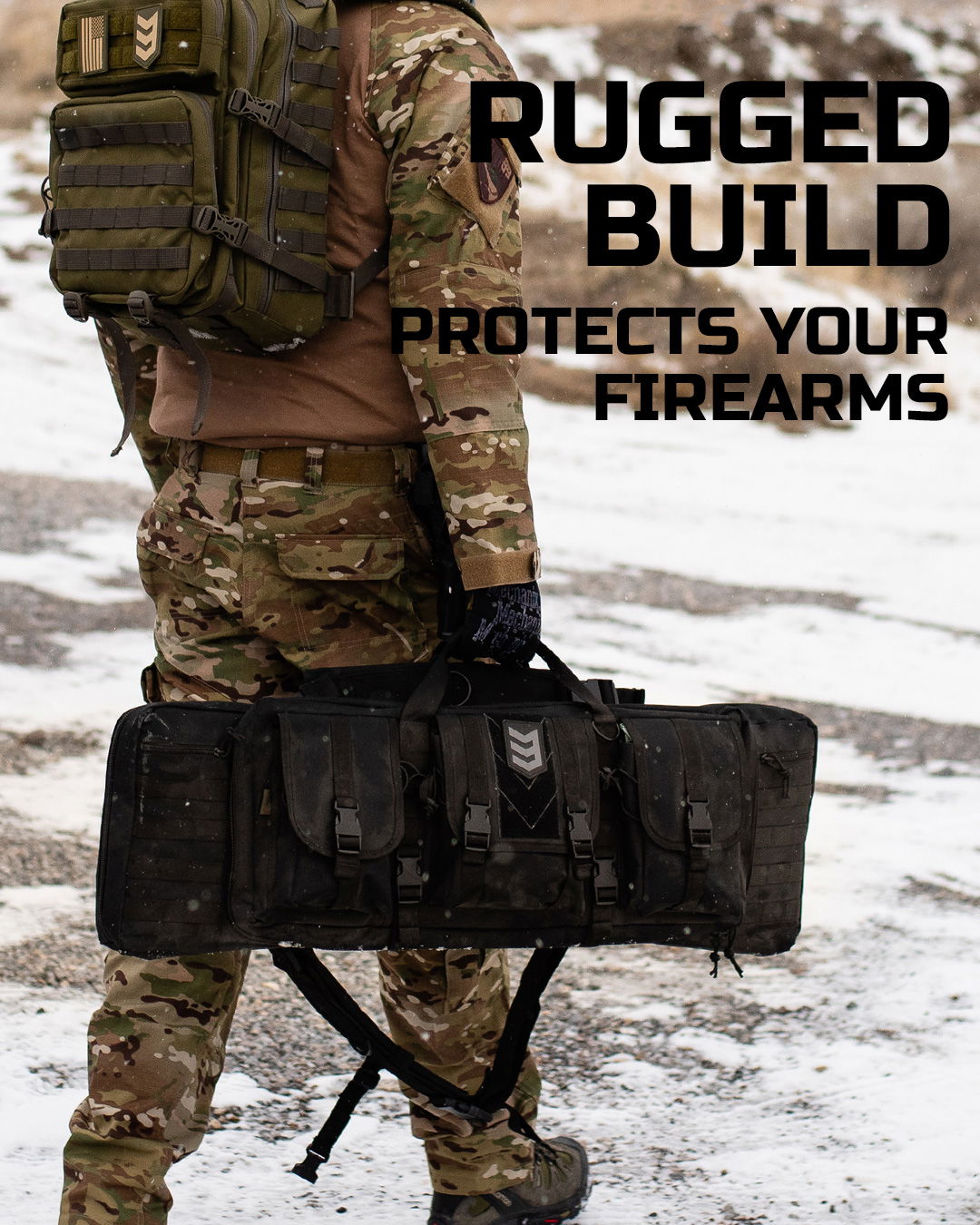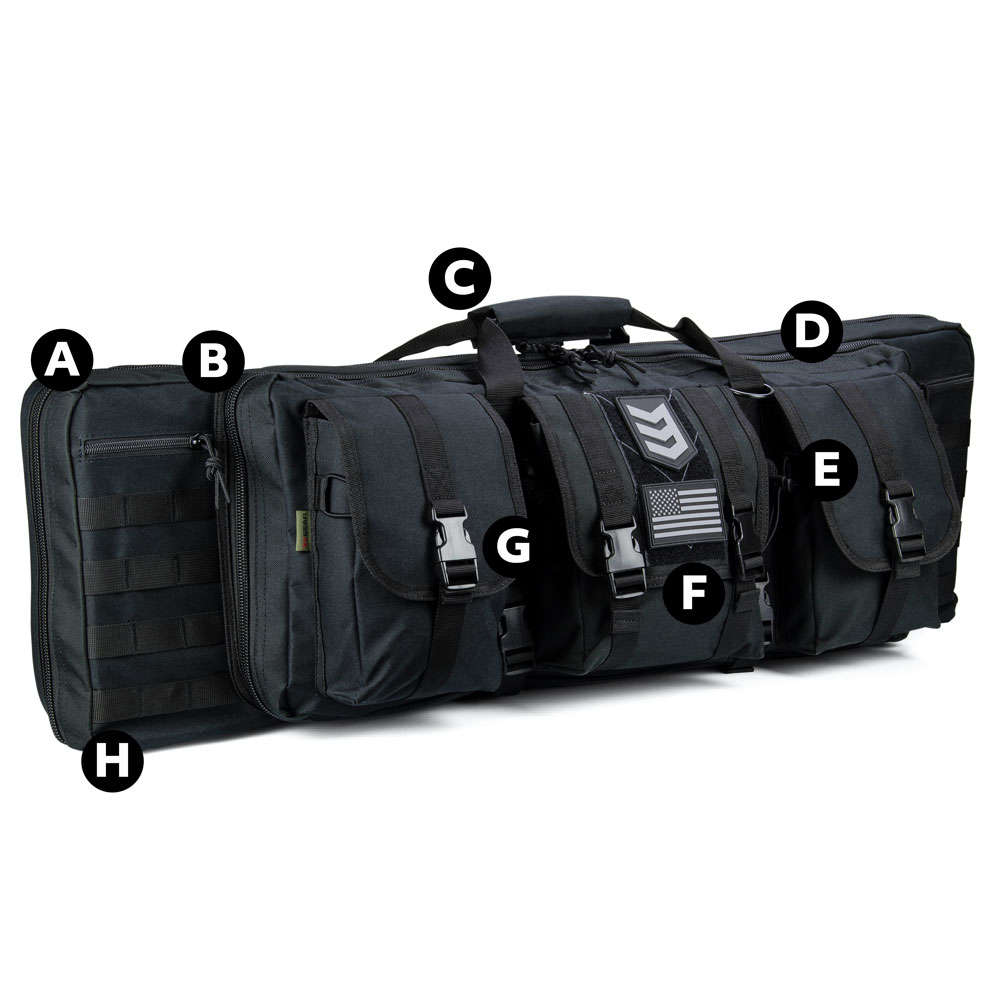 Ranger 42" Gun Case Features
A - 100% padding to protect your firearms.
B - Holds two rifles up to 42" each.
C - Padded grab handle.
D - Large separate pocket for pistols and magazines.
E - Three large accessory pockets.
F - Patches included.
G - Compression strap keeps your gear secure.
H - MOLLE compatible.
ADDITIONAL FEATURES & SPECS
12"h x 42"w x 8"d
Large zippered front compartment (24" x 10" x 2") with two padded pistol pockets
Detachable padded and adjustable backpack straps
Water resistant
Lockable zippers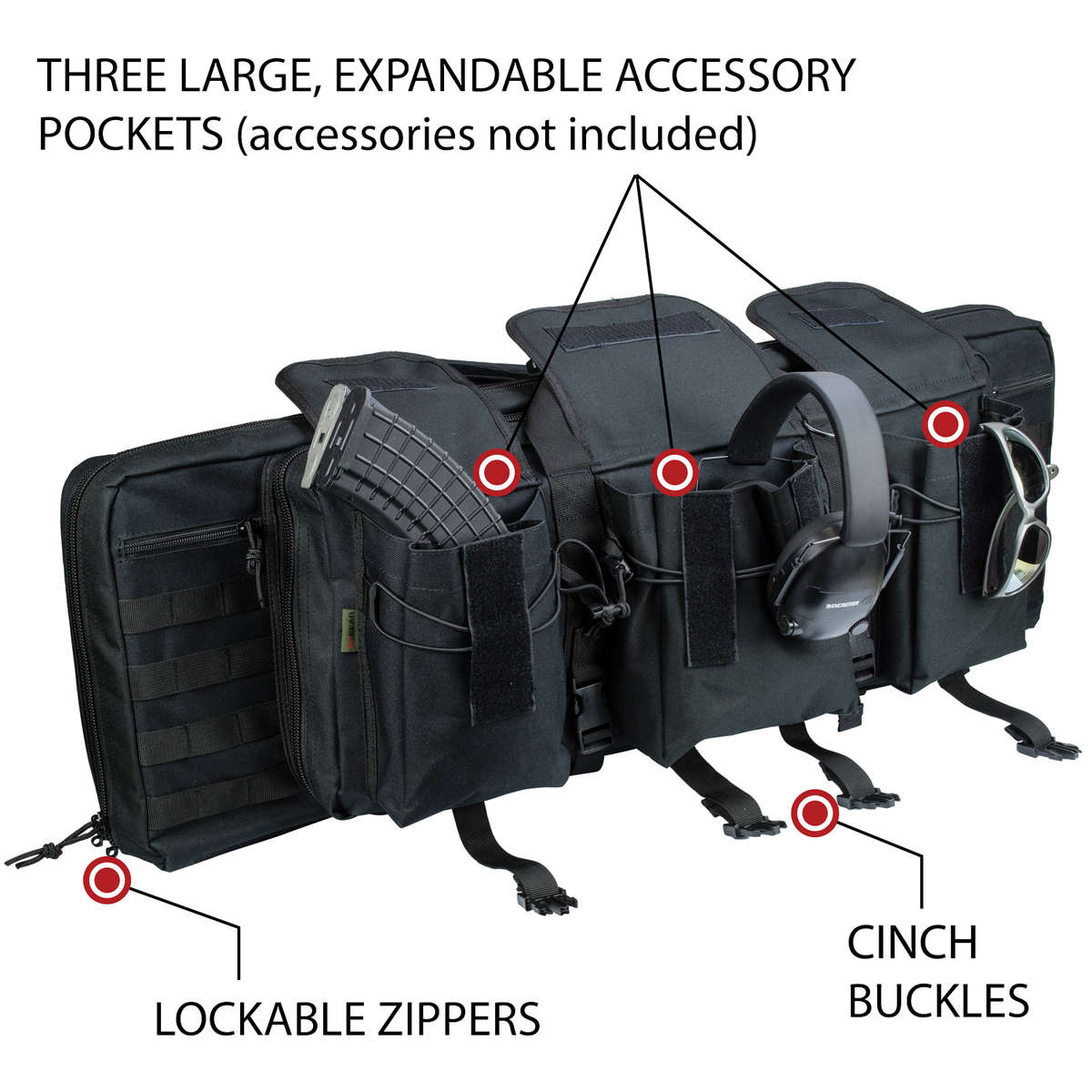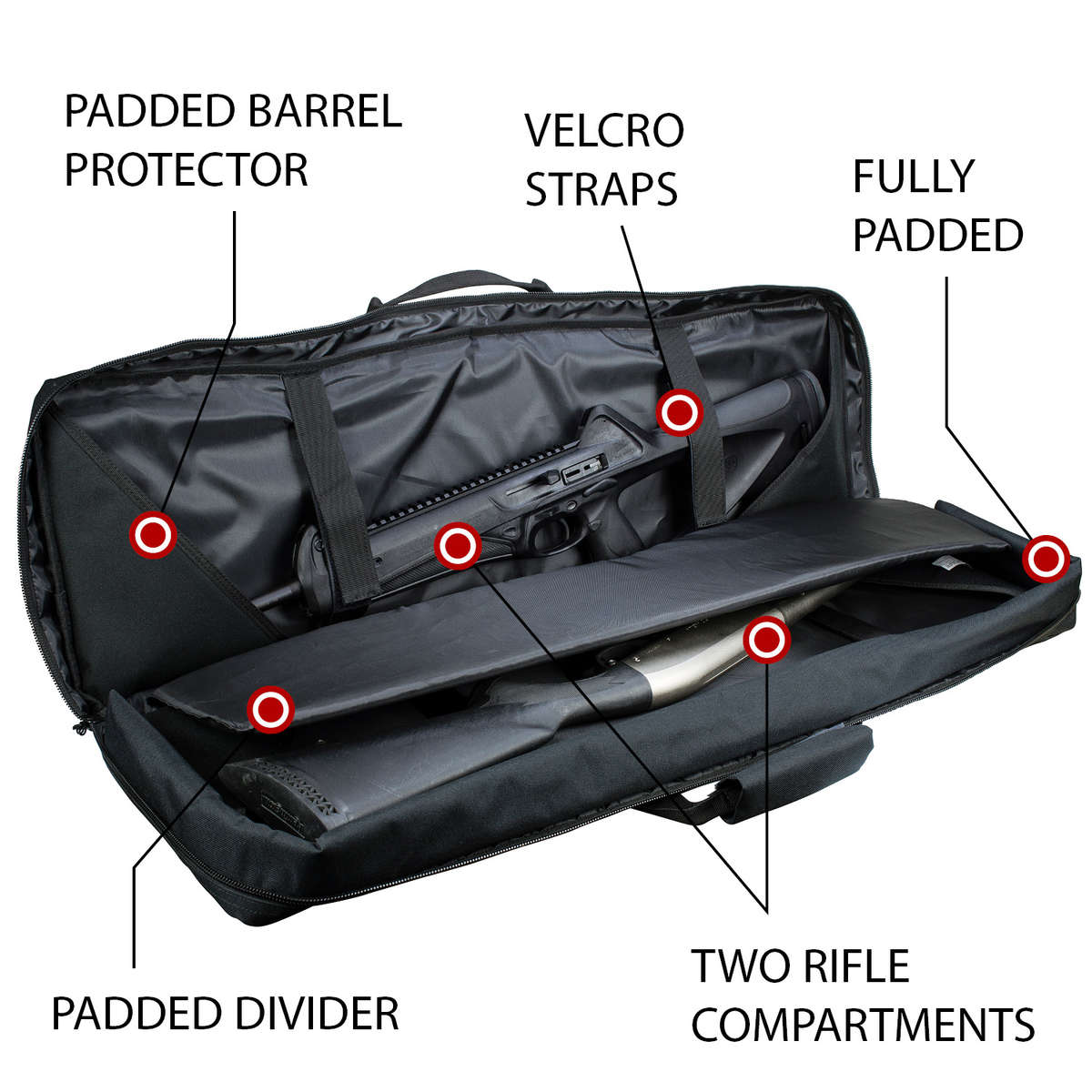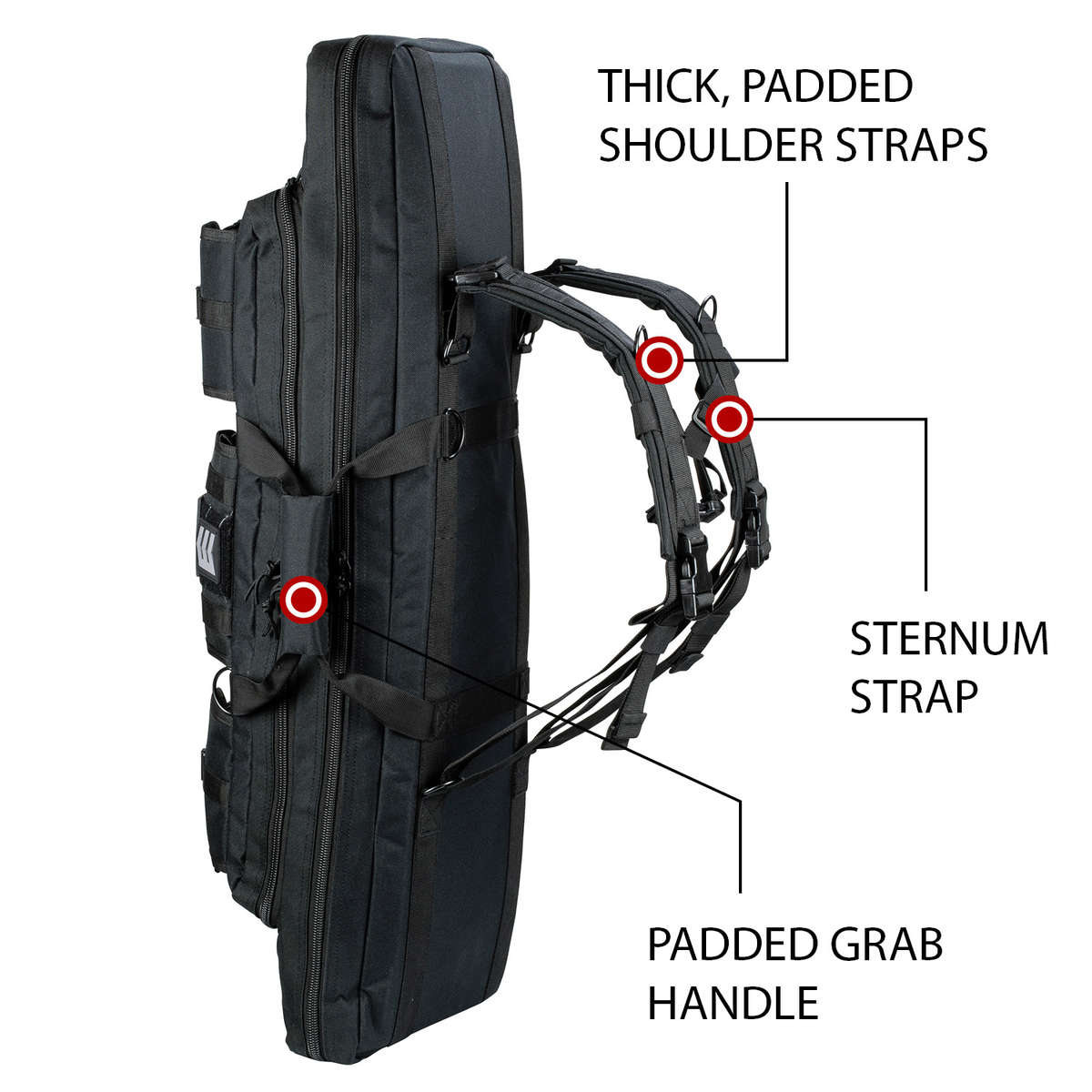 3V Gear Ranger Gun Case Reviews
Excellent Case!!
I would expect to pay double the price for a comparable gun case. This is a great product with lots of great features and a great price. Highly recommended!
Outstanding rifle bag
Great rifle bag, I don't mean great rifle bag for the money; just great in general. I might've bought one a little larger than I needed at 42", but the amount of gear it holds made me keep it. Well made, sturdy, holds my rifles securely, well padded & convenient backpack straps. I highly recommend it, fast shipping as well
Ranger 42" Padded Double Rifle Gun Case
Ranger 42" Padded Double Rifle Gun Case
Well made product. Caught sale price of approximately $55, normal price around $80 so the price was right.
Made in China?
This soft rifle case is the real deal. The 2 rifle bays are separated by a thick foam divider and have corner pockets to nest the muzzle and stock in. I wouldn't send it thru airport baggage handlers but I think it's good for anything short of that. More pockets than a closet full of cargo pants. Handguns, flat pistol and rifle ammo boxes, magazines, rifle and pistol. Folded or rolled targets. Even goofy shaped over the ear hearing protection, it all fits. Locking zipper closures. I don't think I could find a way I couldn't strap this thing to my body. Gusseted stitching at the load points and heavy stitched seams. Home run V3 !