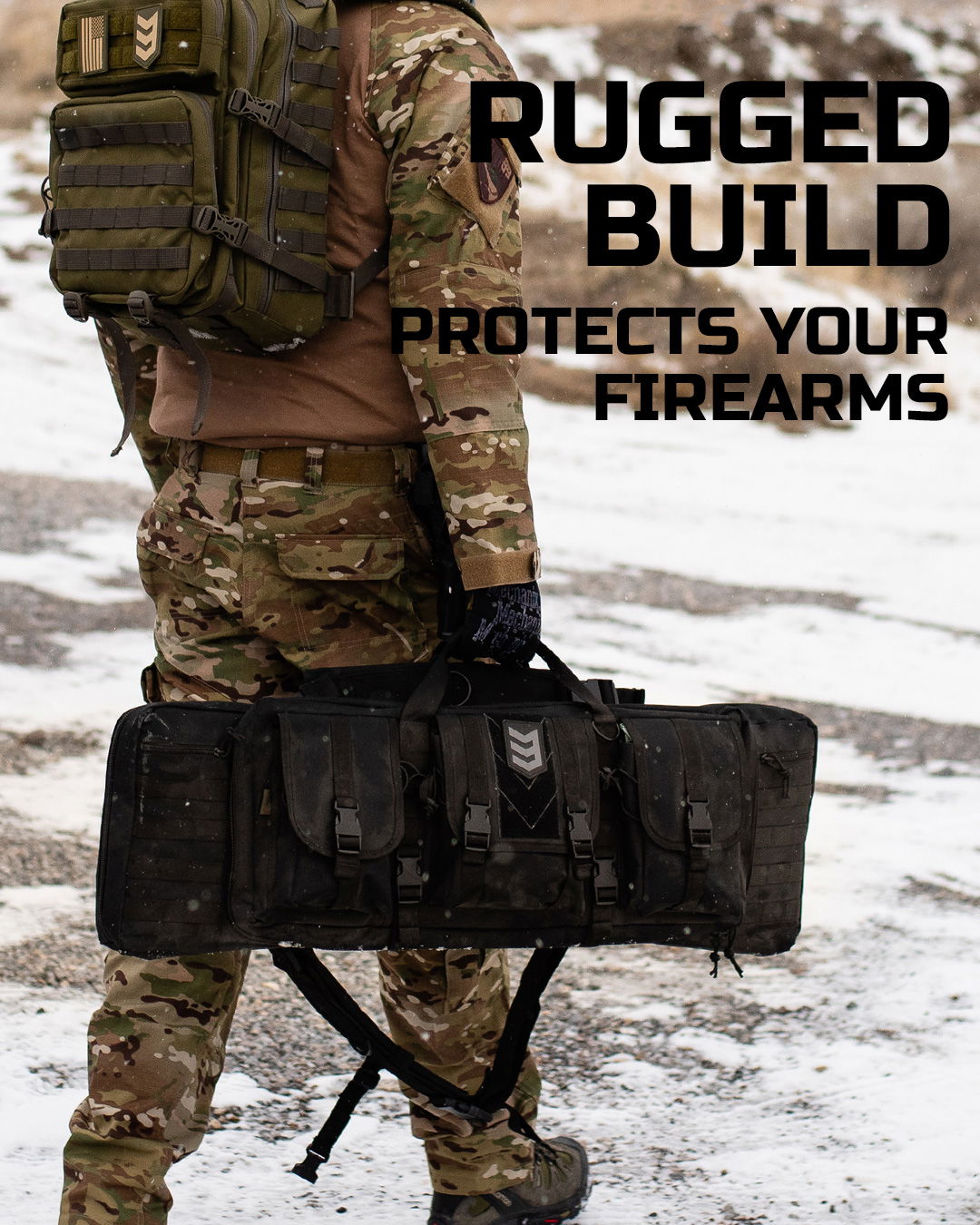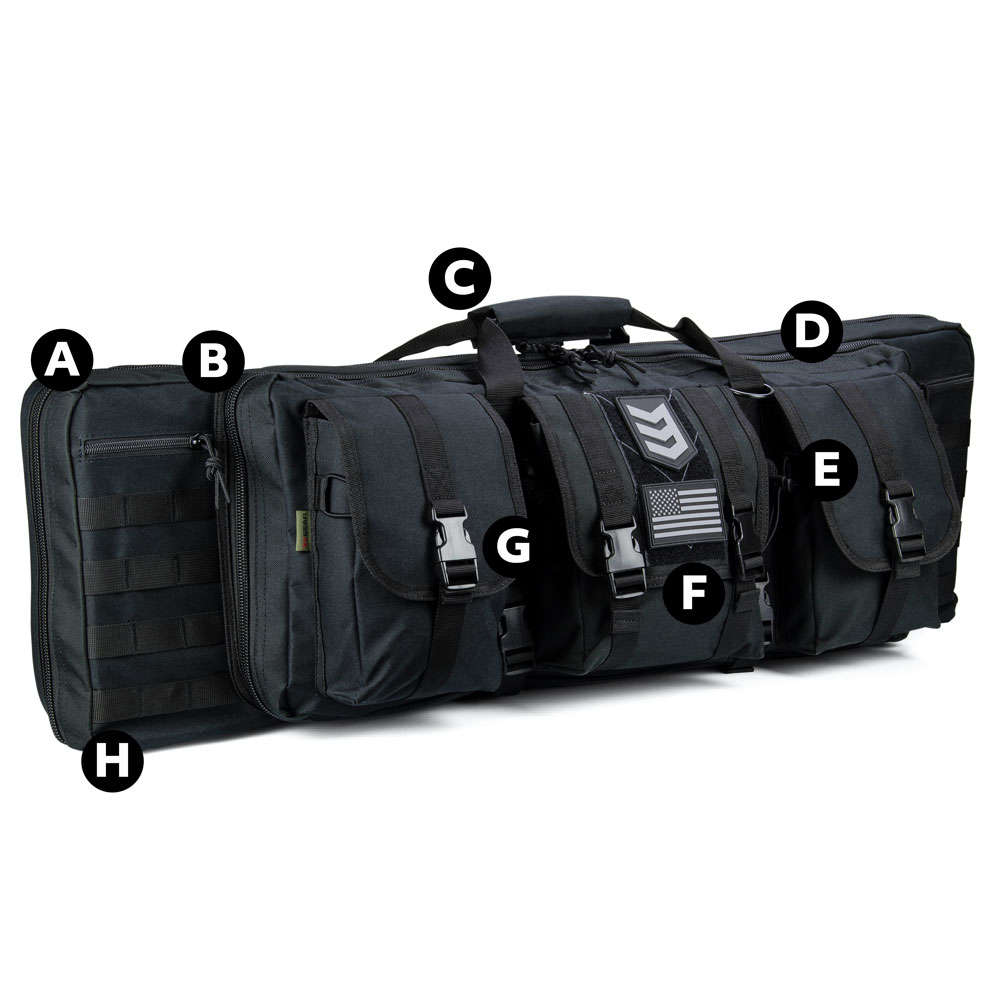 Ranger 36" Gun Case Features
A - 100% padding to protect your firearms.
B - Holds two rifles up to 36" each.
C - Padded grab handle.
D - Large separate pocket for pistols and magazines.
E - Three large accessory pockets.
F - Patches included.
G - Compression strap keeps your gear secure.
H - MOLLE compatible.
ADDITIONAL FEATURES & SPECS
12"h x 36"w x 8"d
Large zippered front compartment (24" x 10" x 2") with two padded pistol pockets
Detachable padded and adjustable backpack straps
Water resistant
Lockable zippers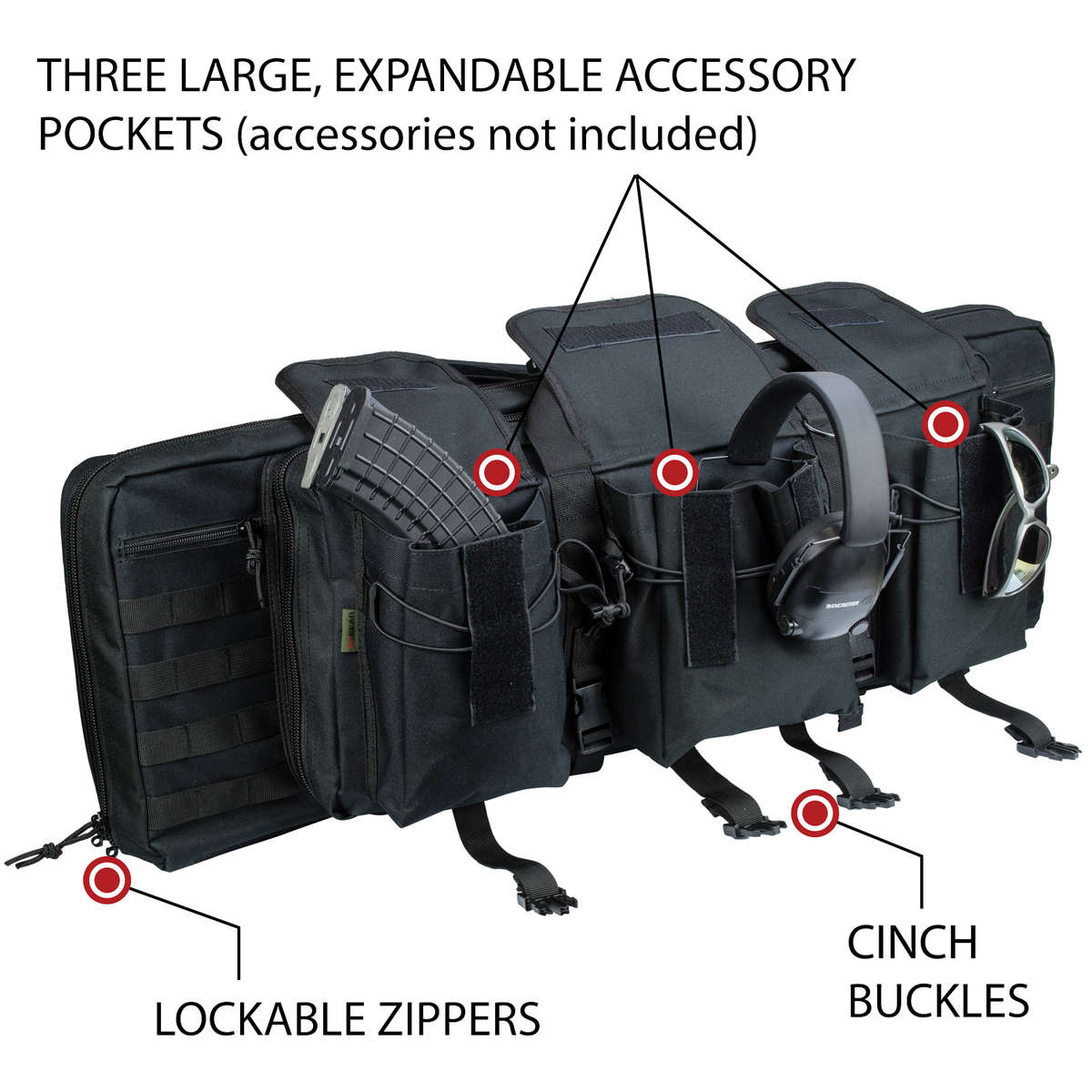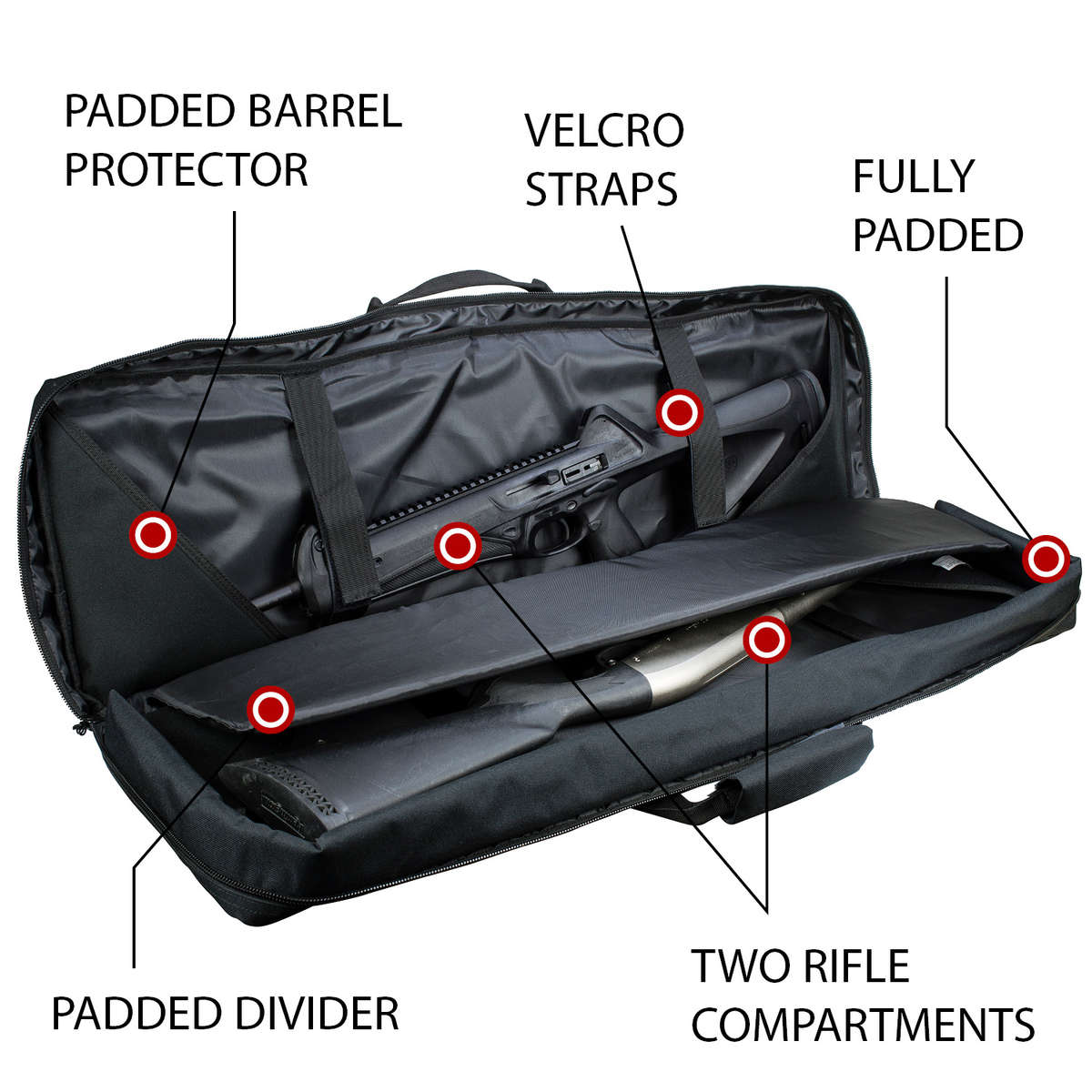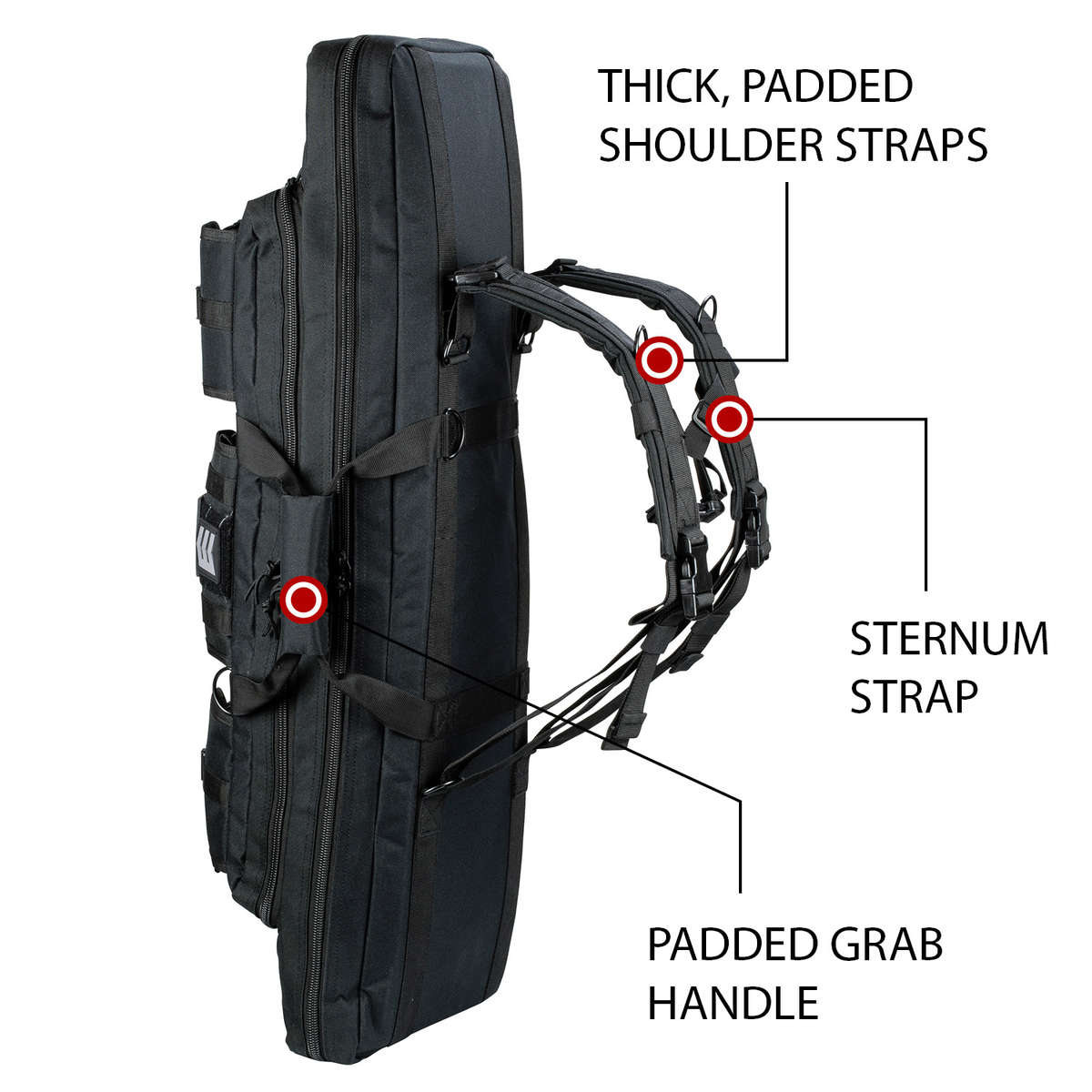 Become an Ambassador
We're on the lookout for influential adventurers to bring our brand to the masses. If you're over 18 and have a cool story, apply through our contact page below.
Great for ARs' and Pistol Carbines
Fits everything nicely. I can fit my AR and a Ruger 10-22 in the long gun slots, and also my Glock and Ruger MK4 in the Pistol Compartments. It travels well and also has plenty of room for my gear in the pockets and the MOLLE I have attached my medic pack to.


I would buy again, but in the 42" to accommodate possibly a shotgun for 3-gun.
The perfect gun case
Perfectly holds my 10.3" and 16" AR's with plenty of space for magazines and a pistol for range trips. The quality of the bag is excellent
Nice Bag, Well Made
I bought one of these when 3V offered a deal with their duffle bags- basically it worked out as a buy the rifle case, get duffle for 1/2 off kind of thing. I am super happy with both. The rifle case has tons o' room and carries well. I did, however, get a large survival bracelet with metal clasp that I attached across the D rings at the top of the shoulder strap (see pic) and works for a drag- type handle, which I've found very handy. The shoulder straps much more useful than you might imagine, especially on vacation when you're carrying a bunch of stuff in from the car
The duffle is great and I recommend both for sure. no quality issues so far and seem to be well made and sharp-looking. OWN THEM!!
Great quality bag
Bag seems to be great quality. There's a lot of room to include range type supplies. I've included everything from the guns, cleaning supplies, range belt attachments, mags etc. Very satisfied with my purchase.
Crazy Good Case
Everything about this case is crazy good. Very impressed with design and quality. Zippers are very smooth and very high quality. Highly recommend.