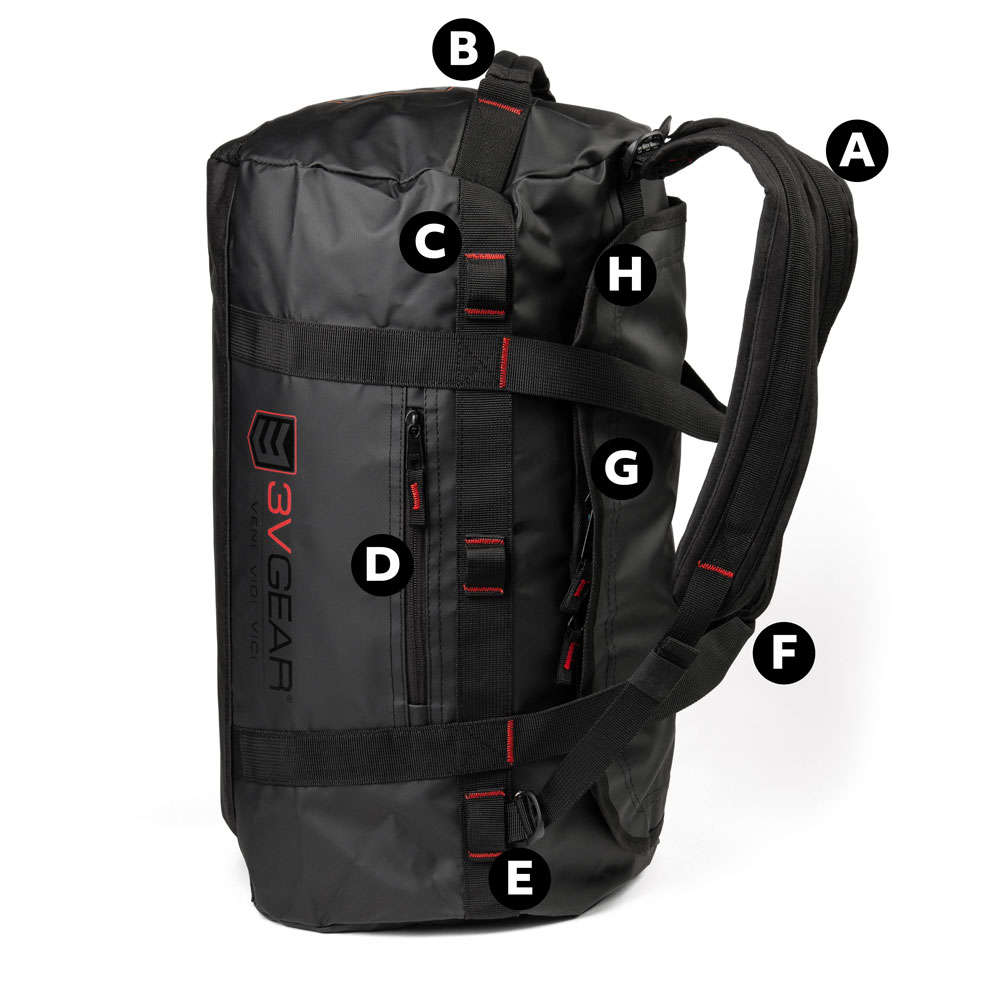 Smuggler Duffel Bag Features
A - Shoulder straps for backpack carry.
B - Padded grab handles.
C - Daisy chain lashing points.
D - Easy access side pocket.
E - Removable shoulder straps.
F - Padded straps for side carry.
G - Dual zippers provide a large opening into the duffel.
H - Lip provides water and dust protection.
ADDITIONAL FEATURES & SPECS
45L dimensions: 21"w x 13"h x 13"d
60L dimensions: 24"w x 14"h x 14"d
85L dimensions: 27"w x 16"h x 16"d
Made from waterproof PVC tarpaulin
Reinforced 600D polyester base
Interior mesh pocket
45L duffel is TSA compliant as a carry-on bag
Weight: 45L, 2.5 lbs.; 60L, 3.1 lbs.; 85L, 3.75 lbs.
Limited Lifetime Warranty
Become an Ambassador
We're on the lookout for influential adventurers to bring our brand to the masses. If you're over 18 and have a cool story, apply through our contact page below.
Firefighter Worthy
I bought this bag (85L) as my engine/out of county bag. The durable quality and waterproof material is a definite plus. So far so good!
This bag is almost perfect
I was so pleased with the purchase of the 60L bag that I opted to also acquire the 45L bag. I travel extensively and have found that these bags easily outperform my current roller bags. The quality of the bag is great. The backpack straps could be improved – wider and sturdier - which would make the bag "perfect." And, a single, wide, sturdy shoulder strap would be a good addition. However, on the whole, the 3V Smuggler Adventure Duffle Bags are awesome.
Excellent bag
Durable bag, holds up well. Already have 2, ordered another 2. May order more in the future if needs require it!
SMUGGLER ADVENTURE DUFFEL BAG
Great bag...sturdy and tough where you need it to be. 3 sizes to choose from, love the wide opening, and great prices! Definitely worth the money if you're in need of a great bag.
2019 - SMUGGLER ADVENTURE DUFFEL BAG