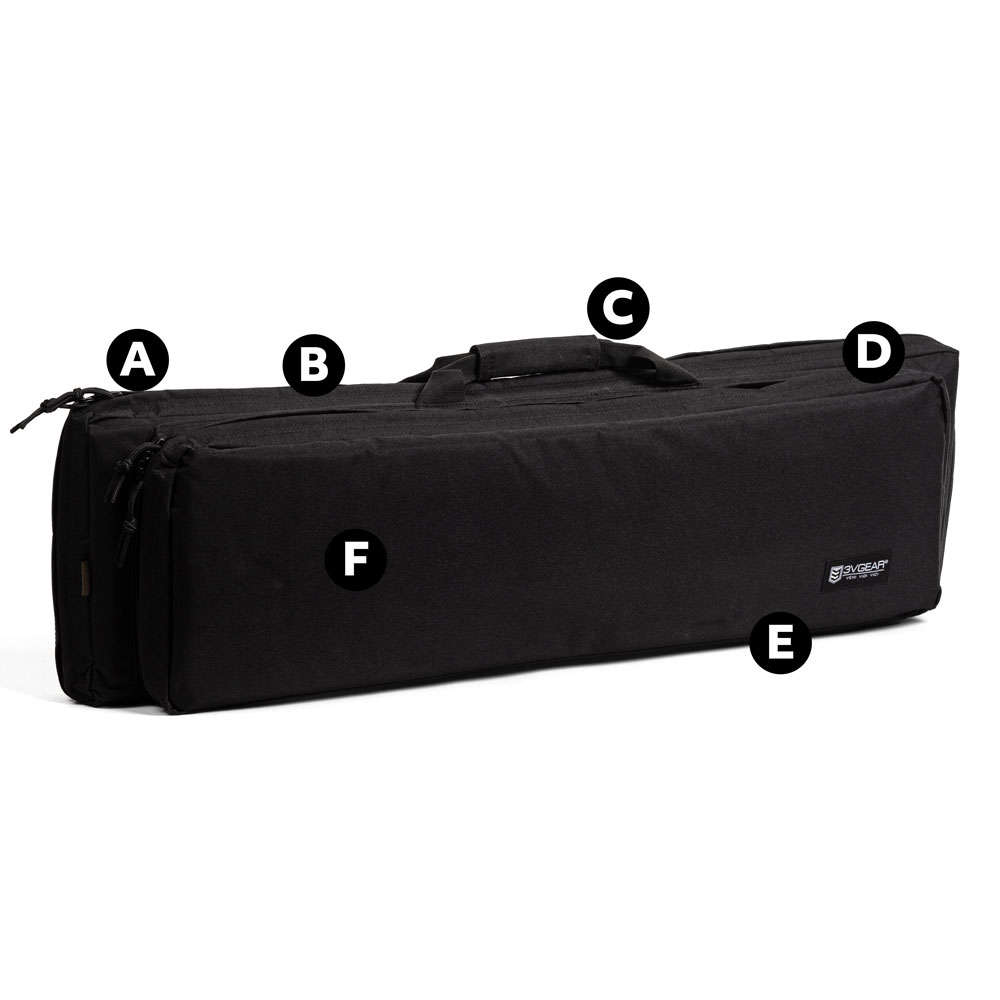 Covert 36" Gun Case Features
A - 100% padding to protect your firearms.
B - Holds one rifle up to 36".
C - Padded grab handle.
D - Large separate pocket for pistol and magazines.
E - Discreet styling to be more inconspicuous.
F - 600D weather resistant material.
ADDITIONAL FEATURES & SPECS
12"h x 36"w x 8"d
Large zippered front compartment (32" x 10" x 2") for a handgun, additional magazines, and two handgun pockets
Detachable padded and adjustable shoulder strap
Water resistant
Lockable zippers
Weight: 5 lbs.
Limited Lifetime Warranty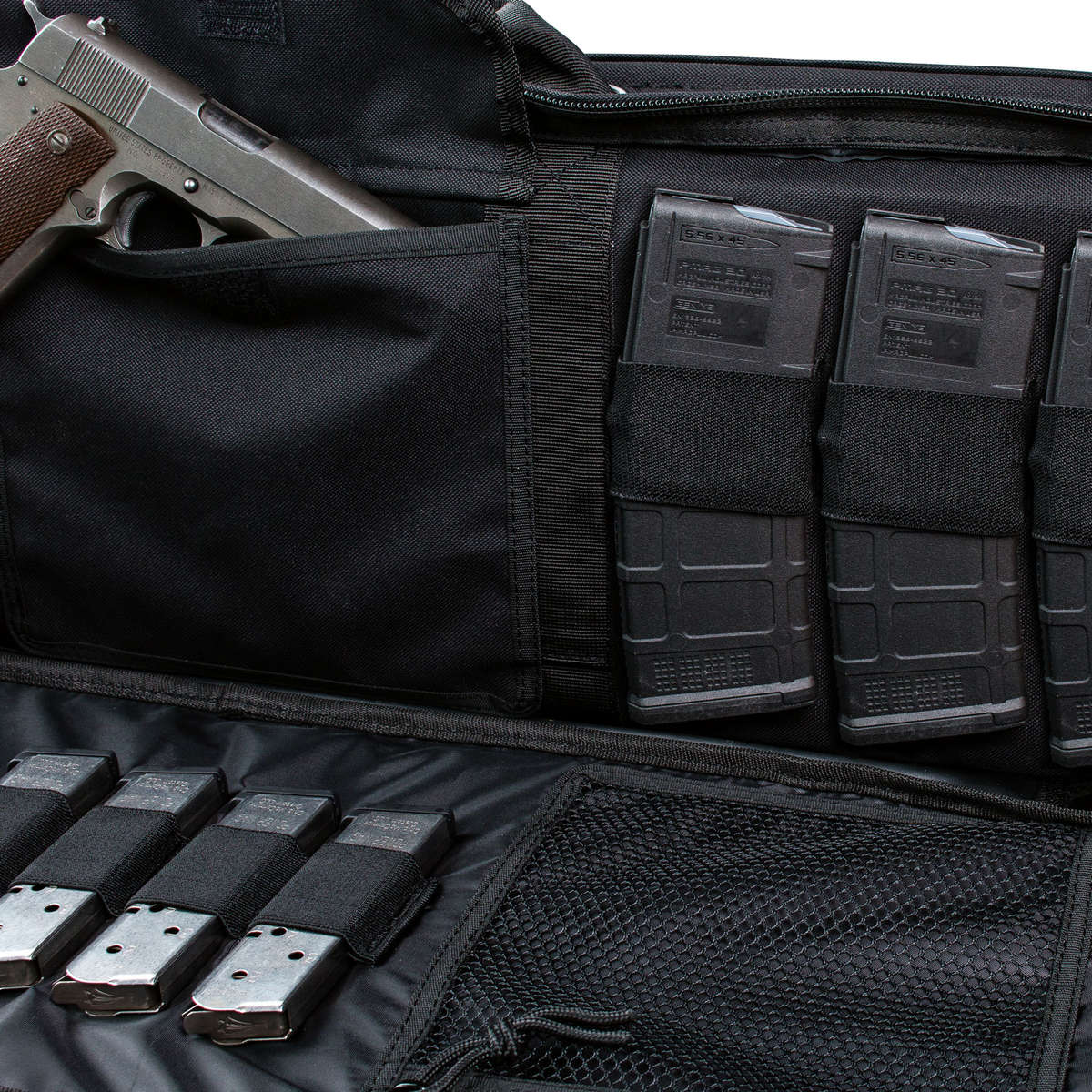 Pockets and elastic loops for all of your gear. There are six elastic loops for large (AR or AK) magazines and five loops for handgun size magazines.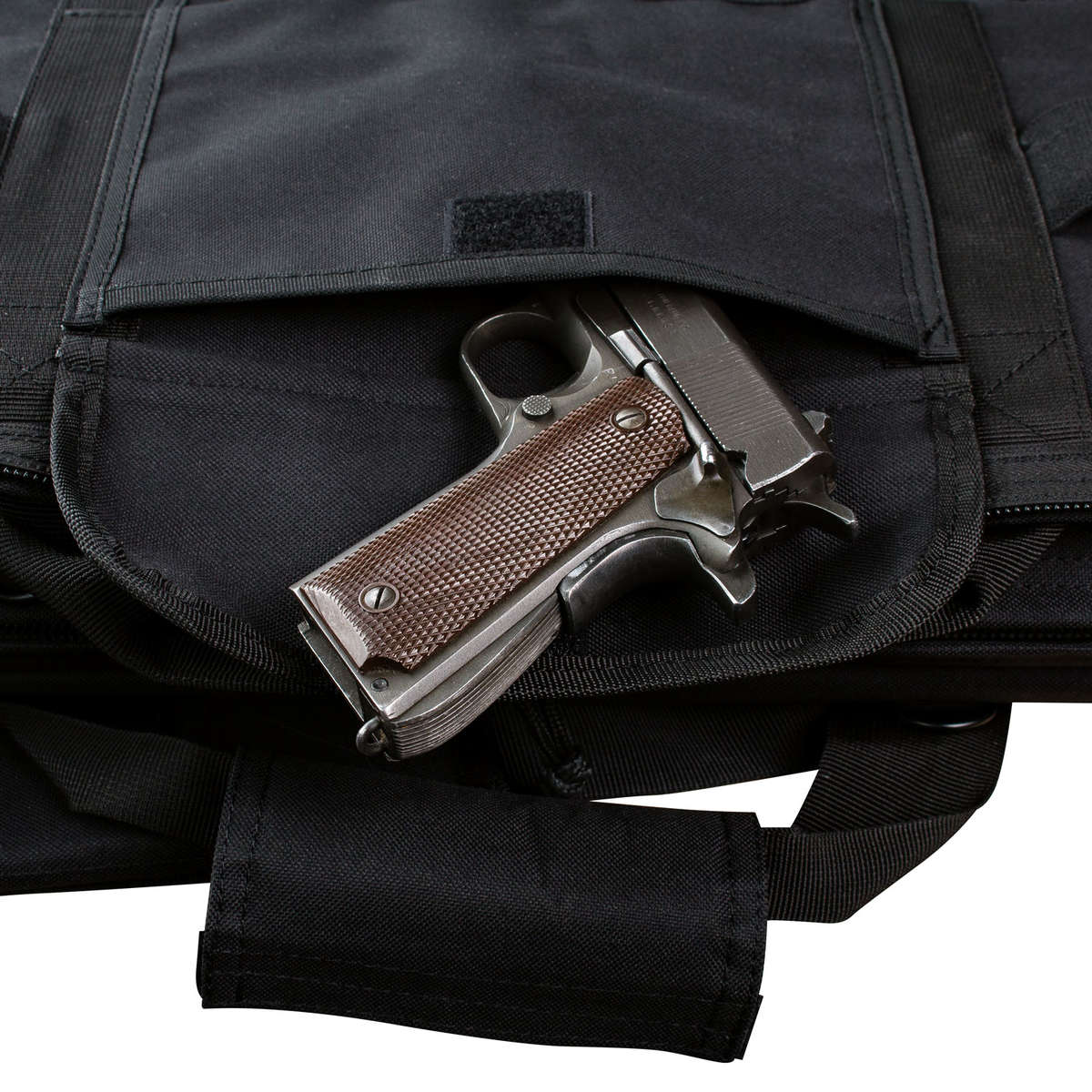 In addition to protecting your rifle, you can also carry a pistol in this convenient padded pocket.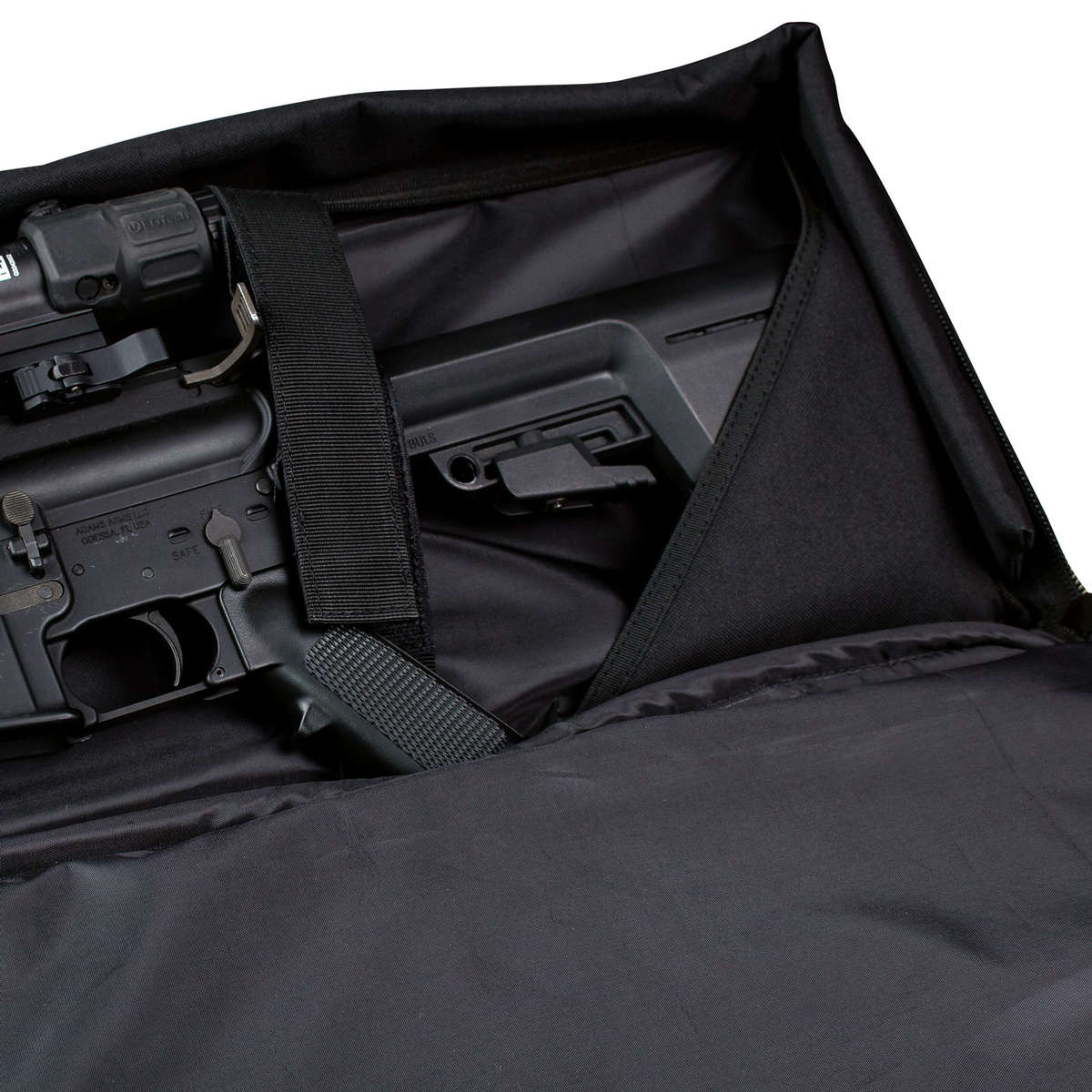 All sides of this gun case are padded to ensure safe keeping of your rifle. Additional padded corner pockets and velcro straps keep your rifle safe from damage.
3V Gear Covert Gun Case Reviews
What to Look for When Selecting a Soft Gun Rifle - FAQ
Yes. You can remove the shoulder carry strap and place it back on if preferred at a later time.
The Covert 36" gun case has two lockable zippers that can be fastened together with a lock. The lock is not included.
The Covert gun case can accommodate most popular firearms.
A thick, multilayer cushioned material is fitted through the borders and interior of our soft gun cases to help keep your guns protected.
Its great
Fits 16 inch rife i just have totake off suppressor and it fits
High quality, rifle doesnt move around, and looks normal enough to carry it to the gun shop at the mall without people bothering me about it. Even has a little velcro spot for patches
Great Case
Feels very well made and durable. The fabric is thick and the zipper feels strong.
3V Gear Covert 36" Discreet Padded Rifle Case
Great bag
Well made. Simple clean design.
Great case!
Case is well made and exactly as advertised on the site, if not better. The case has backpack straps which weren't listed on the site but, was very happy to have them!
36" Covert Rifle Case
I absolutely love this case. The first thing that comes to mind is quality. Guys at the range have already begun to ask me where did I get it from. An amazing product and worth every penny! Already in the process of ordering another case from 3V.
Very good deal for the price
Overall a very good case for the price. Nice quality stitching and straps. The included backpack style straps were useless and a real pain to remove, so I just cut them off. The back strap sling is very good with a pad too. The storage is included and no additional additional MOLLE or Velcro attachments are required. Fits an M4 style carbine with normal barrel length very well.
Hello Thomas. The D-rings are designed to be heavy-duty. To open them up to remove/attach the shoulder straps, the use of pliers and flat-head screwdriver. If any issues please let us know.
Great bag
Fits my 16" carbine just right, outstanding quality for the money.
3V Gear Covert 36" Discreet Padded Rifle Case