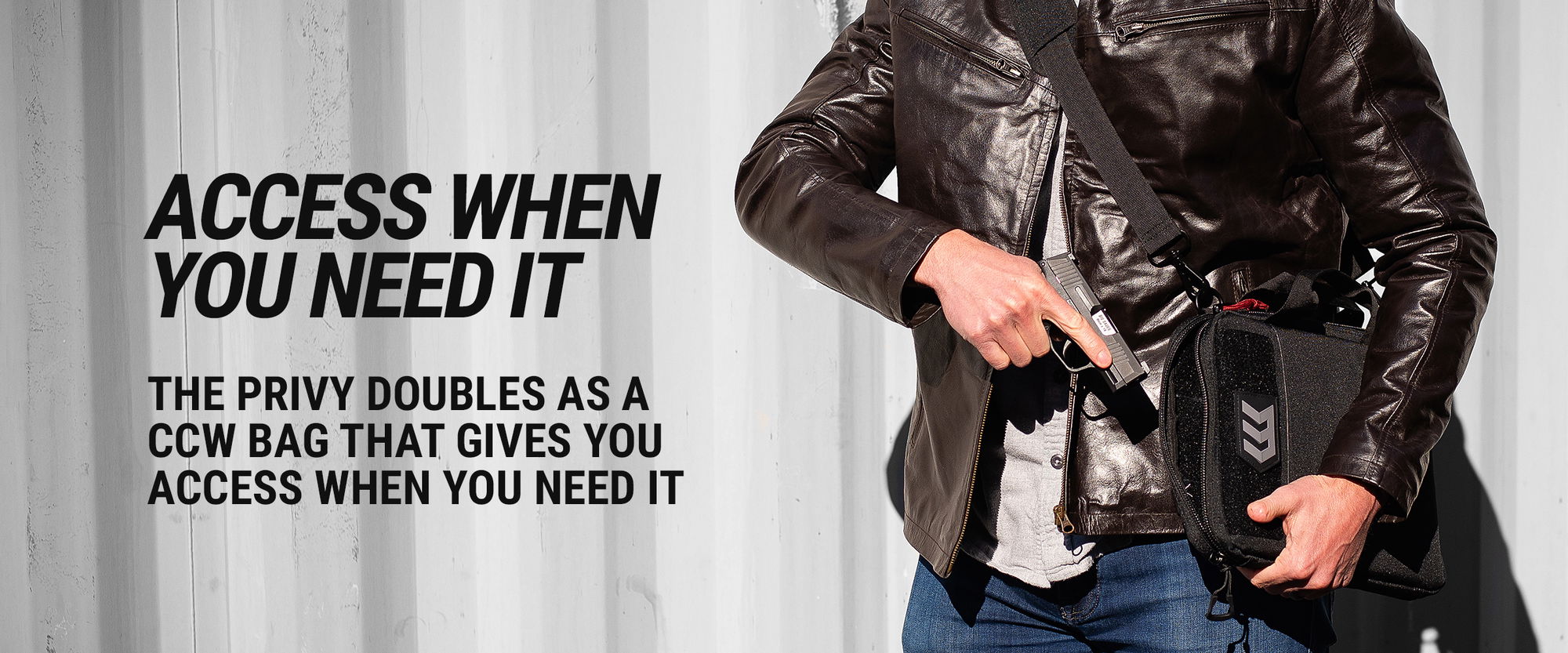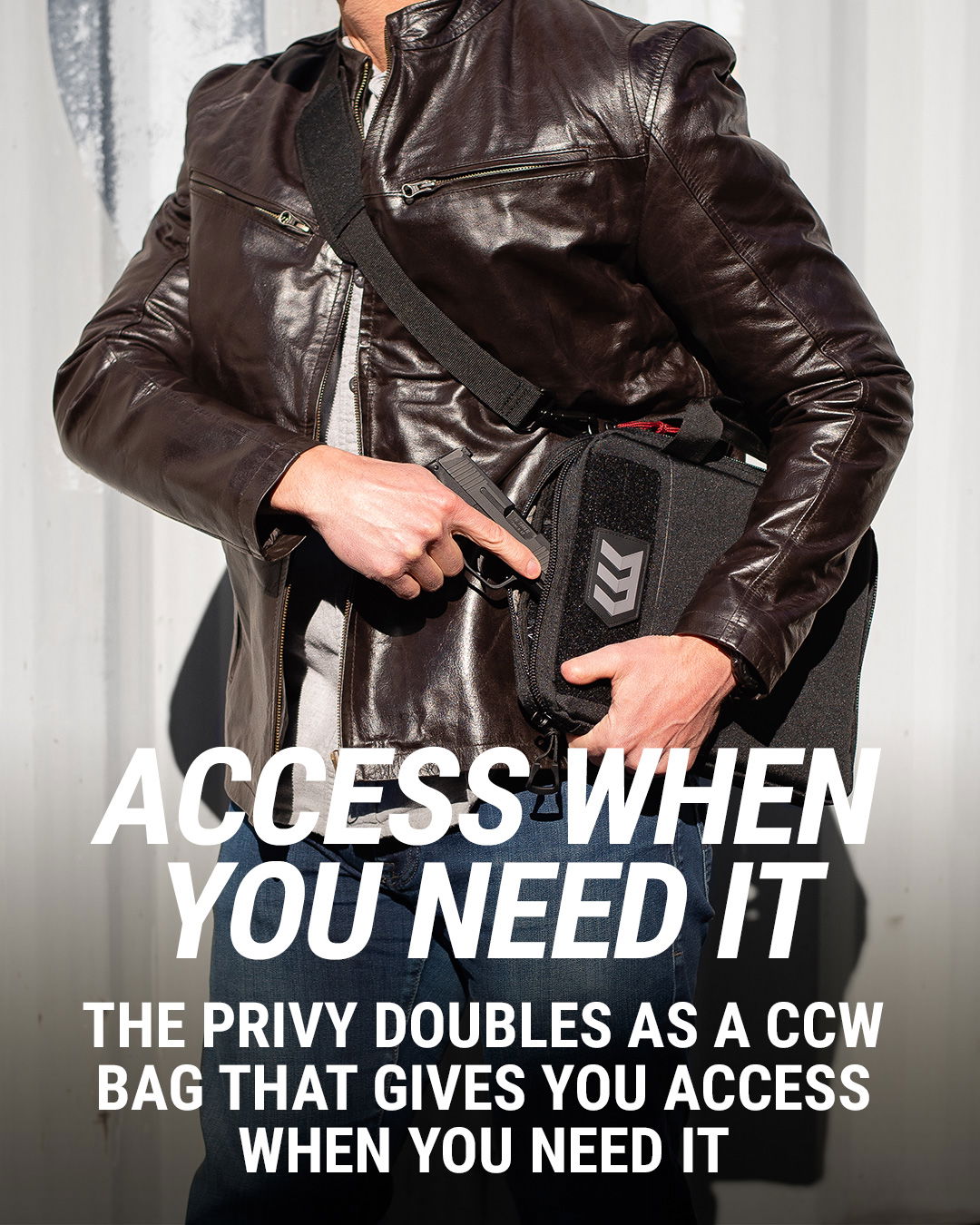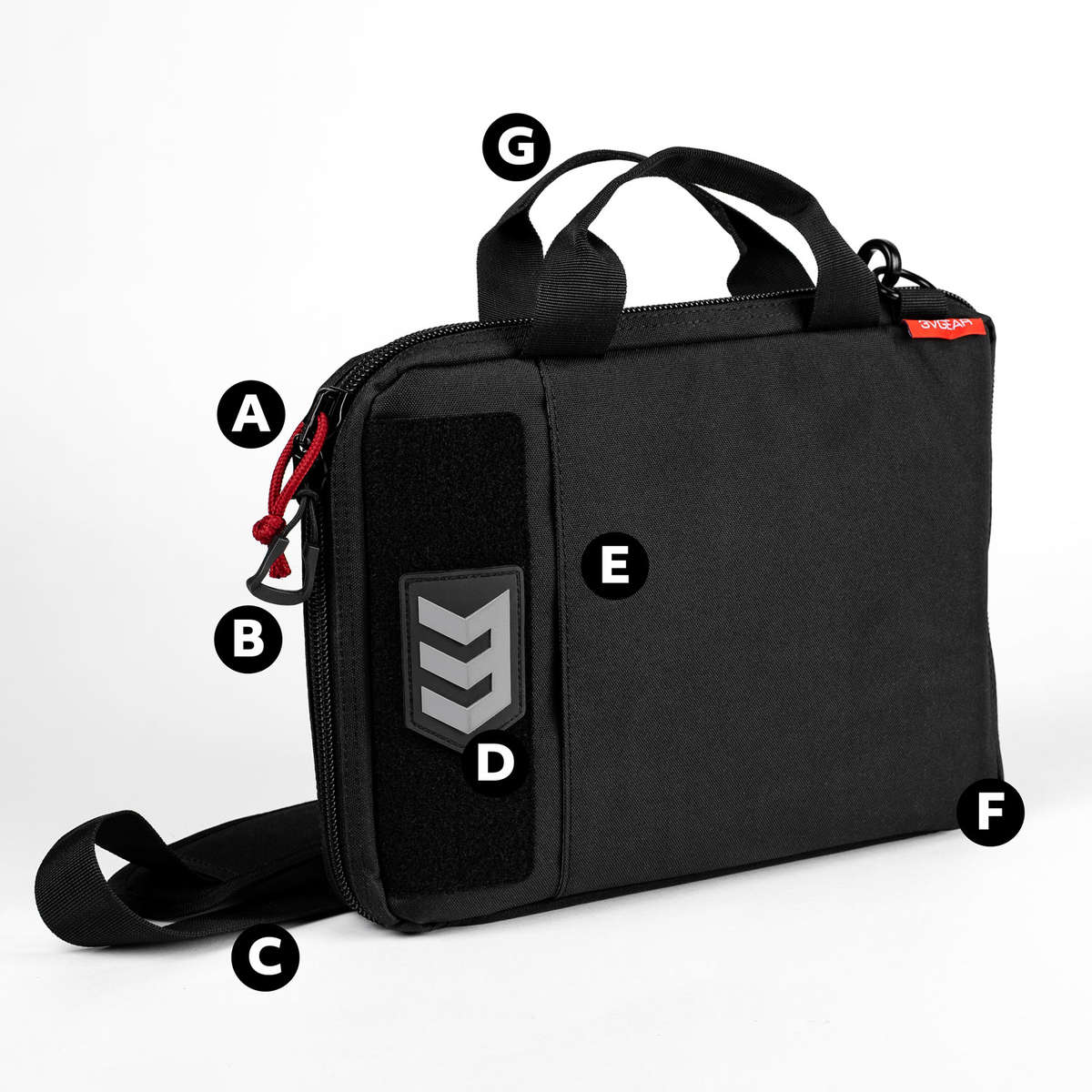 PRIVY PERSONAL ESSENTIALS EDC CASE FEATURES
A - Lockable zippers
B - Quick access "no look" zipper pull
C - Removable shoulder strap
D - Velcro panel for patches (3V Gear logo patch included)
E - Stash pocket
F - Padded exterior
G - Grab handle

ADDITIONAL FEATURES & SPECS
Padded tablet/laptop pocket (pocket dimensions: 12"w x 8.5"h)
Detailed admin panel
Stylus holder
Removable organizational panel
Velcro panel for adding your CCW
Hi-vis and silent zipper pulls
Large rear pocket
MOLLE webbing on the back
Key lanyard
Dimensions: 13.5" x 10" x 3.5"
Weight: 1.6 pounds
Limited lifetime warranty
Imported
PADDED TABLET/LAPTOP SLEEVE
The Privy Personal Essentials EDC Case was designed to accomodate a large iPad Pro or Surface tablet. The Privy can be opened completely with the clamshell design or you can simply remove your device with Privy half zipped.
THERE WHEN YOU NEED IT
Hopefully you never need to draw your CCW but it will be nice to know that you can quickly access it if needed. With a unique rubber zipper pull, you will be able to easily and quickly find the correct zipper without looking.
REMOVABLE ORGANIZATIONAL PANEL
The organizational panel is removable so you can use the Privy EDC case in a variety of scenarios. You can utilize the Privy case with your CCW or as a unique range bag. Of course, you can organize the Privy case in any way you want. We can't wait to see how you will use it.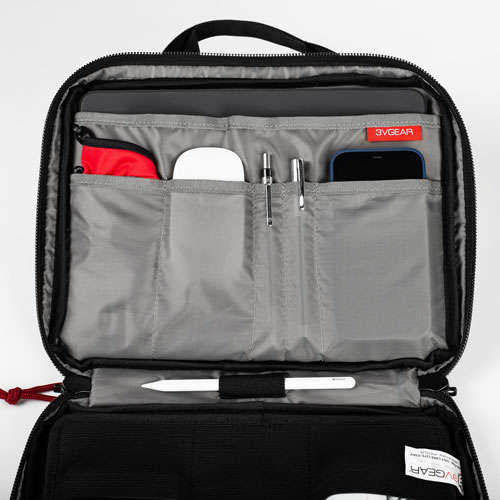 Multiple pockets give you plenty of ways to organize your gear and tech.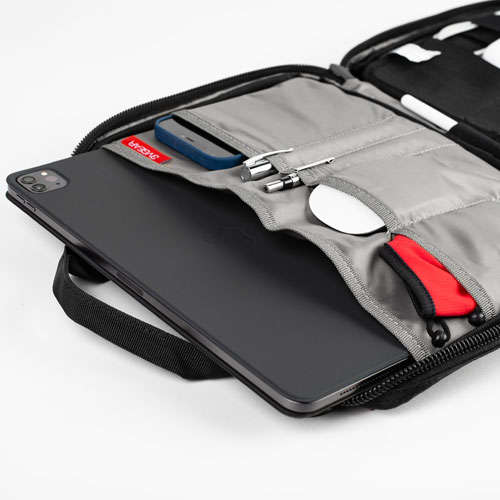 Padded iPad/Laptop Sleeve
Designed to fit a large iPad Pro or similarly sized device, the padded sleeve will keep your tablet or laptop safe. The Privy will fit a newer version 13" Macbook Pro.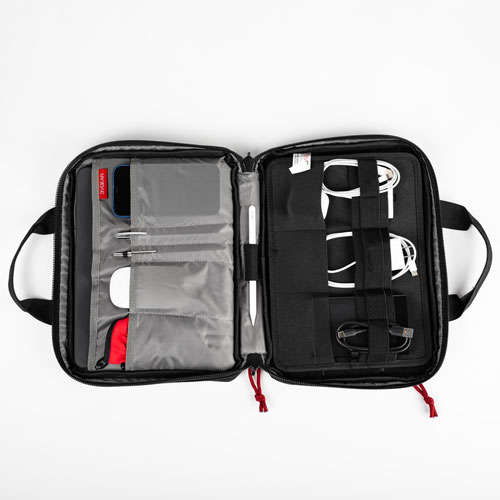 The clamshell design allows the Privy to lay flat and gives you complete access to all of your gear.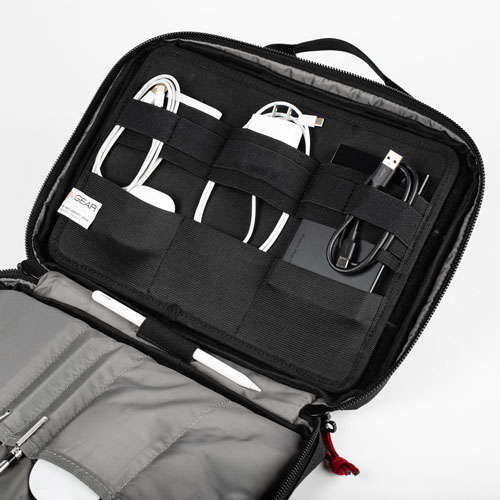 The organizational panel is made up of three elastic pockets and eight elastic loops. Three of the elastic loops are wide enough to accommodate larger items that will allow them to pass into the elastic pockets.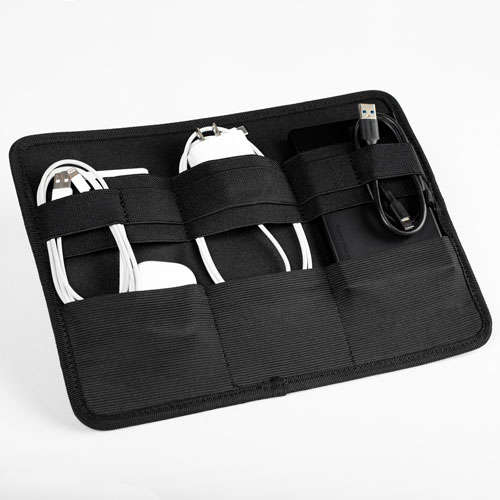 Removable Organizational Panel
The organizational panel is designed to be removable. The organizational panel attaches with velcro and allows you to customize the EDC case in many different ways.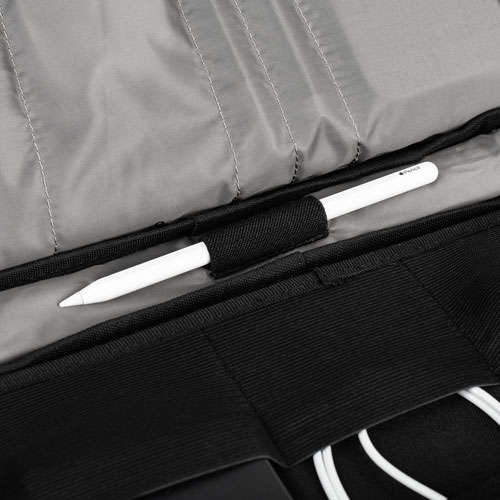 An elastic stylus holder gives you an extra place to hold a stylus or an additional pen/pencil.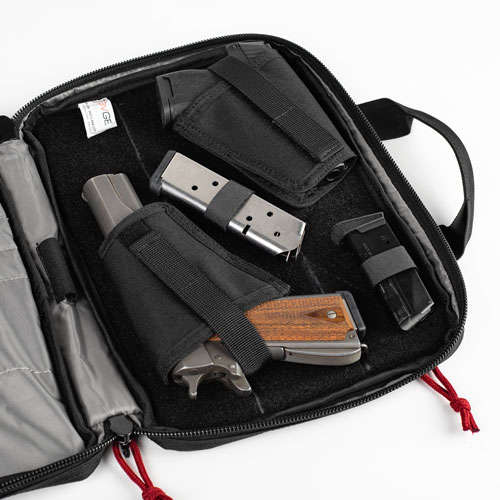 Remove the organization panel to reveal soft velcro which allows you to add your CCW or other accessories. The Privy could easily double as a discreet carry or range bag. Shown with the Shadow Shot.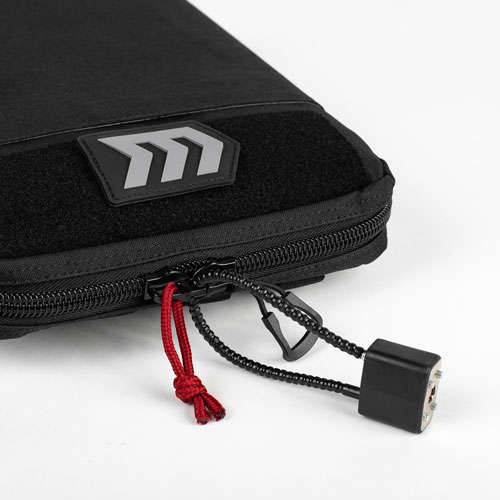 There are a number of reasons why you may want to keep your gear locked up and with lockable zippers, you can make sure your gear is safe. Lock not included.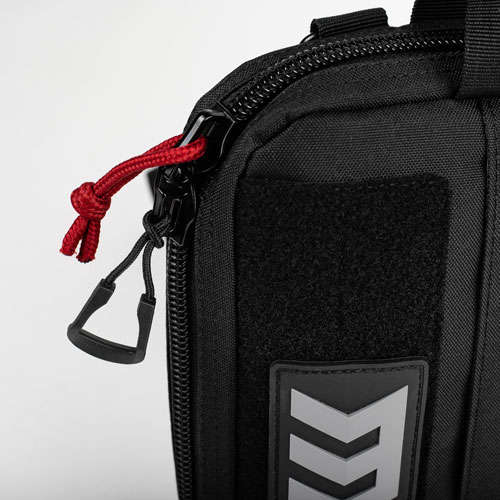 The zipper pulls are hi-vis red so you can easily find them. We have also added a black rubber zipper pull so you can easily find and open the Privy without looking. This allows you to easily access your CCW without hunting for the correct zipper pull.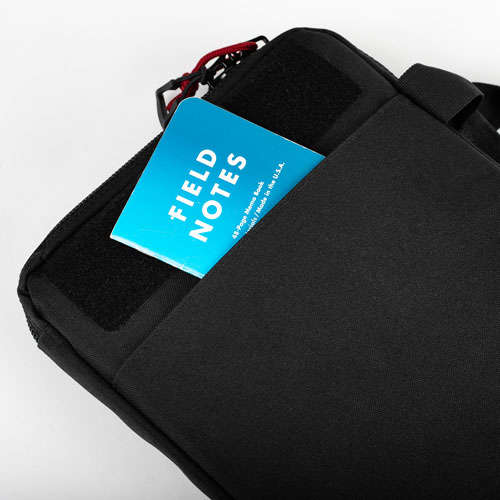 A velcroed front stash pocket is perfect for quickly stashing items without opening the Privy case. Ideal for small thin items, like a small notebook, boarding passes, pens, etc.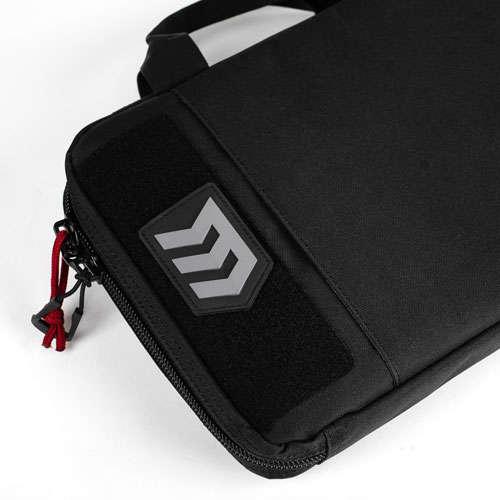 A velcro ID panel is perfect for showing your personality with patches or leave it empty to keep the sleek, minimalist look. The Privy case comes with the 3V Gear logo patch.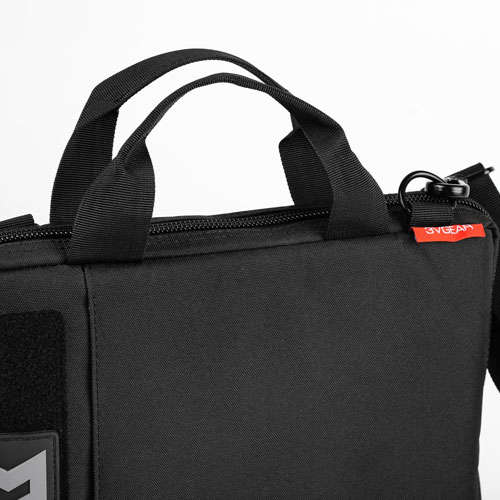 Nylon grab handles give you an additional way to carry the Privy EDC case. Grabbing both handles will also ensure that you don't dump all of your gear if the zippers are not closed.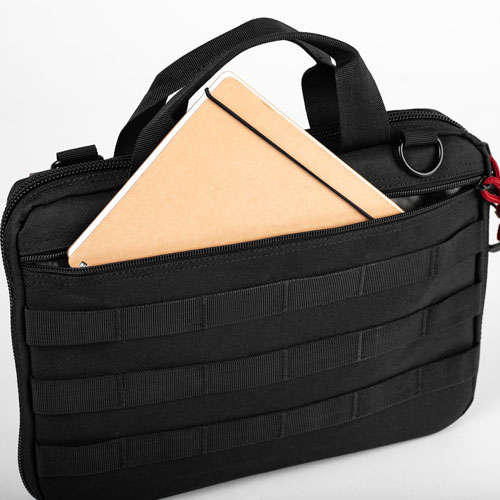 A zippered rear pocket is ideal for adding a notebook or other items. The pocket is the full size of the EDC case. Nylon MOLLE webbing has also been added to the back of the case so you can add MOLLE pouches or attach the Privy case to a larger bag.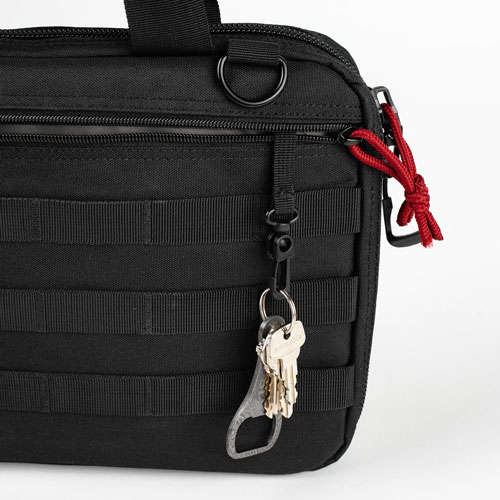 A key lanyard is located in the rear zippered pocket. Having the keys in the rear pocket means you don't have to worry about the keys scratching your gear in the main pockets.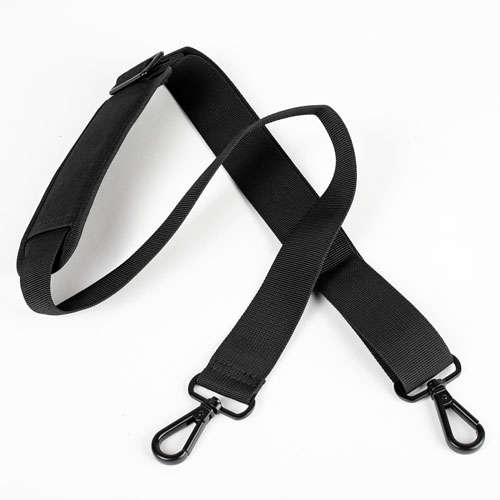 The removable shoulder strap gives you the option to use the Privy Personal Essentials EDC Case as a shoulder bag or crossbody bag, or it can be removed and you can carry the case with the nylon handles.
3V GEAR PRIVY EDC CASE REVIEWS
Great lightweight edc bag
The 3V Privy bag has been great. It's lightweight and lets me Slim down on all the gear I lug around. I'm still filling up all the pockets and stash compartments. I do a lot of sketches so I keep a sketch pad with me. The pad I use is a tad too big to fit in pocket. It rest nicely in the middle but the edges can get worn out. If it had a small expandable section it would work even better for my needs. Love it and carry it anyway. Thanks 3V
The Discrete EDC Carry
Before beginning to load your Privy Personal Essentials EDC Case you should collect all the items you believe should be in your daily carry. The Case is designed to discourage carrying unneeded items. When you have your items selected you then can make use of the Case's varied and clever devices. You will be pleasantly surprised as to how accommodating it is. It is most professional in appearance. Although it has many tactical aspects, the Case does not attract undesirable attention.
Awesome !!!!!!
Works great, it's everything I've been looking for I can either throw it in my backpack or carry it by itself plus it has room to grow by using the molle webbing
very, very nice !!
el privy es muy comodo para usarlo de carpeta, llevar la agenda, papeles, lapiceras etc etc, es de muy buena calidad y esta muy bien pensado, es el segundo que compro, la gente de 3v gear, es muy muy muy amable y atenta.
Compact and efficient
Don't use it for concealed carry but I do use it for my every day. fits my iPad Pro like a glove and all the things I need to get my job done! will definitely be buying more products from these guys
BEST OF THE BEST
I DIDNT like leaving the divider in
so it's now hinged and stays in so
it can be used as concealed carry
all the time and use both sides.
You buy VELCO non sticky and use it to cover the VELCO strips
So it doesn't stick to the solid VELCO side where the weapon would be.
Expected Growth
Excellent quality and organization. Of course there's always one in the crowd, but I would like to see this unit about 2-2 1/2 " wider. My two cents worth.
muy bueno
muy buen producto, muy buenos cierres , 3v gear es una excelente marca y la atencion es muy muy buena !!
Best EDC bag
This is my 3rd EDC bag and 3rd time is a charm! 3V made a bag that met all my needs!. Not too big or bulky and perfect to fit a tablet or chromebook!
I like the bag.
I like the bag. I wish you had a dedicated ccw area with quick access like I thought it did. I was there was a Velcro holster as well that you offered to hold my ccw in place not a padded case with another zipper. It will be handy to carry my tablet to protect it when going to and from work. I will admit so far my outlaw 2 is my new favorite bag and I'm thinking about buying two more of them one for myself and one for my girlfriend
Hi Jason,
We do have a Shadow Shot CCW Universal Pistol Holster that will velcro into the panel of the Privy Case. Unfortunately that velcro holster is sold out at the moment. We do anticipate having those available again come August. We're so glad you still like the Privy Case and hopefully that Shadow shot will help when they come back in stock again.
3V Gear Team