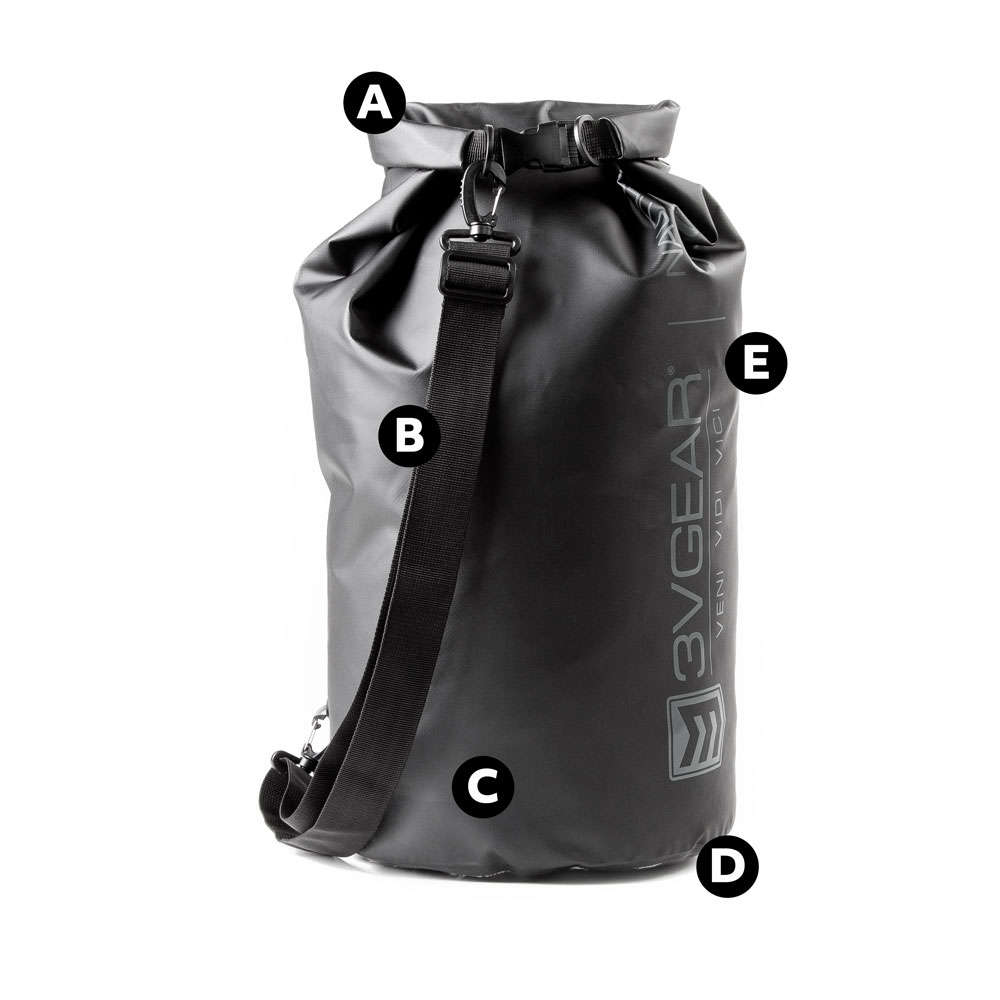 Nautilus Dry Bag Features
A - Roll-top design keeps water out and doubles as a grab handle.
B - Adjustable shoulder strap makes it easy for hands-free carrying.
C - Made from strong, waterproof tarpaulin.
D - Sealed seams.
E - Available in 15 and 30 liter sizes.


ADDITIONAL FEATURES & SPECS
15 liter: 21"h x 9"w
30 liter: 25.5"h x 10.5"w
Removable shoulder strap
Limited lifetime warranty
Imported
3V Gear Nautilus Dry Bag Reviews
Dry bag 30L
Excellent bag! Excellent prize!
Nautilus Waterproof Dry Bags
Excellent bags at a really good price.
Dry bags
When u need to keep special items dry the only way to go. Have used them in grand canyon white water rafting they really work.
Effective and Light
Great value for such a large dry bag. I bought several, one for each pack and a backup.
Great bag
With two sizes you can pack everything you could possibly need. And rest easy that everything will be perfectly dry.
Quality Stuff
The Nautilus Waterproof Dry Bags are quality bags..I purchased the 15L and the 30L bags and I am very pleased with these bags..Nice thick and sturdy bags that should last a long time..I have no problem with recommending these bags to anyone who will listen…
Great Nautilus Waterproof Dry Bags
I been using all 3 Nautilus Waterproof Dry Bags I bought. Cant beat the price and performance of the bag, looking to get a few more👍👍
wife loved it
My wife loved the bag and she uses it regularly.
Rugged dry bag for a very reasonable price
I have several of these bags that I use to store outdoor gear. They are heavy and feel substantial. I would feel comfortable trusting it in the field.
Exactly as I had hoped
Can't wait to get these things to Aruba! Sealed right up tested them out no issues. Can't believe the price.